Chicago is, among many other things, a food city. From the ubiquitous deep-dish pizza and Chicago-style hot dog, through a myriad of ethnic enclaves and up to the Michelin-starred gastronomic temples, you will eat well no matter what your budget or your taste.
The restaurant scene in Chicago, as in any city, is constantly evolving. New restaurants open and soon gain Michelin or "in crowd" status. Others fold for various reasons. Some become fixtures in the culinary scene and so can be overlooked in pursuit of the latest and greatest buzz-producing grand opening. One of the fixtures in Chicago is Tru, It has received one Michelin star since Michelin's first rating of Chicago restaurants in 2010 and 4 stars from Moble, 5 diamonds from AAA and 4 stars from most Chicago restaurant critics for far longer.
Tru opened in 1999 and the kitchen team was headed up by Executive Chef Rick Tramonto and his ex-wife and pastry chef extraordinaire, Gale Gand, who were also part owners. Tramanto and Gand have since moved on, but the level of excellence has not varied. Current Executive Chef Anthony Martin continues to turn out creative and delicious modern French cuisine without missing a beat.
The menu at Tru is made up of tasting menus of various sizes. The smallest is the Prix Fixe menu which is generally around 5 course with several options to chose from in most courses. The grandest menu is The Tru Experience, around 12 courses (each one small). In between is the Abbreviated Experience, about 8 courses selected from the larger Experience. Wine pairings are available for each of the Experiences, or you can order from the excellent wine list. The price of each menu is generally in the $110 to $170 range without wine.
So Tru is not a place to drop in for a quick bite. It is a destination restaurant that is often sold out, especially on weekends, weeks in advance. Men are required to wear jackets and ladies dress in business or evening attire. Be prepared to settle in for 2 to 4 hours to enjoy the food and service.
Oh, and just in case the tasting menus are not enough, there is a separate, formal caviar service. If your taste runs to Champagne and caviar, this is a great way to start your dinner. I did it once, along with the full Tru Experience and that was just too much of a great thing for me, but, if you have the appetite of a brick layer or NBA player, go for it!
On this occasion Valeria and I started, as we often do, with a selection from the Champagne cart. A glass of André Clouet Brut Rosé served as our apéritif.
The wine is almost 100% Pinot Noir from the Bouzy region of Champagne. That makes it fairly full bodied. It is a dry wine, but the nose has lots of berry fruit aromas and there is some yeasty-toastiness on the palate in addition to the fruit.
After a little time to enjoy the wine and flirt with my wife (did I mention this was our Valentine's Day dinner, celebrated a week late?), the serious business of the food started. First up, Buttermilk Panna Cotta with Sorrel, Pear-Fennel Vichyssoise, Red Ace Beet with Lemon Balm & Raspberry, served with the 2012 Dönhoff Kreuznacher Krötenpfuhl Riesling Kabinett, from the Nahe region of Gremany.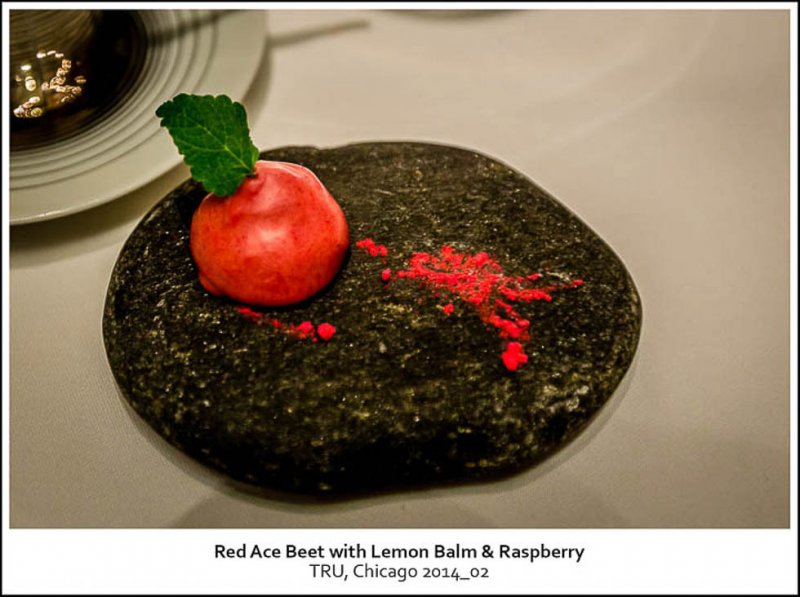 Panna Cotta (Italian for "cooked cream") is a creamy custard that can be flavored in many ways or, as in this case, served with a flavorful accompaniment. Sorrel is a leafy vegetable, sometimes considered an herb, that has been used for centuries in Europe and Asia, but is relatively rare in US supermarkets. It is high in oxalic acid, which contribute to the tart, somewhat lemony flavor of the raw green. In this case, the creamy panna cotta was flavored by the sorrel while taming it's tartness.
Classic Vichyssoise is a cold soup made with potatoes and leeks. Add pear and fennel and you get a variation that is actually much more flavorful than the traditional recipe. The red ace beet with lemon balm (also known as Melissa) and raspberry added additional sweetness and minty-lemony notes and this trio, creating quite a range of textures and flavors.
German dry or off-dry Rieslings are among the most food-friendly wines in the world, but they are often unappreciated. The names are awfully intimidating. I mean, unless you have studied some German, how in the world are you going to order a "Dönhoff Kreuznacher Krötenpfuhl Rielsing." You can sprain your tongue trying that one. Nevertheless, it is worth the effort to master some of the German names. In this case "Dönhoff" is the producer, "Krötenpfuhl" is the vineyard and "Kreuznacher" means the vineyard is in the village of Kreuznach (as in English, the -er suffix means "from" as in "New Yorker"). Now, wasn't that easy? Tongue twisters aside, the wine was a prototypical young Riesling with nice apple and herb aromas and flavors and a lively acid structure.
The second course was another trio: Yuzu-marinated Maine Diver Scallop, Wagyu Beef Tartar with Black Truffles & Parmesan Crisp and Foie Gras Mousse with Honeycrisp Apple Foam all accompanied by Margaine Demi-Sec Champagne 1er Cru.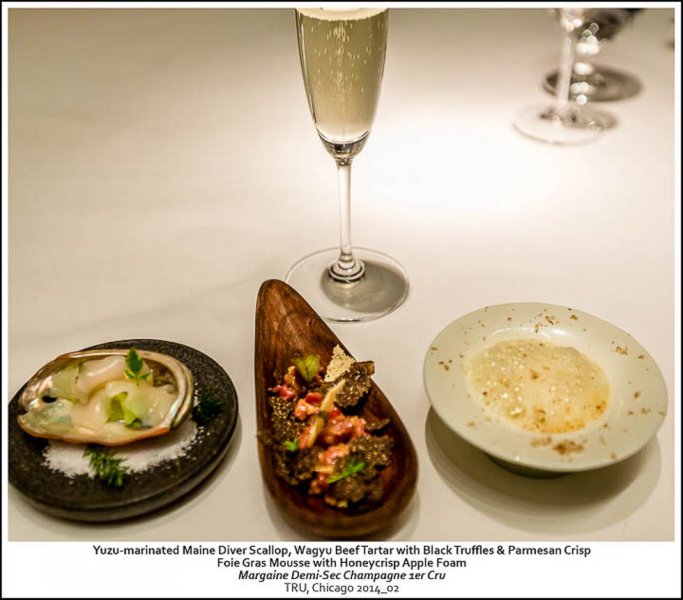 Now, if you look at this course and say to yourself "Raw scallop, raw beef and duck liver – yum!", then you are a true (Tru?) foodie. If you look at it and say "Yuch!", just move on, nothing to see here…
Yuzu is a Japanese citrus fruit that looks a bit like a small grapefruit. The juice is tart and tastes rather like a grapefruit with some slight orange flavors. It is used in Japanese cuisine much like lemon and lime are used in Western cuisine. In this case, raw slices of scallop are "cooked" in Yuzu juice, much like raw seafood is "cooked" in lime juice in ceviche. (Peruvian ceviche + pisco sour = marriage made in heaven, but I digress.) For the chemically inclined, the acidity of the yuzu juice denatures the proteins of the scallop in much the same way applying heat does, so you can think of it as chemically cooking the scallop.
Wagyu is the magnificent breed of Japanese cow best known when raised in Kobe prefecture while being massaged with beer. Raw, finely diced, seasoned and mixed with herbs and perhaps other flavorful ingredients, it makes an amazing tartar. Add a generous shaving of black truffles and you have a dish to remember.
Rounding out this course was a lovely Foie Gras mousse. I love duck liver sautéed or in a mousse, so this definitely worked for me. A little sweetness, usually from fruit, is often paired with foie gras and the apple foam used here worked perfectly.
I am not generally a fan of demi-sec (semi-dry) Champagne. It is often made from lots of wine that are not good enough to go into a producer's dry (brut) wine. These odd lots are blended together and sweetened to sell off as demi-sec. Not so at Margaine, which makes its demi-sec from premier cru vineyards from a specific clone of Chardonnay that is found only in Villers-Marmery, the subregion of Champagne where the wine is produced. The wine was delicious, really barely sweet with flavors of peaches and some toasty notes. To my taste, however, it was not a great pairing with this trio, which was a tough one to pair with a wine. The scallop needed a light touch, the beef needed something, well, beefier and the foie gras could have used something a bit richer.
Still, it was a creative offering. Once upon a time, back when airlines actually fed you in the air, you were often offered a choice of "fish, chicken, or beef." This trio of seafood, duck and beef took that concept to a whole different level.
The next course was Sunchoke Purée with Crispy Sunchoke Peel, French Trout Roe, and Chive, served with 2007 Arietta "On the White Keys," Napa Valley white wine (81% Sauv Blanc, 19% Semillon). Sunchokes are also known a Jerusalem artichokes.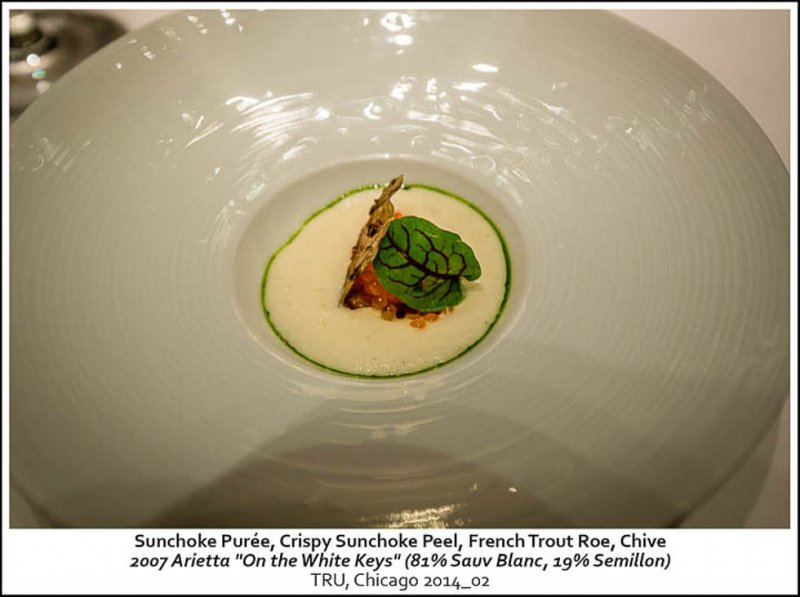 Sunchokes are botanically a tuber, like potatoes, but they are typically used like a root vegetable in the kitchen. It makes an excellent soup or purée that has just a hint of natural sweetness to it. Garnished with a crispy bit of peel, some trout roe ("caviar") and chives, this was a light, delicious dish.
Arietta is an interesting Napa winery that produces Bordeaux-style blends ("Meritages" in BATF-speak) that are consistently excellent and, by today's standards, not exorbitantly priced ($100 – 150 range). The winery is named for the second movement of Beethoven's Piano Sonata No. 32, "Arietta." The winery's founders were both fans of classical music. One was a winemaker and the other was a classically trained pianist and auctioneer. An obvious combination, right?
While best known for their reds, Arietta started making a Bordeaux-style white blend (Sauvignon Blanc and Semillon) in 2005. It, too, has been consistently good and the 2007 was a great pairing with the sunchoke dish.
On to the 4th course: Langoustine Scented with Juniper Smoke, Caramelized Chestnuts, Savoy Cabbage on Parsnip Purée, Chestnut-stuffed Brioche, served with 2007 Domaine Bachey-Legros Mersault "Les Grands Charrones." I hope you can imagine what this amazing combination of aromas, flavors and textures was like. Just a bowl of soup, right?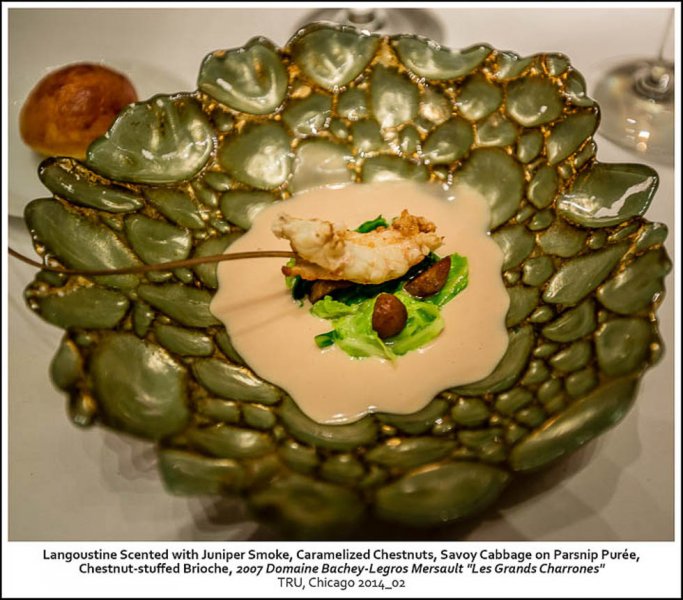 Sure, like the Rolls Royce Silver Ghost was "just a car." The langoustine was perfectly fried in a light tempura batter and just touched with the piney-smokiness of the juniper smoke. Caramelized chestnuts gave texture and sweetness, while the blanched savoy cabbage added a savory note and yet another texture. All of this was bound by the rich parsnip soup.
I would have liked to have tried the Margaine Demi-Sec with this course, but was intrigued by the 2007 Domaine Bachey-Legros Mersault "Les Grand Charonnes" that was served. I did not recognize the producer at all, but later learned that Domaine Bachey-Legros is a small, family owned operation that has been producing wines for 18 generations in Burgundy. 2007 was a tough year in Burgundy, with some excellent and some, well, less than excellent white wines produced. This was a good one, nicely matured with good acidity, fruit, a touch of oak and some nuttiness. It was the slight touch of nuttiness that really tied this to the dish.
Next up: Slow-braised Wagyu Beef Short Ribs in Aromatic Spices with Spiced Radish and Umeboshi, served with 2011 Domaine Weinbach, Clos des Carpucins, Cuvée St. Catherine Pinot Gris from Alsace, France.
First, I will confess that I am a sucker for braised short ribs. Properly done, they are meltingly tender and delicious and can be sauced in a million different ways (really, I counted) with wine, beef sock herbs, spices, vegetables, etc. Add to that the unctuousness that comes from the heavy marbling of wagyu beef and I am pretty much in beef heaven. The spiced radish and umeboshi slices added some nice contrasting color, texture and flavor.
Ume is a very sour Japanese fruit that is pickled in salt or salt and vinegar to produce umeboshi. The name is often translated "Japanese Salt Plums" or "Japanese Pickled Plums," although it is more like an apricot than a plum. A little adds a lot of flavor and it worked well with the beef.
What worked less well for me was the pairing of the 2011 Domaine Weinbach, Clos des Carpucins, Cuvée St. Catherine Pinot Gris. I am a huge fan of Alsatian wines in general and Domaine Weinbach is an excellent producer. Pinot Gris (called, more familiarly to most, Pinot Grigio in Italy) is a much, fuller, richer wine in Alsace than in Italy, but it did not seem quite big enough to go with this dish. The pairing was not bad, but I think a medium-bodied red might have worked better.
The sixth course (if you're counting) was Eastern Skate Wing with Apple Jus, Celery and Black Truffles, a mini-Croissant with Truffle Butter all served with 2009 Domaine des Baunard Savennières, Loire Valley, France.
I love skate, which, if you are not familiar with it, is a fish that looks a bit like a stingray, though the two species are very different. The pelvic fins of the skate (the big, flat sides of the body that look a bit like wings) are delicious and have a wonderful texture when properly cooked. The only downside is that these are relatively slow-growing fish and, like so many species, they have been overfished in some areas.
This was an excellent preparation. The fish stood up beautifully to the rich apple, celery and truffle broth, which was further enhanced by bites of a mini-croissant served with truffle butter. Croissant + truffle butter = (decadence)2.
Savennières is a dry, relatively full bodied wine made from Chenin Blanc grapes near the town of the same name in the Loire Valley. This played beautifully with the skate dish, as the fruit tied to the apple in the broth and the acidity cut through the richness of the truffle.
Lucky course #7 was Herb Roasted Jidori Chicken with Maitake Mushrooms and Cauliflower with a glass of 2007 Etna "Custodi Rosso," Sicily.
Some argue that the best test of a chef is how well he/she can roast a chicken. By that standard, Chef Martin is pretty damn good. Jidori Chicken is a particular breed of free-range chickens first raised in Japan. They have been described as "like Kobe beef, but chicken." I think that analogy is a bit strained, but if you take a breed of chicken developed for flavor rather than rapid growth and allow it to feed naturally in an open space, you will get a very tasty bird.
Jidori chicken first caught on in California a few years ago. Tru was an early adapter and does it very well. The name literally means "chicken of the earth," and Chef Martin bring out that earthiness with mushrooms, herbs and the chicken jus. The breast meat was tender, juicy and far more flavorful than your average supermarket bird.
Grape growing and winemaking is a challenge everywhere it is done, but you have to wonder why the slopes of Mount Etna in Sicily are among the hottest – no pun intended – sites for developing vineyards. Mount Etna is an active volcano that could literally erupt at any time, and the sides of the mountain are steep and challenging to farm. Still, it is producing some unique and delicious wines.
Unless you are among the geekiest of wine geeks, you have probably never heard of Nerello Mascalese, Nerello Cappuccio or Alicante, the primary grapes grown in this region. They produce big, tannic wines but this one was old enough that the tannins had smoothed and it was great with the chicken.
The menu moved on to the cheese course. Neither Valeria or I have ever met a cheese we didn't like, and we really like a menu that features a cheese cart held at the proper temperature and from which you can make your own selections. Tru does not disappoint here, offering a wide ranges of cheeses to choose from.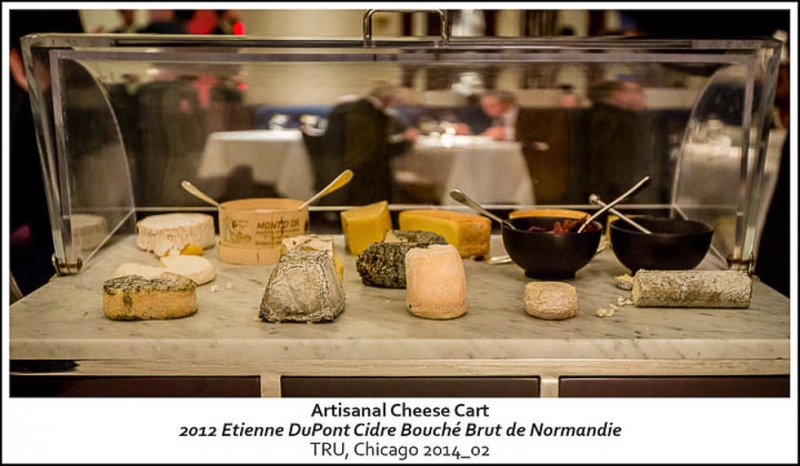 The cheeses were served with 2012 Etienne DuPont Cidre Bouché Brut de Normandie. Domaine DuPont is a family-owned farm in Pays d'Auge, a small town in Normandy, France. Normandy is well know for its apples and the ciders and Calvados that are produced from them. The DuPont family raises cattle, grows apples and produces a full line of fermented ciders. Some of these ciders are distilled into Calvados, much like wines can be distilled into brandy, Cognac or Armagnac. Entienne DuPont is the patriarch of the estate, which he manages with the help of his son and daughter.
Fermented or "hard" ciders were a hugely important drink in the history of the United States, but I have never developed a taste for them (although I do enjoy Calvados as an after dinner drink). I would have preferred a wine, but that is my personal taste. I have noticed a trend in the last couple of years to insert a cider, beer and/or a cocktail into the list of beverages chosen to accompany a tasting menu rather than pouring only wines. For many people, that is a welcome trend and I understand completely, but I am a wine guy.
Savory dishes finished, we plunge ahead to the ninth course, a Passionate (as in passion fruit) Marshmallow. A whimsical name and a cool presentation to kickoff the sweet part of the evening.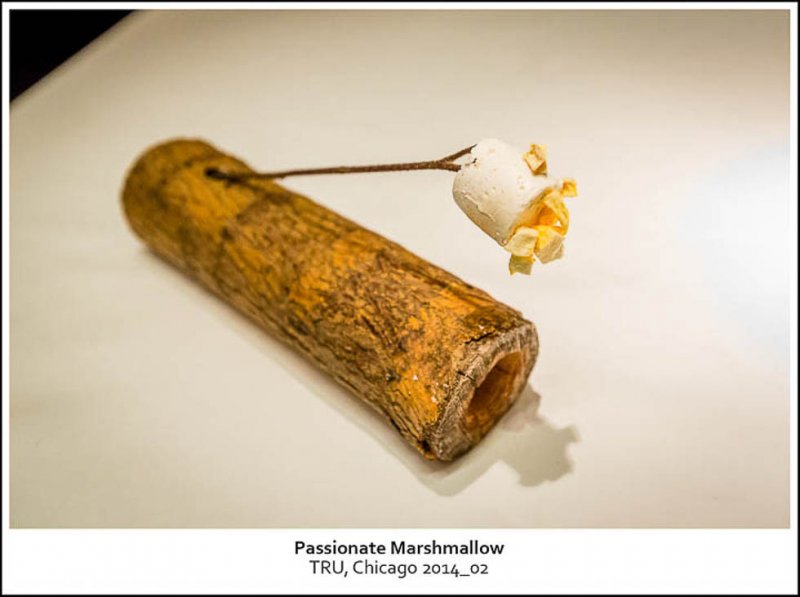 The second sweet course (and 10th course overall) was Parsnip & Honey Ice Cream with Figs Soaked in Port Wine with a 2007 Domaine Barmès Buecher Gewürztraminer Vendange Tardive, Cuvée Maxim, Alsace to wash it down. This was a terrific dessert course – cool, creamy, not to sweet and nice flavor and texture contrast between the ice cream and the figs.
I really like Gewürztraminer which is even more under-appreciated than Riesling, maybe because it's even harder to pronounce. It is at its best in Germany and in Alsace, where it can be used to make a bone dry wine or luxurious, rich sweet wines. The Vendange Tardive (late harvest) was just sweet enough to be an excellent pairing with the ice cream.
The third dessert course offered what some would argue is the only dessert worth eating: chocolate. In this case, it was served as Chocolate in Layers with Sudachi Cream along with a glass of 2004 Sigalas Vin Santo from Santorini to wash it down.
The layers were crisp chocolate wafers and a delicious, decadent, dark chocolate mousse with one more contrasting layer of cream flavored with sudachi. Sudachi is a green, sour citrus fruit that is popular in Japan and becoming more common in this country. The flavor is vaguely reminiscent of lemon and imd, but not really like either. It made a nice accent to all of the chocolate in the dish.
Vin Santo (literally "holy wine") is an Italian dessert wine that is most common in Tuscany, but is made in various places around Italy. Domaine Sigalas is a producer on the island of Santorini which is generally regarded as one of the best in Italy. Like the Sicilian wine served earlier in the meal, this Vin Santo is made from two relatively obscure grapes: about 75% Assyrtiko and 25% Aidani. What really matter is how well the wine is made, and this one was remarkable. The grapes are picked, then dried in the sun, as it traditional with these wines. Low in alcohol (9% on the label), is is very sweet and explodes with flavor as you first taste it, but the sweetness is balanced by a lively acidity that keeps if from being cloying. Many people reject sweet wines out of hand, but this may have been the best wine served all evening.
The penultimate sweet course was a Chocolate Shell with Gold Leaf and Lucious Liquid Center. Yes, that's real, food-quality gold on the chocolate. Pure gold is chemically inert and non-toxic. It can be flattened into very thin foil, so there is really almost nothing there if you try to weigh it, but it looks very impressive.
The chocolate is served chilled and you pop the whole thing in your mouth where it bursts open and the liquid center is released. I am embarrassed to say that I can't remember what the flavor of the filling was, but I think it was cherry. (Hey, you go through 12 courses of food and wine and then try to remember every detail days later!)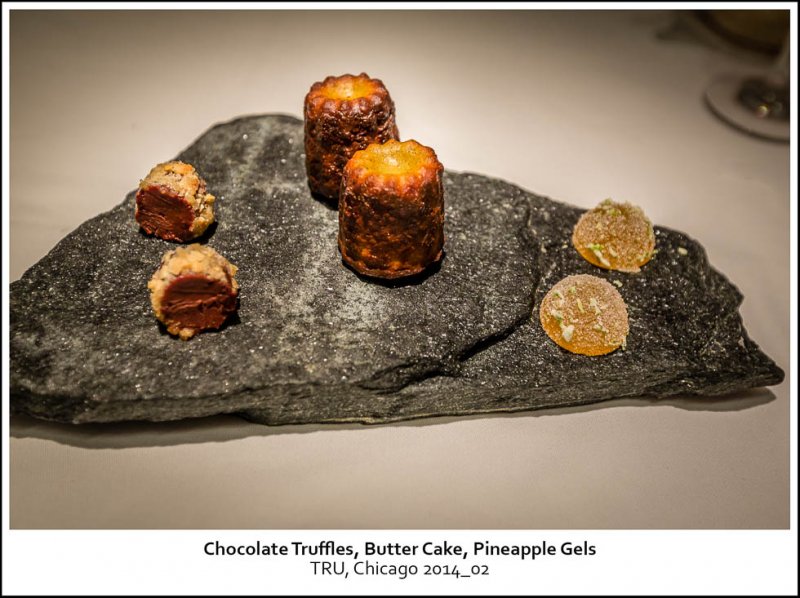 We had definitely had plenty to eat and drink by this point, but there was a 12th and final course to go: Mignardises, which on this night were Chocolate Truffles, Butter Cake and Pineapple Gels. In my world, one (OK, maybe two) perfect, classic chocolate truffles are the ideal dessert – just a bit of rich, not too sweet chocolate to end the feast. But I have to admit that the Butter Cakes were delicious and the Pineapple Gels were almost like a mint to clear your palate.
So, does Tru still stand among the best Chicago restaurants, given the parade of Michelin-starred contenders than have come along since? In a word, yes. It is not for everyone. It is a destination restaurant if you are from out of town and, for most people, a special occasion place if you live in the Chicago area. It is a classic, fine-dining establishment where your intention is to spend the entire evening in conversation with your friend(s) while enjoying a succession of creative and delicious courses and good wines or other drinks. The service is outstanding.
Would I change anything? Well, the wine pairings on this night did not all inspire me, although there were a few exceptions and none were bad. That, however, is very much a matter of personal taste. I would prefer that a long tasting menu end with only one or two dessert courses, but that, again, is just me. Certainly a restaurant that was co-founded by an amazingly talented pastry chef can continue the tradition of showcasing the pastry chef's talents. I do know people who would be perfectly happy with only dessert courses, and I'll bet you do, too.