The Tortoise Supper Club, as the name will suggest to some of you, attempts to reproduce the atmosphere of the supper clubs that were popular in the 50s (maybe before, but that's as far back as my memory goes!) and 60s and into the 70s. Somewhat upscale, but not out of the range of the middle class, at least for a special occasion.
Valeria and I had dined here once before over a year earlier and had pretty good memories of it. We finally decided to make a return visit. Unfortunately, it did not go as well.
First we ordered drinks before dinner. Nothing fancy, just a Manhattan for me and a glass of wine for Valeria. The waiter dutifully went off and placed that order, and returned to get our food orders, which we placed, along with a request for a bottle of Pinot Noir from the wine list.
It seemed to take a while for our drinks to arrive (the restaurant was not busy), but they finally did and we asked to enjoy them a few minutes before the appetizers arrive. "No problem!" was the answer, but two minutes later Valeria's mushroom soup and my shrimp cocktail were on the table. This is a pet peeve of mine. A before-dinner drink is meant to be a quiet few minutes to enjoy the drink, wind down, settle in with any dinner companions you might be with and relax. Dinner should come later, except, perhaps, for an amuse from the chef or bread service. "But," I hear a waiter say, "our customers get mad if it takes too long for the first course to come out." Simple solution, I say: just ask the customers if they would like a few minutes to enjoy their drinks before the first course comes out or not. I am amazed at the number of restaurants, even Michelin-starred restaurants, that will wheel out a fancy Champagne or cocktail cart, sell you an aperitif, the start the meal before you've taken two sips.
The mushroom soup was quite good, with a rich, mushroom flavor. It could have used a little salt and a dash of wine or lemon juice to brighten it up. This is a common problem with big pots of soup that are prepared in advance and then sit for a while. They lose their brightness, which is quickly restored with a bit of acid from wine or citrus. Still, overall, it was good soup.
The shrimp cocktail was also fine. The shrimp were perfectly cooked and there were two cocktail sauces: a classic catsup-horseradish sauce and a Bloody Mary-Cola sauce. Both were tasty. The serving container, however, seemed a bit silly. It was a huge wok-like bowl that would have served well to keep a pound or two of shrimp cold for the table, but for 5 shrimp it was just too much. It would have made sense sitting in the middle of the table for people to share, but sitting in front of me it was just big and awkward.
As it turned out, the Pinot Noir we chose from the wine list was out of stock. Not a huge deal; it can happen at any restaurant. The waiter recommended a new wine on the list at a similar price point, the 2014 Alexana, Revana Vineyard, Dundee Hills, Willamette Valley, Oregon.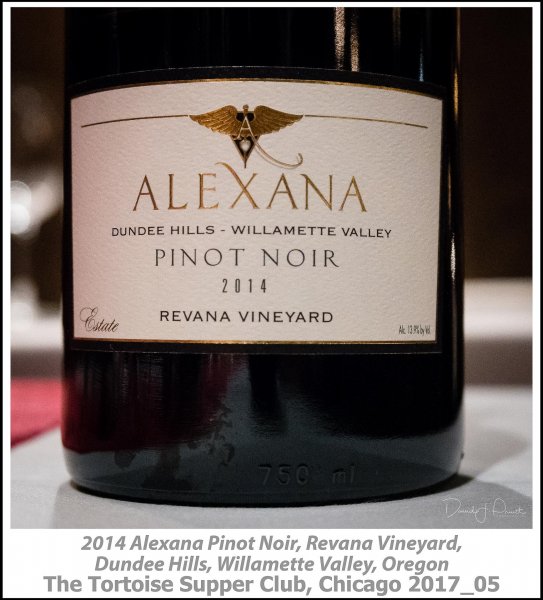 It was a good recommendation. A big, tannic Pinot with lots of dark fruit flavors, nice, balancing acidity and a long finish. I suspect it will benefit from a couple years in the bottle. It opened more and more as it had a chance to breathe in our glasses.
I don't believe I have had an opportunity to write about Dr. Madaiah Revana and his growing winemaking interests before. Dr. Revana grew up in India in a family that had been farmers for many generations. He immigrated to the US and has been a successful cardiologist in Houston, Texas for many years (he is in his 70s). He developed a passion for wine and bought his first, 9 acre (3.6 ha) vineyard in the Napa Valley in 1997. He named it Revana Family Vineyards. It was planted entirely to Cabernet Sauvignon in 1998 and it has produced a highly regarded estate Cabernet since the first vintage in 2001.
Dr. Revana also loves the great wines of Burgundy (Pinot Noir and Chardonnay), so in 2005 he began to look for land appropriate for planting these grapes. He found 56 acres (22.7 ha) in the Dundee Hills region of Oregon's famous Willamette Valley in 2007. Alexana Winery, named after the doctor's daughter, was established and planted mostly to Pinot Noir with some Chardonnay and a little Pinot Gris and Riesling. The wines there have become more and more interesting as the vines have matured.
That was still not enough to scratch the good doctor's winemaking itch, and in 2008 he bought 17 acres in the Uco Valley in Mendoza in Argentina, that magic area where Malbec, a relatively minor blending grape in most of the world, produces phenomenally good red wines. The wines are bottled under the Bodega Corazon del Sol (Heart of the Sun Winery) label. The emphasis here is on Malbec, but some of the wines are also blended with Cabernet Franc, Merlot, Grenache, Syrah and Mourvedre which are also grown on the estate.
We enjoyed our Pinot as we waited for our entrées. And waited. And waited some more. We had ordered lamb chops and steak frites, not items that should take a great deal of time to cook and which should be prepped and ready to put on the heat in a restaurant kitchen. When Valeria's lamb chops—which she had ordered very specifically "medium—warm pink center"—arrived, they were still rosy red rare in the center.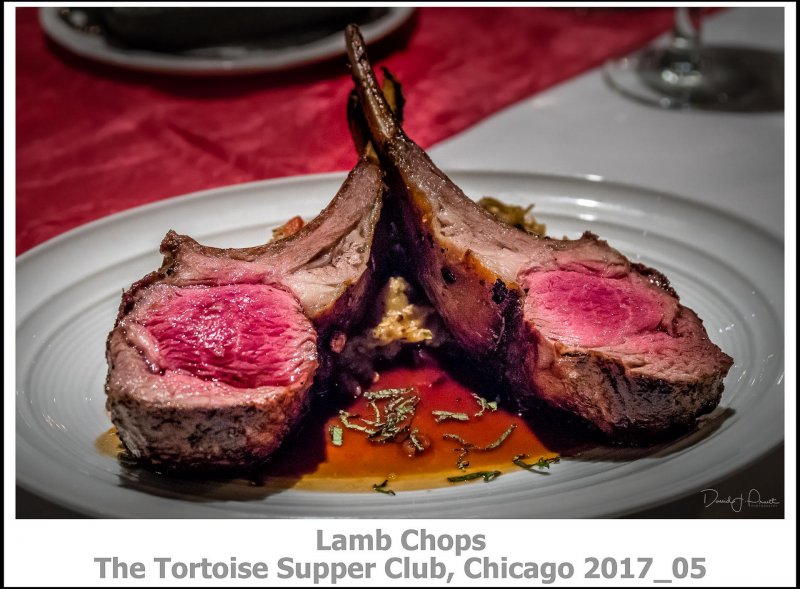 Since, as you can see, they were served sliced open with the red center in full view, someone in the kitchen or our waiter should have noticed that they were not prepared as ordered. It rarely (no pun intended) pays to send undercooked meat back as it always takes a while to re-do and sometimes ends up overcooked. Plus, you end up out-of-synch with your dining companions. So she just started eating around the parts that were too rare for her liking, which just led to another issue: the meat tasted totally unseasoned—no apparent salt or pepper or anything else. The mint jus did have some mint flavor, but that alone can't rescue unseasoned meat.
My steak was also closer to medium-rare than the requested medium, but within the range I am OK with.
Unfortunately, the steak was also devoid of seasoning, though the Wagyu sirloin was tender enough. The blue cheese butter I had ordered as an add-on saved the meat, at least for the most part, from its unseasoned state. I will say the fries were excellent, though they could have used a little more salt, too.
For perspective, neither Valeria nor I are the type to pick up a salt shaker at the dinner table. Valeria is far more likely to complain about over-salted dishes in restaurants than under-salted, so if there was too little seasoning for her it was, indeed, under seasoned.
Our first side was Parmesan Garlic Spinach.
The spinach was perfectly sautéed with a nice hit of garlic and a generous shaving of Parmesan, but, again, it was not seasoned.
Our second side was grilled asparagus.
Same song, fourth verse: lovely fresh asparagus with a nice char from the grill, but utterly devoid of seasoning. We took both vegetables home and heated them up the next day in sauté pans with just a sprinkling of salt and pepper and a little olive oil and they were delicious.
Since we were not exactly stuffed at this point (though we did have leftover lamb and veggies to take home and rescue), we decided to chance some desserts. That made for a happy ending, at least. Well, sort of. Once again there was a long delay between the time we ordered the desserts and their arrival. I should note that the restaurant was only just over half full by this time and that people had been arriving in small groups, not big crowds, so there should have been no particular strain on the kitchen unless they were woefully understaffed.
At any rate, our cherry pie finally arrived.
Advertised as being made with Michigan cherries (my home state) it had a very good, flaky crust and a nicely balanced tart-sweet cherry filling with lots of cherries and minimal binder. The vanilla ice cream was also excellent.
Valeria selected the Peanut Butter Pie.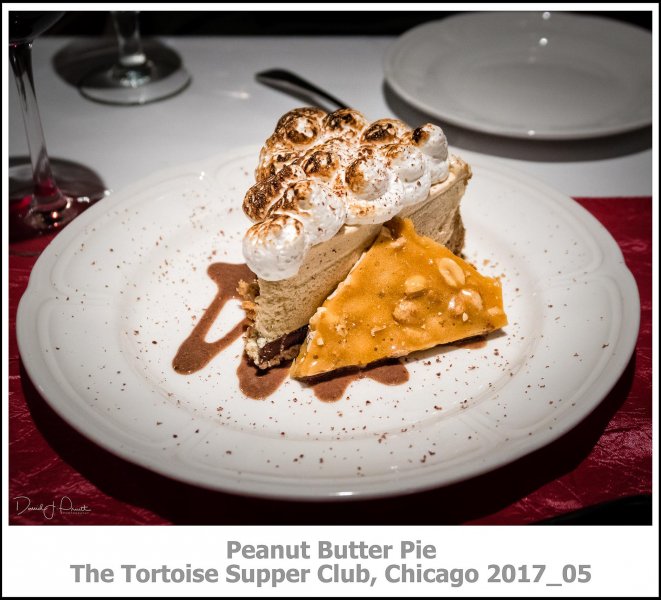 Another winner! The peanut butter filling was light and creamy with a layer of dark chocolate underneath. They both played beautifully with the nicely browned meringue on top. The bonus piece of peanut brittle on the side tasted just like what my mom used to make. I would bet it was made fresh, in house.
All in all it was a disappointing evening. We had so wanted to enjoy this place. We remembered it as being sort of upscale casual (correct) with plenty of comfort food and throwback items on the menu (correct) along with some more interesting selections (also correct). But the wait was long for those foods, even on a relatively slow night, and the flavor just was not there, at least in the entrées and vegetables. The desserts were good, but we rarely order dessert so that is not a draw for us. With all the other choices around us in Chicago, it seems unlikely that we will return to the Tortoise Supper Club for a third visit.
Tortoise Supper Club
Address: 350 N State Street Chicago, IL 60654
Phone: (312) 755-1700
Reservations: opentable.com
Website: http://www.tortoisesupperclub.com/
Dress Code: Smart Casual
Price Range: <$30
Hours: Lunch: Monday – Friday: 11:30a.m. – 4:00p.m.
Dinner: Monday – Thursday: 4:00p.m. – 9:30p.m.
Friday & Saturday: 4:00p.m. – 10:30p.m.
Sunday: 5:00p.m. – 9:00p.m.
Credit Cards: AMEX, Discover, MasterCard, Visa
The author is a member of the Amazon Affiliate program but otherwise has no affiliation with any of the businesses or products described in this article.
All images were taken with a Sony Alpha a6500 camera and a Sony-Zeiss SEL1670Z Vario-Tessar T E 16-70mm (24-105mm full frame equivalent) F/4 ZA OSS lens or Sony 35mm (52mm full frame equivalent) F/1.8 E-Mount Lens using ambient light. Post-processing in Adobe Lightroom® and Adobe Photoshop® with Nik/Google plugins.