Chicago has a long history of great steakhouses stretching back to 1865. That's the year the Union Stock Yards opened to slaughter and process farm animals brought in, primarily by rail, from across the country. The Yards would grow to eventually butcher over 80% of the hogs, cows, and sheep consumed in the United States. Railcars delivered the freshly butchered meat back to the states, but nowhere was it cheaper and fresher than Chicago.
The Yards closed in 1971, but the Chicago steakhouse tradition has not declined and, in recent years, even expanded. There are local, one-of-a-kind restaurants like the Chicago Chop House and Gene and Georgetti. Michael Jordan, still strongly identified with the city since his championship days with the Chicago Bulls, has a small chain of steakhouses, including his flagship location on the Magnificent Mile in Chicago. Most of the national chains, including Morton's (original location still in Chicago), The Capital Grille, Fleming's, Ruth's Chris, and III Forks are represented in the city and suburbs.
These classic steakhouses tend to have dark, mahogany interiors and an Old Boy's Club vibe, but they are no longer bastions for male power lunches and dinners. Nowadays I see as many tables filled with ladies as with men. Moreover, they have been joined by restaurants that, by design, are less clubby and more open, airy, and upscale (if you can go upscale from a high-end classic steakhouse). One of these is Swift & Sons, another unique restaurant created by Chicago's Boka Restaurant Group. Since opening Boka, their flagship, Michelin-starred, restaurant over 10 years ago, the group has worked with some of the best chefs in Chicago to build over 15 diverse lounges and restaurants with cuisines ranging from sushi to steak.
Swift & Sons was developed with Executive Chef Chris Pandel to be a modern take on a steakhouse, and so it is. If you like, you can order a classic steakhouse dinner: shrimp cocktail, wedge salad, and your favorite steak with some creamed spinach and mashed potatoes on the side. Or you can take a less traditional approach with hamachi crudo, carpetbagger oysters, and a Japanese A5 Wagyu steak with Chinese broccoli on the side. Want to go retro? How about Beef Wellington? The menu will accommodate anyone from a confirmed carnivore to a vegetarian (not sure about full-on vegan).
The wine and cocktail program is equally diverse. You can get a classic Martini or Manhattan with your choice of a wide range of top-shelf gins, vodkas, Bourbons or ryes. There is also a nice selection of takes on modern classic cocktails.

What really caught my eye was a menu dedicated solely to updated versions of the most classic cocktail of all, the Old Fashioned.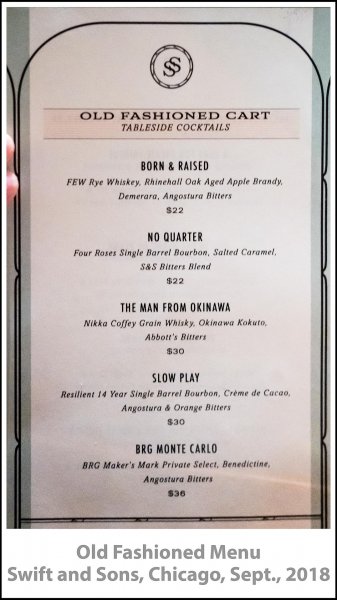 The Old Fashioned was first described in 1806 and is generally regarded as the first documented cocktail. It was described as a "potent concoction" of sugar, water, bitters, and spirits. In those days "spirits" meant some kind of whiskey. Over the years, cocktails evolved to include a variety of liqueurs instead of sugar to sweeten the drink. Eventually, the original version became popular again and was referred to as an Old Fashioned Cocktail to distinguish it from newer versions, and the name has stuck to this day.
If you order an Old Fashioned in a bar today, there are two versions that might be served. The first is the original Old Fashioned, made with a sugar cube dissolved in a splash of water and several dashes of Angostura bitters. Once the sugar is dissolved, 2 oz of rye or Bourbon whiskey are added and the cocktail is stirred with ice until very cold. An orange peel is the perfect garnish, especially with Bourbon, which plays particularly well with the oils in an orange peel.
You might also be served a version in which a slice of orange and a Maraschino cherry (the factory produced, neon-red version, not the original Luxardo Maraschino cherries from Italy) are "muddled" (crushed) with the sugar, water and bitters before adding the whiskey. This version was developed during Prohibition to cover the taste of the bootleg whiskey used in that era. In my view, this is an inferior cocktail as it makes no sense to cover the taste of the excellent whiskeys we have today. The Maraschino cherry adds no flavor, just a smashed husk in the bottom of the glass, and the muddled orange clouds up what should be a clean, clear, drink. Now, if that's how you like the cocktail made, that is fine with me. Enjoy! But I'll take mine without the fruit.
It is entirely possible to play with the ingredients in the Old Fashioned without sacrificing the character of the original. There are dozens—maybe hundreds—of great whiskeys on the market and each will bring its own flavor profile to the drink. (You can use Scotch whisky, too, but like a Manhattan made with Scotch becomes a Rob Roy, it seems to me that an Old Fashioned made with Scotch should have a different name.) You can experiment with different kinds and amounts of bitters. (Mixture of Angostura and orange bitters are popular, in amounts ranging from 3 to 15 dashes). You an add a splash of liqueur for sweetness and additional flavors, but, in my book, that moves you from an Old Fashioned to a modern cocktail. There are no Old Fashioned Police, however, so you and/or your favorite bartender can experiment as you please.
The Old Fashioned cart at Swift and Sons plays with all the variations. The cart comes with your own personal bartender with whom you can discuss the ingredients in your cocktail in as much detail as you like.
I ordered a Slow Play Old Fashioned and was presented with the ingredients.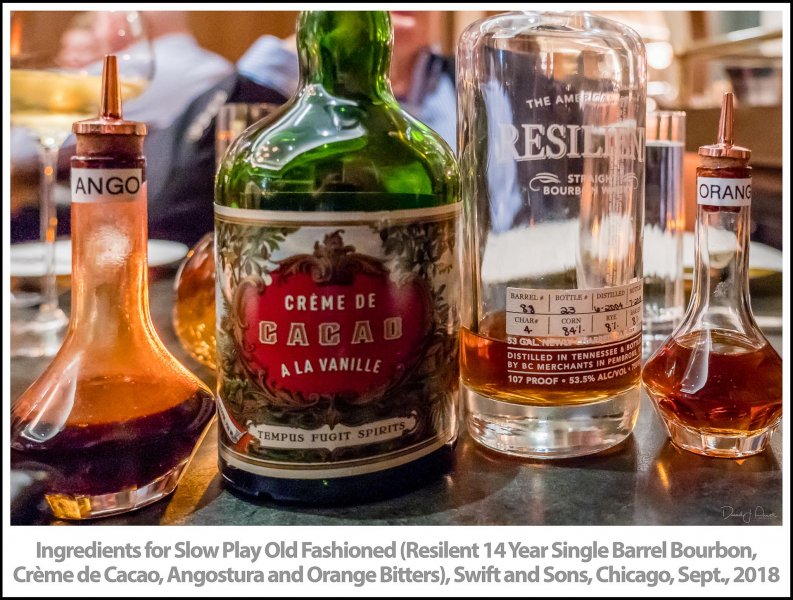 In addition to an excellent Bourbon, the Slow Play included a couple dashes each of Angostura and Orange Bitters. The sweetness was provided with a liqueur, Tempus Fugit Crème de Cacao a la Vanille. Tempus Fugit Spirits is a California-based company that is dedicated to reproducing classic cocktail ingredients from the 19th century. Their first product was an absinthe, and they currently produce a series of absinthes, liqueurs, vermouths, and similar products that are intended to mix with spirits to make cocktails, though they can be enjoyed alone as well. Their Crème de Cacao reproduces a 19th century recipe that emphasizes both cocoa and vanilla "beaniness," and both flavors come through in the cocktail.
Astute readers will note that I questioned the use of a liqueur in a cocktail called an Old Fashioned. That's true. I would argue that it would best recalled a Slow Play with no reference to the Old Fashioned and perhaps that is implied in how the Old Fashioned menu is constructed. In the end, all that really matters is how good is the cocktail, whatever you call it. This one is delicious, with the whiskey still coming through even with the addition of the liqueur.
The other cocktail we tried was the Penicillin, made with Scotch whisky, fresh ginger, lemon, and honey.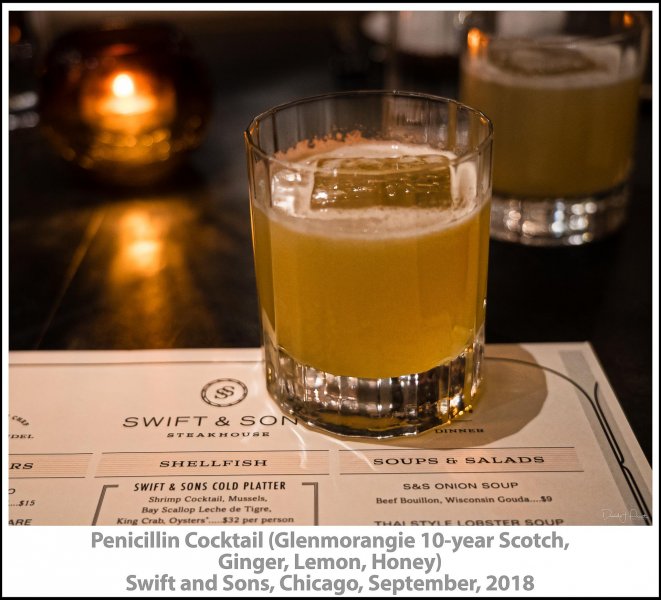 This mixture may well have been what your grandmother recommended for a cold or the flu. It is considered a Modern Classic cocktail (roughly defined as a cocktail that is found on many cocktail menus far from where it was created and was invented since 1980 by a bartender who has significantly influenced modern mixology). I have no idea if the drink has significant medicinal properties, but it is delicious. Here's a detailed look at how to make it.
While we were enjoying our cocktails, a bread basket came out to give us something to nibble on.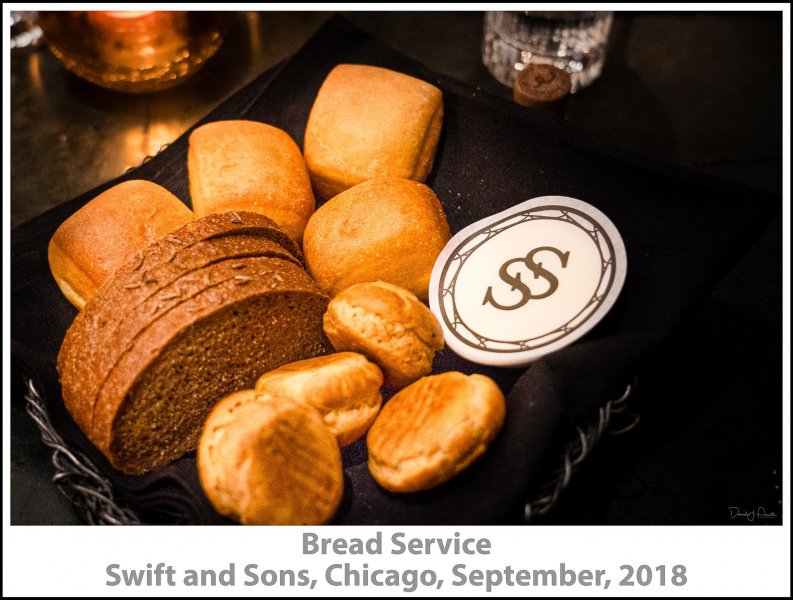 The warm gougères (the round cheese puffs in front) were delicious. The dinner rolls in the back were classic examples the genre, while the hearty whole-grain slices should satisfy anyone looking for what many consider to be a healthier (though not gluten free) choice. Personally, they could have filled the basket with gougères and I would have been happy!
One of the things that distinguishes Swift & Sons from many other steakhouses is the wide variety of classic and not-so-classic appetizers and sides. Valeria and I were with our friends Al and Debbie, who had gotten engaged that day, so we ordered a sampling of appetizers to share among us. First, a compressed watermelon dish.
This was a delicious combination of flavors and textures, from the juicy, sweet watermelon complemented by the sweet crunch of the candied walnuts, the creamy saltiness of the feta cheese, and the salty, savory prosciutto ham.
Next, an appetizer that is not unusual in general, but rare in a steakhouse: crispy, spicy shrimp.
These are a guilty pleasure for Valeria and me. We'll share an order as an appetizer almost anytime we see them on a menu. These were not the very best we have ever had, but they were in the top 10. There was a nice, light, crispy coating and a sweet and spicy sauce that had enough kick to be interesting, but not enough to sear your tastebuds. Overall, the sauce was not as creamy and complex as some we've had, but it was very good.
Another dish that is far from a steakhouse staple: an onion tart with anchovies and olives.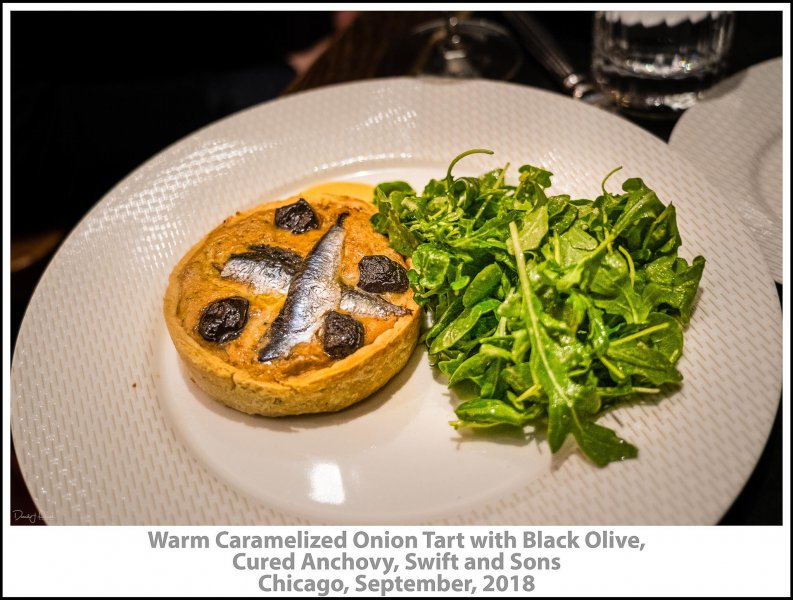 I realize that anything with anchovies is a polarizing dish, so anchovy haters can just skip to the next dish. For the rest of you, this was a great little tartlet. The crust was crispy and buttery while the onion filling was very nicely caramelized to bring out the natural sweetness of the onions. The black olives and anchovies offered saltiness and their own flavor that were intense enough to add to the dish without overwhelming the tart.
Next, raw oysters.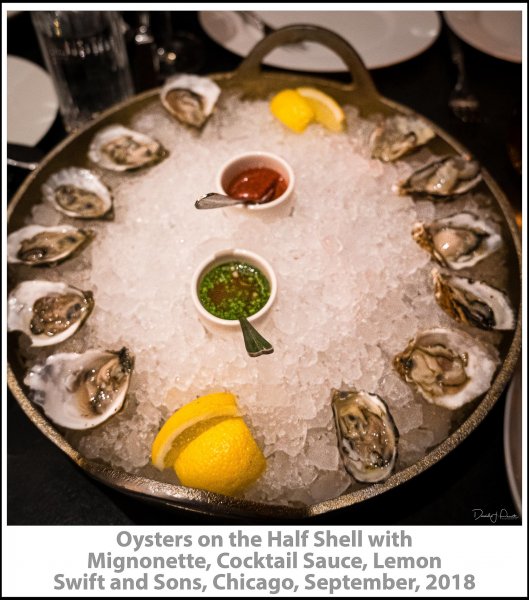 All sorts of seafood, raw, steamed, or fried, is commonly offered on steakhouse menus, so nothing unusual here, but it was perfectly executed. Plump oysters (I have forgotten which variety was on offer that night) with a perfect cocktail sauce (basically catsup and horseradish, probably with a dash of Worcestershire or something similar) and mignonette (shallots, pepper, and herbs in wine vinegar) to flavor the bivalves (or to ignore, for those who like their oysters unadorned).
Another appetizer fairly common these days in non-steakhouse restaurants is some variation on pesce crudo (raw fish in Italian).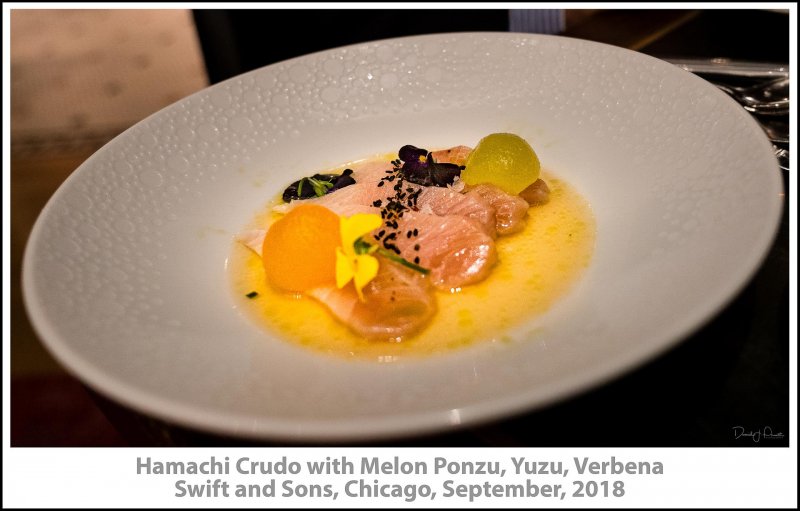 Hamachi (the Japanese name for the amberjack fish) is often seen on a sashimi (raw fish, unadorned) platter and in a crudo, where the raw fish is flavored (either enhanced or overwhelmed, depending on the skill of the chef) with oils, citrus, and herbs. In this case, the fresh Hamachi slices were complemented with fresh melon balls, ponzu, and verbena. Ponzu a Japanese sauce used for marinating and dipping made from rice vinegar, mirin, seaweed, bonito flakes (dried, smoked tuna flakes) and a citrus fruit named yuzu, which is related to, but even more tart, than lemons and limes. Verbena a flowering plant used both medicinally and as an herb.
Our final appetizer was a nod to the summer and the fact that we were at the height of the sweet corn season: sweet corn agnolotti.
If you are not avoiding carbs or gluten, few things are as comforting as a plate of stuffed pasta. Agnolotti are little pillows stuffed with meat or veggies. In this case, a sweet corn filling was used and the pasta was sauced with an arugula pesto. Classic pesto is made with basil, pine nuts, garlic, Parmesan, and olive oil. Here, peppery arugula was substituted for sweet basil and I suspect sunflower seeds were substituted for the pine nuts since the dish was garnished with sunflower seeds. At any rate, if you were in the mood for a pasta dinner, a big plate of this would be very satisfying.
For the main course, we all chose a classic that we had not had in years: Beef Wellington.
The idea of a meat pie—meat wrapped in a pastry crust—is centuries old. No one really knows when the Cadillac version using the heart of the beef tenderloin (filet mignon), luxurious foie gras (fattened duck or goose liver) and a rich mushroom stuffing wrapped in puff pastry was first made. It could well have been France, but there are claims for England, the United States, Ireland, and Wellington, New Zealand, among other places. Back in the 1960s and 1970s it was very popular in the US and represented the pinnacle of luxury dining. I remember making it for dinner parties several times in the 70s and 80s, but I haven't made it in ages. When I saw it on the menu, I had to order it.
Classic recipes call for the meat to be wrapped in a duxelles, a mixture of finely chopped, sautéed mushrooms (usually seasoned with shallots, herbs, and garlic) that can be enriched by the addition of a pâté de foie gras (duck liver pâté; sometimes chicken liver pâté is used as a cheaper, more readily available alternative), then wrapped in crepes to absorb fat and moisture from the meat and duxelles, and finally wrapped in puff pastry. More modern recipes use very thin slices of prosciutto or a similar ham instead of crepes. Swift & Sons upped the ante a bit by putting slices of foie gras in the package and adding some spinach, presumably for color, texture, and perhaps to lighten the dish a little. It was a slice of nostalgia for me, and a delicious one at that.
You can make Beef Wellington at home. It does take some time, but you can buy good-quality, all-butter puff pastry in almost any decent grocery store these days, which makes the whole process much easier. Here's a detailed tutorial on the basic technique.
One problem with using puff pastry is that it will always be a bit underdone and gummy on the inside. Julia Child solved this problem by using a brioche bread dough instead of puff pastry. The brioche cooks through beautifully. You will probably have to make that yourself, though, although you may find it frozen or a local baker may sell you some.
A classic steakhouse menu will always offer some green veggies to go with the steak, including spinach (sautéed or creamed), asparagus, green beans, and broccoli. You'll also need some potatoes to go with that meat, and they may be served mashed, baked, au gratin, or as French fries. Swift & Sons offers the usual suspects, but also some interesting variations. We chose interesting. First, Chinese Broccoli with Calabrian Chile Sofrito and Garlic Chips.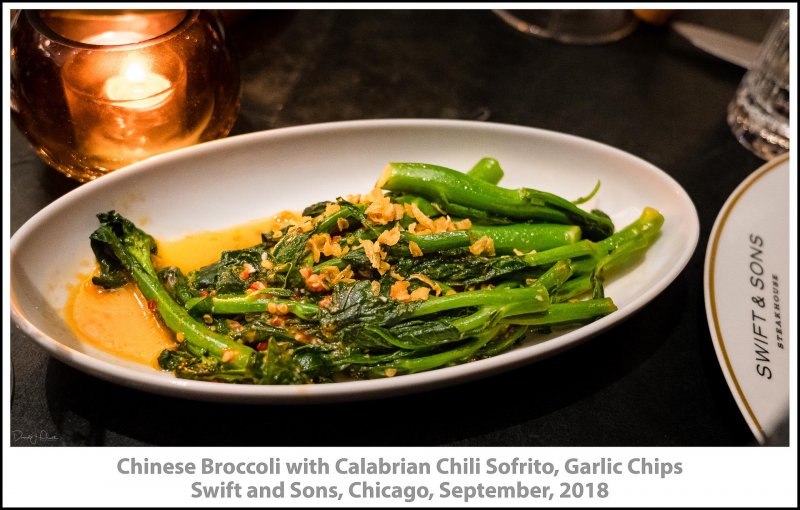 Chinese broccoli (sometimes called Chinese kale) is, as the name implies, a member of the broccoli family. Broccoli was crossed with Chinese broccoli to create broccolini. Broccolini looks a bit like broccoli on a diet. It has long, thin stalks, small florets, and just a few leaves. It is relatively easy to find these days in supermarkets, at least in my area. Getting Chinese broccoli usually involves a trip to an Asian market. Like broccolini, it has long, thin stalks, but the florets are very small and large leaves cover the upper portion. It is very common in Southeast Asian cuisine and can be simply steamed, sautéed, or included in a stir fry. It plays nicely with all the usual Asian flavors: garlic, ginger, soy sauce, chiles, sesame oil, etc.
At Swift & Sons it was sautéed in a Calabrian chili sofrito and garnished with garlic chips. A sofrito is a condiment widely used in Hispanic countries in Europe and North and South America. The exact recipe varies endlessly, but it will generally include bell peppers (any or all colors), onions (any color), garlic, chili peppers (mild to hot), dried herbs (oregano is common), and fresh herbs (parsley and especially cilantro). You just toss all the ingredients in a food processor and process until fairly finely chopped, but not smooth. Think of a classic pesto consistency.
Calabrian chilies, as the name implies, are from the Calambria region of Italy. They are small and mildly spicy. (Chili "heat" is measured in Scoville units. A Calabrian chile comes in around 2500 units vs. 10,000 for a jalapeño, although these numbers can vary widely from chili to chili.) You may find them in your local grocery or just order from Amazon.
The Swift & Sons version of a classic twice-baked potato is "deviled" and stuffed.
"Deviled" in recipe-speak refers to the addition of something, usually mustard, to give the dish a little extra kick. This one also included some smoked paprika (a wonderful spice that should be used more often, available sweet or hot), dill, and, of course, bacon bits.
I went a little crazy with the wine I ordered for dinner, a 1982 Chateau Mouton Rothschild from Bordeaux, France.
Some of you may be old enough to remember the 1982 vintage in Bordeaux. After a number of very poor vintages in the 70s, the 1982s were just phenomenal. At the time, they were incredibly cheap because there had been so many poor vintages in the decade before. It was a very warm year and the wines were generally fuller, richer, and fruitier than was traditional for Bordeaux. Many wine critics declared they would not age well at all, but a then almost unknown young wine critic in Baltimore begged to differ. His name was Robert M. Parker, Jr. (not to be confused with the crime and mystery novelist Robert B. Parker) and he was right. His wine reviews, published in his newsletter, The Wine Advocate, soon became (arguably) the most influential in the world.
Today the best of the 1982s are still going strong, not just holding on, but still improving. Contrary to popular belief, only a very small percentage of wines improve significantly with age, and those generally for only a few years. Mouton Rothschild is perennially one of the top 4 or 5 Bordeaux each year, and in 1982 it was at the top of the class. You could buy a whole case (12 bottles) on futures in 1983 for $350. By 2000 you could easily pay more than that for 1 bottle at a wine auction, so this bottle was ridiculously expensive, but this was a celebratory dinner that called for something special, so I took the plunge.
Whether or not the wine was worth the price is very much a judgement call, but, to anyone who loves Bordeaux at its best, savoring it slowly as it developed in the glass was a decadent pleasure worth a lot more than a glass of the house red. Layers of rich black currant fruit and floral notes were enhanced by the cedar, tobacco, and spice that had developed in the bottle. Still some tannin and a solid acid backbone, I don't think this wine has even reached its peak. If you like Bordeaux and one day win the lottery, track down a bottle of this wine to celebrate.
I should point out that Swift & Sons had an extensive wine list with wines at all price points, by the glass or by the bottle. You should have no trouble finding something that fits your taste and your budget.
We really did not need dessert after all of that, even after lingering with the wine long after the meal was finished. Dessert portions in a steakhouse are often like the portions of everything else: huge. Not so in Swift & Sons, where the dessert cart featured a selection of small bites.
We got a selection of everything to share.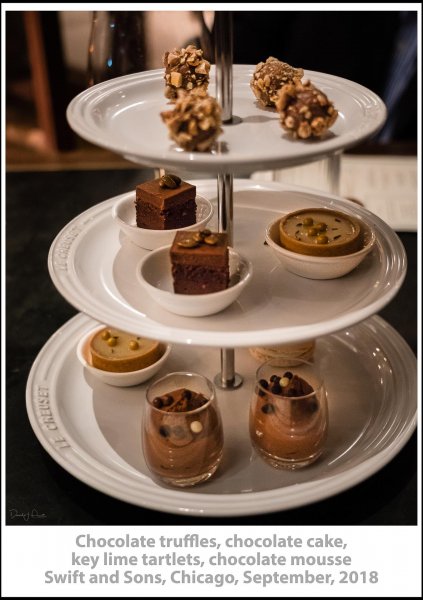 All of thee are familiar desserts, so I won't say much about them, but they were all well made and I really appreciated the small size.
In a city full of great steakhouses, can you declare one to be "the best?" I don't think so. You can certainly name a personal favorite, but taste varies from person to person. What I can say is this: if you enjoy classic steakhouses, but don't mind losing the dark mahogany and clubby feel, there are a lot of very traditional, as well as more modern, steakhouse offerings on the Swift and Son menu.
Swift & Sons
Address: 1000 W. Fulton Market Chicago, IL 60607
Phone: (312) 733-9420
Reservations: opentable.com
Website: http://www.bokagrp.com/swift.php
Dress Code: Smart Casual
Price Range: $50+
Hours: Monday – Thursday: 4:30 – 11:00 pm
Friday – Saturday: 4:30 – 12:00 AM
Sunday: 4:30 – 10:30 pm
Credit Cards: AMEX, Discover, MasterCard, Visa
The author is a member of the Amazon Affiliate program but otherwise has no affiliation with any of the businesses or products described in this article.
All images were taken with a Sony a7 III camera with a Sony FE 24-105mm F4 G OSS Standard Zoom Lens (SEL24105G) using ambient light. Post-processing in Adobe Lightroom® and Adobe Photoshop® with Nik Collection by DxO and Skylum® Luminar® plugins.
.