Oriole is the best restaurant in Chicago. There, I said it. I don't normally proclaim anything "the best" simply because it almost always involves both objective criteria and subjective criteria. Food that is wonderful to me may be uninteresting or even inedible to you. I get it, so let me rephrase: to my taste, Oriole is the best restaurant in Chicago. Your mileage may vary.
Oriole opened just over two years ago in an obscure location on previously unheard of Walnut Street, which is exactly one block long. Chef Noah Sandoval, his wife, Cara, Pastry Chef Courtney Kenyon, and Sommelier Aaron McManus lead a team that treats each customer almost as a guest in their home. The restaurant seats only 28 people with a full view of the kitchen along the back wall. The wait staff and kitchen staff flow from table to table in what looks like (but most assuredly is not) an effortless dance. Any given dish might be placed in front of you by a member of the wait staff and sauced by someone from the kitchen, or vice-versa. Mr. McManus may serve and explain one of the wines he has selected for the (optional) wine pairings, or it may be poured and described with equal skill by someone else. Every restaurant talks about its "team" or "family," but I have been in very few places where the staff truly feels like a team, let alone a family. It feels like that at Oriole.
We snagged a Saturday night reservation the first week Oriole was open over 2 years ago and we loved it. I wrote about that meal here. The restaurant was soon granted two Michelin stars and reservations became impossible to get on weekends even weeks in advance. I finally got lucky when planning a weekend in the city "just" 4 weeks in advance and there it was: a single time slot available at Oriole.
Oriole serves only one prix fixe menu each night. They will do their best, of course, to accommodate allergies and dietary restrictions. Beverage selections are up to you. They offer a couple of levels of wine pairings and a non-alcoholic pairing. Or you can choose your own wines from a well-curated list of by-the-glass and by-the-bottle options. Big bonus points: the wine list also includes a very fine selection of half bottles for those who are dining alone, for couples who want to drink a bit less, or for people like me who sometimes want to chose a half bottle of white and a half bottle of red that I know Valeria and I will particularly enjoy. I chose the premium wine pairing (no surprise to anyone who knows me or has read a few of my blog entries).
Many Michelin-starred restaurants offer several levels of wine pairings with their tasting menus at price points ranging from very reasonable to mortgage-the-house. While I usually feel that I get the level I paid for, there have been times when the higher-end offerings were not as well selected as they should have been (at least to my palate). The premium wine pairing at Oriole is not terribly expensive (I regret that I did not write down the price and I don't want to throw out a number I am not sure of) but is impeccably chosen. Each of the wines I will talk about here was a textbook, delicious example of its type.
As I explained in my first blog about Oriole, you actually enter the dining are through a freight elevator (locked out of service when the restaurant is open so you won't accidentally end up on some other floor in the building). This time we actually began the evening right in the elevator, where a small side table was set up to offering a welcoming beverage.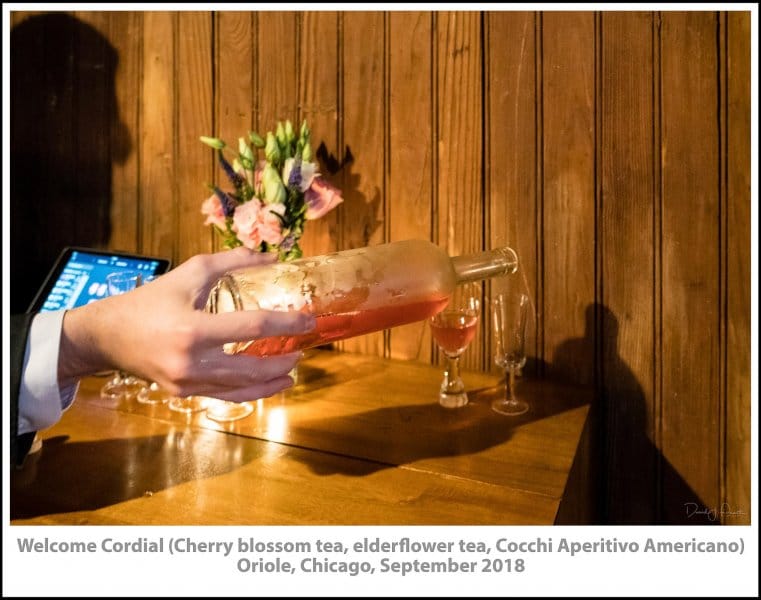 It was a warm night and this chilled combination of house-made cherry blossom and elderflower teas with Cocchi Americano was light and refreshing. Cocchi Americano has been produced in Italy since 1891 when Giulio Cocchi first developed the recipe. It is an aperitif (a beverage made to stimulate the appetite before dinner). It is a fortified wine that has been flavored with a secret blend of herbs, barks, roots and other botanical ingredients. I don't know what the proportions of the ingredients were, but the cool combination of two teas and the aperitif were a perfect welcome on a summer evening.
No sooner were we seated than we were offered the following "welcome back" Champagne:
Since we usually make reservations through OpenTable, the staff at any restaurant can access our dining history and any notes added by the staff. Like most new technology, these databases can be very helpful or misused, but it is nice when the staff acknowledges you as a return customer. A glass of Billecart-Salmon Rosé Champagne, which happens to be one of Valeria and my favorites, really set a happy tone for the night. (I don't think any information about this wine preference could have been in the database, but you never know).
I have been offered a "welcome back" glass of "champagne" at other restaurants, but it has always been an inexpensive Italian Prosecco, Spanish Cava, or California Sparkling Wine. That is still a nice gesture, to be sure, but Billecart-Salmon says WELCOME BACK in all caps. Billecart-Salmon is a medium-sized, family-owned Champagne house that was founded in 1818. To quote from their website: "1818. Nicolas François Billecart and Elisabeth Salmon are married. From their union, they decide to found Maison Billecart-Salmon in Mareuil-sur-Aÿ, the family's home town. Subsequently, Nicolas François joined forces with Louis Salmon, his wife's brother. He oversaw all the commercial activity whilst his brother-in-law, who was passionate about oenology, dedicated himself to the creation of the wines." The Brut Rosé is consistently excellent and generally retails in the $75-100 range.
Just as the Champagne was poured, warm towels appeared to refresh hands and face.
Not only were they warm and soft, but they also had a lovely, mild, but definite, lavender scent.
I did not think the Champagne in the wine pairings (and there is almost always a Champagne to begin the wine pairings) would top the Billecart-Salmon Rosé. I was wrong.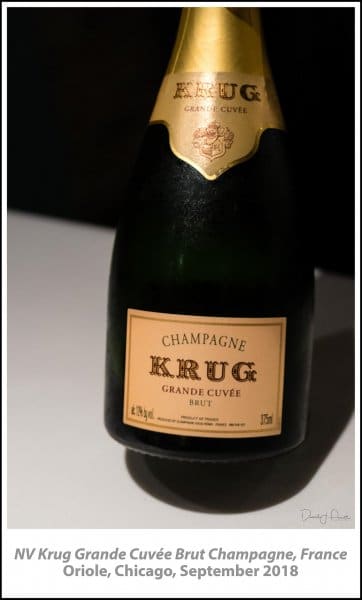 Joseph Krug began producing Champagne in 1843. Like most of the great Champagne houses, Krug produces vintage Champagnes that reflect the character of a single year (if the harvest that year is deemed good enough to deserve a vintage bottling). Most Champagne houses also make at least one, and often several, non-vintage wines that are blended to reflect a certain house style year after year. The Krug Grand Cuvée is an outstanding example of a non-vintage blend. Champagne is made with various blends of Chardonnay, Pinot Noir, and Pinot Meunier. The Krug Grande Cuvée includes over 100 different lots of wine made with all three grapes and spanning a dozen or more vintages. It always shows great richness, complexity, and body while maintaining a certain elegance and finesse. Most Champagne lovers keep Krug on their short list of favorites and for good reason.
As I said, it is common for the wine pairings for a tasting menu to begin with a Champagne. It is also pretty common for the first course to include a little caviar and a fish crudo or ceviche (i.e., raw fish). Mr. McManus' choice here would have blown most of these types of first course out of the water because it is such a rich and flavorful Champagne. Chef Sandoval's take on this approach to a first course was more than able to stand up to the wine.
There was the not-unexpected caviar and raw fish, but the caviar portion was generous in proportion to the fish, and the immensely flavorful dill and saffron beurre blanc added the depth and richness that demanded a wine with the character of the Krug. The flavors and textures in this dish danced a jig across my tongue as they competed in turn for my attention. The result was nothing short of orchestral.
The next course was to be Chef's take on sushi, which we'll get to in a minute. The natural wine pairing is sake (rice wine). Here is the one that was chosen: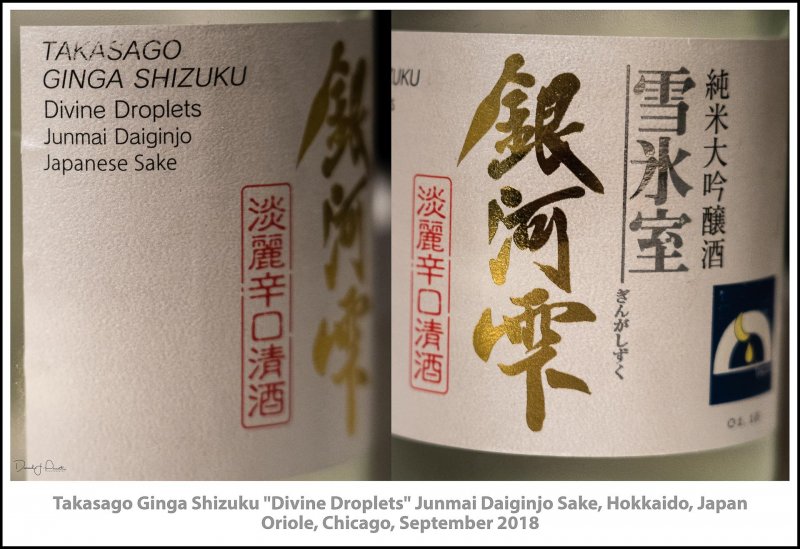 Takasago Ginga Shizuku Divine Droplets Junmai-Daiginjo Sake is a mouthful to say, especially if you, like me, are not particularly fluent in Japanese. Let's unpack it. Takasago is the brewer, i.e., sake producer, which focuses its production on high-end sakes. I believe "Ginga Shizuka" translates to "Divine Droplets" (please correct me if you are fluent in Japanese). "Shizuka" refers to a special method of separating the fermented sake from the leftover solids. Sake is made by mixing rice, water, yeast, and a special mold called koji. Koji coverts the starch in rice into sugar, which the yeast then ferments (turns into alcohol) to produce sake. Once the fermentation process is complete, the solids are separated from the sake.
The most gentle separation method is to simply hang the cloth bags in which fermentation occurred from the ceiling and let the sake slowly drip out. This is the Shizuku (which means "droplets" or "drip-pressing") method. In wine production, this is comparable to the "free run" juice that comes out of wine grapes when they have just been lightly crushed. More juice can be extracted by pressing harder and harder on the grapes, but more and more less desirable flavors and bitterness are also extracted. With sake, the "free run droplets" (I just made that term up) are the lightest, cleanest, most aromatic sake. Pressing the cloth bags will yield more sake, which can still be excellent, but will not be quite as light and elegant.
Takasago takes the Shizuku process one step farther. Every winter at their brewery in Hokkaido (the northernmost Japanese prefecture) they build an ice igloo. The temperature in the igloo remains fairly constant at about 28℉ (-2℃) and 90% humidity, which is an environment in which potentially harmful bacteria cannot grow. The cloth bags used to produce sake are hung from the ceiling and allowed to drip overnight. These are the "divine droplets" that are bottled and sold as one of the most delicious sakes I have ever tasted.
Junmai means "pure rice" refers to sake that is made with only rice, water, yeast, and koji—no other ingredients, such as sugar or alcohol, may be added. Daiginjo refers to a sake made with rice that has been polished until a minimum of 50% of its outer layers have been removed. Since the outer layers contain the most oils and proteins and the inner layers are more pure carbohydrate, they produce the lightest, purest sakes. These are also the most expensive, since you literally throw away half or more of your main ingredient.
A sake of this quality should not be served in a wine glass or (shudder) plastic cup. We were presented with a tray of traditional Japanese sake cups from which to choose. These were ours.
I was reminded of the scene in Indiana Jones and the Last Crusade when some of the characters searching for the Holy Grail need to choose among many sitting on an altar. The "real" Holy Grail was plain and unadorned, which Indiana was smart enough to realize. With that in mind, I chose the wooden one.
Valeria, always more elegant than I, went with the silver and gold version. I'm happy to report that the sake tasted fine in both and neither of us burst into flames or aged 1,000 years after drinking from our chosen goblet.
OK, enough cinematic digression, back to dinner. Chef Sandoval's sushi course was equally interesting.
Sushi, as chic as it has become today, is, at its heart, a basic, inexpensive street food. Rice, seasoned with vinegar, shaped for easy handling, covered with a piece of impeccably fresh seafood, a seasoned with just a touch of soy sauce and wasabi. This style of sushi was developed and popularized sometime around 1800 in what is now Tokyo. There is an earlier form of sushi that was fermented rice used to store fish for long periods of time. I've never had it, but it doesn't sound terribly appealing to modern palates. Nowadays some sushi restaurants throw pretty much anything and everything over seasoned rice, especially in maki rolls, and call it sushi. I'm a big fan of starting with a culinary idea and seeing where it can take you, but at some point the new dishes bear very little resemblance to the original and should probably be called something else. The best sushi restaurants, at least the ones I like best, do offer some creative variations, but their most classic and basic sashimi (thin slices of raw fish), nigiri (rice with raw fish on top), and maki rolls (seafood wrapped in rice and seaweed) are what really separate great sushi chefs and restaurants from the also-rans.
Ōra King Salmon is farm raised in New Zealand. As a rule, I avoid farm raised fish as too many farms are overcrowded, dirty, and focused on quantity, not quality, of fish. There are exceptions, and this product is one. It is served in Michelin-starred restaurants, such as Sepia, and high-end sushi restaurants, such as Roka Akor, both in Chicago. These fish are bred in a clean, free-flowing freshwater spring, then moved to the cool, clean water of the Marlborough Sound. You can see the fat marbling the fish in the image above. It has a rich salmon (not fishy) taste and an almost buttery texture.
The salmon is topped with shio kombu, sea grape, and a touch of sea salt from Okinawa. Shio kombu is seaweed—kelp, to be precise—that is cooked in a mixture of soy sauce, mirin (a slightly sweet rice wine), and sugar, after which it is dried and cut up. It adds a salty, umami (meaty) quality to any dish. The black strands you see on the salmon are shio kombu. You may well find it in your local megamart, but, if not, Amazon can get it to you.
The green element on top of the salmon is sea grape, another type of seaweed. It looks like it is covered in small bubbles, which it is. You can feel the bubbles burst in your mouth and release a tiny bit of salty water. How cool is that?
The second piece of sushi was topped with uni, or sea urchin. My first experience with sea urchin many years ago was stepping on one in the Caribbean. This is not the way to get to know a sea urchin. Here is on in it's native habitat courtesy of FredD [CC BY-SA 3.0 (https://creativecommons.org/licenses/by-sa/3.0)], from Wikimedia Commons.
Those black spines are needle sharp and brittle, so they can break off when you try to remove them. Some are venomous, but not dangerously so to humans. At any rate, much better to have them harvested and cleaned by experts to get the soft, creamy orange-dish flesh for sushi or to add to sauces. Traditionally, like most nigiri sushi. the uni would be seasoned with a bit of wasabi and soy sauce, but this was kicked up a bit with some yuzu koshu. This is a spicy, citrusy Japanese condiment made with chilies, yuzu (a Japanese citrus fruit more sour than lemons), and salt with perhaps a few other herbs or spices blended in. Like wasabi, which it replaces here, it packs a lot of heat and flavor punch.
Genmai is Japanese brown rice, which replaces the traditional white rice here. Finally, the soy sauce is smoked and aged 10 years. No more than drop or two is added on top of the uni.
Depending on your taste, you might think these variations on traditional sushi either destroy it or are brilliant. I lean more to the "brilliant" side. No one would mistake Oriole for a traditional sushi restaurant, so there is no reason for them to try to be traditional and authentic. Given that, I think the creative approach was brilliant and, even more important, delicious.
This dinner occurred during the height of tomato season, so a tomato-centric dish seemed inevitable (and that's a good thing).
The main takeaway from this dish is simple: it was the essence of ripe summer tomato in a bowl. The tomato itself was ripe, sweet, and flavorful. The broth captured the aroma and flavor of tomatoes perfectly. Bay leaf is a wonderful herb that never steps into the spotlight, but always adds some delightful notes in the background of whatever dish it touches. That was true here.
If you have ever had the pleasure of picking a fresh tomato, warm in the summer sun, from a garden (and I sincerely hope you have), you know that, with a sprinkle of salt, it is a little bit of heaven. The dried bonito flakes (dried flakes of the bonito fish, which is in the same family as tuna) added an umami (the so-called 5th taste, sometimes described as "meatiness") had a similar effect.
I use Carpano Antica often, but not to make sorbet. It is one of my favorite sweet vermouths (no, I will not settle for only one) for making Manhattans and related cocktails. There was just enough in the sorbet to add a subtle sweetness and herbal notes that played beautifully with the tomato flavors and aromas.
The wine poured to accompany this dish was one I never would have expected, but in a good way: the 1999 H.B. Pütz-Botzet, Lieserer Süβenberg Riesling Auslese from Mosel, Germany.
German wine labels, especially traditional ones like this, are often intimidating so let me break it down for you. The year the grapes were grown, 1999, is pretty obvious. The producer is H.B. Pütz-Botzet. I don't recall ever having a wine from this producer in the past, and I have been enjoying German wines for decades. Lieserer Süβenberg is the name of the town (Lieser) and the vineyard (Süβenberg or Süssenberg) where the grapes were grown. Quality German wines always include this information with an -er on the end of the town or village were the grapes were grown basically meaning "from", like "Michigander" refers to someone from Michigan (like me). Riesling is the grape and it is, arguably, the greatest white wine grape in the world. I can hear the Bugundians shouting "Chardonnay" and Bordeaux fans shouting "Sauvignon Blanc/Semillon," but no other grape makes wines that are as delicious and long-aging in styles ranging from bone dry to unctuously sweet. Riesling will not just age well, but gain enormous complexity and go through complete aroma and flavor profile changes over 30 years and more.
There is a systematic labeling system (this is Germany, after all) to tell you about the ripeness of the grapes that were used to make the wines. A Kabinett is made from fully ripened grapes and can be dry (labeled trocken) or a bit off-dry. In either case, they are generally relatively low in alcohol (<9%). Spätlese means the grapes have hung on the vines to ripen past full ripeness, becoming sweeter and usually more complex. They are almost always bottled off-dry to slightly sweet, although dry Spätelesen are produced. These are also low alcohol (<10% wines). Auslese means "selected harvest" and is made from individually selected bunches of grapes that are very ripe. These may have up to 12% alcohol if they are fermented dry, but they are most often sweet wines best served with fruit of otherwise as a dessert wine or with a not-too-sweet dessert. From there we go to rare, expensive dessert wines called Beerenauslese ("berry select harvest" made from overripe grapes picked individually) and Trockenbeerenauslese ("dried berry select harvest" made from individually picks grapes that have hung on Thevine until they have dried almost to raisins).
So, this wine was made by H.B. Pütz-Botzet from Riesling grapes picked in 1999 in a vineyard named Süβenberg (Süssenberg) in the town of Lieser in the Mosel region of Germany. Simple, no? Well, maybe not, but the label does offer a lot of information about the wine if you know how two decode it.
Only a very small percentage of the white wines (and, for that matter, red wines) made in 1999 are still good in 2018. Contrary to popular belief, all wine does not improve with age. In fact, most wine is as good on the day it is bottled or within a few months after as it is ever going to get. The best Chardonnays from Burgundy can age for a decade or more, but they are exceptions. High-quality Rieslings, from Kabinett to Trockenbeerenauslese, are major exceptions. I've had 25 year old Kabinetts that were still not only excellent, but still getting better, and the sweeter wines can age even more gracefully.
Young Riesling often starts with fresh, green apple aromas and flavors with a bight acidity. Over time, much more complex aromas and flavors of peaches and spices another fruits evolve as the wine becomes rounder. Few, if any, other white wines age as long and develop as dramatically in the bottle as a good Riesling, and this one had done exactly that.
The next dish gave a whole new meaning to "Surf and Turf": Jamón Mangalica with black walnut, egg yolk and quince paired with a Malpeque oyster in Mangalica consommé with finger lime and borage.
Many of you are no doubt familiar with the famous Jamón Serrano (Serrano ham) and Jamón Ibérico de Bellota (ham from the Iberian Peninsula fed on acorns). These are fantastic, dry-aged hams made similarly to country hams in the United States and prosciutto in Italy (although the details of the curing and drying process in each country are different). Jamón Mangalica is a type of ham made in Serrano from an ancient breed of pigs from Hungary called Mangalica. The breed was dying out in Hungary as it is not suitable for modern, mass production pig farms. However, they do well in the relatively free-range conditions under which pigs for Jamón Ibérico are grown, so a partnership was formed between Hungarian pig farmers and the pig farmers in Serrano. If you have ever had Serrano ham, Jamón Mangalica is similar, but seems to have just a little more smoothness, richness and flavor.
Quince is a very hard, sour, acidic fruit that looks a bit like a pear but, for most people at least, in inedible by itself. It is often combined with sugar to make a thick, jelly-like product called membrillo in Spanish. It is very popular in Spain and Spanish-speaking countries where it is often served with cheese (Spanish Manchego, a sheep's milk cheese, served with membrillo is pretty much one of the national dishes of Spain). You can find membrillo (quince paste when labeled in English) in most large grocery stores (or small Latin grocery stores) these days.
Malpeque oysters are harvested by hand in the Malpeque Bay of Canada's Prince Edward Island. PEI oysters are generally excellent, and Malpeques are the cream of the crop. The best (like this one) are plump and delicious. The light broth made with Mangalica ham married with the flavor of the oyster beautifully. Finger lime is used as a citrus fruit (though it is not botanically classified with lemons and limes) that is native to Australia and looks a bit like a Jalapeño pepper in shape. The inner pulp is made up of many tiny little sacks called "juice vesicles" by botanists and "pearls" by the rest of us. The pearls are also sometimes called lime caviar, as the burst in the mouth much as caviar does, but release a burst of citrus flavor instead of salty fishiness.
Borage is an herb also know as starflower or bee bush. The leaves and flowers are edible and taste a bit like cucumber. It has been used in cooking and medicine since at least Roman times. Taken altogether, this dish married ingredients from Spain, Canada, and Australia in a beautifully balanced and delicious way.
You may have gathered from my description of the German wine that I am a fan of Riesling. Guilty as charged. If there is any place that makes Riesling as well or (arguably) better than Germany, it's Alsace, which (arguably) is as much German as it is French.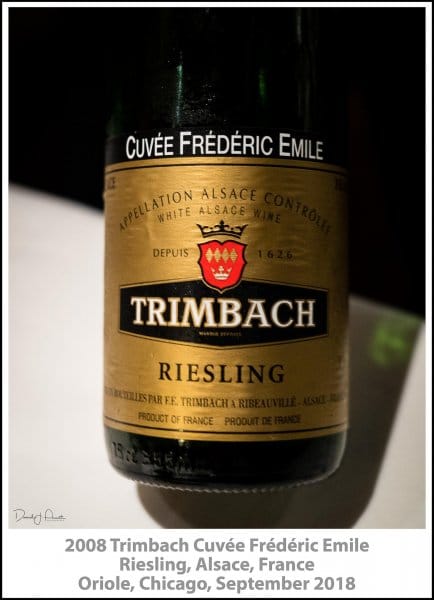 Alsatian Rieslings tend to be more full bodied than their German cousins and are generally, but certainly not always, fermented drier. Trimbach is an outstanding producer that has been making wines since 1626, through 12 generations of the family. Their Cuvée Frédéric Emile (Trimbach) is named after the family member who launched a major quality upgrade program in the late 1800s. It is their flagship wine, produced from grapes grown on vines that average 45 years of age. Trimbach's name on the label is as close to a guarantee of a good wine as you can get, and this cuvée is the one to try if you have never had an Alsatian Riesling before.
Next up: Carabineros Prawn with sabayon, calamansi, radish, finger lime, coconut, and Vietnamese herbs.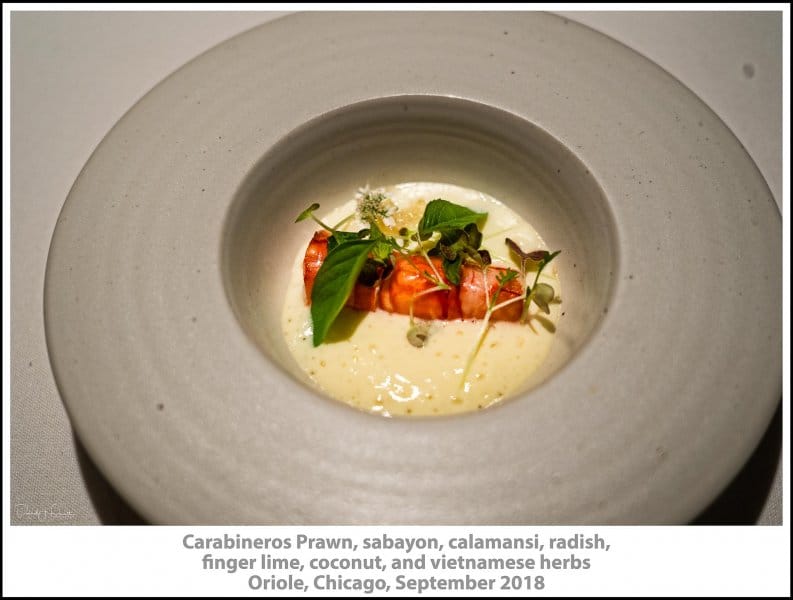 Carabineros prawns are a deep water species found off the coast of Spain in the eastern Atlantic Ocean and the western Mediterranean Sea. They are a deep red color and the Spanish name is said to come from the resemblance of the color to the uniforms of the customs police, or carabineros, in Spain. In English they are called Scarlett or Cardinal prawns while the French call them Crevettes Imperiale (Imperial Shrimp). They are large, meaty, and especially popular in Spain and Portugal where they are simply grilled and served with a sprinkling of salt.
Chef Sandoval's preparation was a bit more complex, but managed to keep the prawn as the center of attention while adding complimentary flavors and textures to the dish. The perfectly poached (maybe cooked sous vide?) shrimp meat was surrounded by a savory, finger lime and coconut-scented sabayon and topped with some Vietnamese herbs (which I forgot to ask about). Calamansi, a citrus fruit native to the Philippines that is similar to a tangerine, additional subtle notes of citrus and fruity sweetness.
Sabayon (the French name, zabaione or zabaglione in Italian) is usually part of a dessert. It's a simple custard, easily whipped up with some egg yolks, sugar, and sweet wine. Here is a 2-minute video of a chef making the classic Italian version.
Don't worry if you don't have a copper bowl. Stainless steel works fine as do glass or ceramic; they just won't conduct the heat as well. Marsala is perhaps the most traditional wine, but Moscato or Prosecco or even Limoncello are also common. Some berries in the bottom of the glass are also terrific.
While sweet sabayon is most common, savory sabayon is just as easy. Whisk the egg yolks with some Brut Champagne, dry white wine, tequila, or sake. Add some finely chopped fresh herbs, or some lemon zest, spices, or miso and you have a savory custard like the one served with the prawn. The citrus flavor from the finger lime was perfect, and who doesn't like coconut shrimp (other than people with an unfortunate shellfish allergy)?
To wash down the plump prawn and savory custard, how about another great white wine?
The great White Burgundy wines of France are made from the Chardonnay grape. The label tells us that these grapes were grown in 2010 in a vineyard named Corton-Charlemagne, after the hill of Corton and the emperor Charlemagne who, according to legend, ordered grapes to be planted on what is now the Corton-Charlemagne vineyard. The Grand Cru designation means that the vineyard is considered one of the best in the region (and Burgundy is, itself, considered one of the greatest wine regions in the world). Perhaps most important of all, it was produced by Camille Giroud, which was a family-owned producer from 1865 until 2001, when it was purchased by Ann Colgin and Joe Wender, the wife-husband team behind California's Colgin Cellars (amazing Cabernet Sauvignon!). The quality from this producer has been consistently high since it was founded. (In fact, the name of the producer can be far more important in Burgundy than the name of the vineyard or even a designation of Grand Cru or Premier Cru. There are sections of what should be outstanding vineyards that produce mediocre wines because the owners rely on the name of the vineyard rather than the quality of the wine they produce.)
The wine was absolutely lovely. It has developed some nice bottle bouquet and flavors, with the citrusy, floral, and pear notes of youth being joined by earthy, smoky, herbal notes. Nice balancing acidity and a terrific match for the prawn dish.
The next course was Black Bass with celeriac (celery root), brown butter and fennel. You'll just have to take my word that it was delicious because I forgot to take a picture!
The next course featured sourdough bread (Chef Sandoval offered amazing, gluten-free breads at Senza and the not-gluten-free breads are even better at Oriole) with two spreads: house-cultured butter with caraway and a foie gras "ganache" (basically a fide gras mousse) topped with huckleberries and pine nuts.
The bread was fabulous all by itself. The foie gras spread was wonderful. The crunch of the pine nuts, the sweetness of the huckleberries, and the richness of the foie gras combined beautifully. Still, foie gras (duck or goose liver) is a polarizing ingredient that not everyone enjoys, but the house made butter, nicely flavored with caraway, should please most of them.
Foie gras usually appears on a menu once, either in a cold (mousse or torchon) style or as a slice that has been seared. On this menu, both. Happy dance for people like me who love it.
A slice of perfect seared foie gras with (presumably) the same huckleberries that were served with the previous dish in a little pickled onion ring "dish". The pickled onions added a slight vinegar hit while the smoked black pepper gastrique added, well, smokiness and black pepper along with another vinegar hit, this time balanced with some sugar. I love the way this dish was constructed. Foie gras loves something sweet as well as some acidity to cut through its rich fattiness. The pickled onions filled with berries offered both sweet and acid in one form, while the gastrique offered up more sweet acidity in another form. Brilliant. (A gastrique is just a reduction of vinegar and sugar that can be flavored pretty much any way you want. Berries or citrus are often used to make a sweeter gastrique, while pepper is used here to make it more savory.)
The next wine to be poured was the 1997 Giacamo Borgogno Barolo Riserva from Piedmont, Italy.
By now I recognized that the wine pairings were a tutorial on just how the wines of some of the world's great wine regions should taste. I have rarely encountered such a perfect selection of wines matched to a tasting menu.
This was a classic, mature Barolo at its peak. Barolo is a big red made from the Nebbiolo. It is (arguably) Italy's greatest red when at its best. The aromas included lots of red fruit, mushrooms, leather, tobacco and cherries. All of these aromas were reflected in the flavors of the full-bodied wine with good balancing acidity and a very long finish.
When in Italy, you gotta have pasta, so we got a delicious one.
The house-made pasta was wearing a perfect coat of beurre monté that had been further enriched with yeast. Beurre monté is basically an emulsion of the normal fat, water, and milk solids in ordinary butter emulsified with a little extra water. The emulsion is stable unless it is boiled, so it can be used to poach liquids or sauce just about anything. Shower the pasta with some grated Perigord truffle (a black, French winter truffle) and toss on some home made puffed wheat (yes, like the cereal only crunchier and more flavorful) and you have a mouthful of textures and umami flavors. In an Italian restaurant, pasta servings are usually large enough to feed a family. I don't usually want that much pasta, but I'll take a huge bowl of this one and call it dinner! (or lunch, breakfast, whatever)
Continuing our tour of great wine regions, the next stop is Bordeaux.
The Romans planted vines on the banks of the Garonne River in the first century. The region that would eventually be called Bordeaux is, in terms of the volume and value of wine produced, is the most important wine region in the world. Oceans of everyday table wine are produced every year, along with (relatively) much smaller volumes of some of the greatest red wines made anywhere. Many non-wine drinkers recognize the name of the region as well as some of the most famous (and expensive) wines, such as Château Latour, Château Margaux, and Château Lafite-Rothschild.
The red wines produced here (we'll talk about the whites some other time) are made primarily from blends of Cabernet Sauvignon and Merlot, with some Petit Verdot, Malbec, and/or Cabernet Franc. Back in 1855, Napoleon III wanted the wines to be ranked so that visitors to the Paris World's Fair could sample some of France's best wines. The ranking was done primarily on the basis of popularity and price which, at he time, was highly correlated with quality (that is not always true today). The primarily Cabernet-based wines of the Medoc were ranked and the best were placed into one of five "crus" or "growths." The First Growths (Premiers Crus) included the Châteaux of Lafite, Latour, Margaux, and Haut-Brion (Chateau Mouton Rothschild, a Second Growth in the 1855 Classification, was elevated to First Growth Status in 1973).
In 1855, Châteaux Léoville was ranked as a second growth. Over the years, the vineyard was divided into three: Léoville-Las Cases, Léoville-Poyferré, and Léoville-Barton. The 2000 Léoville-Poyferré is an outstanding wine from an excellent year. It is just really hitting its stride. There is a lot of black currant and blueberry still on the nose, along with the leather, herb, and cedar notes that develop with age. It is a delicious wine.
A bottle of Bordeaux this good calls out for some good red meat. Chef Sandoval chose a dish as the final savory course. However, as with every dish served so far, there was nothing ordinary about the ingredients. The beef was Japanese Wagyu A5, some of the richest and most expensive beef in the world.
I can't imagine anyone eating a 16 oz Wagyu A5 steak the way many of us do a 16 oz Prime steak (which, by the way, is also outstanding beef). Savoring a small piece is plenty. It was served adorned only with a beef reduction. You would not want anything that would come between you and the taste of this beef.
Also on the plate was a serving of grilled lettuce dressed with miso paste and shiso vinaigrette (shiso is a Japanese herb) and rolled in masago arare, which are the little white balls of crispy rice you see in the picture. I should grill lettuce more often than I do, as it only takes a couple minutes on a hot grill to pick up some nice flavor.
Next came a cool palate cleanser with an unexpected name: a sidecar.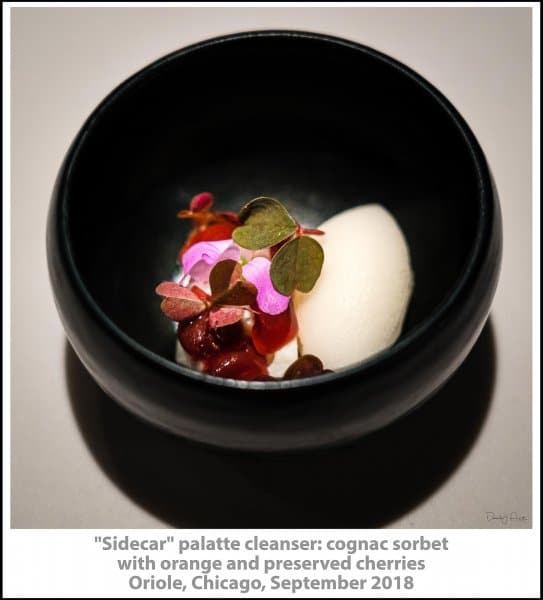 A Sidecar is classic cocktail invented during Prohibition in Paris. Or maybe London. Or New Orleans. As with many classic cocktails, there are competing origin stories that are hard to sort out. It is made with Cognac (French brandy distilled from wine), Cointreau (a French orange-flavored liqueur), and fresh lemon juice. Since the two main ingredients are French, let's go with the "invented in Paris" story, shall we? Regardless, it is a simple and delicious cocktail that you can easily adjust to make as sweet or as sour as you like. Here is a quick lesson with bonus tips on how to choose the right ingredients.
Our "Sidecar" palate cleanser simply takes the ingredients and flavor profile of the drink uses them creatively. The sorbet was flavored with a bit of Cognac while the orange flavor comes from, well, orange. Cherries are not part of the classic cocktail, but they were nice in this dish.
To go with the upcoming dessert course, our third excellent Champagne of the evening: 2006 Saint-Chamant Cuvée de Chardonnay Brut, Champagne, France.
I do not remember ever having sampled, or even hearing of, this Champagne before. A quick Google search led me to the website of Martine's Wines, which imports the Saint-Chamant wines to all of the USA except Georgia. Here is what they say about this relatively new (1930) Champagne house:
Champagne Saint Chamant was established in 1930 by Pierre and Hélène Coquillette. Their son, Christian, took over the estate in 1950. Located in Épernay, the house's unsigned, unassuming exterior in no way hints at its labyrinthine cellar, built in the early 19th century, which is a mile long — and lined with hundreds of thousands of carefully aging Champagne bottles.Charmingly mustached and quite dapper, octogenarian Christian specializes primarily in Blanc de Blancs with more than 28 acres of Chardonnay vineyards in Grand Cru Chouilly. The house also makes a small amount of rosé, from 92% Chardonnay and 8% Pinot Meunier from Épernay.
Christian is a firm believer in extended lees aging, and he disgorges only once the wines have been ordered. All Saint Chamant Champagnes are of a distinctive style and sophisticated quality, reflecting well the elegance and refinement of their maker. They display a heady, old-time richness and vinosity with extremely fine bubbles.
The wine had the elegance you expect in a blanc de blancs (white from whites, which in Champagne means the wine was made from 100% Chardonnay), but had developed some weight and complexity from the extended lees aging that is apparently part of the winery's house style. Lees are fine solid sediments made up of yeast and grape particles that collect on the bottom of a barrel or bottle of wine. Chardonnay (still or sparkling) and Champagne, among other wines, are often left in contact with the lees as they age at the winery as they add flavor and complexity to the final product.
Dry (brut) Champagnes are most popular these days and they are most often served at the beginning of a meal. Champagne comes in a variety of sweetness levels, however, from bone dry to very sweet. Historically, it has been used at the end of the meal, often to go with dessert. The Saint-Chamant was perfect for the first dessert course, which is perhaps better described as a cheese course.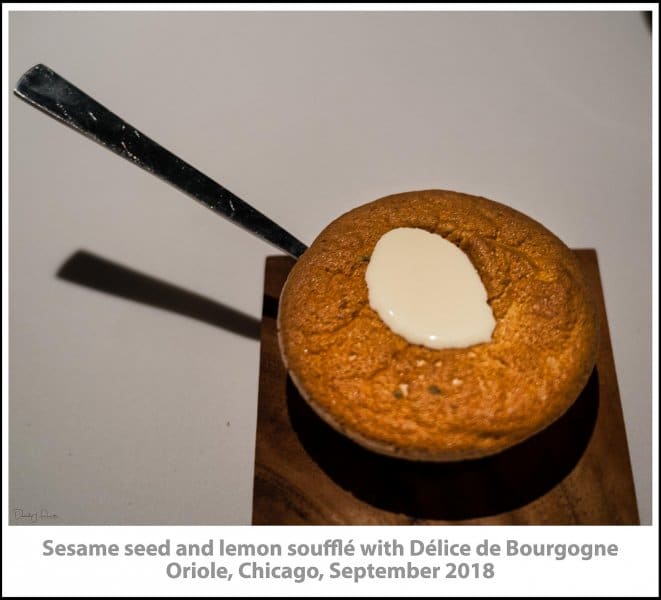 This lovely miniature sesame seed and lemon soufflé was not very sweet to start with. Instead of the usual crème anglaise (thin custard sauce) that has been flavored to match the soufflé, this one was filled with melted Délice de Bourgogne, a decadent triple cream brie-style cheese. It was amazing.
Both Valeria and I love Port, and they chose a good one to go with the next course: Warre's 2003.
Port is a fortified wine from Portugal made by adding brandy to fermenting wine before all the sugar has been turned to alcohol. This produces a high alcohol (20%, vs the traditional 12% for table wines, although 16% alcohol is not uncommon in table wines these days), sweet after dinner drink. It is very dark and tannic when young and can take 10 years or more to open up, then last for decades. Ports pair nicely with chocolate, which just happens to be the next dessert.
A traditional Pavlova is a dessert made with a meringue shell filled with whipped cream and fresh fruit. It is named after a Russian ballerina named Anna Pavlova. It is said to have been created during the 1920s when she was touring Australia and New Zealand. Both countries take credit for the dessert, so I'll leave it to food historians to sort that one out. I can say definitively that it is delicious, especially in the summer when there is an abundance of ripe berries and stone fruits to choose from. It's an easy dessert to make and it is easy to customize how you flavor the meringue and whipped cream and what fruits you use. Here's the basic technique:
While you can make the meringue whisking by hand, I use a mixer every time. A stand mixer is great, a hand mixer works fine. Also, you can just whip the egg whites until they are a bit foamy, then dump in all the other ingredients for the meringue and just let the mixer run. Choose your favorite (or most in season) fruits to top the Pavlova and, if you want to go a little crazy and non-traditional, add your favorite extracts (almond, mint, whatever) to the meringue and/or whipped cream. Crazier still? Add some food coloring to the meringue and/or whipped cream to create colors appropriate to whatever occasion you are celebrating.
By now you may have noticed that Oriole's "Pavlova" looks nothing like this. Instead, Pastry Chef Courtney Kenyon (at least I assume it was her) created and "anti-Pavlova," taking the white, vanilla original and turning it all dark and chocolatey. Gianduja is an Italian spread made with chocolate and hazelnut paste (think Nutella). Hyssop is a strongly flavored herb that tastes a bit like mint's bitter cousin. It has been used medicinally for centuries to treat coughs, sore throats, and indigestion and also as an antiseptic. It played beautifully with the chocolate and hazelnut flavors as well as the blackberries.
Finally, the mignardises, those tiny, tasty, after-dessert desserts that often get brought out at the end of a magnificent meal. First up, Orange Blossom Bon Bons.
White chocolate, orange; what else do I need to say?
Next, a Pineapple Cream Puff.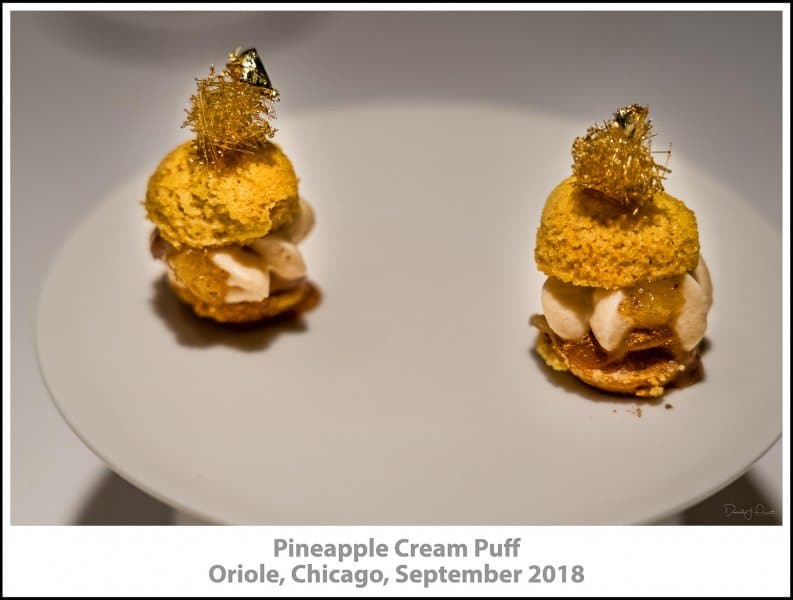 I've had plenty of cream puffs stuffed with, well, cream: whipped cream, chocolate cream, ganache, whatever. I don't remember ever having pineapple in the middle, but there it was, and delicious.
But wait, as the infomercials like to say, thee's more! Huckeberry Doughnuts
Doughnuts always get my attention, large or small, breakfast, coffee break, lunch or dinner. These were perfect, bite-sized morsels filled with a delicious, fresh and fruity tasting huckleberry jam. Huckleberries looks and taste a lot like blueberries but they are more tart and generally not eaten raw but cooked into all kinds of sweet and savory dishes.
Finally, Dark Chocolate Bon Bons.
I have long contended that the perfect dessert is one delicious, dark chocolate truffle, hand made the old-fashioned way and simply rolled in some cocoa powder to finish. These bon bons hit that flavor profile pretty well, but were much fancier with the beautifully decorated chocolate shell.
To accompany the mignardises, I ordered a Sambuca Romana and a double espresso.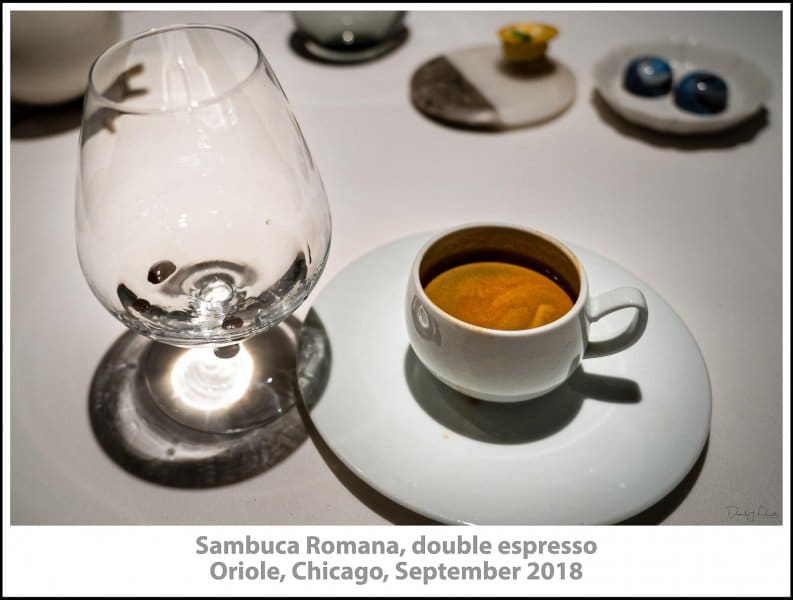 Sambuca is an Italian, anise (licorice)-flavored liqueur. My favorite brand is Romana Sambuca. Sambuca is customarily served with 3 coffee beans that are (usually) said to represent "health, wealth, and happiness." I pour some of the sambuca into the coffee to sweeten and flavor it, then sip the rest with the coffee beans and dessert.
One final touch: a bag of take home goodies, complete with a card explaining the items in the bag.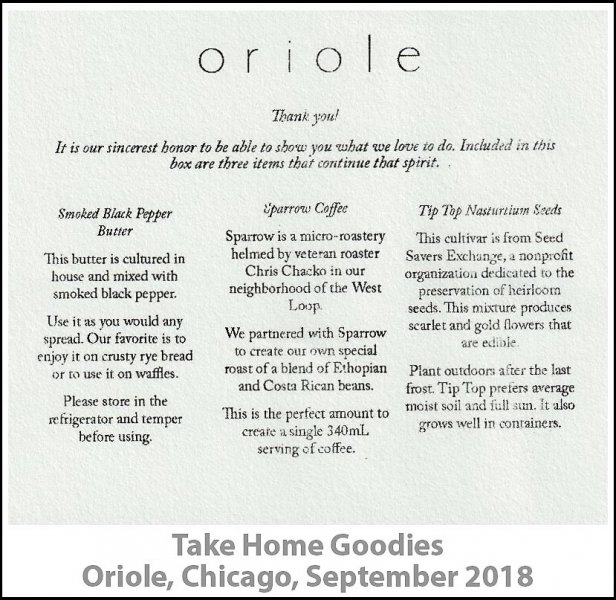 As I said at the beginning of this post, if I had to name one restaurant in Chicago as "the best," I would choose Oriole. This is obviously an arguable, subjective comment. In fact, I generally make fun of any attempt to name anything "the best" as what's best for you may not be best for me. In fact, on any given day, I may be much more in the mood for a steak, Chinese, sushi, Mexican or whatever. Having said that, if you are a food (and, optional, wine) lover, you should definitely put Oriole on your short list of places to go.
Oriole
Address: 661 W. Walnut St. Chicago, IL 60661
Phone: (312) 877-5339
Reservations: opentable.com
Website: http://www.oriolechicago.com/
Dress Code: Smart Casual
Price Range: $50+
Hours: Tuesday – Saturday, 5:30 – 9:30 pm
Credit Cards: AMEX, Discover, MasterCard, Visa
The author is a member of the Amazon Affiliate program but otherwise has no affiliation with any of the businesses or products described in this article.
All images were taken with a Sony a7 III camera with a Sony FE 24-105mm F4 G OSS Standard Zoom Lens (SEL24105G) using ambient light. Post-processing in Adobe Lightroom® and Adobe Photoshop® with Nik Collection by DxO and Skylum® Luminar® plugins.
. .