It was just over a year ago that we paid our first visit to Steadfast, the main restaurant in Chicago's Klimpton Gray hotel. We enjoyed it, as I wrote here. This year, Valeria, her mom and I were walking around Chicago, enjoying the holiday sights and sounds and decided to pay a return visit. It was a good call. We had an early reservation and snuck in just before the Happy Hour Menu expired at 6:00. That was a lucky break.
The cocktail program at Steadfast, which is part of the Fifty/50 restaurant group, is overseen by Benjamin Schiller, a noted Chicago mixologist. While some of the cocktails on the featured list had remained the same, others had changed over the last year.
The Burnham and Root was new to me. The name is an obvious nod to Daniel Burnham and John Wellborn Root, the two architects whose firm was largely responsible for the rebuilding of Chicago after the great fire of 1871.
It caught my eye because I am a fan of Bulleit Rye (misspelled on the cocktail menu) as I have written about here, among other places. The cocktail is a riff on a traditional Manhattan, which can be made with Bourbon or Rye, with apricot liqueur replacing some (all?) of the sweet vermouth. The Amarena cherries are some of the finest in the world. They are grown around Bologna and Modena, Italy. Small, dark and tart, Gennaro and Rachele Fabbri began cooking them down in sugar water to almost a candied state, then selling the cherries in the syrup they cooked in beginning soon after 1900. They are richly flavored and bear no resemblance to the day-glow red Maraschino cherries used in lesser bars. Also notice the large, square ice cube in the drink. This keeps the cocktail nice and cold, but melts slowly so the drink does not become too diluted. A simple, but excellently made and delicious cocktail.
Steadfast has an excellent selection of wines by the glass.
Valeria usually starts with a glass of Champagne (note the capital "C"—French Champagne) and we were pleased to see two on the list along with a good sparking rosé from Alsace. Valeria chose the Piper Heidsieck, a Champagne house with a history stretching back to 1785. Their Brut is a relative inexpensive, reliably good and made with the usual Champagne blend of Pinot Noir, Chardonnay and Pinot Meunier. It does not have all the depth and complexity of vintage Champagne, but it's a perfect house Champagne. (Your taste may vary, of course.)
There is a special Happy Hour menu which we did not see see on our previous visit.
Our first inclination was to order one of each, but that would have been a bit much, so we started with the Gougères.
There was an amazing gougère with a lemon, caper & goat cheese filling and slices of black truffle on top on the appetizer list on our first visit to Steadfast.
This was delicious. You can read more detail about this version and learn how gougères are made in my blog about that visit.
The gougères we tried this time were not quite as decadent (anything with fresh truffles is, by definition, decadent) but were no less delicious. The creamy mortadella and tart-sweet pickled chow chow were great partners with the rich gougère pastry.
I can't remember the last time I saw chow chow in a restaurant. If you are not familiar with it, chow chow (or chowchow, sometimes synonymous with piccalilli) is, fundamentally, pickled vegetables. There are two broad styles: northern, which is dominated by tomatoes, onions, carrots and a mix of other vegetables, and southern-style, which is mostly cabbage. Having said that, I have had "northern" chow chow all over the south a "southern" chow chow in the north, so I am not sure this distinction is still useful. Moreover, variations are pretty much endless, depending on which chef or whose mother or grandmother is making it and what vegetables they have on hand. There are both sweet and spicy versions. It is a popular condiment in many southern and western states and some parts of Canada. Click here for a fairly typical recipe, but you'll find hundreds more with a quick Google or YouTube search.
Next up, mini-lobster rolls.
The edge of the roll that looks burnt was, in fact, burnt, which detracted from an otherwise fantastic lobster roll. You'll find variations on these rolls all over the northeast, especially Maine, often sold from little roadside shacks. The split, buttered and toasted rolls are traditional and they are always overstuffed with lobster seasoned with some sort of mayonnaise and herb mixture. In this case, smoked aioli (garlic mayonnaise), tarragon (always a good choice with lobster) and salmon roe added lots of flavor and texture. If you like lobster rolls, these could be addictive.
Our third and final choice from the Happy Hour menu was the SFC Wings.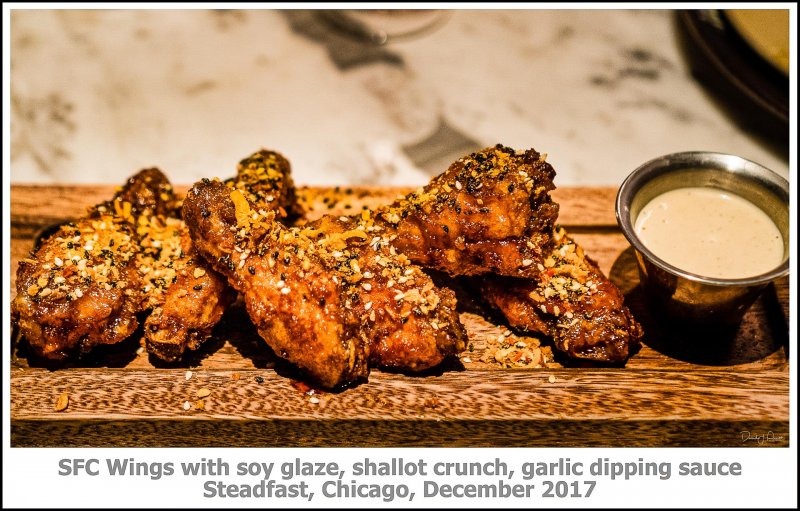 I didn't ask, but assume that SFC = Southern Fried Chicken. The wings certainly looked and tasted like they were southern fried (not by the Colonel, but by someone's Alabama grandma) and coated with a sweet and salty soy glaze, crunchy fried shallots and paired with a garlic dipping sauce. These are the kind of wings that give wings their reputation as one of the great appetizers and bar foods on the planet.
While we were finishing the wings and perusing the main menu, we were presented with an amuse bouche (a free little bite from the chef): salted merengue with a coconut curry cream filling.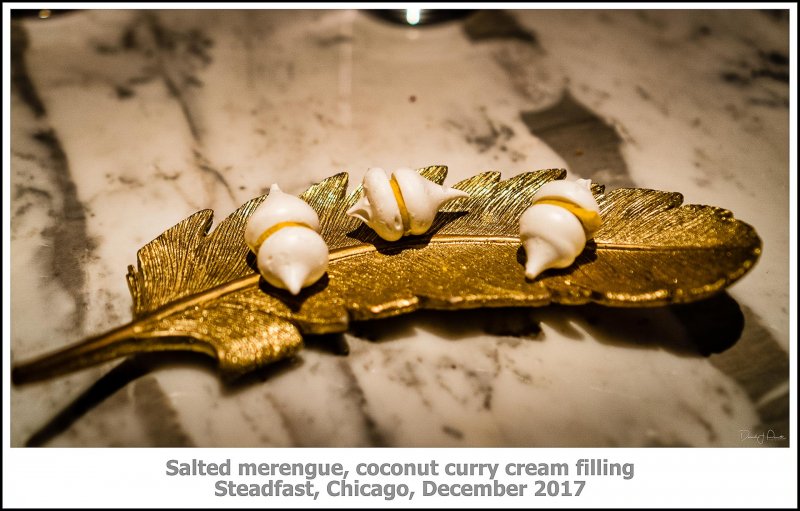 I mean, c'mon, when was the last time you were served anything on a gold plated feather? Another really creative dish. It looks like it should be an after-dinner sweet, as meringues usually are, but it was a savory, salty meringue with a savory coconut-curry filling. Fun and tasty.
The evening was going very well. The food had been delicious, the wait staff friendly and the service prompt. We were not going to quit while we were on a roll, so we turned to the regular menu.
While the appetizers from the main menu looked interesting, we had already done well with the happy hour menu, so we focused on the main courses. We knew we wanted the bread service, which is extraordinary here. There are several breads to choose from as well as a choice of butters, oils and pickles to go with the bread. The large bread service includes one of each type.
Along with the three butters included in the large order, we chose the sun-dried tomato oil and pickled cauliflower to finish out the course—almost.
There was one other optional add-on: winter truffle butter. We could not say no to that.
The bread selection, which I presume is the creation of Pastry Chef & Partner Chris Teixeira, was almost completely different than on our last visit. Only the Flamiche remained, so I presume the breads are rotated regularly. From left to right in the photo above, we tasted the Za'atar Sourdough first. Za'atar (ZAH-tar) is the Arabic word for thyme, but in this context refers to a blend of herbs and spices commonly used in Middle Eastern cooking. As with many widely-used spice mixtures, there is no single recipe for za'atar. It is generally a blend of ground thyme, oregano, and marjoram, usually mixed with ground, toasted sesame seeds, sometimes enhanced with further additions such as sumac and hyssop. Often mixed with oil to make a dip for bread, it can also be baked into the bread, as was done here.
Next was flamiche bread, which is like a cross between brioche (a rich, egg and butter bread) and focaccia (an Italian bread topped with onions, herbs cheese or whatever the cook decides). This was the one holdover from the last bread service we ate here and I can see why; it's delicious.
Next came "Everything Francese," which, as far as I could tell, was like an everything bagel, but with all the toppings baked into French bread. Pumpkin seed bread was simply a roll (whole grain of some kind) baked with a generous coating of pumpkin seeds that added texture and flavor as well as just making the bread look better. That was followed by the Cheddar Pretzel, which was one of the unexpected stars of the group. Pretzel bread is ubiquitous these days and most cheese breads lack much cheese flavor. This example had true pretzel flavor, great texture, and very clear cheddar cheese flavor.
The last bread was a mini-baguette, which could easily be dismissed as nothing special, but a properly made baguette is the poster child for what good bread can be: great crust, chewy, but tender interior and more flavor than you would expect from its minimal ingredients.
I won't detail every butter and oil combination, but each one was flavorful. It was a lot of fun trying the different butters and oils on the different breads and using the (very tasty) pickled cauliflower as a palate cleanser between bites. If you are a bread lover, this course, along with the sausage and cheese board and a good bottle of wine (beer, if you prefer) would be a terrific meal.
By this time I had also ordered a second cocktail: a Weston.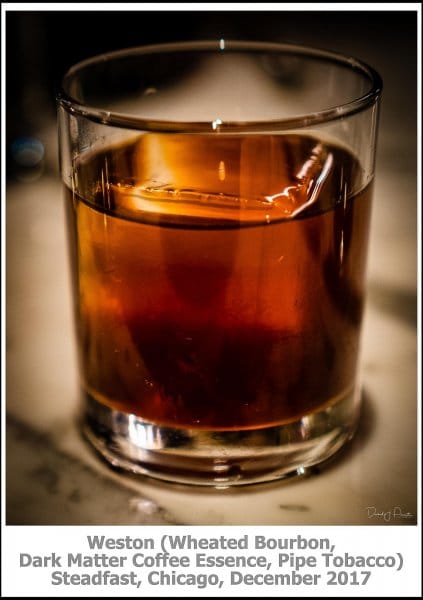 I remembered seeing this one on the cocktail list when we visited the first time. I was scared away by the thought of pipe tobacco floating in my drink. OK, I wasn't really frightened, but it was an odd ingredient. This time I decided to face my fears and give it a try. Turns out it is a good thing to face your fears.
The Weston is one of Benjamin Schiller's personal creations. Start with 2 oz of good Bourbon (the Fifty/50 group has lots of good Bourbons at its locations), add ½ oz coffee syrup (made in-house using coffee from Dark Matter, a Chicago boutique coffee shop) and a couple dashes of Peychaud's Bitters. Stir with ice and strain over fresh ice (one of those big spheres or cubes of ice if you can get it) and garnish with a spritz from a atomizer that contains an extraction of pipe tobacco. Alas, I don't know the recipe for making the coffee syrup, but one article suggested it may include some dark chocolate and a bit of curry. The results a dark, aromatic cocktail that tastes of coffee, vanilla, chocolate, a subtle spiciness (cinnamon?) and bourbon. If you like classic cocktails like The Manhattan or Old Fashioned, you definitely want to give The Weston a try.
On our first trip, Valeria and I shared a Seven Day Dry Aged Whole Roasted Duck. This time, the menu listed a Fourteen Day Dry Aged Duck. Should we try it again? Several other items also looked good. Our general rule is to try different things on our first few visits to a new (to us) restaurant, but we loved the duck last time and all three of us decided that was what we wanted. (Rules, after all, are made to be broken.) As it happened, we were seated at a table that had a view of the aging room and we could see the ducks, sausages, and hunks of beef hanging there. A nice view for a foodie!
We placed our order for the duck and a cauliflower gratin, but our waitress soon returned with an apology. None of the ducks on hand had aged the full 14 days; the oldest was 11 or 12 days. She offered to let us change the order or, if we wanted, they would prepare the slightly underaged duck. We stuck with the duck and the roasted breast was soon presented to us.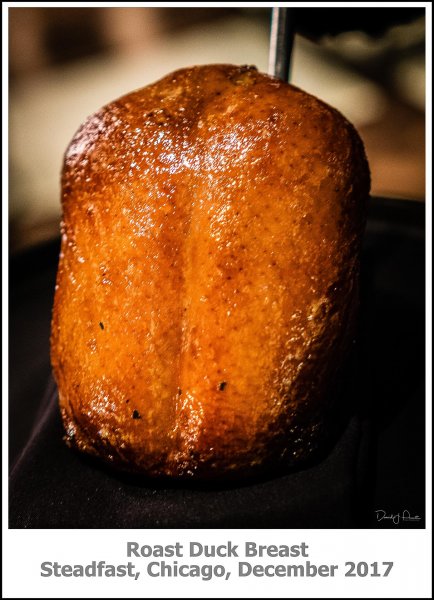 To be honest, I don't know if that was actually our breast or one they keep for show and I didn't ask. The important thing was that it soon reappeared with the confit legs and the cauliflower.
The duck was, once again, delicious. The orange glaze that they use to finish the breast offers just enough fruit flavor to bring out the best in the meat. The confit leg sections had lovely, crispy skin and tender meat nicely flavored by the herb and spice mixture used to confit the leg.
Confit is a cooking and preservation technique in which meat is slowly poached submerged in fat (usually a collection of duck fat from previous batches) until it is meltingly tender. Back in the day, the meat and fat would simply be allowed to cool together and the meat was safely preserved without refrigeration. It sounds like it would be very greasy and caloric, but, done properly, it is not.
The selection of red wines by the glass, like the sparkling wines, was very well chosen. This place is serious about their cocktails and their wines (and, as we shall see, their spirits).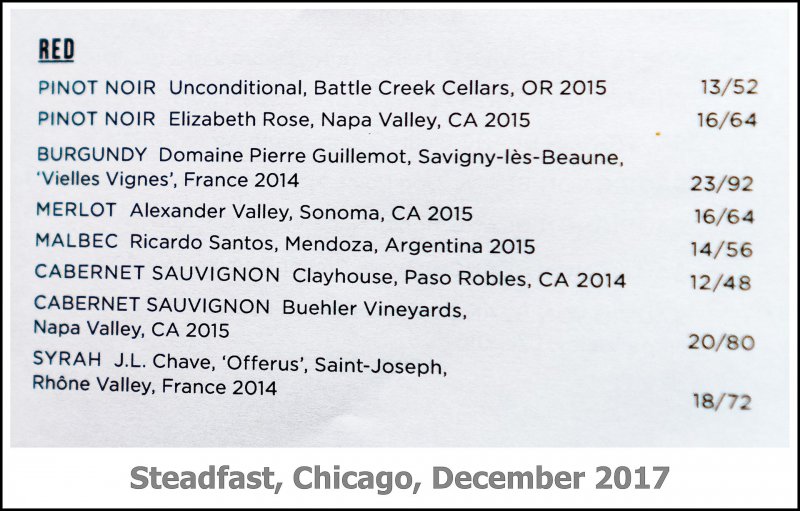 The last wine on this list, the 2014 J.L Chave "Offerus" Saint-Joseph, from the Rhone Valley in France is a gem. The Chave name on a bottle of wine is almost a guarantee that it will be somewhere between good and outstanding in the glass. Most of their vineyards are located in the Rhone Valley (Saint-Joseph is a subregion within the Rhone) and this particular wine is made from a blend of grapes that they own and that they purchase. Syrah is the grape used, which produces a full-bodied wine with black fruit flavors and, depending on where it is grown, can have various aromas and flavors of spice, black pepper and even floral notes. This is and inexpensive wine, retailing around $30, but it does not need long aging and is usually delicious, as was this 2014.
We looked at the dessert and after dinner drink menus, but were too full to try anything more. I have mentioned that Steadfast (and the whole Fifty/50 group) is very serious and their wine, cocktail and spirits program. For devoted whiskey drinkers, they have some very rare, almost legendary selections. Note that the prices below are not for a bottle, but for a 2 oz (60ml) pour.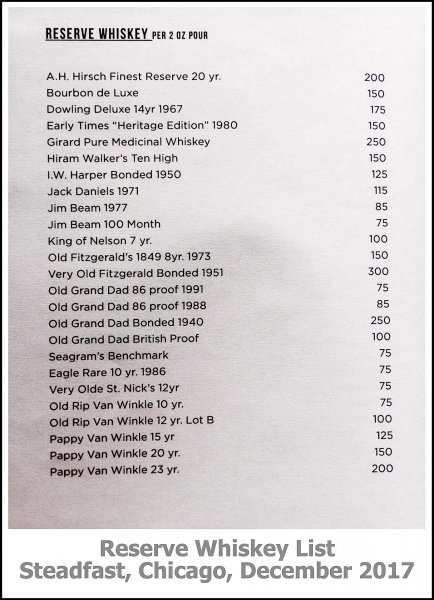 If I win the lottery, I am going to try all of these. Fortunately, they have a long list of less rare and far more reasonably priced spirits that we non-billionaire drinkers can enjoy.
We left once again happy with the choices we made and with a great impression of the food, ambience, drink program and service at Steadfast. I hope it will not take us a year to return.
Steadfast
Address: 120 West Monroe Street, Chicago, IL 60603
Phone: (312) 801-8899
Reservations: opentable.com
Website: http://www.steadfastchicago.com/#index
Dress Code: Business Casual
Price Range: $30-50
Hours: Breakfast, Monday – Friday 7:00am – 11:00am
Lunch, Monday – Friday 11:00am – 3:00pm
Dinner, Monday – Friday 4:00pm – 10:00pm
Dinner. Saturday: 5:00pm – 10:00pm
Dinner, Sunday: 4:30pm – 8:30pm
Credit Cards: AMEX, Discover, MasterCard, Visa
Steadfast, Klimpton Gray Hotel
The author is a member of the Amazon Affiliate program but otherwise has no affiliation with any of the businesses or products described in this article.
All images were taken with a Sony Alpha a6500 camera and a Sony-Zeiss SEL1670Z Vario-Tessar T E 16-70mm (24-105mm full frame equivalent) F/4 ZA OSS lens or Sony 35mm (52mm full frame equivalent) F/1.8 E-Mount Lens using ambient light. Post-processing in Adobe Lightroom® and Adobe Photoshop® with Nik/Google and Skylum® Luminar® plugins.