Some friends invited Valeria and me to dinner at Remington's a few months ago. We enjoyed it and, when looking for a place for a casual dinner, remembered Remington's and snagged a reservation. Smart move!
The menu at Remington's is nicely varied, but not so huge as to create analysis paralysis from an overwhelming number of choices.
Cold starters, raw bar, hot appetizers, big plates, and casual sandwiches all have a place on the list. We immediately locked eyes on the tempura rock shrimp in a spicy sauce.
As far as I know, these do not appear on anyone's list of healthy diet options, but Valeria and I both love them and will almost always order them if they are available. These were delicious. Perfectly fried in a light tempura batter and tossed in just the right amount of sauce to coat and flavor the shrimp. The sauce itself was just as we like it: creamy with a good (but not crazy hot) kick to it. The chopped cilantro added a nice herbal touch.
Another item we will almost always try is deviled eggs. How could we resist lobster deviled eggs?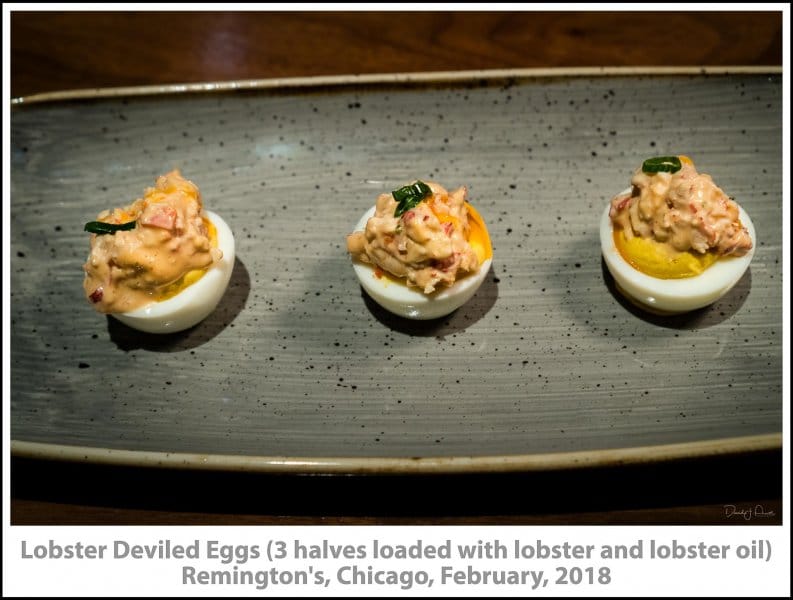 To be honest, no one makes deviled eggs as good as my mom did. (My sister has come extremely close to mastering the recipe, but don't tell her I said that as I never say anything nice about my sister!) Having said that, these were delicious deviled eggs. A touch of heat in the creamy yolk mixture and a generous dollop of lobster salad on top made me want to order more, but I exercised a modicum of self control.
Of course I needed a little something to wash these tasty bits down. The Remington is located right across Michigan Avenue from Millennium Park and the famous sculpture known as The Bean (official name: Cloud Gate, but nobody calls it that).
In honor of that, they have developed a cocktail named The Bean.
The name immediately caught my attention, but the list of ingredients worried me a bit. Templeton is a good rye whiskey that I think is better in a cocktail than on its own (obviously very much a matter of personal taste), but the remaining four ingredients would all add some sweetness as well as many complex flavors. Would they overwhelm the whiskey? Would the cocktail be too sweet?
Fernet Branca is an Italian amaro, a class of bittersweet liqueurs generally used as digestifs (after dinner drinks intended to aid digestion). Amari (plural of amaro) are generally made by infusing brandy with a variety of herbs, spices, plant barks, flowers and so on using a proprietary recipe. These ingredients all come from plants and so are often called botanicals. Some amari have been developed recently, others were developed centuries ago. All have a certain amount of sweetness from added sugar and bitterness from the mixture of botanicals.
Fernet Branca was developed in Milan, Italy in 1845. The recipe includes 27 botanicals. The recipe emphasizes the bitter components and is not a drink that everyone enjoys by itself. It can be an excellent addition to a cocktail, however, as it contributes many subtle flavors and aromas (if used judiciously) and can help balance the sweetness of other ingredients.
There are three additional ingredients in this cocktail, all sweet, which is why the addition of Fernet Branca is so important. Back in the day of neon-colored "martinis" too colorful and too sweet cocktails were all the rage. While I am sure some people still prefer sweet cocktails—and I have no problem with that—current fashion has moved to drier, more complex (sometimes too complex!) cocktails developed with as much care as a master chef develops a new recipe for a 3-star Michelin restaurant.
Luxardo Maraschino Liqueur is a cherry-flavored liqueur brought to us by the same Italian family that produces Luxardo Maraschino Cherries. The Luxardo company was started in 1821 by Girolamo and Maria Luxardo in Zara (now Zadar), Croatia, to produce liqueurs, canned cherries and other cherry products from the local Marasca cherry trees. The business thrived until World War II, when the orchards were burned. According to the company's website, one sapling was saved and survived the war. It was used to begin a new orchard in Padova, where Giorgio Luxardo built a new factory and distillery and rebuilt the family business. The orchard is now comprised on some 29,000 Marasca cherry trees descended from the rescued sapling. I have to say that the story of the single sapling surviving and eventually producing 29,000 trees seems a bit more like romantic family lore than history, but that is the official history. The sixth generation of the family still runs the business today.
I have written about these cherries before in several posts. Basically, if you are served a classic cocktail with one of those neon-red "cocktail cherries," you should complain, at least if it is a bar that pretends to be anything more than a dive bar. I am a PhD chemist, so the word "chemicals" does not frighten me particularly, but the Franken-cherries in cheap cocktails have been chemically processed to strip all the color and flavor and preserve them. They are then re-colored, flavored, and sweetened by largely artificial means. Luxardo Maraschino cherries are in fact, actually cherries that have been candied and preserved in a cherry syrup with no preservatives. The difference in flavor and texture is like the difference between a hot dog and a prime beef steak.
The liqueur comes in a distinctive, straw-wrapped bottle.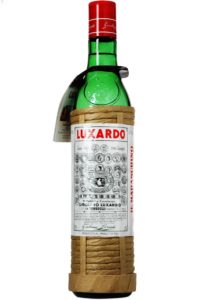 It is quite nice to sip after dinner and is used in many cocktails to add cherry flavor and a bit of sweetness. It is sweet, but not as sweet as many liqueurs.
The next component of the drink is orange juice, which I will assume needs no introduction! In addition to the sweetness of the fruit, the juice adds a balancing acidity.
Tawny Port is one of many styles of Port wine. Port hails doom the Portugese town of Oporto and has been a beloved after dinner drink in Britain for over 300 years. There are almost a dozen official styles of and each producer has variations on the themes. Tawny port is a red wine that is allowed to age in oak barrels where enough air can slowly get in to oxidize the wine slightly, turning it a tawny (brown) color. Some barrels are aged for 40 years or more. Uncontrolled oxidation destroys wines, but controlled oxidation gives us dessert wines like Sherry, Madeira, and Tawny Port. Always sweet, but with lots of flavors and aromas that arise from the long aging, Tawny Port is delicious on it's own but also finds it's way into many cocktails.
So how did the combination of these diverse ingredients work? Beautifully. The aromas and flavors were complex and the cocktail was no sweeter than a well-made Manhattan. If you enjoy whiskey-based cocktails, give this one a go.
As I mentioned at the top of the article, we were looking for a casual dinner. For me, that often means I'd like a good burger. Here is Remington's version: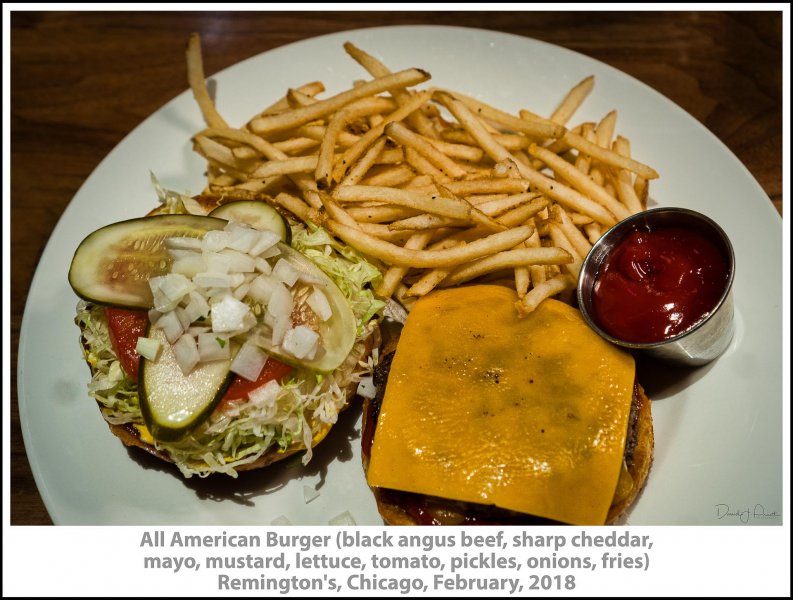 Cutting to the bottom line: if you are looking for a classic, all-American burger with no special bells and whistles, this burger should make you happy. The menu did not specify the weight of the patty, but it is advertised as Black Angus Beef. It was big enough to cover the bun nicely, but not so big as to overwhelm the bun and leave you with just meat and no bread as the end. It was thick enough to give you plenty of beef flavor, but not so thick as to ruin the balance with the other ingredients. I know restaurants like to boast 12 and 16 oz (340 and 450 g) burgers, but that leaves you with meat that, if properly seared on the outside, can be nearly raw in the middle. A quarter pound (110 g) is just about the perfect patty. If you want more meat, stack multiple 4 oz portions after grilling.
At any rate, this was a very good burger: beefy with a nice slice of cheddar, pickles, lettuce onions and ketchup all held by a sturdy bun that soaked up the beef juices and stayed together.
I also loved the fries. Relatively thin, soft on the inside, crisp on the outside and sufficiently salted. You would think that any restaurant could get a burger and fries right, but that is not my experience. This was a good one.
Valeria went a different (some would say healthier) route entirely: Branzino.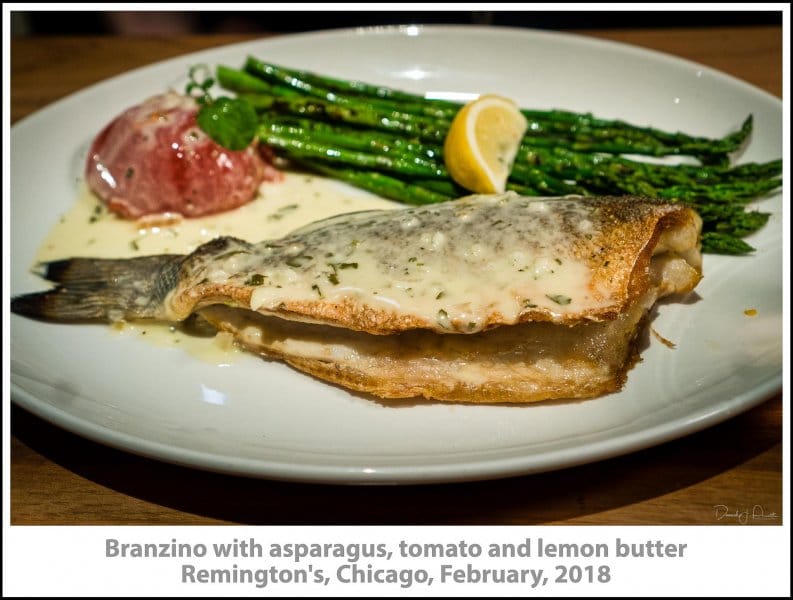 Branzino is a sea bass from the Mediterranean that has become quite popular, and for good reason. It is a flakey, white fish that typically weights 1 to 3 pounds (0.5 to 1.5 kg) so it can easily be prepared for one or two. It takes very well to grilling, roasting or sautéing. This one was pan-fried and served with a classic lemon-butter sauce. A baked tomato and some grilled asparagus on the side, and Valeria was in a happy place.
We were, in fact, plenty full after that, but our waiter, who had been terrific throughout the meal, waxed poetic about how good the Skillet Cookie was. We surrendered to temptation.
From a dietetic view, probably a poor choice. From a hedonistic point of view, perfection. The cookie was warm and full of just-melted chocolate chips. The vanilla ice cream was rich and the pecans added perfect crunch.
So, if you find yourself in Millennium Park or nearby and in the mood for a casual, but well done, lunch or dinner, give Remington's a try. You might see us there.
Remington's
Address: 20 N Michigan Ave Chicago, IL 60602
Phone: (312) 782-6000
Reservations: opentable.com
Website: http://www.remingtonschicago.com
Dress Code: Smart Casual
Price Range: $31-50
Hours: Lunch: Monday – Friday: 11:30 am – 4:00 pm
Dinner: Monday – Thursday 4:00pm – 10:00pm
Dinner: Saturday: 3:00 pm – 11:00pm
Dinner: Sunday: 3:00 pm – 10:00 pm
Brunch: Saturday-Sunday 10:00 am – 3:00 pm
Credit Cards: AMEX, Diners Club, Discover, MasterCard, Visa
The author is a member of the Amazon Affiliate program but otherwise has no affiliation with any of the businesses or products described in this article.
All images were taken with a Sony Alpha a6500 camera and a Sony-Zeiss SEL1670Z Vario-Tessar T E 16-70mm (24-105mm full frame equivalent) F/4 ZA OSS lens or Sony 35mm (52mm full frame equivalent) F/1.8 E-Mount Lens using ambient light. Post-processing in Adobe Lightroom® and Adobe Photoshop® with Nik/Google and Skylum® Luminar® plugins.