As the 2018/2019 Holiday Season was winding to a close, Valeria and I decided to visit the Chicago Botanic Garden. It was a warm day (for January) and we thought t would be nice to get some fresh air and enjoy the Christmas lights in the garden.
It was January 5 and the Christmas lights and decorations were all being put away for another year. At the Chicago Botanic Garden, January 6 would be the last day to see the lights, so Valeria and I decided to go enjoy a few last minutes basking in (literally) a Christmas glow.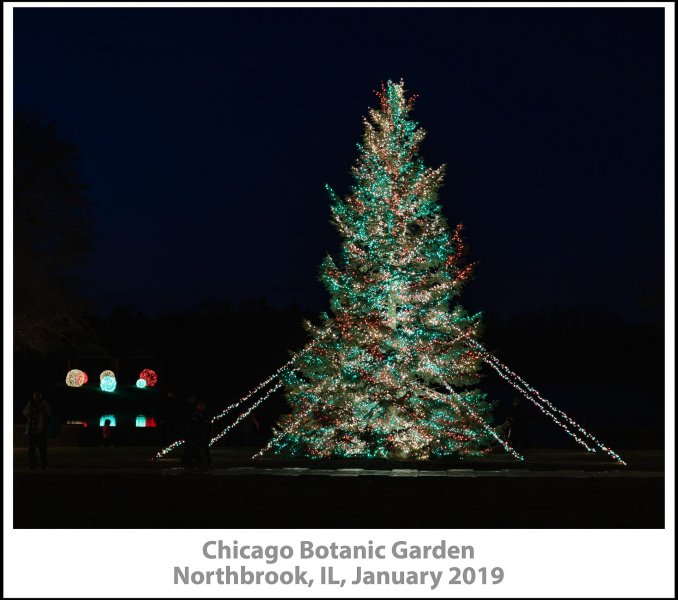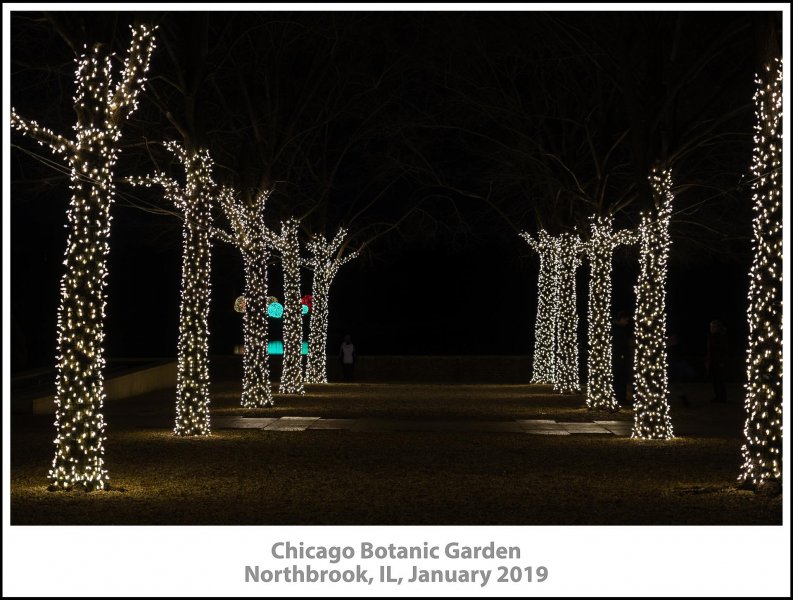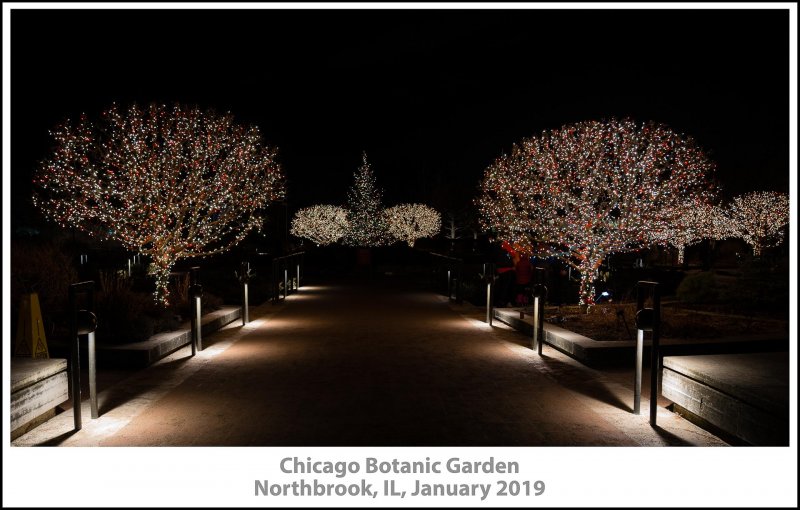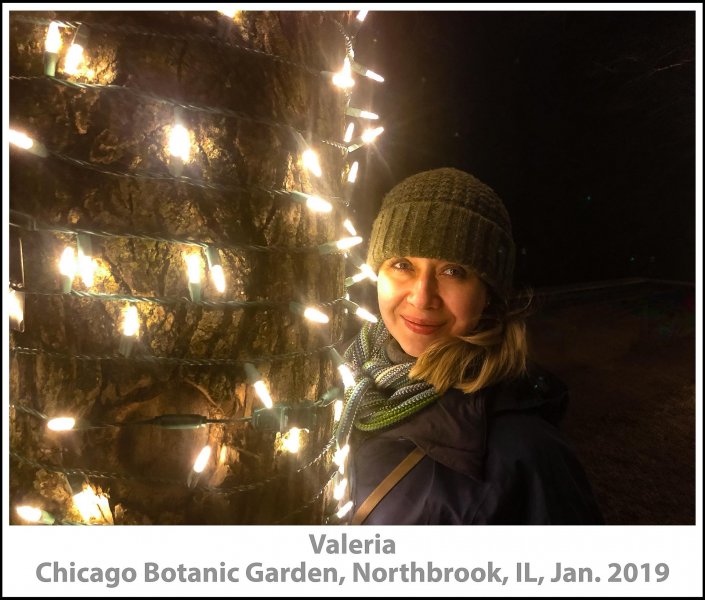 After a couple hours of wandering around the garden, enjoying the lights, trying to get a few pictures, and watching the delighted children react to it all, it was time for dinner. I rarely leave meals to chance, so I had already booked a reservation at the Prairie Grass Café, which is only a 5-minute drive from the garden entrance.
We were seated promptly in the rather warm and cozy dining area. Some bread and butter also landed on the table almost immediately.
The bread was warm and crusty and gave us something to nibble on as we pondered our drink orders. I perused the house cocktails.
I was drawn to the PGC Old-Hatten, since I enjoy both Old Fashioned and Manhattan cocktails. I don't know if "hatten" was a deliberate misspelling of the last part of "Manhattan" or if it was just a typo. Either way, it looked good.
I've discussed both Old Fashioned and Manhattan Cocktails previously in some detail. Briefly, an Old Fashioned is generally regarded as the mother of all cocktails. Developed in the early 1800s, it was whiskey (usually rye at the time, with Bourbon later becoming a common alternative), a little sugar and a few dashes of bitters. Nowadays it is garnished with a slice of orange peel. In a Manhattan, the sugar is replaced with sweet vermouth and the garnish is a cherry. In the "Old-Hatten," the vermouth provides both sweetness and cherry flavor while the orange zest ties the drink to an Old Fashioned.
If I could change one thing about the drink, I would serve it either straight up (which I'm sure I could have requested) in a classic Martini glass or use a single, large round or square ice cube instead of the smaller pieces of ice shown above. The drink diluted a little too quickly with the small ice pieces.
While I was reviewing the cocktail list, Valeria focused on the wine list.
I was quite impressed by this list, which included reasonably priced, but well chosen, wines along with high-end wines suitable for the most special occasions (or business expense accounts) and points in between. There were wines I would not expect in a relatively casual restaurant, like an Alsatian Riesling, an Austrian Grüner Veltliner, and a Spanish Montsant. This list was put together by someone(s) with a deep knowledge of wines around the world.
Valeria went with the Langlois Sancerre, a Sauvignon Blanc from the Loire Valley in France. It was very nice.
With some bread to take the edge off and a drink to wash it down, we could turn our attention to the menu.
The classic Jumbo Shrimp Cocktail caught my eye. Valeria chose the Caesar Salad, but wanted to jazz it up with some avocado and cucumbers. As usual, we ended up sharing.
Growing up in the midwest in a lower-middle class family, fresh shrimp was a rare treat usually reserved for New Year's or other special occasions. Eventually shrimp became more readily available and I've enjoyed it dozens of ways in dozens of countries since then, but the simple shrimp cocktail is still a nostalgic treat for me, especially with an excellent cocktail sauce like the house made version served here. It had enough horseradish to provide a good kick, but not so much that the shrimp were lost. The shrimp were also perfectly cooked: not overcooked and tough nor undercooked and mushy.
The salad was also attractive.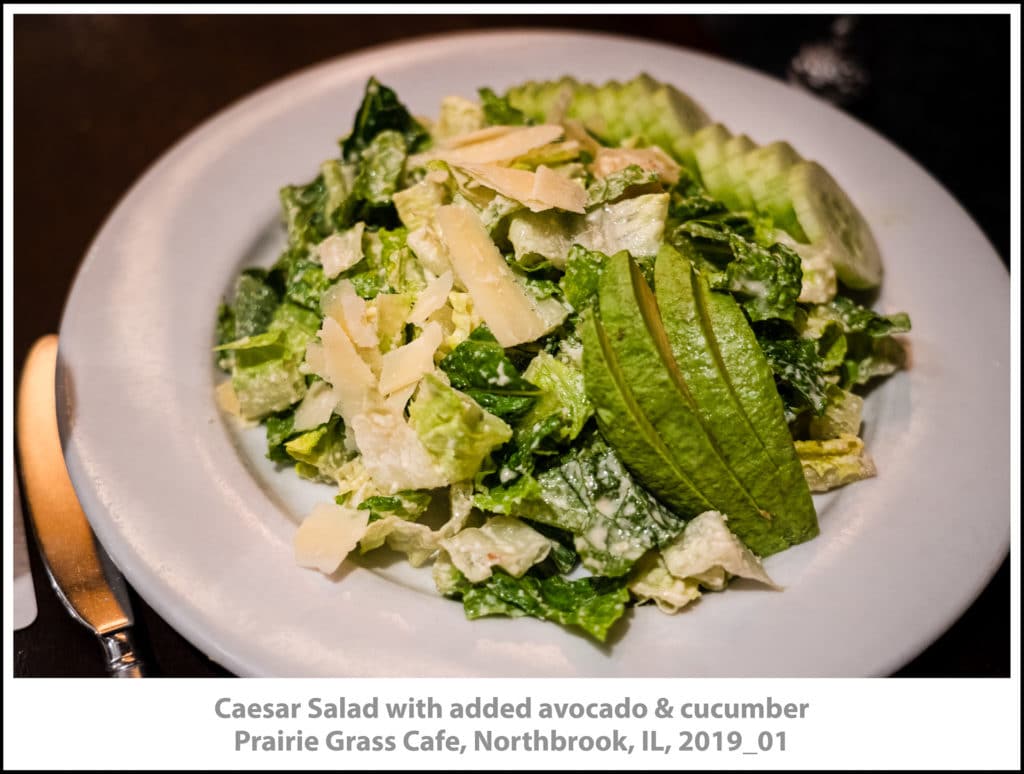 I confess I am more of a purist and liked the salad just fine with out the avocado and cucumber (I love them both, just on a different salad), but Valeria though they were a fine addition.
In addition to the regular menu, there was a list of specials. Several of the first courses looked interesting, but we saved those for another visit.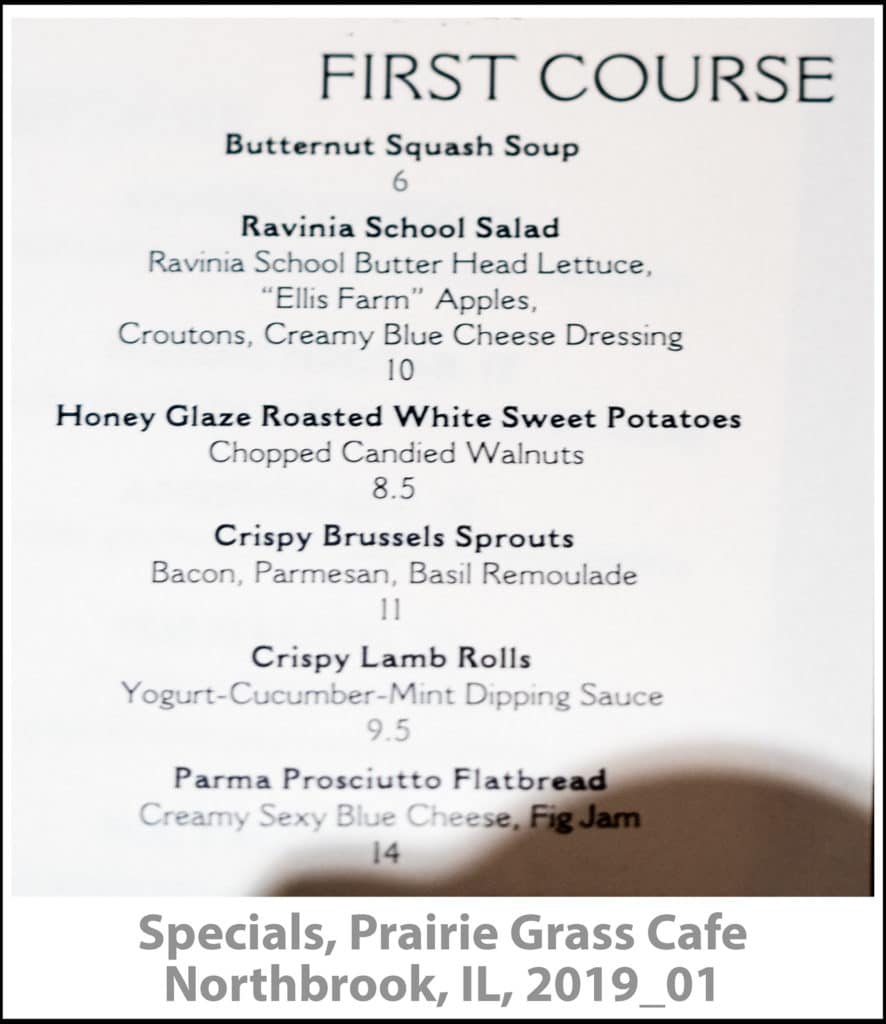 One of the entrée specials, however, had Valeria's name written on it: Wild Striped Bass.
Valeria often chooses seafood in any event, but the addition of celery root purée sealed the deal.
The sea bass was perfectly seared. The carrots were nicely caramelized and added a nice touch of sweetness. The celery root purée was creamy and flavorful.
Celery root (also called celeriac) is, as the name implies, the root of a celery plant, although it is not the type of celery you see in the grocery store. It can be used much like other root vegetables (turnips, carrots, parsnips, etc.) and stores very well, making it an ideal winter vegetable. It is one of the uglier vegetables to look at, at least from the outside. Knobby, hairy, and dirty-looking you might give it a pass in the supermarket.
Once you peel off the outside and cut it open, however, the flesh of the bulb is creamy white. It's flavor is like a cross between a potato and celery and, like a potato, it can be steamed and mashed into a lovely purée as in this dish.
I chose a heartier plate: Ancho Marinated Skirt Steak with crispy potatoes, white beans & rainbow Swiss chard, and grilled onion:
Skirt steak is a flavorful cut of beef that can be tough if overcooked and sliced incorrectly (cut thin slices across the grain). I took a bit of a chance ordering this because it is difficult to cook properly. It's easy to overcook because it is thin, so chefs tend to ere on the side of less cooked. I like mine medium, which is the upper end of where skirt steak remains tender. It also tends to be uneven in thickness, as this one was. The right side (as pictured above) was thin and a bit overdone. The center portion was right on, and the left, quite a bit thicker, was rare to medium rare. The only way I know to cook this perfectly from end to end is sous vide. Having said all that, the meat was tender and delicious. The marinade was outstanding. I ate the right half of the steak and took the left half home, where I re-heated it in a skillet just long enough to bring it up to medium and them made a fantastic sandwich out of it.
The grilled onion added some nice flavor and texture and the white beans and Swiss chard were a nice, Italian-esque side dish. The crispy potatoes, however, were not crispy after being dunked in the juices from the meat and beans.
Observant readers may have noticed a couple of special desserts on the list of specials, including double chocolate mint cake. We gave in to temptation on that one.
Dark chocolate cake, chocolate mousse filling, and chocolate chips made for a true chocolate delight. I'm pretty sure the vanilla frosting was a cream cheese frosting, but, in any case, it was perfect with this cake. We ate half and took the second half home to share at another meal.
So, in summary, the Prairie Grass Café is a very pleasant place with good food and friendly service. Since we often visit the Botanic Garden in late afternoon/early evening, then go out to dinner, I am sure this will be a regular stop in the future.
Prairie Grass Café
Address: 601 Skokie Blvd Northbrook, IL 60062
Phone: (847) 205-4433
Reservations: opentable.com
Website: http://www.prairiegrasscafe.com
Dress Code: Casual
Price Range: $31-50
Hours: Lunch: Monday- Friday: 11:00am – 2:00pm
Dinner: Monday – Thursday: 5:00pm – 9:00pm
Friday – Saturday: 5:00pm – 10:00pm
Sunday: 5:00pm – 9:00pm
Brunch: Saturday: 10:00am – 2:00pm
Sunday: 9:30am-2:00pm
Credit Cards: AMEX, Discover, MasterCard, Visa
The author is a member of the Amazon Affiliate program but otherwise has no affiliation with any of the businesses or products described in this article.
All images were taken with a Sony a7 III camera with a Sony FE 24-105mm F4 G OSS Standard Zoom Lens (SEL24105G) using ambient light. Post-processing in Adobe Lightroom® and Adobe Photoshop® with Skylum® Luminar® plugins.
.