Have you ever found yourself in the mood for a game of bocce, a few frames of bowling, a drink and maybe dinner? Well, I've got the place for you!
Pinstripes is a small (currently 7 locations, mostly around Chicago) but growing chain (7 more locations around the country in progress) that combines a bowling alley, bocce courts, a bar and a restaurant. To be honest, I have never gone there for the sports, but I have eaten there several times with mixed results. Some months ago I tried the Spicy Crispy Chicken Sandwich, which was quite tasty with plenty of spice. On another occasion, I tried the Tenderloin Sliders, also very good. Valeria's experience with the Grilled Salmon was less good—it was overcooked and not very flavorful. Another time I tried the Cheeseburger for lunch. It was a good burger, but nothing special in a city full of remarkable burgers.
A couple of weeks ago, Valeria took an out-of-town guest there and they enjoyed the meal, so we decided to give it another try. We made a reservation on a pleasant evening, if for no other reason than to sit on the deck overlooking the Ogden Slip (an inlet off the Chicago River right at Lake Michigan where cruise ships dock) and enjoy the view and the fresh air.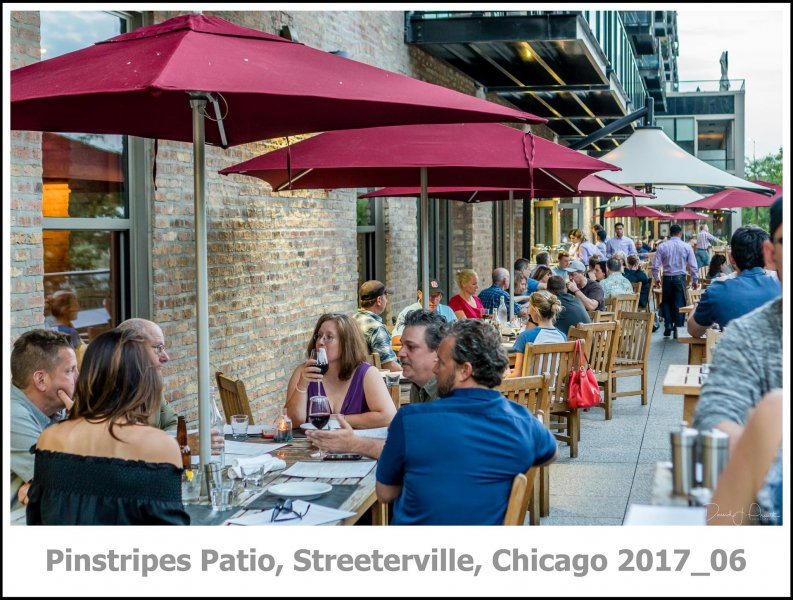 I should explain that the bowling alley is completely separated from the bar and restaurant, so you don't hear the pins clattering and victorious bowlers cheering. The lounge is large with the requisite big-screen TVs and a nice sitting area. You can play bocce near the bar. The restaurant is separate from the lounge area. The kitchen area is somewhat open for those who like to watch the chefs at work. For my money, however, the patio is the place to be when the weather is nice.
The menus (there are nine, covering Cocktails to Kids) at Pinstripes skew Italian, but have plenty of variety.
Our first appetizer was Fried Calamari with Homemade Marinara Sauce.
We love calamari when it is fried with some spicy—but not too spicy—peppers. (The Capital Grille does a phenomenal job with this.) There are a variety of bottled, pickled peppers that work well, as do some fresh jalapeño slices breaded and fried along with the calamari. We asked the waiter if the calamari was prepared this way and he said no, so we asked about the Marinara sauce: spicy? plain? He said its a plain, so we asked if it could be spiked with some red pepper flakes or something to give it a kick. He said, "sure." Unfortunately, that didn't happen. The calamari were perfectly cooked—tender squid and crunchy coating—but bland, not even salted well. The Marinara, like way too many Marinaras I get in restaurants, had more texture, but less flavor, than a good ketchup. Now, if you like your squid prepared very simply, this is perfect, but we like something that packs a little more flavor punch. Like this, for example:
We also ordered a crab cake with remoulade, red pepper sauce and a grilled pineapple and avocado salsa.
This was much more flavorful than the calamari. There was lots of flavor in the salsa—pineapple, onion, avocado and more—and the crab cake itself was a nice balance of lump crab and smaller pieces of crab meat with no excess binder to get in the way of the crab flavor. I would have liked a little more of the remoulade and red pepper sauce, which were more of a decoration than flavoring agent, but purists will be happy with the unadulterated crab cake.
I should mention the surprises I had getting a cocktail to go with the appetizers. As usual, the waiter asked for drink orders first. I ordered a Negroni and Valeria ordered what turned out to be an OK, but ultimately forgettable, Sauvignon Blanc. The waiter came back a few minutes later and apologetically informed me that the bar does not stock Campari, one of the three (with gin and sweet vermouth) ingredients that, when mixed in equal parts, make up a Negroni. I have to say I was a bit surprised. The bar area in Pinstripes is large and looks very well stocked. It's a place that, as I mentioned, leans Italian, and Campari (made in Italy) and cocktails made from it are as Italian as pasta. But, for whatever reason, Campari was not in stock.
So, I fell back on another old favorite, classic cocktail, a Martini (that is a drink made with gin and vermouth for, those of you who associate "Martini" with sweet, day-glo colored liquids). I ordered it up wth Bombay Sapphire, my go-to Martini gin. The drink arrived a few minutes later and was made well enough, but there was no garnish—no olive, no twist. I had not specifically ordered olives (regular, no garlic, blue cheese, etc., please) but can't remember ever being served an ungarnished Martini.
There was quite a long break between the departure of our appetizer plates and the arrival of our entrées, but we were enjoying the pleasant evening on the water so we were not in a rush.
Finally, the main events arrived. Pasta for Valeria…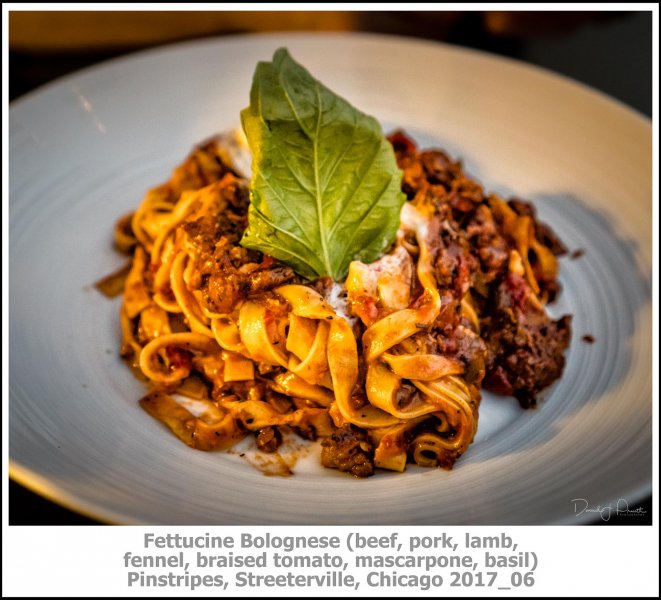 …and another shot at the cheeseburger for me.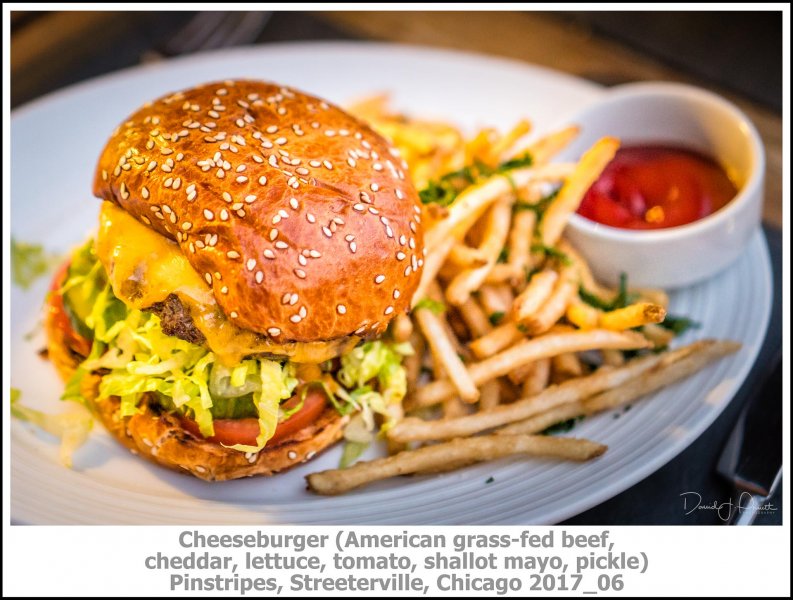 The Fettuccine Bolognese was really quite good. The sauce had a rich, meaty flavor and was well seasoned. The pasta was perfectly cooked.
The cheeseburger was more-or-less as I remembered: good, beefy, but not one to make a special trip for. The pickles, which I believe are house made, were very tasty. The bun was nicely toasted, well sized to the meat patty and had enough structure to hold together as I ate the burger.
The fries were just as I like them: skinny (sorry steak fry aficionados), crisp on the outside, fluffy on the inside and nicely seasoned.
The appetizers and entrées were all good-sized portions, so we passed on dessert. (My teenage self would have had no problem with another course, but those days are past!)
When I mentioned Pinstripes to some of my friends, there were quite a few who didn't know what bocce was. Not enough Italian-American friends, I guess. (The game is popular in many countries, but, for some reason, I have seen it most often in Italian communities in the US.) Here is a quick primer for those of you who don't know the game.
In the end, I still have mixed feelings about Pinstripes. It is not, nor does it pretend to be, a destination restaurant for foodies. The food is definitely much more varied and higher quality than the hot dogs and pizza that are more traditional in a bowling alley. Certainly if you are there to play bocce, bowl, and have a few drinks and/or a bite with your friends, it has a great vibe. Now if they would just order a bottle of Campari for the bar…
Pinstripes
Address: 435 E Illinois St Chicago, IL 60611
Phone: (312) 527-3010
Reservations: opentable.com
Website: http://pinstripes.com/chicago-illinois/
Dress Code: Casual
Price Range: <$30
Hours: Brunch: Sunday: 10:00 a.m. – 2:00 p.m.
Lunch (Daily): 11:30 a.m. – 4:00 p.m.
Dinner: Monday – Thursday: 4:00 p.m. – 11:00 p.m.
Friday – Saturday: 4:00 p.m. – 12:30 a.m.
Sunday: 4:00 p.m. – 10:00 p.m.
Credit Cards: AMEX, Discover, MasterCard, Visa
The author is a member of the Amazon Affiliate program but otherwise has no affiliation with any of the businesses or products described in this article.
All images were taken with a Sony Alpha a6500 camera and a Sony-Zeiss SEL1670Z Vario-Tessar T E 16-70mm (24-105mm full frame equivalent) F/4 ZA OSS lens or Sony 35mm (52mm full frame equivalent) F/1.8 E-Mount Lens using ambient light. Post-processing in Adobe Lightroom® and Adobe Photoshop® with Nik/Google plugins.