Last month I wrote a review of dinner at Pinstripes, a restaurant that features food, bowling and bocce at 7 locations, mostly around Chicago. The review was a mixed bag—some pretty good dishes, some not so good dishes, and a few surprises in poorly executed basic cocktail service. We were decidedly undecided about going back, but I received a email describing their 4-course, 4th of July dinner special that seemed promising.

Pinstripes sits on the Ogden Slip off the Chicago River and offers a view of the area where the Navy Pier does fireworks every Wednesday and Saturday night during the summer as well as on special occasions like New Year's Eve and the 4th of July.
Pinstripes' outdoor patio runs along the Ogden sleep andIt looked like a chance for a pleasant evening seated outdoors, enjoying a good meal, and watching the fireworks. Alas, the vision was not realized.
Things started well. We were promptly seated at a nice table on the deck. An antipasto platter with a selection of Italian meats and cheeses also appeared in no time at all.
These were delightful. Just slightly cooler than room temperature, so the full flavor of the meats and cheeses came out from the first bite.
After disappointing results trying to order a Negroni and drinking a less-than-perfect gin Martini on the last visit, I decided to try their version of an Old Fashioned.
The Old Fashioned is one of the oldest, if not the oldest, true cocktail we know about, probably created in the early 1800s. While it is common to refer to any mixed drink as a cocktail, that is not technically correct. A cocktail is defined as a drink made with spirits (whiskey, rum, scotch, gin, etc.), sugar, water, and bitters. The Old Fashioned is a prototypical cocktail, made with exactly these ingredients. Originally, it would have been most commonly made with rye whiskey (bourbon became popular later), a sugar cube, a few dashes of bitters and enough water to dissolve the sugar, all stirred together with ice. A slice of lemon was used to add citrus note and as a garnish. Many people still like the lemon slice with a rye-based Old Fashioned, while a slice of orange peel is more often used in a bourbon Old-Fashioned.
By the mid-to-late 1880s, other flavorings, usually in the form of liqueurs (curaçao, absinthe, Benedictine, etc.) were added to cocktails. The classic combination of just sugar, water, bitters and whiskey was considered an "old fashioned" style of cocktail, but it remained popular and the name stuck.
Here is a demonstration of how to make a classic Old Fashioned using modern ingredients, but retaining the original character of the drink.
An Old Fashioned is not difficult to make properly and is delicious. It should be considered an essential drink for any home bartender to know.
Of course, it is common today for bartenders to modify classic recipes in various ways, sometimes with great results, sometimes not. Pinstripes decided to use Bulleit Rye (an excellent choice that I have discussed in some detail previously), orange, bitters and, as a sweetener, maple syrup. I was skeptical about the maple syrup, but wanted to try it because that's the only way to find out if it really works or not. Fortunately, the maple syrup was added sparingly and did not overwhelm the drink. It didn't really hurt the drink, to my taste at least, but it did not really improve it, either. I would opt for keeping it simple with just a bit of good old sugar.
The next course was was a Market Salad.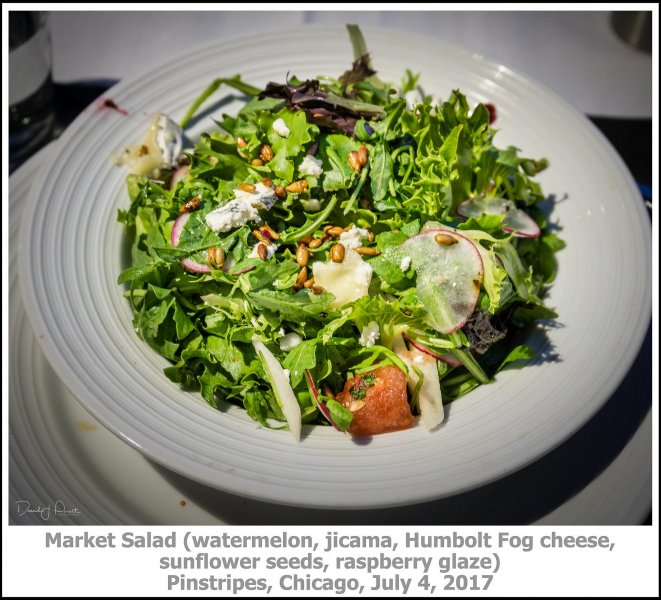 This was a nice salad. Fresh, crisp greens, nice crunch from the jicama, a little sweetness from the watermelon, nice flavor and texture from the toasted sunflower seeds, creaminess from the Humboldt Fog cheese (a soft goat cheese) and a nicely balanced raspberry glaze to tie it all together. The cheese is a favorite of mine and you can learn more about it at the company website or in one of my earlier posts. If you can't find it at your local grocery or cheese shop, good old Amazon will bring some to your door.
On my last visit, I ordered a Bombay Sapphire Martini and, to my surprise, it was served with no garnish. I decided to give it another shot, but this time I specified both olives (plain) and a twist as a garnish.
Success! Perfectly made Martini served very cold and properly garnished.
So far, things were going pretty well. There were still 30 minutes before the fireworks would start, so we anticipated getting our entrées served as promptly as the other courses, then sitting back and enjoying the fireworks before ending the evening with dessert.
Unfortunately, whether planned or a snafu, the entrées did not come out before the fireworks. In fact, they didn't come out until the fireworks had been over for 20 minutes. That means there was over an hour break between the salad and the main course.
Furthermore, the view of the fireworks was blocked to a large degree by trees growing along the waterfront. So we found ourselves sitting there for a long time, wishing we had our entrées and wishing we could see the fireworks better.
When the main courses finally arrived, the steak trio was quite good. The meat was a perfect medium (as requested) and the three toppings were flavorful and complimented the meat.
The asparagus was nicely charred and the smashed potatoes were also good.
The salmon, unfortunately, was less successful.
The fish was overdone and a bit dry. The quinoa was pretty flavorless, but the cucumber, avocado, tomato, pesto and red pepper salad was quite tasty and refreshing. A nice summer salad.
There was another long delay for the desserts to some out. Given that dessert was simply scoops of ice cream or sherbet and the orders had been placed hours ago, there was no obvious reason for the delay (the deck and restaurant were barely ¾ full). We were almost ready just to ask for the check and leave when dessert finally arrived.
Both frozen treats were very good and a nice way to end on a warm summer night.
Having given Pinstripes several chances now, it's safe to say it is off our list of casual dining spots. At best, the dishes are very good, but we've had nothing that was truly outstanding. For every good dish we've tried, there has been another that was below average. The service has been up and down, and the whole 4th of July experience was disappointing.
Pinstripes
Address: 435 E Illinois St Chicago, IL 60611
Phone: (312) 527-3010
Reservations: opentable.com
Website: http://pinstripes.com/chicago-illinois/
Dress Code: Casual
Price Range: <$30
Hours: Brunch: Sunday: 10:00 a.m. – 2:00 p.m.
Lunch (Daily): 11:30 a.m. – 4:00 p.m.
Dinner: Monday – Thursday: 4:00 p.m. – 11:00 p.m.
Friday – Saturday: 4:00 p.m. – 12:30 a.m.
Sunday: 4:00 p.m. – 10:00 p.m.
Credit Cards: AMEX, Discover, MasterCard, Visa
The author is a member of the Amazon Affiliate program but otherwise has no affiliation with any of the businesses or products described in this article.
All images were taken with a Sony Alpha a6500 camera and a Sony-Zeiss SEL1670Z Vario-Tessar T E 16-70mm (24-105mm full frame equivalent) F/4 ZA OSS lens or Sony 35mm (52mm full frame equivalent) F/1.8 E-Mount Lens using ambient light. Post-processing in Adobe Lightroom® and Adobe Photoshop® with Nik/Google plugins.