Every year a few million folks go to Orlando to visit Disneyworld, Universal Studios, and Sea World. I go every year or two for Photoshop World and the food, not necessarily in that order. Photoshop World is a conference for photographers and graphic artists. Some of the very best photographers and artists in the world present classes and interact with the attendees. As a veteran of about a million business and professional conferences, I can tell you that this is by far the most fun, most educational, and most interesting conference on the planet. But that is not the subject of this post.
I plan my dinners during the conference as carefully as I plan which lectures and events I will attend. Maybe more carefully. There is one restaurant that I always save for the end of the conference, the night before I go home, and that's Norman's at the Ritz-Carlton in Orlando.
If Michelin were to start rating restaurants in Orlando, I am sure Norman's would receive and least one star. It is a beautiful venue, with a round dining room with views of the beautiful resort out the many windows.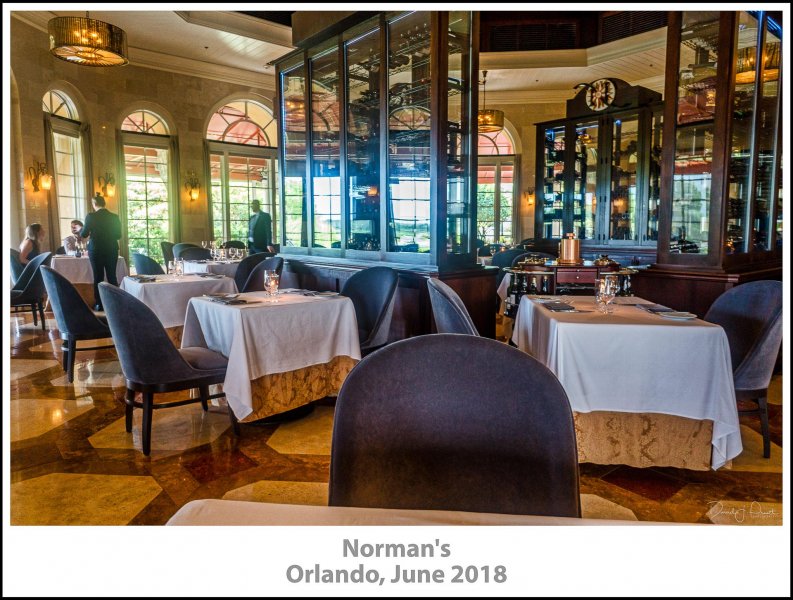 It feels, and is, luxurious, but it avoids being stuffy with minimal dress requirements (jackets not required, business casual is fine) and a very friendly staff.
Chef Norman Van Aken (born in 1951 in Diamond Lake, Illinois) has co-owned and operated this restaurant for many years. Starting in the 1980s, before the era of celebrity chefs and Food Network, Chef Van Aken was recognized by his peers for creating a whole new class of cuisine that has become known as New World Cuisine. He was the first (or, at least, among the first) to use the term "fusion" to describe his food that was created using the flavors and styles of American, African, Asian, Caribbean and Latin cooking. He was not classically trained, but learned on the job working at various restaurants until he opened his own. You'll see all of these influences in the meal I enjoyed as we progress through this blog.
Since I always make my reservations through OpenTable.com, they know I am a returning customer and presented me with a glass of complimentary champagne as I settled in.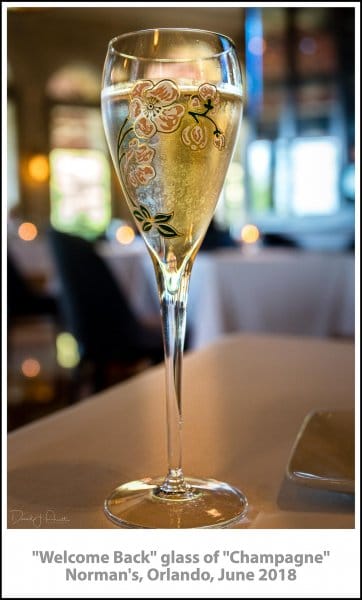 I was excited when I saw the glass, as the flowers are from Perrier-Jouët's Fleur de Champagne, a delicious luxury-brand Champagne. They quickly pointed out that it was not Perrier-Jouët in the glass. They said what it was, but I missed it. From the taste, I'm not sure it was even "Champagne"—capital "C" from the famous French wine district. Whatever out was, it was refreshing in the hot Florida weather and a very nice gesture.
On to the the menu. The a la carte menu is great. You can chose to eat a single course or several, but I always get the tasting menu.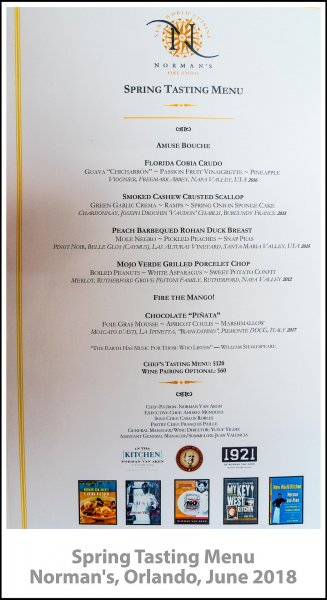 Ordering for me was quick and easy: the Chef's Tasting Menu with the Optional Wine Pairings. And off we go!
As is customary in many fine dining restaurants, an amuse bouche (literally "mouth amuser") appeared first. This complimentary bite to wake up your palate was, on this day, eggplant tempura with goat cheese, cream cheese and spicy blueberry sauce.
My only problem with the concept of the amuse is that they are usually so good you want more than one bite. That was the case here, as there was a delicious combination of the crunch of the tempura batter, the creaminess of the cheeses and the sweet & spicy blueberry sauce.
Next, some great bread to accompany the meal.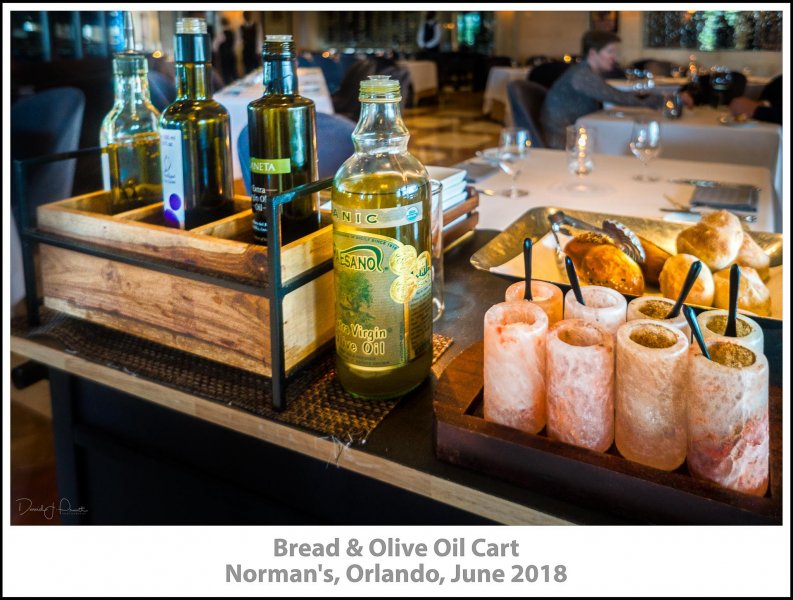 The cart included a choice between a cajun spiced brioche and ciabatta bread, several olive oils, and several salts. I don't remember all the oil and salt options, but I started with the cajun spiced brioche with rosemary and garlic infused olive oil.
The warm bread was sprinkled with just enough Cajun spice to give flavor and a hint of heat, while the herb and garlic infused oil added richness and even more flavor. Definitely a dangerous combination. Left alone with the cart, I'd devour a lot of these.
At that point, the first official course was presented: Florida Cobia Crudo with Guava "Chicharrón," Compressed Pineapple, Passion Fruit Vinaigrette.
This dish is sort of a riff on ceviche, the popular Latin American dish made with raw seafood that is "cooked" by the addition of citrus juice, which denatures in proteins kind of like cooking does. In this case, thin slices of the popular Florida sport fish, Cobia, was paired with pieces of guava gelée and compressed pineapple and flavored with a passion fruit vinaigrette. Ceviche is often eaten with tortilla chips, and a couple were included for crunch. The fish does not have the same starring role here that it does in ceviche, but it was a light, refreshing and very flavorful start to the meal.
The wine choice, 2016 Freemark Abbey Viognier, Napa Valley, California, was a good one. Freemark Abbey is one of the dean of Napa Valley wineries with a history going back 130+ years. It is best known for it's Cabernet Sauvignon, especially from the Bosché Vineyard, although it has also produced some excellent white wines and even some dessert wines over the years. They also have an excellent restaurant, Two Birds, One Stone. It is a fusion of Japanese and California cuisine with a special emphasis on poultry dishes.
Viognier is a white wine grape brought to California from the Rhone Valley in France where it is most famously used to make Condrieu. It is a difficult grape to grow, even in it's French "home." It mildews easily, must be picked when just fully ripe, and can easily be mishandled during vinification (fancy word for wine making). At it's best, it has the body of a good Chardonnay plus the aromas and flavors of a variety of fruits and flowers, such as peaches, melons, and honeysuckle. It can be complex and delicious, but if picked over or under-ripe or abused in the cellar, it can be simple and overly fruity, or quite heavy with none of the fruity, floral characteristics. It has found some success in California, Washington, New Zealand, Australia, and South America but it is rare to find wines that approach the complexity of the best Condrieus.
The Freemark Abbey was a good example of a California Viognier. It had nice body and some of the honeysuckle and peach aromas that are often found in this wine. While I have had better examples from California, they have been few and far between, and most have been much less attractive. Moreover, it was a great match with the Cobia dish.
Then I snagged another piece of bread. Ciabatta, in this case. Bread lovers will be happy here.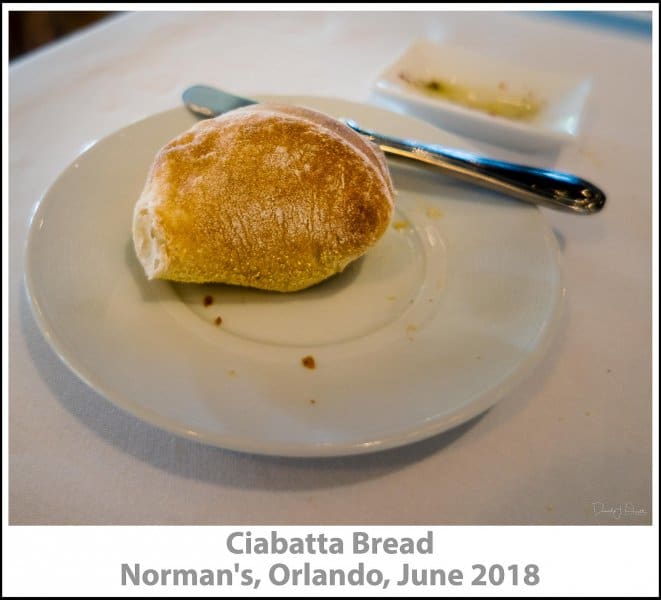 By the way, you can make up a nice loaf of Ciabatta bread at home with little effort and no kneading if you are willing to start it today and finish it tomorrow. Here's how. [Caution: definitely not gluten free!]
If memory serves, there is almost always a creative scallop dish included in the tasting menu. This time it was Smoked Cashew Crusted Scallop with Green Garlic Crema, Ramps, and Spring Onion Sponge Cake.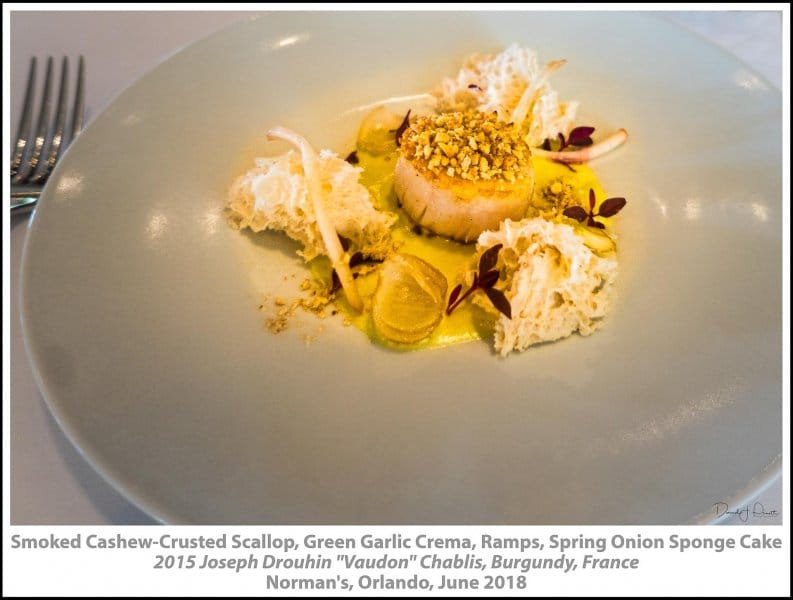 This was wonderful. The scallop was perfectly seared and, even with all the other ingredients on the plate, it remained the star. The smoky-crunchy cashews, the creamy, garlicky sauce, the ramps (a type of wild onion particularly popular in the southern United States in the spring) and the pillowy sponge cake all played nicely with the firm, but tender, scallop.
A glass of the 2015 Joseph Drouhin "Vaudon" Chablis, Burgundy, France, was poured with this dish. The history of Maison Drouhin began in 1880 and continues today as a family-owned business in Burgundy. They own several vineyards in Burgundy, including 95 acres (38 hectares) in Chablis. (Chablis is actually a part of Burgundy, even though it is a bit separated on the map.) In the middle of their property in Chablis is the Moulin (watermill) de Vaudon, where the local company headquarters are located. Each Chablis they the produce is labeled "Vaudon" in honor of the historic property. (Drouhin also has operations in Oregon, called Domaine Drouhin, that produces some excellent Pinot Noirs and Chardonnays.)
This bottle was their generic Chablis, blended from several sites. It was clean and crisp and had a nice acidity to cut through the cream sauce, but only hints of some of the mineral, apple, and citrus notes that mark a great Chablis. Not a great wine on it's own, but a good match for the dish.
Seafood out of the way, we move on to poultry: Peach Barbequed Rohan Duck Breast with Mole Negro, Pickled Peach and Snap Peas.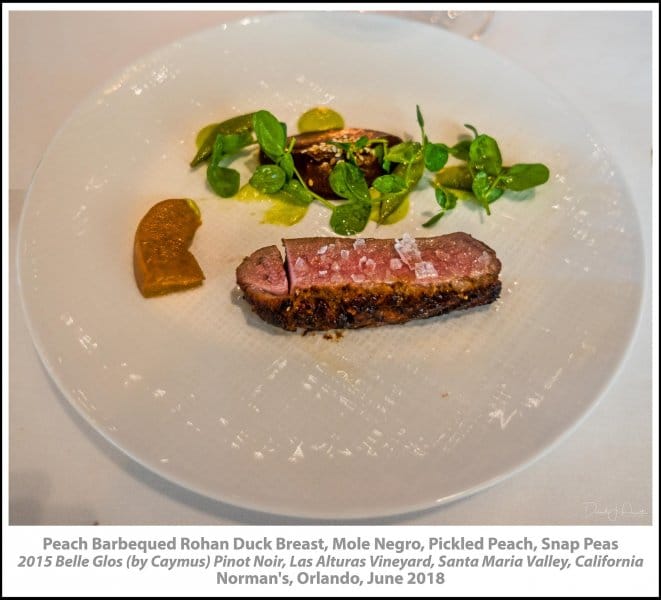 I love duck. I confit duck legs and cook the breasts in my sous vide at home. Duck breasts in restaurants are often served very rare, but I like mine closer to medium. This one was somewhere in the medium-rare-to-medium range and it was delicious. The pickled peach reminded me the ones my grandmother used to make.
Rohan duck is a proprietary breed that was bred by D'Artagnan and is raised on a single farm in New York. If you don't already know them, D'Artagnan is a great online resource for gourmet meats, charcuterie, and other food and cooking items. You may find some of their products in your local gourmet food departments.
I have no Mexican ancestry (as far as I know!) but I think Mexico's mole (pronounced moe-lay) sauces deserve the same respect that all the classic French sauces get. Mole Negro (Black Mole) is a traditional Oaxacan mole often served with poultry and it was wonderful with the duck. Even though this was plated beautifully in a fancy restaurant, it had the feel of a dish made at home by your mom or grandma.
Moles originated in the Mexican state of Oaxaca or Puebla (both claim it; I'll leave it to others to settle that dispute) and include at least 20 and often over 30 ingredients. Rick Bayless, Chicago's resident Michelin-starred Top Chef Master has devoted his culinary life to studying Mexican cuisine, and he groups the ingredients used in moles into five types: chiles, sours, sweets, spices and thickeners. (Chef Bayless is also an accomplished ballroom dancer, writer, and actor. Other than that he is completely devoid of talent.) Chiles include pretty much every chile grown in Mexico. The sour is most commonly tomatillos and citrus juice. Sweets include dried fruits and sugars, while commonly used spices include achiote, cumin, cloves, anise, and garlic. Many different types of seeds and nuts are used, including squash and sesame seeds, almonds, peanuts, and pine nuts. Cilantro and chocolate appear in many recipes as well.
Moles are amazingly flavorful and delicious. You can make them at home easily enough as they are, for the most part, recipes developed by home cooks. Here is Rick Bayless making one that is relatively simple example, but which still has all the flavor you expect (it does take some time, as any good mole will).
If you want to see it done completamente auténtico (completely authentic), watch the next video. It is 30 minutes long, but it illustrates my idea of a perfect day in a foreign country: meeting a local mom and grandma, going to the market, shopping for dinner, and making a home cooked meal in, well, a home.
To wash down the duck and mole, a glass of 2015 Belle Glos (by Caymus) Pinot Noir, Las Alturas Vineyard, Santa Maria Valley, California. Winemaker Joe Wagner made his mark in the California wine scene by carrying on his father, Chuck's, legacy and producing one of the best, most reliable, Cabernet Sauvignons in the state. Actually, two Cabernets: the flagship Special Selection, made with the very best grapes from a given year, and the "simple" Napa Valley bottling, which is always a delicious choice.
In 2001, Joe decided to begin producing Pinot Noirs made from selected coastal vineyards. The business is named after Joe's grandmother, Lorna Belle Glos Wagner, and is pronounced "Bell Gloss." Winemakers have discovered that vineyards near the Pacific coast, where the fog and cool winds create ideal conditions for growing Pinot Noir and Chardonnay. Belle Glos sources its Pinot from 4 vineyards, including Las Alturas Vineyard along the Central Coast in the Santa Maria Valley.
The 2015 Belle Glos Las Alturas is as delicious a Pinot Noir as the long line of Cabernets from Caymus. The style is similar to the Cabernets, with ripe, rich fruit, sweet vanilla oak and a solid acid backbone. However, Pinot Noir has a very different aroma and flavor profile from Cabernet, and this wine showed lots of blackberry, black cherry and black plum fruit. If you are a fan of traditional Red Burgundy (the ancestral home of Pinot Noir), this wine may not appeal to you, but if you like New World wines you will probably love it.
The next course was Mojo Verde Grilled Porcelet Chop with Boiled Peanut Sauce, White Asparagus, and Sweet Potato Confit.
This was a tour de force of fusing Spanish, French, and southern US cuisines (and maybe some others I missed). Mojo Verde is a sauce from the Canary Islands (which are part of Spain). "Mojo" (pronounced "mo-ho," not "mo-joe," which is something else entirely) is a general term for a garlic and oil-based sauce. Verde is Spanish for "green," and refers to a family of mojos made with various green herbs such as cilantro, parsley and green peppers. Kind of similar to an Argentinean chimichurri, it is good on almost everything. Here's an easy recipe that you can customize any way you like.

Porcelet (pronounced poor-seh-lay) is a milk-fed young pig. These are relatively common in some countries (e.g., France), where pigs are kept at dairy farms and fed excess milk and whey. The pigs love it, and chefs (at least non-vegan, kosher, or halal chefs) love the tender, juicy pork that is produced from pigs raised this way.
Boiled peanuts are popular in the southern states. They are an acquired taste and, despite my southern heritage, it's a taste I have not acquired after repeated attempts. Actually, it's not the taste, but the texture, that is different. Instead of crunchy, boiled peanuts are rather mushy. However, when used in a sauce, they are an excellent ingredient.
Sweet and pork almost always play nice together, and sweet potatoes are a go-to side for me when making pork dishes.
Finally, white asparagus are always a treat. They are the same as green asparagus, except they are kept under the soil as they grow so no light reaches them and no green chlorophyll is produced.
Put all these ingredients together and you have a delicious meat course.
2012 Rutherford Grove Pestoni Family Merlot, Rutherford, Napa Valley, California was the wine served with this dish. The Pestoni Family Rutherford Grove bottlings are generally big, full-bodied, burley wines and this one is no exception. The Rutherford area is famous for the Cabernet Sauvignon and Merlot that grow there, and this one showed tons of cassis (black currant) fruit with some black plum, warm spices and a bit of "Rutherford dust," an earthy flavor that characterizes many of the wines from the area.
The first sweet course had the whimsical name "Fire the Mango!"
The bowl held a portion of mango sorbet surrounded by an apricot sauce that was made to bubble and foam (kind of like it was boiling) with the addition some vinegar to the sauce that already contained baking soda. There was a little molecular gastronomy magic in the spoon on the side, with a mango gel shell filled with an apricot sauce. Not overly sweet and with multiple textures, this was a winner.
Next, a Chocolate Piñata that came out looking like this:
But like a piñata, this chocolate shell was meant to be broken open to reveal the foie gras mousse and fig filling.
Foie gras (fatted duck liver) may seem like an odd ingredient for dessert, but, if you think about it, the rich meat is almost always served with something sweet, so the figs and chocolate were terrific accompaniments, as was the marshmallow pillow the whole thing sat on. I have previously argued that a classic foie gras and fruit dish should be served after the last savory course and before the first dessert course, not, as is traditional, as a first course.
I am always cautious about ordering Moscato d'Asti. At it's best, it is a frizzante (slightly sparkling), somewhat sweet, delightfully fruity wine from Italy's Piedmont region. The Spinetta family was among the first to bottle a single vineyard Moscato d'Asti, in this case, from the Biancospino vineyard. This is a fun, delicious wine and a perfect example of what Moscato can be. The nose showed lots of peach, honeysuckle, pear and lychee fruit. These followed in the flavors and were balanced by a nice acidity and the light bubbles.
Finally, because two desserts are never enough, some nice dark chocolates to end the meal.
As I hope I made clear from the start, I think Norman's is a great restaurant. If you are fan of fine dining and tasting menus, be sure to visit when you are in Orlando.
Norman's at the Ritz-Carlton Orlando
Address: 4012 Central Florida Parkway Orlando, FL 32837
Phone: (407) 393-4333
Website: http://www.normans.com/
Dress Code: Business Casual
Price Range: $31-50
Hours: Dinner: Dinner 6:00pm – 9:30pm
Credit Cards: AMEX, Diners Club, Discover, MasterCard, Visa
The author is a member of the Amazon Affiliate program but otherwise has no affiliation with any of the businesses or products described in this article.
All images were taken with a Sony Alpha a6500 camera and a Sony-Zeiss SEL1670Z Vario-Tessar T E 16-70mm (24-105mm full frame equivalent) F/4 ZA OSS lens or Sony 35mm (52mm full frame equivalent) F/1.8 E-Mount Lens using ambient light. Post-processing in Adobe Lightroom® and Adobe Photoshop® with Nik/Google and Skylum® Luminar® plugins.