Boston is known as a seafood town, which is not exactly surprising given its location right on the Atlantic Ocean near some of the best fishing waters in the world (despite some of our best efforts to pollute and overfish them—trends that have happily reversed in recent years). Still, it's not hard to find overcooked fish filets, over-breaded shrimp or fish, and lackluster bisques. On a recent visit to Bean Town, Valeria and I decided to try a new place, open just over a year, that was receiving good reviews. It turned out to be a good choice.
The rather elegant, white tablecloth Mooncusser Fish House is located on the third floor above the Moon Bar, a much livelier oyster bar for those who want to keep things raw and very casual.
The menu has two sections: a la carte and a tasting menu they call Tasting of Local Fishes. Since we were there for the fish, the choice was easy.
The price of the tasting menu ($85) looked very reasonable (and proved to be so) as was the cost of the optional wine pairings ($70). The staff was friendly and seemed knowledgeable about both the food and the wine pairings.
Bread and butter soon appeared. The butter was blissfuly soft, something so many restaurants get wrong. Hardly a make or break issue, but don't you just hate trying to spread hard butter on bread?
Our waiter returned with an amuse bouche in short order.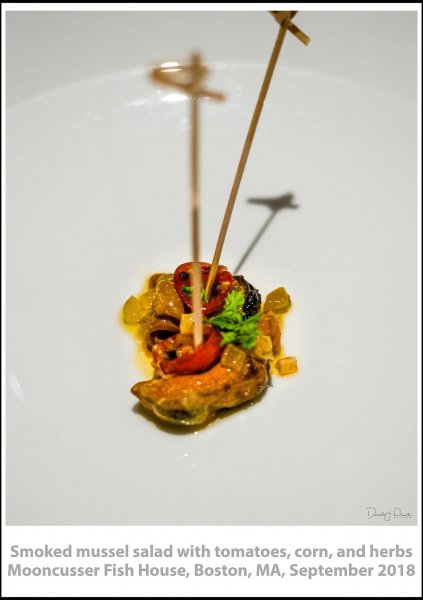 It was a promising start, as the lightly smoked mussels was nicely complemented by the vegetable and herb "salad" that came with them. It was, after all, just about the peak of produce season.
It seems that crudo, thinly sliced, raw fish marinated in citrus, oil and herbs, is ubiquitous these days and it was the first course on our menu tonight. While I haven't actually kept score, it seems like 90% of the time hamachi is the fish-of-choice for crudo and it's a fine choice. Happily, for those of us who like variety, the chef here chose something else: striped bass.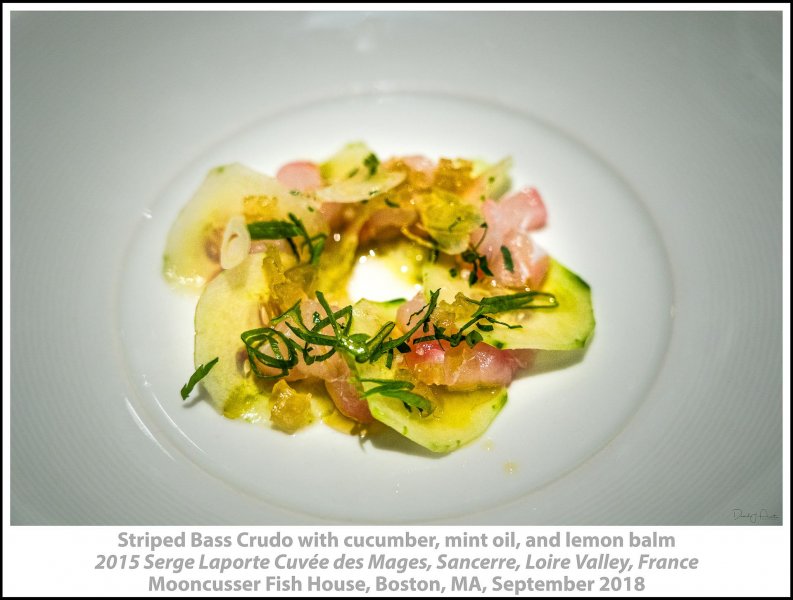 The trick with crudo is to have impeccably fresh fish and not to overwhelm it with the other ingredients. It was well done here. The citrus, mint oil, and lemon balm all played nicely to season and flavor the fish, while the thin cucumber slices offered some cool crunch.
A glass of 2015 Serge Laporte Cuvée des Mages, a Sancerre from the Loire Valley, France, was served with the crudo. Sancerre is one of the go-to wines with light fish dishes. It is made from Sauvignon Blanc grapes and usually has a fresh, clean, acidity and minerality that pairs well with seafood. This one was a textbook example and a great foil to the dish.
If a crudo course is commonplace these days, the next dish was anything but: Striped Bass Consommé with scallop mousseline, black truffles, and chanterelles.
Consommé is a concentrated, clarified broth, in this case no doubt made with the trimmings left from the striped bass once all the flesh was turned into slices for the crudo.
You have probably had a mousse for dessert sometime. Mousses are fairly common and are a light, airy, soft, dish that can be sweet or savory (who doesn't love chocolate mousse?).
A mousseline is even lighter and airier, made by whipping heavy cream into a base of some sort. They, too, can be savory or sweet.
A scallop mousse used to take a great deal of work to make, dicing the scallops as small as possible then pressing the meat through a sieve, or perhaps several progressively tighter sieves, to make a fine purée that could them be whipped with eggs and cream.
Making one today is a snap with a food processor. You just toss your scallops, an egg, and some salt and pepper into the food processor, let it run a minute or so to make a fine paste, then drizzle in cream to make the light mousseline. It can be turned into a log shape by rolling it up in plastic wrap, then poached to get the white circles you see in the consommé. It doesn't offer much more resistance than the consommé when you pass your spoon through it.
Shaving good quality truffles onto a warm dish results in a heady perfume of aromas coming up to greet your nose. That's what we got here. This was a very flavorful, umami-filled bowl of goodness.
This dish needed a big white or a light red wine to accompany it, and a big white was chosen: 2016 Domaine des Ardoisieres Argile Blanc, from Savoie. France. If Sancerre is quite well known and easy to find, Domaine des Ardoisieres and other wines from Savoie are more obscure. Savoie is on the far eastern side of France, near the Italian border (it was part of Italy until 1860) and in the shadow of Mont Blanc. The vineyards are steep and growing conditions difficult, which, along with some grape varieties not often found outside the region, gives the wines from this region their unique character.
The Domaine des Ardoisieres Argile Blanc is made from a blend of Chardonnay, which everyone knows, with two grapes named Jacquère and Mondeuse Blanche, which only the geekiest of wine geeks know. Jacquère gives the wine some pleasant floral notes, while the main claim to fame of Mondeuse Blanche is that it is the mother of the far more famous and widely planted Syrah (Shiraz) grape (more about Syrah later in the meal). Chardonnay gives the wine some of the body of a good Burgundy. Putting it all together, the wine had good body, a floral, tropical fruit nose, and enough body and acidity to stand up to the rich consommé dish.
Next up: grilled bluefish.
Bluefish is an unusual choice for a restaurant menu. Even very fresh bluefish has an inherently more "fishy" taste than more common offerings, and it begins to deteriorate more rapidly than most fishes as well. It's a popular sport fish, but more often finds its way into pet food than people food.
True to form, the bluefish was rather fishy. Not horribly so, but I admit I am one of those who like my fish not to taste like fish. Except canned tuna. I grew up on canned tuna, about as fishy as it gets, and to me, that's fine. I never promised to be consistent.
"A foolish consistency is the hobgoblin of little minds." — Ralph Waldo Emerson
I enjoyed the crispy skin. The summer squash ribbons were nicely sautéed. The golden brown disk on the left is socca, a gluten-free flatbread made with chickpea flour. I don't cook gluten-free, but I have found chickpea flour is often a nice alternative to wheat flour simply because it give a different flavor and texture and variety is good.
The wine for this course was the 2012 Domaine Coursodon "Silice," from the Saint-Joseph region in the Rhone Valley in France. Saint-Joseph is best known for its red wines produced from the Syrah grape (called Shiraz in Australia), although about 10% of the wine produced there is white and made from Marsanne and Roussanne grapes.
By now I think most people know that the old "white wine with fish" rule has plenty of exceptions (and if you didn't know before, now you do!). Bluefish is a meatier fish that, in this case, has also been grilled, imparting smoky flavors that also pair well with red wine. The Silice was fully mature and showing both the dark fruit flavors (black currants, blackberries) and black pepperiness of the Syrah grape. This was a course where I definitely enjoyed the wine more than the fish.
While I do still enjoy a tuna fish sandwich made with canned tuna, I do much a good, nicely grilled tuna steak. That just happened to be the next course.
Here are two more of my preferences that might seem contradictory: maguro (tuna) sushi and sashimi are among my favorites—raw slices of perfectly fresh tuna. However, I like my tuna steaks cooked medium. I can hear the screams now. "What! You just barely sear the tuna on a hot grill or pan and serve it still cool on the inside!" I know, I know. That is the way all the cool kids eat it, but I never claimed to be a cool kid. As it happened, by design or by chance, my tuna here was a perfect medium. I was going to ask the waiter if that is how they normally do it, but I forgot.
The accompanying wine was the 2012 Sanguis "Verve," a Grenache from California's Central Coast. We have moved from the Rhone Valley in France to the Central Coast in California, but Sanquis is a producer known for making Rhone-style wines in the US. Verve is a blend of 85% Grenache, 13% Syrah and 2% Viognier (Viognier is a white grape from the Rhone). You are most likely to have had a Grenache-based wine if you enjoy Châteauneuf-du-Pape, in which Grenache is a major part of the blend, or a rosé from France's Provence region. The grape often produces lighter wines with lots of berry (raspberry, strawberry, etc.) flavors and aromas.
This was another delicious wine. Fully mature, silky-smooth in the mouth, with lots of berry, floral, and some spicy notes in the aromas and flavors.
With that, the savory courses were done and a Passion Fruit Sorbet came out as a palate cleanser.
There's not a lot to say here: cold, creamy, tasted like passion fruit. It was a very nice sorbet. Still, I have to say that the tradition of serving a sorbet as a palate cleanser between the savory and sweet courses is one whose time has passed. I don't mind it, but it doesn't add much to my enjoyment of a meal and I could easily do without the added sugar and calories.
Having said that, I thought the real dessert course was beautifully done.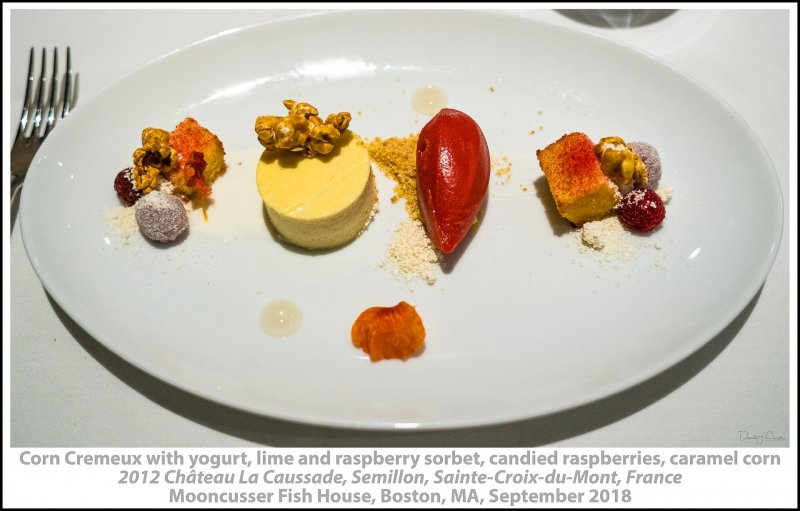 Here was a lovely plate with lots of little bites, each with a distinct flavor and texture. All of the components here are pretty self-explanatory, except maybe Corn Cremeux. Cremeux is French for "creamy." The closest English cooking term is probably pudding or maybe custard. It's not as fluffy and light as a mousse should be or as thick and liquid as a sauce. Ingredients are typically egg yolks, sugar, milk, and some kind of flavoring. In this case, sweet corn (probably briefly cooked) was puréed and used to flavor the dessert along with some yogurt as part of the dairy. Whatever the details of the preparation, it was delicious, as the sweet corn made it taste like summer on a plate.
What I really liked about the dessert course was first, there was only one (even if there were several small servings on the plate), second, it was not too sweet, and third, the flavors were bright and fresh. I have had too many tasting menus that were terrific until dessert time, then turned into a nightmare when dessert course after dessert course came out far past the point of enjoyment.
The final wine pairing was 2012 Château La Caussade, a Semillon-based wine from Sainte-Croix-du-Mont, France. You may have heard of the most famous sweet dessert wines from Bordeaux made in a region called Sauternes ("Sauternes" was once used as a generic name for a sweet white wine in the US, but that is no longer legal). The wines there are made with a blend of Semillon, Sauvignon Blanc, and Muscadelle. The most famous, most delicious, and most expensive is Chateau d'Yquem. It is the most concentrated, complex and delicious dessert wine I have ever tasted, except for perhaps a few German trockenbeerenauslesen. There is just one catch: it is also one of the most expensive wines on the market. Depending on the vintage (and this is a wine that can age beautifully for decades) it can be hundreds of dollar for a half bottle. Full bottles of older vintages can sell for tens of thousands of dollars.
Fortunately for us non-billionaires, there are numerous wines made in Sauternes, next door in Barsac, or on the other side of the Garonne River in Sainte-Croix-du-Mont that are delicious and far more affordable. Château La Caussade is one of those. It was a perfect complement to the dessert plate.
All in all, this was a very good experience as both a seafood lover and a wine lover. Service was good, although it did get a little slow at times. The restaurant was clean, somewhat Scandinavian in design. The music was quiet, but upbeat enough to be interesting. I was very impressed with the wine selection, which showed both thought and knowledge of wine and how to pair wine with foods. Add Moooncusser Fish House to your list of places to try in Boston.
Mooncusser Fish House
Address: 304 Stuart St Boston, MA 02116-5242
Phone: (617) 917-5193
Reservations: opentable.com
Website: http://www.mooncusserfishhouse.com
Dress Code: Business Casual
Price Range: $31 – 50
Hours: Monday-Saturday: 5:00 – 10:00 PM
Credit Cards: AMEX, Discover, MasterCard, Visa
The author is a member of the Amazon Affiliate program but otherwise has no affiliation with any of the businesses or products described in this article.
All images were taken with a Sony a7 III camera with a Sony FE 24-105mm F4 G OSS Standard Zoom Lens (SEL24105G) using ambient light. Post-processing in Adobe Lightroom® and Adobe Photoshop® with Nik Collection by DxO and Skylum® Luminar® plugins.
. .