The Lazy Dog, which opened this month in Vernon Hills, is the newest member of a chain of casual restaurants (32 locations, mostly in California). Founder Chris Simms says the concept was "Inspired by unplanned adventures, an enduring love of food and fireside conversations." If the food and drink we tasted on our first visit is indicative, it is a welcome addition to the area.
The menu is extensive, including no less than 14 categories at dinner:
Seasonal
Starters
Small plates
Salads
Soups
Sandwiches
Burgers
Pizzas
Bowls
Noodles
Meat & Chicken
Fish
Sweet Tooth
Kids
In addition, there are four more menus for lunch, brunch, happy hour, and the bar.
Laundry list menus are usually a bad sign. It is hard enough to do a few dishes really well. Most kitchens that offer dozens of choices use many frozen-to-microwave shortcuts rather than fresh food. However, Lazy Dog claims that every meal is prepared fresh daily. Again quoting Founder Chris Simms:
We have sourced ingredients from places and farmers we love and respect. Each ingredient we use is carefully picked and prepared. We make every meal by hand each day, including all of our sauces, marinades and dressings. We also have a seasonal menu, which is our ode to the current season, and where we celebrate Mother Nature's beautiful bounty the best way we know how.
If the few items we tried are typical, these words are not just a feel-good slogan.
Let's start with a drink. Regular readers know I enjoy a good Old Fashioned Cocktail. You may also have noted my love of bacon and maple, so how could I resist a Maple Bacon Old Fashioned?
Purists (and I can be as picky as anyone about cocktails, how they are made, and what they are called) would say this is really not an Old Fashioned (which is made with just whiskey, bitters, sugar, perhaps garnished with a strip of orange zest). I am inclined to agree, but, whatever the name, this is a delicious cocktail. Let's start at the top with the Bacon Candy. You'll also find it in the Small Plates section of the menu if you prefer your bacon straight-up with no booze on the side. It's made with brown sugar, crushed red pepper chili flakes, and black pepper. Totally addictive! Sweet, salty, smoky, and spicy, this is hard stuff to resist.
I had never heard of Tincup Whiskey before. The whiskey is fermented and distilled in Indiana from a blend of 64% corn, 32% rye, and 4% malted barley mashes. After aging in new, charred American Oak barrels for 4-5 years, it is shipped to Colorado. There it is diluted with Rocky Mountain Spring Water (made famous by Coors beer back in the day) to 84 proof (42% alcohol by volume).
None of these specs is particularly unusual (unless you believe in the magic of Rocky Mountain Spring Water). It could be sold as a Bourbon as the mash contains more than 51% corn. There is a relatively high percentage of rye in the blend, but that is not unique. Nor is it unusual for a whiskey to be produced in one state, then shipped to another for final dilution and bottling. The bottle, however, is quite distinctive.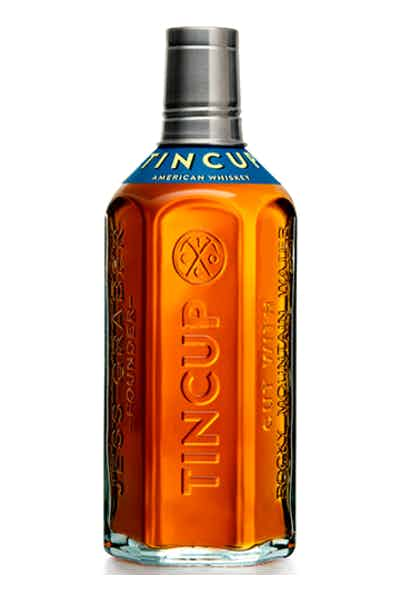 The name Tincup comes from the mining town of Tincup Colorado, which was, in turn, named after the tin cups the miners drank from. The Art Deco bottle is capped with a "tin cup" that you can, if you choose, use to drink the whiskey and pretend you are a miner in the Old West (six shooters and horses not included).
I did not get a chance to taste the whiskey neat, but reviewers note that the high rye content makes it a bit spicier than most Bourbons, which is not a bad thing at all. Rye whiskeys make excellent Old Fashioned and Manhattans. I did an online search of the retail price and it is widely available in the $25-30 range, so it is not an expensive whiskey. Online reviews are favorable, so I'll have to give it a taste when I get a chance.
The whiskey is bacon washed in-house, which adds a bit of smokiness to the cocktail. In place of the sugar that is normally used to sweeten an Old Fashioned, maple syrup, and Montenegro Amaro Liqueur are added. If you have three minutes to spare, take a look at this highly-romanticized, very cinematic version of how this liqueur came to be.
This amaro was first produced in Italy by Stanislao Cobianchi in 1885. It is named after Princess Elena of Montenegro. You may know or recall from some of my earlier posts that an amaro is an Italian liqueur made with a proprietary blend of herbs and spices, is bitter-sweet (some more bitter, some more sweet) and traditionally served after dinner as a digestif. Today they may be served before or after dinner and are often used in a variety of cocktails.
Montenegro Amaro is relatively easy to drink if you are new to amari (plural of amaro). It is darker than most and the orange component dominates, but is supported by the warm spices and herbs in the blend. There are some 40 botanicals in the recipe and most are not secret (orange peel, coriander, oregano, cloves, nutmeg, etc.). There are 5 top-secret ingredients, however, that are extracted and distilled in a separate location to make what they call the "Premio," the secret sauce that makes up only a tiny part of the blend, but which is said to give the liqueur its distinct flavor.
Marketing materials aside, it is a tasty amaro and added a delightful orange (traditional in an Old Fashioned) and warm spice element to the cocktail.
My biggest fear in ordering this cocktail—that the maple syrup and liqueur would turn it into a sweet mess—was not realized. It was perfectly balanced, complex, and came with bacon. It was a great cold weather drink. If it is representative of the quality of the other specialty cocktails on the menu, someone in the organization is a damn good mixologist.
On to the food. Deviled eggs are hard to resist, but fried deviled eggs? With bacon?
Yes, they are as good as they sound. Just the egg whites are lightly breaded and fried, then stuffed with a typical deviled egg yolk mixture. The topping of smoked paprika and a bit of that bacon candy puts them even farther over-the-top. I think a more traditional, cold deviled egg would be better in the summer (just don't lose the paprika and bacon), but the warm base was a welcome addition on a cold winter night.
Next up, a Chipotle Chicken Quesadilla.
Quesadillas are ubiquitous on menus these days and they tend to be pretty flavorless, made with bland cheese and maybe some bland chicken breast. This was not one of those. While not overly spicy, there was enough chipotle (smoked jalapeño peppers) to give a nice kick. Even better, by accident or design, some of the cheese oozed out and was caramelized on the outside of the quesadilla, which added a ton of flavor and texture. I can't remember a better quesadilla in a restaurant, anywhere.
I was in a burger mood (not all that unusual) and ordered an All-American.
Only a few days before this meal I had an Au Cheval burger, often voted the best in Chicago and sometime in the US. This burger was every bit as good. First, instead of one big, thick beef patty (preferred by some, but not by me), they used two, thinner patties properly seared on a flat top grill to give them a wonderful char on the outside while keeping them juicy on the inside. It was the same amount of meat in total (8 oz) that is common in burgers these days, but splitting it in two and grilling it gave it twice the flavor (to me, at least). The brioche bun (arguably the best choice for a hamburger) was toasted, big enough to hold the patties, but not so thick as to dominate the sandwich. The rest of the ingredients were all-American standards and perhaps a tip-of-the-hat to a Big Mac or Big Boy. The fries were also perfectly cooked.
This was admittedly a small sample of the full menu, but everything we tried was really good—well above average for restaurants of this type. We will definitely be going back to try some more, if we can get in. They do not take reservations and we usually see quite a crowd waiting in the lobby when we drive by.
Lazy Dog
Address: 1115 N Milwaukee Ave, Vernon Hills, IL 60061
Phone: (847) 780-7977
Reservations: N/A
Website: https://www.lazydogrestaurants.com/locations/vernon-hills
Dress Code: Casual
Price Range: $30 and under
Hours: Monday – Friday: 11:00 am – midnight
Saturday & Sunday: 9:00 am – midnight
Brunch: Saturday & Sunday: 9:00 am – 2:00 pm
Credit Cards: AMEX, Discover, MasterCard, Visa
The author has no affiliation with any of the businesses or products described in this article.
All images were taken with an Apple iPhone X using ambient light. Post-processing in Adobe Lightroom® and Adobe Photoshop® with Nik Collection by DxO and Skylum® Luminar® plugins.