Partake is Kendall-Jackson's restaurant and tasting room in Healdsburg, CA and it is a great place to enjoy delicious nibbles and good wines. The food is  excellent. The mass
produced KJ wines are good values and generally varietally correct with some complexity – really nice wines if you are not a label snob! A few small production (a couple of hundred cases) wines are available here that are not distributed through retail channels. These are even higher quality wines, but, of course, are more expensive.
A tasting starts with a whole grain bread served with three olive oils. The bread is hearty and an olive oil tasting can be almost as interesting as a wine tasting. One was flavored with Meyer lemons and was particularly tasty.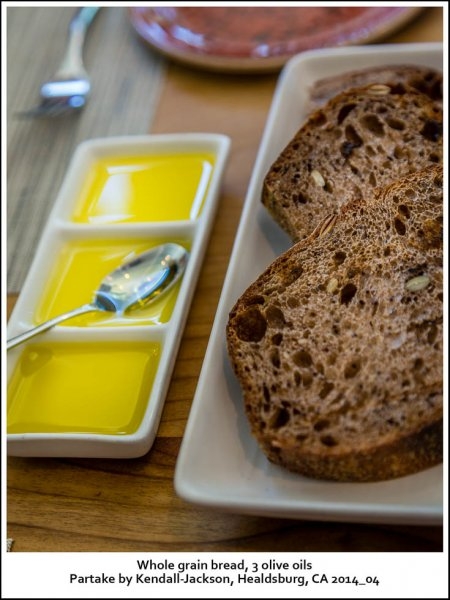 They also bring out a mystery wine in a black glass and challenge you to identify it. You will be surprised how hard it can be even to guess the color when you can't see the wine at all! My nose and palate are not as trained as they once were, but I am happy to say that I correctly called it as an unoaked Chardonnay.
I ordered the Chef's Tasting menu – a great bargain – while my wife, Valeria, and our friend, Ronie, who lives in Healdsburg, ordered a la carte. Portions here are small, as they should be if you want to taste many bites and sip many wines, but this is not where you go with a huge appetite. However, unless you eat like an NFL lineman bulking up for the season, you can nibble your way through more than enough plates to fill up.
My first plate held fresh oysters on one side, squash panna cotta on the other. The Sonoma Coast is an oyster lover's paradise, and these were excellent. I was surprised to see the squash was described as coming from Long Island, given the emphasis on local ingredients here. Why bring squash all the way from New York? Then I learned there is a Long Island CA, near Sacramento. The panna cotta was creamy and smooth with a subtle, but distinct flavor of squash. The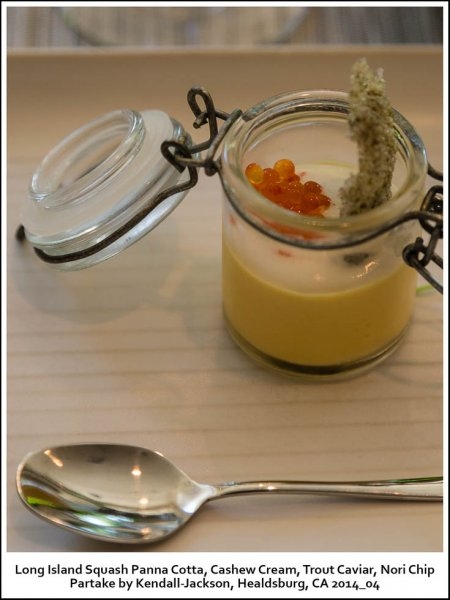 cashew cream added a little nuttiness and the trout roe and nori cracker garnishes finished the dish off nicely.
The 2012 Grand Reserve Sauvignon Blanc was paired with the oysters. It was a typical KJ wine – clean varietal flavors and a nice crispness. Sauvignon Blanc is one of my favorite matches with oysters.
The 2012 Jackson Estate Camelot Highlands Chardonnay was poured with the panna cotta. Very lightly oaken, tis is one of the most fruit-driven Chardonnays I remember tasting from KJ. No need to age this one, but it is a great summer Chardonnay that you should be able to fnd for well under $20/bottle and, in some places, closer to $10.
The ladies ordered the carrots caramelized with Guajillo chile, coconut and pepita brittle. The carrots were just cooked through and the flavors of the chile, coconut and pepita (pumpkin seed) brittle married nicely.
They also ordered the beet tartare, with black sesame seeds, ume plum (a pickled Japanese plum) and Shiso (a Japanese herb). Great combination of flavors.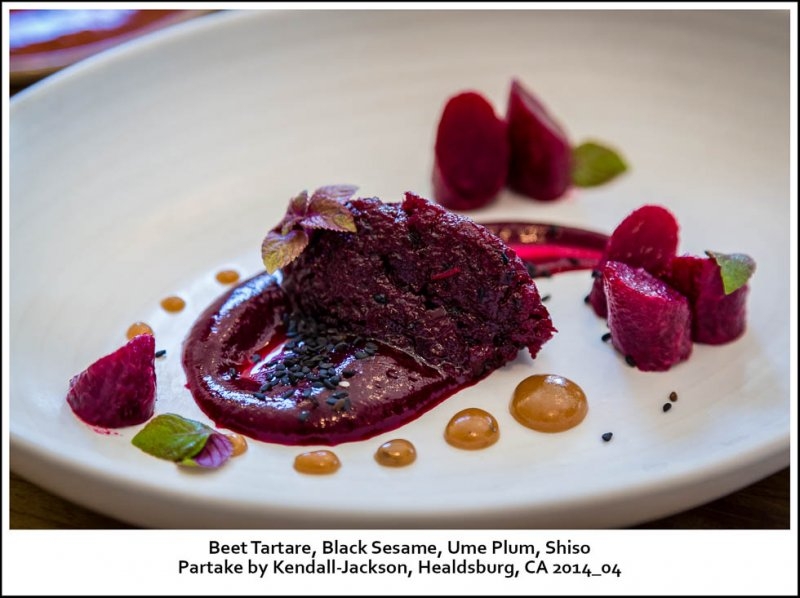 My next plate featured  whole-vine tempura Maitake mushrooms on one side, smoked sirloin of lamb, heirloom beans, spring vegetables with beet & pomegranate relish on the other. The mushrooms were amazing! Very delicate tempera batter on the outside – just enough to give a nice crunch that you bit through into the meltingly tender and tasty mushroom inside. It's not a beautiful dish, but, if you love mushrooms, it is delicious.
The 2007 Highland Estates, Napa Mountain Merlot was served with the mushrooms. This is a small production wine only available at the winery or if you are a member of the KJ wine club. This is a big, dark Merlot with good fruit and nice vanilla oakiness. At around $70/bottle, it is not the bargain that the "standard" KJ wines are, but it is delicious. Just hitting it's stride, it should develop gracefully for several more years.
The smoked lamb sirloin had great flavor and was perfectly cooked, but the heirloom beans really got my attention. Great texture and flavor. The beans alone would make a terrific main course. The excellent 2009 Jackson Estate Trace Ridge Cabernet Sauvignon was poured with the lamb. Another small batch wine, it had all the things that mark a good cab that is starting to mature: cassis, licorice, a little tobacco and even a hint of chocolate.
Meanwhile, the ladies ordered the mushrooms and a duck platter – liver mousse, duck confit, and smoked breast – to go with it. Foie gras has been outlawed in California. They tried that in Chicago, but the law just made it illegal to sell foie gras, not to serve or eat it. Thus, Chicago restauranteurs, being Chicagoans, simply sold you, for example, a $20 piece of Brioche toast with Huckleberry Sauce and free foie gras on the side. The city council was eventually embarrassed into reversing the ban by local public ridicule and national ridicule by late-night comedians.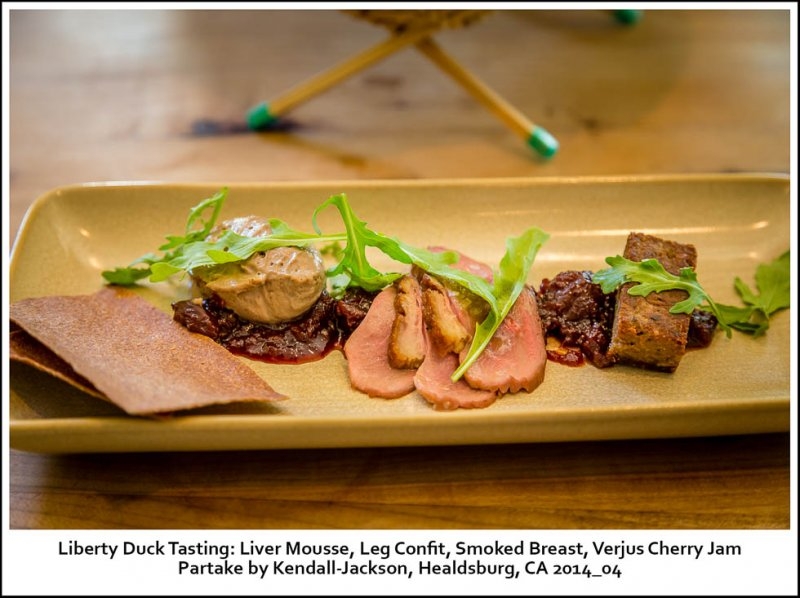 We hoped that someone had found a loophole in the California law, but, alas, the liver mousse was just that – regular liver mousse, It was tasty enough, but not foie gras. The confit and smoked breast were also very good.
I will still hungry (or convinced myself I was) so I ordered the Wagyu beef sliders. Yummy! I am a sucker for a good slider, but they are everywhere these days which means most of them will be mediocre if not downright bad. These were perfect. Well-seasoned meat, enough bun, but not too much.
I finished with a "Bowl of Oatmeal" – Opalys White Chocolate Panna Cotta, Granola, Green Apple Sorbet, Shiso and Oatmeal Gel. Light, not too sweet – a nice ending.
The dessert wine was the 2007 Grand Reserve Late Harvest Chardonnay. I have never been a great fan of Late Harvest Chardonnay and this one did not change my opinion. It was nice enough with the "Oatmeal," but give me a good late harvest Riesling or, better yet, Gewürztraminer any day. Or Sauternes. d'Yquem, anyone?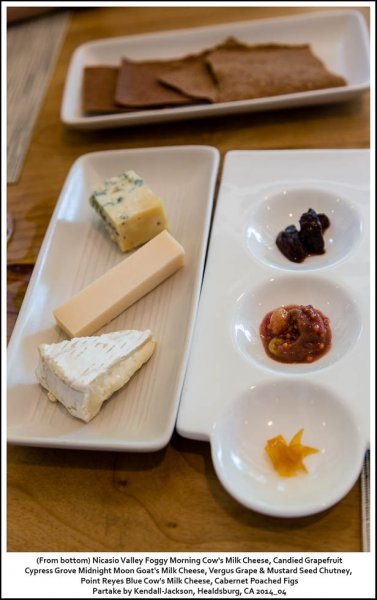 All in all, a delightful lunch with great food and good to near great wines, all at a reasonable price in a beautifully decorated space.