Despite the cold, rainy weather one weekend in February, Valeria and I decided to make a trip to Abt Electronics (my favorite toy store) in search of ideas for kitchen remodeling. As we wandered through Abt and the other home interior stores in the Abt Design Center across the parking lot, dinner time approached. We noticed a pleasant looking restaurant called Jölane's at the end of the strip of interior shops. A quick check of OpenTable showed good ratings and an interesting menu, so we decided to get out of the cold and rain and into an early dinner.
According to their website "Jolane's Restaurant & Bar in Glenview, IL features exclusive contemporary cuisine with a European flair and artesian libations." (You might want to take a moment to read Jölane's biography on the website. I can't vouch for the accuracy, but it's a good story.) Based on our sample of the menu, the description is accurate. Let's take a look.
As you enter Jölane's, the first thing you see just behind the hostess stand is a pastry counter. The desserts displayed there looked delectable, presumably available for carry out or in the restaurant. The interior of the restaurant is warm, with white tablecloths and a European Bistro feel. There is also a glass-enclosed conservatory that we saw through the open doors that looked like a great place to be in better weather.
The menu has a nice variety of choices, hot, cold, small plates and large. Some items do show a "European flair": e.g., schnitzel, Austrian brisket, and Tuscan chicken, but most of the menu was pretty American: Buffalo wings, steaks, and burgers. That's not a bad thing, just an observation.
The claim of "artisanal libations" is supported by the Craft Cocktail list, which is short (a blessing in a time when some cocktail lists go on for pages and are more artsy than artisanal), but offers a range of styles.
Even as we began to peruse these menus, warm popovers appeared on the table for each of us.
I can't be sure if this was popover or a Yorkshire pudding (the difference being that the pudding is baked in some beef drippings), but I think it was a popover. Regardless, it was delicious and the strawberry butter had just enough of a touch of sweetness to really make it sing.
I limit myself to one before-dinner drink when driving. Faithful readers will remember that I often enjoy a Bourbon or rye-based cocktail before dinner, especially in the winter months, so the Walnut Old Fashioned was appealing.
If all of their cocktails are as well made as this one, the title "Craft Cocktails" on the menu and "artisanal libations" on the website are entirely accurate. I have written about this cocktail in detail in the past, here most recently. This one hit all the right notes: a good whiskey, well seasoned with bitters, not too much sugar, stirred together until cold, and served with a large ice cube, brandied cherry, and orange peel. Let's look at the ingredients.
KOVAL Distillery was founded in 2008, apparently the first Chicago distillery since the mid-1800. (Another local distillery, Lake Shore, began operations in 2004 just north of Chicago in Libertyville, and claims to be Illinois' first craft distillery.) KOVAL makes several whiskeys (Bourbon, Rye, Four Grain and more), all single barrel production, as well as several gins, liqueurs, and other spirits. The menu didn't specify which whiskey was used here, but it provided the whiskey base that defines a good Old Fashioned. The walnut bitters added just a note of walnut aroma and flavor, while the brown sugar added just a little more smoothness and flavor than regular sugar would.
For cocktail enthusiasts, I recently found this video showing (and mixing and drinking) the evolution of the Old Fashioned Cocktail. He talks about the mid-20th century version (a muddled mess of cherries and orange) and ends with what I consider a perfect recipe.
Valeria and I almost always try a spicy shrimp appetizer when we see it on the menu. Here is Jölane's version.
Notice that the shrimp have been put on individual skewers, which make for a nice, straight presentation and even coating and cooking. The downside is dealing with the skewer as you eat. Ideally, the shrimp slide off easily, but, in this case, they clung to the stick with all their might. I believe this was because they were a bit overcooked, which toughens them up.
The aioli was delicious, but we would have liked more of it (I believe they would have brought more if we had asked).
Overall, I though they were good, Valeria thought they were OK at best, mostly because she did not like wrestling to get the meat off of the stick.
WIth each entrée you get a choice of soup or salad. I chose a Caesar Salad.
How much can you say about a Caesar Salad? The lettuce was fresh and crisp, the croutons crunchy, the dressing had good flavor and tang, and the Parmesan was real Parmesan, not an imitation out of a can. If you are in the mood for a Caesar Salad, this one will definitely scratch your itch.
Valeria went with the Soup of the Day, which was roasted poblano.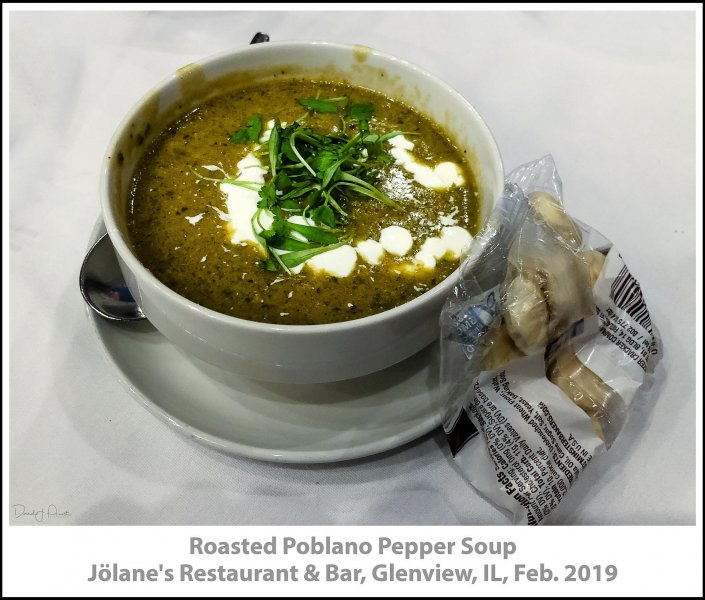 This was delicious. Plenty of flavor and body with only the merest touch of chili spiciness. Perfect for the weather that day.
You don't often see schnitzel on menus in the US, so I went for it.
I enjoyed this a lot. The pork cutlets were nicely breaded and pan-fried to a perfect golden brown. The smashed potatoes were perfect: creamy in places, with lumps of potato and pieces of skin throughout, comfort potatoes at their best. I think the potatoes were enriched with some butter or sour cream or something, as the creamy parts were very flavorful and rich. Finally, the lightly thickened gravy was just perfect to moisten the meat and potatoes and bring them together.
The cucumber salad—which I would describe as house-made dill pickles—were a great side. The clean dill and vinegar flavors made a perfect palate cleanser after every few bites of meat and potatoes.
Valeria ordered the branzino.
Branzino (also called Mediterranean sea bass, European sea bass, loup de mer and probably others) is a wonderful fish with white, flakey meat and a mild flavor. It has become popular in the United States in recent years, but it has to be flown a long way. At least one company has started farming branzino is the States, so we'll have to see how that goes.
The fish on this plate was perfect. Enough flavor from the herbs, olive oil, and a squirt of lemon to be interesting, not enough to overpower the fish. The potatoes were cooked very nicely—crispy outside, tender inside—but could have used some more seasoning. The small salad did not work at all for Valeria as the dressing seemed to be just balsamic vinegar and she is not a big fan of sour.
As good as the dessert pastries looked as we came in, we decided to be strong and skip the desserts. That turned out OK, though, as they did give each of us a small chocolate mint that was excellent.
Overall, we had a fine meal, with some courses stronger than others. Our waiter was prompt and personable. The service was quick; almost too quick at one point when the soup and salad came out when we had just started the appetizer. It's a good 40 minute drive from our home. so we would not drive that far just for dinner. It's not a destination restaurant and I doubt they are trying for Michelin stars. However, if you are in the neighborhood and looking for a casual place for a good lunch or dinner, this is a good place to stop in.
Jölane's Restaurant & Bar
Address: 1100 Milwaukee Ave Glenview, IL 60025
Phone: (847) 375-6986
Reservations: opentable
Website: http://www.jolanes.com
Dress Code: Casual
Price Range: $30 and under
Hours: Tuesday – Saturday: 11:00 am – 9:00 pm
Sunday: 11:00 am – 8:00 pm
Monday: Closed
Credit Cards: AMEX, Discover, MasterCard, Visa
The author is a member of the Amazon Affiliate program but otherwise has no affiliation with any of the businesses or products described in this article.
All images were taken with an Apple iPhone X using ambient light. Post-processing in Adobe Lightroom® and Adobe Photoshop® with Nik Collection by DxO and Skylum® Luminar® plugins.