As I have mentioned in previous posts on Norman's and Fiorenzo Italian Steakhouse, I go to Orlando, FL, every year or two to attend Photoshop World and to eat at great restaurants, not necessarily in that order. Photoshop World is a conference for photographers and graphic artists. Some of the very best photographers and artists in the world present classes and interact with the attendees. It's a fun, educational, and interesting conference, but that's not the subject of this post.
Instead, I want to review the 3rd of the 4 restaurants I visited during the conference: Itta Bena. The Orlando location is one of three (the others being in Memphis TN and Montgomery, AL). The name may look vaguely Italian, but it is actually the name of a town in Mississippi that derives from the Choctaw American Indian language and means "forest camp." The town is located the Mississippi Delta, and the menu describes the food as "contemporary Southern cuisine with a Delta influence." I'd say that's fair.
The restaurant looks casual and has a certain almost barn-like feel (if the barn was designed by Martha Stewart). It feels very comfortable and welcoming.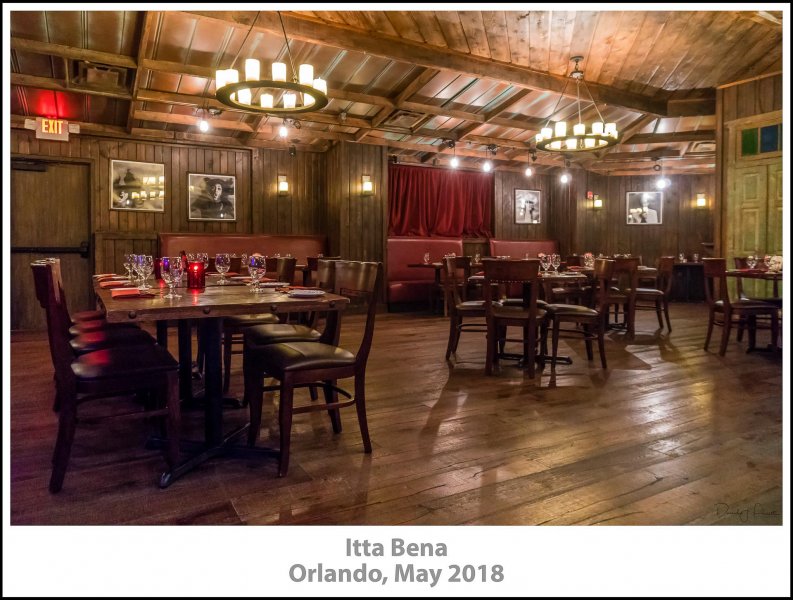 I learned the hard way that their hospitality was real. I chose this restaurant because (among other reasons) it was only a short walk from my hotel. I forgot to plan on one thing: late afternoon Florida thunderstorms. Just as I was getting ready to leave, the skies opened up and the rain poured down. I had no raincoat and no umbrella, and I'm not sure either would have helped much. The rain and wind were intense and I doubt normal rain gear would help very much. I had to walk only a few yards in the open to get in my taxi and I was already very wet. Unfortunately, I would get wetter.
Itta Bena is located in an open air mall (see map below). It was also just about as far away from the taxi drop-off area as it could be. Plus, I did not know exactly where the restaurant was in the mall, so I was dashing from awning to awning trying to figure it out. I was already 15 minutes late, so I called the restaurant to let them know I was coming and try to get more specific directions. As it turned out, I was only two stores away from the restaurant. I arrived very late, very wet, and very hungry. The hostess, who I had answered my call, was as kind in person as on the phone. She brought me some towels, gave me a couple minutes to dry off (as well as I could) and took me to my seat.
As I settled my still damp and chilly self into my seat and starting looking over the drink menu, the Old Fashioneds immediately caught my eye.
I decided it was incumbent upon me to try all three variations. (It's important to have goals in life.) I planned on being there a while and wasn't driving, so I didn't see a problem spacing these out over a couple hours. I started with the Signature Old Fashion. (I don't know why they dropped the "ed" from Old Fashioned, as the cocktail is usually named.) It was the only one of the three that I didn't snap a picture of, but there was really not much visual difference between them.
Old Forester, true to its name, has been in continuous production since 1870, longer than any other brand of Bourbon. Production was not interrupted by Prohibition as it was one of a handful of distilleries licensed to produce spirits "for medicinal purposed" during the "Noble Experiment". It is not a rare, sought after bottling, nor is it expensive (about $20-25 a bottle—although they do make some more expensive bottlings), but it is a solid, reliable brand with a great nose, flavor and finish. Definitely a good start to a Bourbon-based cocktail.
The Old Fashioned is so named because it is the oldest type of cocktail, consisting of only spirits (originally whisky or rye), bitters and sugar. Bitters were the key ingredient that differentiated a cocktail from other alcoholic drinks like punches and fizzes. They serve very much the same purpose in a drink as herbs and spices (from which bitters are made) do in cooking: a small amount adds lots of flavor, aroma and complexity. Bitters were originally developed as medicine centuries ago, but when cocktails began developing in the 1800s, it didn't take long to learn that a few drops made a drink much more flavorful (and perhaps helped mask any off odors and flavors in some of the crudely made whiskey of the time).
The Bitter Truth is a German company that was created in 2006 simply because quality bitters were hard to find in Germany. Their first two products, Old Time Bitter Truth Bitters and Orange Bitters, were soon joined by over a dozen more types of bitters, several liqueurs, and a gin. I have tried several of their bitters. All have been excellent.
The menu does not specifically mention adding any sugar to the drink, so it may depend on the cherry juice and muddled orange for sweetness. The muddled orange is the one thing about this drink that I object to. "Muddling" basically means smashing the orange slice in the glass to extract the juice and some essential oils, but it is too extreme a treatment for my taste, leading to too much orange in the drink. This was a popular way to make the cocktail back in the 50s and 60s, however. If you are a fan of Mad Men you may want it made this way and that's fine with me—always enjoy your cocktails the way you like them. I like a generous slice of orange peel squeezed over the cocktail and then dropped in kind of like this:
Note that either Bourbon or Rye can be used to make an excellent Old Fashioned. I use whichever one I am in the mood for.
With my drink order safely in (the cocktail arrived just a few minutes later), it was time to peruse the menu.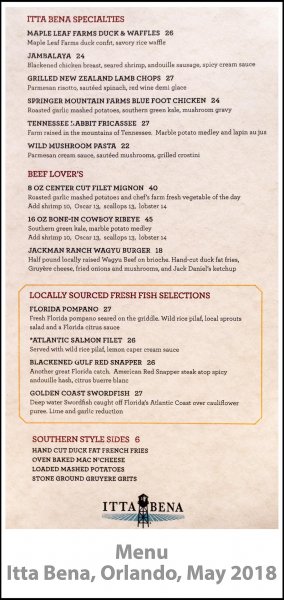 The Southern influence was obvious, but this was way beyond my grandmother's fried chicken and homemade biscuits (both of which were to die for).
The appetizer that begged me to order it was the Duck Grilled Cheese.
Duck confit is a beautiful thing. Traditionally, it was made by cooking duck in it's own fat at a low temperature for a long time. Herbs and spices were generally added for flavor. The duck was then left to cool in the fat, which preserved it for a year or more. Today I make it using my sous vide (sealing under vacuum in a plastic bag and cooking in a water bath). The sous vide product is not identical to confit the old fashioned way, but it is easier and neater to make. Here's the traditional method as done in a modern kitchen.
To use the sous vide method, cure the meat just as in the video, rinsing and drying as shown. Then, instead of covering in fat, toss it in a sous vide bag, add some additional herbs, garlic, orange peel, etc. (if you like), then sous vide at 160°F (71°C) for about 16 hours (I usually put it in after dinner tonight to serve tomorrow night). When you take the legs out of the bag they will be fall-apart tender. Dry them off and brown as in the traditional method.
Duck confit is a serious comfort food, as is a grilled cheese, so how could I resist a double dose of comfort after my miserable trip to the restaurant? I don't remember ever having goat cheese with duck before, but it turns out that they play together very nicely. The richness of the duck and the tartness of the cheese combined beautifully with the sweetness of the caramelized onions. This was grilled cheese taken to a whole new level and it was delicious.
While I was savoring the sandwich, my second "Old Fashion" arrived.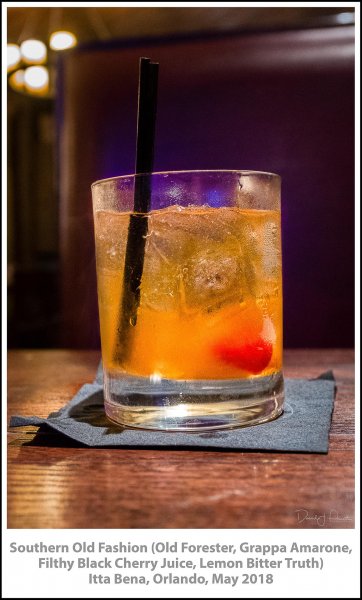 Of the three variations on Old Fashioned cocktails, this one was the most confusing. I am not sure what was particularly "southern" about the recipe. It started with a solid base of Old Forester, like the first version, but why was grappa added? (Grappa is an Italian spirit made by fermenting and then distilling the leftover parts of grapes once the juice has been squeezed out and taken away to make wine. Grappa Amarone is made in northern Italy, so no "southern" here.) Filthy Black Cherries are a premium brandied cherry of the type I have argued should always be used in place of the neon-red Maraschino cherries. However, after adding some of the juice from the premium cherries to the drink, it comes with the neon-red variety. There was also a muddled orange slice, which, as I explained earlier, is not something I want in my Old Fashioned. The lemon bitters from Bitter Truth may have been a nod to the fact that, back in the 1800s, what we now call an Old Fashioned was served with a slice of lemon, if there was any fruit added at all.
In the end, this was not a bad cocktail (except for the cherry), but it was neither "southern" nor an "Old Fashioned," at least in my world. Maybe that's why they called the cocktails "Old Fashion" with no -ed at the end? Could be, but it looks more like a spelling error than a new name.
I want to be clear that my objection is not in how the cocktail was made or how it tasted. Everyone is free to mix and match ingredients to create a cocktail that pleases them. I do think that what you call a drink matters, however. After all, if you order a hamburger and someone brings you a chicken sandwich, you wouldn't be happy. Not even the best chef in the world could get away with calling a chicken sandwich his/her version of a hamburger. Similarly, if you are going to call a cocktail and Old Fashioned, it should be within the normal range of ingredients and flavor profiles of that cocktail. So, the "Southern Old Fashion" is a fine cocktail, but not an Old Fashioned.
Much more successful was my entrée: Blackened Red Snapper.
Some of you may remember back in the early 80s when New Orleans Chef Paul Prudhomme practically set the world on fire (see what I did there?) with his Blackened Redfish recipe. He coated the fish fillets with Cajun spices, then seared them in a screaming hot cast iron pan, generating tons of smoke and sometimes leaping flames as the oil splattered. In the hands of a good chef, the results were amazing.
Unfortunately, Blackened Redfish went viral (even though that term had not been invented back then). Chefs and wanna-be chefs everywhere were seasoning up fish fillets and, as often as not, burning, rather than blackening the helpless fish. Then blackening spread to everything. Just about every restaurant in the US had blackened fish, blackened chicken, blackened steak, blackened shrimp, blackened pasta—you name it. Unfortunately, not everything was meant to be doused with Cajun spices and thrown into a screaming hot pan. The skin of the redfish protected the flesh of the fish as it blackened, leaving the inside moist and delicious. The dish became so popular that redfish was overfished. Eventually most restauranteurs stopped using redfish to allow the population to recover. Most substitutes just didn't survive the treatment. Home cooks set off many a smoke alarm trying to recreate the dish in their own kitchen.
Fortunately, such trends generally fade almost as fast as they catch fire, and you don't see Blackened Something on every menu these days. Its Bena's Blackened Red Snapper illustrated how well the technique can work, however. The fish was perfectly cooked and spicy, but not so spicy as to completely mask the fish. The andouille hash had its own spicy kick married with the smooth flavor of diced white potatoes and the sweetness of diced sweet potatoes. (Andouille is a spicy sausage from Louisiana.) The lemony, buttery sauce tied everything together with its lemon zing and buttery creaminess. I could easily have been sitting in New Orleans eating this.
I saved the third Old Fashioned for last because, honestly, the ingredients looked as much like dessert as a cocktail.
As you may have figured out from my earlier comments, I am something of a purist when it comes to using names. A Martini is a drink made with gin, dry vermouth, and (classically) a dash of orange bitters. You don't often get the dash of bitters these days (though you should try it). Some substitute vodka for gin. Others want so little vermouth, if any at all, that they are really just drinking gin (or vodka) on the rocks. I can live with a call for a Vodka Martini and I understand that time marches on, recipes change, and the modern Martini generally does not get a dash of bitters, but I can't accept the neon colored, sickeningly sweet drinks that are called "martinis" just because they are served in a traditional Martini glass. I have no problem if those drinks are popular, I just don't think they should be called Martinis, which implies a specific cocktail.
Similarly, the name Old Fashioned refers to a specific type of cocktail. There is a fair amount of flexibility in the recipe. Rye or Bourbon? A little more sugar, or a little less sugar? White sugar or demerara sugar? What brand and what amount of bitters? Still, the basic recipe is always the same: some whisky, some sugar, and some bitters, stirred over ice and served with an orange peel and maybe a cherry (just not a neon red one).
When you go beyond the basic recipe and start adding flavored whiskies, other spirits, different sweeteners and even bacon, you may have created a delicious cocktail, but it is not an Old Fashioned.
That is exactly the situation we have with this third of three "Old Fashioneds." It's a delicious cocktail. A little sweet, with nice chocolate, caramel, maple, and pecan notes on the nose and on the palate. And what's not to like about candied bacon? I enjoyed the drink, I just don't think it should be called an Old Fashioned. (And just changing it to "Old Fashion" isn't enough.)
Flavored whiskies have proliferated in recent years and have divided whisky drinkers into two camps: they are a great idea or they are an abomination. Generally speaking, I prefer to drink a good whiskey (or whatever spirit) unadulterated, but I'm OK if someone else likes a flavored spirit. Ballotin started creating various chocolate and other flavored whiskies in 2015 and I think it is great to find ways to use them in well-made cocktails (just don't call them Old Fashioneds!).
Issues of nomenclature aside (and for most of you that's probably not a problem at all), I really enjoyed my meal at Itta Bena. The food and the drinks were delicious, the service was good, and the ambience relaxed and welcoming. I'm glad I made it through the rain to get there. Cue Barry Manilow.
Itta Bena Orlando
Address: 9101 International Dr, Suite 2210 Orlando, FL 32819
Phone: (407) 757-2910
Reservations: OpenTable
Website: http://ittabenadining.com/orlando/
Dress Code: Business Casual
Price Range: $31—$50
Hours: Dinner Nightly: 5:00pm – 11:00pm
Credit Cards: AMEX, Discover, MasterCard, Visa
9101 International Dr #2210
The author is a member of the Amazon Affiliate program but otherwise has no affiliation with any of the businesses or products described in this article.
All images were taken with a Sony a7 III camera with a Sony FE 24-105mm F4 G OSS Standard Zoom Lens (SEL24105G) using ambient light. Post-processing in Adobe Lightroom® and Adobe Photoshop® with Skylum® Luminar® plugins.
. .