By a happy coincidence, our trip to the northern California Wine Country coincided with the annual Earth Day Celebration at Iron Horse Vineyards in Sonoma County. The coincidence got even happier when we learned that we would be stopping by Halleck Vineyards for a light brunch on the way to Iron Horse.
Halleck is a small, family-owned vineyard owned and operated by Ross and Jennifer Halleck. Now divorced, they continue to work together in the winery operation and in raising their three sons. We were introduced to Halleck wines at a wine dinner that Jennifer hosted at The Tavern, a steakhouse in Libertyville, IL several years ago. Valeria and I were seduced by the wines and enjoyed our first meeting with Jennifer, who grew up in the northern Chicago suburbs.
We later met Ross and have been with him on a few of his many wine excursions, including trips to Honduras, New York City and Nick's Cove in California. I need to blog about those trips one day as well.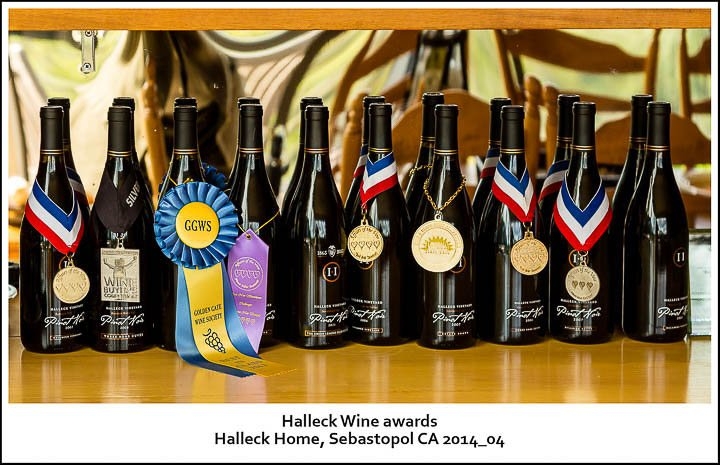 The Halleck home in Sebastopol sits on about an acre and is surrounded by the Pinot Noir vines that are picked to make their Estate Grown Pinot Noir. They additionally source grapes from several excellent vineyards in western Sonoma County to produce a handful of Pinot Noir bottlings each year. These are complimented by a Sauvignon Blanc and a Dry Gewürztraminer. The "Little Sister" Sauvignon Blanc is made from Russian river Valley fruit in a style that is closer to a French Sancerre than a typical California Sauvignon Blanc, but with the additional fruit intensity that marks it as Californian. It is an excellent wine to serve with raw oysters.
There are only a handful of dry Gewürztraminers (or Gewürztraminers of any kind) produced in California and that is a shame. I suspect the name keeps people from ordering it, and I have long lobbied to have the grape renamed "Fred," but I don't think anyone is listening. Halleck sources the grapes from Saralee's Vineyard in the Russian River Valley, but the grape is best known in Germany and Alsace, where it is used to produce everything from bone dry wines, lovely as an aperitif or with Indian or Asian food, to very sweet dessert wines than are perfect with a Thanksgiving pumpkin pie. The wines have distinctive spicy aromas and flavors which can resemble the nutmeg, cinnamon and ginger often used in pumpkin pie (Gewürz means "spicy" in German).
Halleck wines are available only through membership in their wine club and at a few selected restaurants around the country. You can get more information here.
After a very pleasant late morning of wine, cheese, oysters and catching up with the Hallecks (including Ross' parents, whom we had met on previous occasions), it was off to Iron Horse. Like Halleck, Iron Horse is well off the beaten path and if you ever drive by it accidentally, you are probably very lost.
Iron Horse produces some very good sparkling wines, which make up about half of their production. The "Wedding Cuvée" is popular not only because of the name, but because it is a consistently good sparkling wine at a reasonable price (generally $25 – 40, depending on the year, where you shop, etc.). It is typically mostly Pinot Noir with a little Chardonnay bended in.
There are around 160 acres under vine on the Iron Horse property, all planted to Pinot Noir and Chardonnay used to make the entire range of sparkling wines as well as the still Pinot Noir and Chardonnay that they also produce. The founders of Iron Horse, Audrey and Barry Sterling, lived for years in Paris and their children, who now run the operation, largely grew up there. They came home wanting to build a chateau-style winery; they succeeded admirably.
Earth Day at Iron Horse is not just about Iron Horse, however. Several other wineries were pouring samples under the tent and local chefs offer tastes of numerous dishes from salads to dessert. Among the other wineries was another of our favorite Sonoma Coast producers, Freeman Vineyards, where Ken and Akiko Freeman were pouring their Pinot Noirs and Chardonnays. Freeman is yet another example of the growing number of relatively small producers making excellent Pinots and Chardonnays in west Sonoma County.
I have to say that the bites that made me happiest that day came from Chef Douglas Keane, who was the owner/chef at Cyrus in Healdsburg, CA. Unfortunately, the hotel was purchased by new owners who wanted to use the restaurant space, and Cyrus had to close. Chef Keane, who was also a winner on the Top Chef Masters TV show, produced amazing 10 -12 course tasting menus at his destination, 2-Michelin starred restaurant. That would be hard to do in a tent with a few hundred people milling around, but the shrimp, chicken and beef dishes that he prepared were delicious, even served standing and on paper plates.
The history of pies – savory or sweet filling wrapped in a pastry crust – extends back to the time of the Pharaohs. While dessert pies are found in many countries, there are more variations in the United States than elsewhere. Savory pies, on the other hand, are much more popular in other countries. Sweet pies are enormously popular here and, when well made, are wonderful. Like most people, however, I am constantly looking to reduce sugar and carbs, so my pie life is largely restricted to a bit of pumpkin pie during the holidays.
For all my good intentions, however, when I was confronted with no less than four (4!) delicious looking pies, I simply could not resist and had to try each one. Yes, I was weak, but I do not regret it. They tasted as good as they looked and each flavor brought back different childhood memories.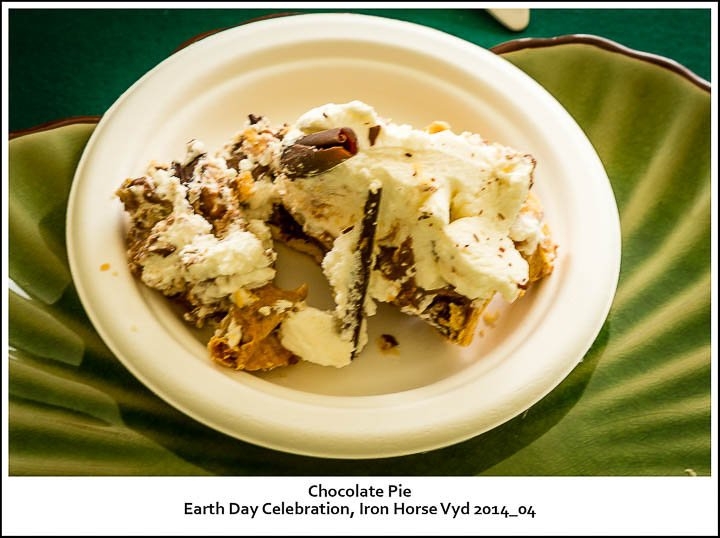 For entertainment, a trio of Hispanic ladies called "Trio Ellas." Their songs ranged from traditional mariachi music, through romantic ballads and a variety of other styles. I enjoyed their music enough that I bought one of their albums on Amazon. Their music is available through all the usual outlets. You can lean more about them on their website and I encourage you to give their music a listen if your taste runs to Spanish music driven more by acoustic guitar than amplifiers.
Earth day at Iron Horse also showcases the works of local artists. This year, the work of John Pashilk, a Sonoma County Sculpture was featured. His sculptures have been created around many themes, but, appropriate to Earth Day, the work shown was a collection called "Power Plants" meant to elicit conversation around what power plants of the future might look like.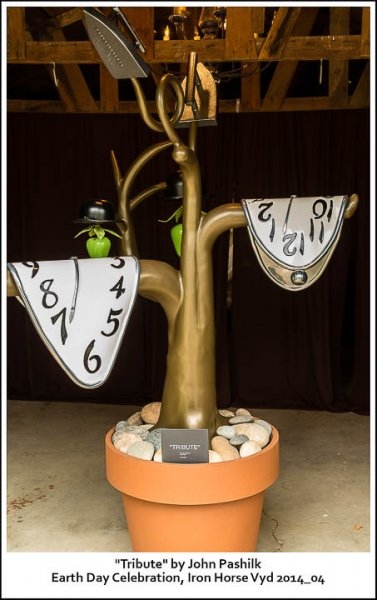 The featured speaker for the day was no less than retired Supreme Court Justice Sandra Day O'Connor. Now in her 80s, she looked rather frail walking in, but the moment she started talking her voice was strong and you could hear the working of a brilliant and articulate mind. She has been friends with the Sterling family for a long time. I am not much of a celebrity chaser, be it politicians, singers, actors or whatever, but I very much enjoyed Justice O'Connor's reflections on her life and protecting the environment.
It was a beautiful Wine Country afternoon, all in all. Great wine, food, music and weather spiced with some thought-provoking displays and speeches on environmental protection.
As we left, I passed one more thing I just could not resist: chocolate truffles. But I did hold myself to only one.