It was a sad day when, on December 31, 2014, L2O closed its door for the last time. The 2 Michelin-starred restaurant occupied a special spot in Chicago dining as by far the best seafood-focused restaurant in town. To be sure, there are still plenty of places in town where you can get very nicely done sea bass, trout or shrimp, but L2O was the place to go for seafood elevated to the highest culinary levels. The concept didn't work financially, however, and Lettuce Entertain You Enterprises (LEYE), which owns the restaurant (and is one of the most important restaurant groups in Chicago, owning over 40 restaurants in the area ranging from fast food M Burger to Michelin-starred Tru and Everest), decided a makeover of the space and theme was needed.
As it turns out, the new restaurant, Intro, is terrific. The remodeling was modest, adding some windows and creating a more casual space. The big change, and a first in Chicago, is that the chef will be rotating roughly every quarter.  Intro is short for introductions, as in introducing new, up-and-coming young chefs to Chicago. The idea is to select chefs who are about ready to open their own restaurant and make them a full partner in LEYE for a few months. In what is being called a "school for entrepreneurs," the guest chefs will design the menu, be able to make some changes to the decor, select their own staff and have access to all the resources of LEYE. If this first menu from the first Into chef, C. J. Jacobson, is any indication, the 12+ course menu of L2O has been replaced with a 4—6 course menu. The decor and the service are more casual, but still definitely in the "fine dining" realm. The quality of the food, however, does not seem to have changed at all. The menu is no longer seafood-centric (although I would guess that future chefs could choose to make it so), but it is excellent.
Like Alinea and Next, Intro sells tickets rather than taking traditional reservations. [Update: by August Intro was taking traditional reservations on Open Table.] You can choose between a regular wine pairing. a premium wine pairing and a non-alcoholic beverage pairing. (Presumably you can just drink water if that's all you want. ?) Whichever way you go, the cost of the tasting menu and beverages at Intro is a fraction of what they were at L2O. So, Valeria and I let go of our sadness at losing L2O and bought tickets for the first chef and menu at Intro. It did not take us long to decide this would not be our last experience there.
As is customary in many fine-dining restaurants, the chef sends out an amuse bouche (literally "mouth amuser") that is basically a small hors d'oeuvre that is not specified on the menu. It's usually a small bite or spoonful of something that is designed to look good and taste good—waking up the senses for the meal to come. The Bay Leaf and Sage Meringue with Cold-pressed Sorrel and Kefir Lime Juice took the concept to a higher level.
This looked like a creation that could have come from Moto, which is famous for its elaborate plating. Meringue is generally a pretty flavorless egg white and sugar crisp that just serves as a delivery vehicle for something tasty. In this case, the bite size bit of confection was more savory than sweet with a delicious bay leaf-sage herbal flavor. Another herb, sorrel, flavored the kefir lime juice that washed the meringue down. Either of these would have been a perfectly appropriate amuse on its own. Serving both with the carefully composed dish of stones and moss was definitely above and beyond the norm.
The bread service reflected the more casual, even rustic, approach of the new concept. A couple of roughly torn chunks of bread and a smear of butter on a wooden board.
Rustic, yes, but really good, crusty bread and locally sourced butter served at a spreadable temperature. Yeah, it's good to get the simple stuff right.
Even better, the first wine was poured at about the same time the bread arrived. Champagne is always a good start.
Way back in 1860, Victor Canard, son of a winemaking family, met Léonie Duchêne, from another family of vignerons, and they fell in love. Soon they were married and, in 1868 started making Champagne. The business prospered and continues today. Cuvée Léonie, named for the founding matriarch of the company, is an easy-to-drink, classic medium-bodied, classic Champagne. Notes of yeasty-toasty aromas accent the apple and pear fruit. It's not a blockbuster, but with a current average retail price around $30-32, it makes a good house Champagne. It was also a great match for the first course, Fluke, Avocado, Breakfast Radishes andDouglas Fir.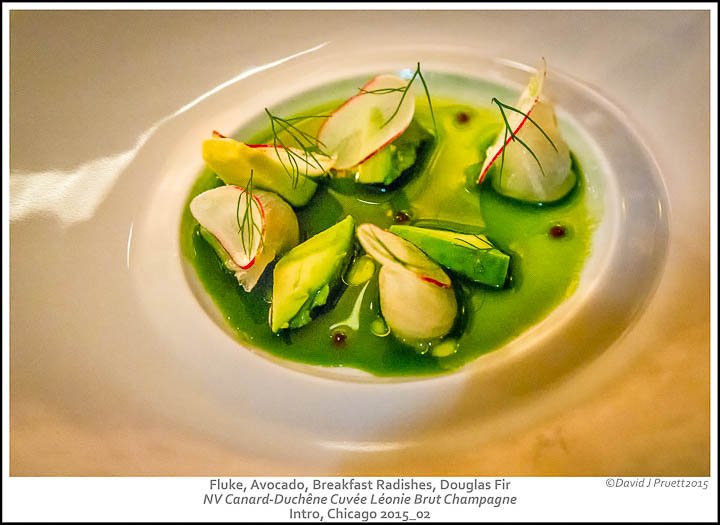 You can see that the dish was beautiful. What you can't do is taste the flavors and textures on the plate. The raw, sashimi-style fluke contrasted with the smooth, creamy avocado and the crisp breakfast radish. You might ask, as I did, "what the heck is a breakfast radish?" The short answer is that it is basically like any of the common varieties of red radishes you can get in any supermarket. The more complete answer is that it is an heirloom variety developed in 1879 in France. It became very popular in Paris where the vendors who sold them topped them with butter and a sprinkle of salt to eat as a mid-morning (hence "breakfast") snack. They are most commonly a 1—2″ red cylinder with a white tip, though there are variations in the shape. Buttering radishes is a popular way of eating them in France. I don't think I have ever seen it done here in the US, but, if it is good enough for Jacques Pepin, it's good enough for me!
The last main ingredient in this dish—Douglas Fir—was literally hand-picked by the chef from local trees. Using as many local ingredients as possible was clearly a priority for Chef Jacobson, as you can see from the list of purveyors shown prominently on the menu.
Next up was a chicken and potato dish that was unique in my experience and as delicious as any I have had: Yukon Gold potatoes, black pepper, crispy chicken skins, crispy potato skins and mugwort.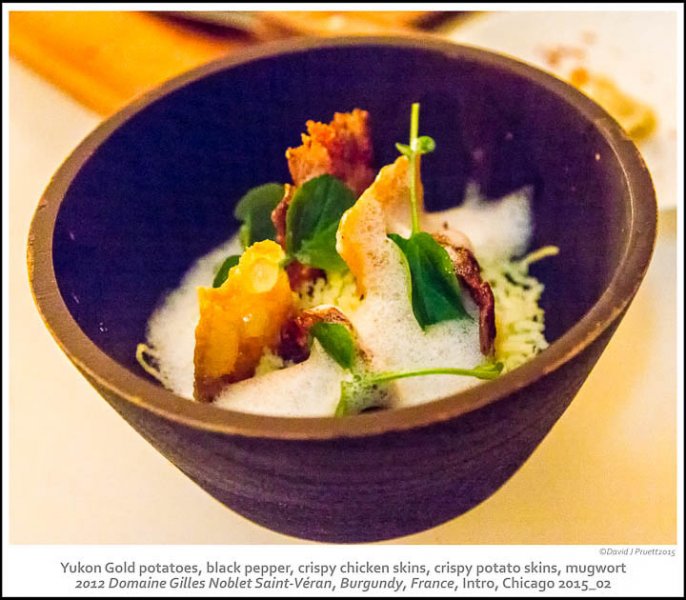 This humble little chicken and potatoes dish had perhaps the most intensely potato-y and chicken-y flavor of anything I have ever tasted. Both the chicken skins and the potato skins were addicting and the creamy potatoes tied everything together beautifully. The green leaves in the dish are mugwort, an herb that is more commonly used in folk medicine and witchcraft than in cooking. It is slightly bitter and somewhat similar to the Mexican herb epazote, which is well known to fans of Mexican cuisine. While every dish on the menu was delicious, this is the one that left Valeria and me wishing for more.
Oh, yes – the wine! (Must have been a good dish if just thinking about it almost made me forget the wine.) A delightful white Burgundy, the 2012 Gilles Noblet Domaine La Collonge Saint-Véran.
Saint-Véran is a subregion of the Mâconnaise region in Burgundy. You probably know that Burgundy produces some of the most delicious and expensive red and white wines in the world from Pinot Noir and Chardonnay grapes, respectively. The very best wines are produced in (roughly) the northernmost third of the region. The Mâconnais occupies much of the (roughly) middle third and produces some very good wines at much more reasonable prices than farther north. Only Chardonnay is grown in Saint-Véran. Giles Noblet is a reliable producer and their Domaine La Collogne labels are generally very good wines at reasonable prices—in the $20s rather than the $100-200s. This one had the characteristic aromas and flavors of apple and citrus as well as some nice minerality and good, balanced acidity. It was perfect for clearing the palate between bites of the delicious chicken and potato dish.
The next dish kept the meatiness going and featured an underutilized vegetable presented in an unexpected way. Here is Oxtail Tea with Rutabaga "Raman" and Aronia Berries.
The "tea" was a hearty, beefy consommé that would have been quite tasty all by itself. Rutabaga (also called Yellow Turnips or Swedes) were a favorite of my maternal grandfather and a vegetable I don't see used in restaurants very often. I like to eat it raw as a snack as it is very crunchy and has a nice spiciness and a bit of sweetness to it. It can get bitter if overcooked. Here, it was cleverly transformed into "raman noodles" to add flavor and texture to the dish.
The aronia berry is one of the trendy "superfoods" with high concentrations of antioxidants. It has been cultivated for centuries, most commonly consumed as juice or wine. The berry, while very pretty, is very astringent and not very pleasant to eat raw. This probably accounts for the name it was called until recently: chokecherries. It was re-branded "aronia" (from its scientific name, Aronia melanocarpa) and is sold as a health food juice. In this dish it added color, flavor and texture and the astringency was tempered by the rest of the ingredients.
It would have been cool to serve some aronia berry wine with this, but I have no idea if it is even commercially available. So we made do with the 2012 Mas de Gourgonnier Le Baux de Provence, France.
This is what I would call a bistro wine. Tasty, a good fruit-acid balance and very food friendly but not terribly complex or memorable. It's a blend of Grenache, Syrah, Carignan and other Rhonish grapes and retails in the $15 range. All of this is perfectly fine if you are looking for a rustic, affordable menu. Honestly, however, I expect a little more in the "premium" wine pairing, but, to be fair, in this case the premium pairing was only $50.
The next course was another winner: butter-poached lobster with black trumpet mushrooms, snap peas and cumin.
I mean, really, how bad can butter-poached lobster be? This was terrific. Perfectly done (sous vide?) and the mushrooms and cumin added nice depth of flavor. The sweetness of the snap peas played very nicely with the natural sweetness of the lobster.
While most people's thoughts would turn to white wine for pairing with lobster—and that is often exactly right—the wine served was a red Pinot Noir, the 2010 Louis Latour Pommard from Burgundy, France.
This was a terrific choice. Pinot Noir actually pairs very well with flavorful, fatty fish such as salmon. In this case, the butter provided the fat. Mushrooms are a classic match with Pinot as the earthiness of the wine melds beautifully with the earthy character of the mushrooms. The cumin also helps tie all the ingredients and the wine together. The wine itself was a classic red Burgundy with bright, black cherry fruit, a little earthiness (a good thing in red Burgundy) and a solid acid backbone. Good stuff.
That brought us to dessert: Kombucha and juniper snow, chocolate ice cream and fudge.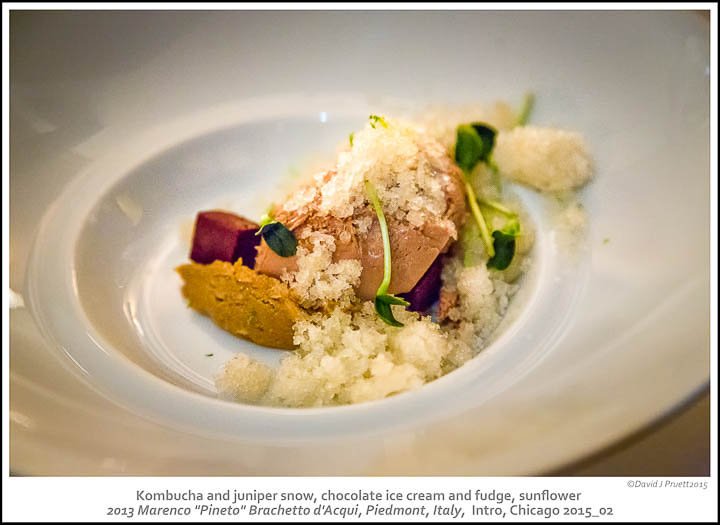 A great ending to the meal—light, sweet, but not too sweet and chocolate is always a good choice. The chocolate ice cream was kind of milk-chocolatey while the fudge was a richer, deeper chocolate. Kombucha is a fermented drink made with tea, sugar, bacteria and yeast. It has been consumed for thousands of years in China and is reputed to have a variety of health benefits, although these have not been confirmed by rigorous medical studies. Juniper added another layer of flavor to the "snow" made with the Kombucha.
It's not easy to find a dessert wine to match a dish like this, but the 2013 Marenco "Pineto" Brachetto d'Acqui from Piedmont, Italy did the job.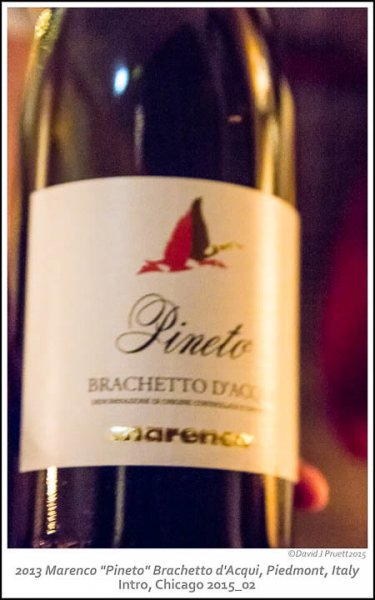 This wine is produced from the Brachetto grape in and around the commune of Acqui Terme in the Piedmont region of northern Italy. The wines are always light, usually (but not always) at least a little sparkling (frizzante), slightly sweet and very fruity, tasting of very ripe strawberries and perhaps other red fruits. It goes well with chocolate desserts and is often an appealing wine to people who generally don't like wines.
Of course there had to be "one more thing" to finish off the meal: Caramels in dark chocolate with sea salt.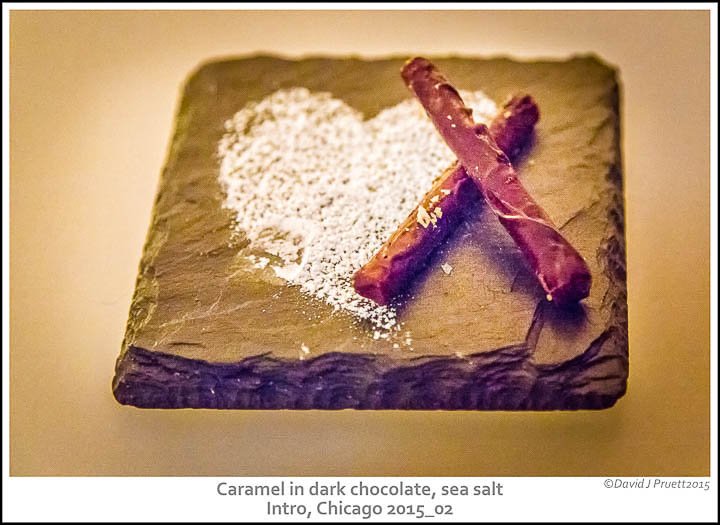 Caramel with sea salt is all the rage these days and it is delicious.
So, the new Intro is very different from the old L2O. It's more casual, the tasting menu is shorter, the tab is lighter. The quality of the food, however, is terrific, at least on this inaugural menu from C. J. Jacobson. I can easily recommend it for you to try. Valeria and I will definitely be going back.
Intro
Address: 2300 N. Lincoln Park West, Chicago, IL 60614
Phone: (773) 868-0002
Reservations: opentable.com
Website: introchocago.com
Dress Code: Business Casual
Price Range: $50 and over
Dinner: Tuesday—Thursday, 5:30pm–9:00pm
Friday–Saturday, 5:00pm–10:00pm
Sunday—Monday, Closed
Payment: AMEX, Diners Club, Discover, MasterCard, Visa
2300 North Lincoln Park West