As I mentioned in a previous post, I visit Orlando, Florida every year or two to attend Photoshop World and learn about the latest and greatest in taking and processing digital images. Perhaps more importantly, I visit several restaurants, some old friends and some new, to have a enjoy meal at the end of each day after filling my head with creative ideas all day.
Photoshop World was held in the Orlando Hyatt Regency this year. One of the hotel restaurants is an Italian Steakhouse called Fiorenzo. While I often avoid hotel restaurants, this one had good reviews and was certainly convenient, so I booked dinner there for one night.
Things started off well with some Ciabatta bread and a good-quality olive oil to dip it in.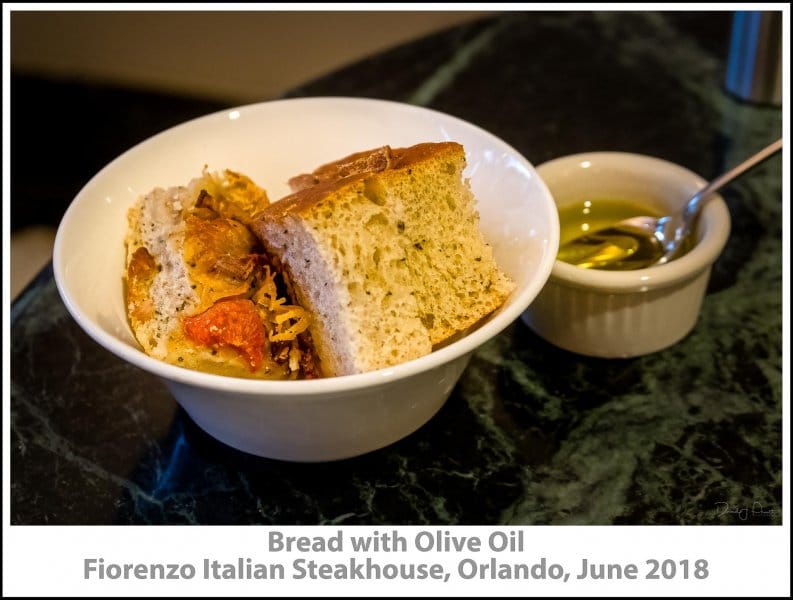 The Negroni Cocktail (1 part Campari, 1 part sweet vermouth, 1 part gin) is a popular summer drink. I opted for the local variation called a "Negroni Floridino."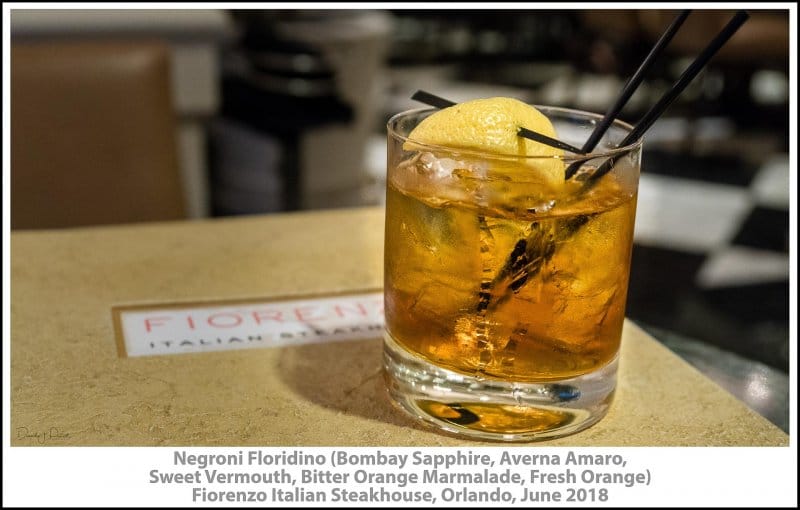 For my taste, they should have stayed with the original. Campari is a bitter liqueur traditionally drunk as an aperitif and the key ingredient in a Negroni. It has a characteristic brilliant red color (most definitely not entirely natural) and has complex flavors of orange, cherry, herbs and spices. Averna is dark brown, less bitter and less complex than Campari. The addition of Orange Marmalade and Orange juice added some fresh notes, but also more sweetness, which the cocktail didn't need. It wasn't a bad cocktail, especially if you prefer something a bit sweeter, but I'll order a regular Negroni next time. Happily, this was to be the low point of the meal.
Italian amari (plural of amaro) are a class of bittersweet liqueurs traditionally used as digestifs (after dinner drinks intended to aid digestion). While still commonly used as digestifs, they are nowadays sometimes used as aperitifs (before dinner drinks) and very often appear in modern craft cocktails where they add a great many complex flavors and bitter notes. Amari are generally made by infusing brandy (distilled wine) with a variety of herbs, spices, plant barks, flowers and so on using a proprietary recipe. These ingredients all come from plants and so are often referred to as botanicals. Some amari have been developed recently, others were developed centuries ago. All have a certain amount of sweetness from added sugar and bitterness from the mixture of botanicals, but the bitter notes dominate.
When I saw the 2015 Caymus Vineyards Cabernet Sauvignon, Napa Valley on the wine list, I decided to treat myself.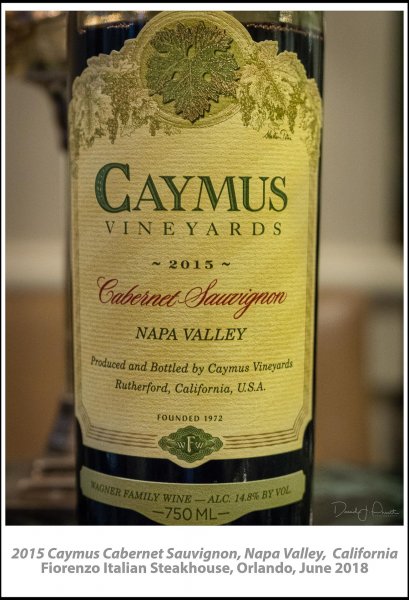 Caymus is one of the most consistent Cabernet producers in California. The Special Selection is often spectacular, but typically sells in a retail shop for $150-175. The "regular" bottling sells for about half that price, but it's definitely not half the wine. The 2015 is a beauty. Very dark purple, almost black, in color with tons of dark, ripe fruit (black currant, plum, cherry), floral, and chocolate notes. All these aromas were reflected in the flavors. The wine was full-bodied, richly fruity, and had a long finish with a good acid backbone to support the fruit. Amazingly drinkable now, I suspect it will last 20 years or more. I can't imagine how good the 2015 Special Selection must be.
Looking over the appetizer menu, I realized I didn't want anything too heavy as I saw a big entrée in my future. Caesar Salad is a hit-or-miss choice, but I decided to give it a try.
Good call. I liked the combination of lettuces and the generous amount of shaved Parmesan. The anchovy powder gave a nice touch of anchovy flavoring without the overwhelming (for my taste) presence of a whole filet. Very nicely done.
While several things were tempting, I ultimately chose the Veal Marsala as my main course.
This was an outstanding version. Like Caesar Salad and, for that matter, so many classic Italian-American dishes, Veal Marsala varies tremendously in quality. (Caesar Salad is actually Mexican-American, but the same principle applies.) The veal can be overcooked and tough, the sauce can have no flavor or be too sweet, and the meat can be coated in a pasty layer of flour. None of this was true here. The veal was perfectly cooked and tender. The mushrooms well browned, and the garlic added flavor without overwhelming the dish. Sun-dried tomatoes are not a traditional ingredient, but they added sweetness, fruitiness and acidity. Finally, the Marsala in the sauce brought it all together with just a touch of sweetness. Really well done.
The Veal Marsala comes with a side of linguine and it was truly all that was needed to complete the dish. However, there was a Short Rib Bolognese in the pasta section of the menu that sounded really good. I asked the waiter if I could get an appetizer portion. "No problem," was the response, "I'll give you a side of that dish with the veal."
This sauce was everything you want an Italian meat sauce to be. The beef was meltingly tender and the flavors were intense: beef, tomatoes, garlic, herbs, and a nice pop from black pepper. Pecorino cheese was a nice choice instead of the more common Parmigiano Reggiano. At a glance, Pecorino and Parmesan look similar. Both are hard cheeses produced in Italy (although it is possible to get young, soft Pecorino). Parmesan is made from cow's milk, however, while Pecorino is made from sheep's milk (pecora is Italian for ewe, i.e, a female sheep). Pecorino is generally a bit saltier than Parmesan and also has a stronger, sharper taste. While they can often be used interchangeably, that little bit of extra saltiness and flavor were well-suited to this rich, flavorful dish.
This was a satisfying meal. The food and the service had been excellent. I did not really want (and certainly did not need!) a whole dessert, but I wanted a bite or two of something sweet. I had a refrigerator in my room so I knew I could handle leftovers. They offered chocolate cake with vanilla ice cream: childhood memories on a plate.
Apparently the pastry chef had some childhood memories in mind, too, as the cake and ice cream were garnished with caramel corn, raspberries, and hot fudge. My inner child was giggling and running around the restaurant.
This was grown up ice cream and cake, however. The "ice cream" was vanilla gelato, ice cream's richer, creamier, Italian cousin.
The chocolate for the cake came from São Tomé (Portuguese for Saint Thomas), one of two small islands that make up the Democratic Republic of São Tomé and Príncipe (population ~200,000). The equator runs through the tiny islet of Ilhéu das Rolas, which is a part of São Tomé and Príncipe and sits just off the southern tip of São Tomé. The islands are about 150 mi (~240km) west of the African continent. These islands were uninhabited when discovered by Portuguese explorers in the 15th century. They were colonized for growing sugar cane and, sadly, as a hub for the Atlantic slave trade. Coffee and cocoa became important crops in the 19th century, especially after Portugal outlawed slavery in 1876, although it took several decades for the use of slaves to be eradicated.
By 1908 São Tomé was the largest chocolate producer in the world. It remained that way until 1975 when the country gained independence from Portugal. Unfortunately, that led to a decline in investment on the island and many of the plantations fell into disuse. In recent years, some major investors have been reviving some of the plantations and again producing high-quality chocolate (or, more accurately, cocoa beans with which to make chocolate). Some of that chocolate found its way into my delicious layer cake.
Some years ago I went through a phase when I ordered a Sambuca Romana and espresso as my "dessert" after a good meal. I rarely get the urge these days but, for whatever reason, it sounded good after this meal.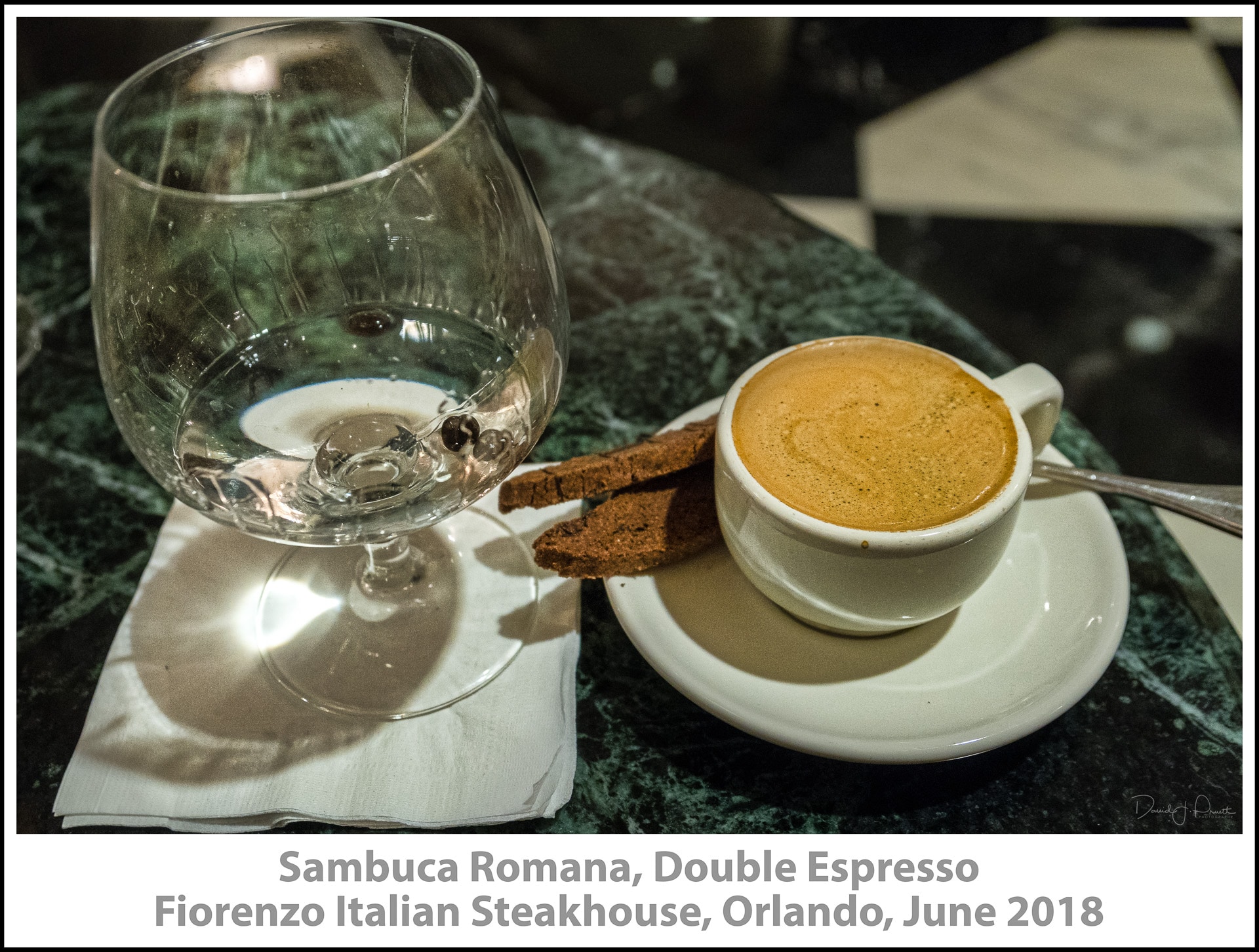 Sambuca is the generic name for a class of anise (licorice) flavored liqueurs that are quite syrupy and sweet. Romana is a brand name and happens to be my favorite. It is traditionally served with three coffee beans floating in it. These beans are said to represent health, happiness and prosperity. More importantly, the flavor of coffee and Sambuca marry beautifully and the bitterness of the beans balances the sweetness of the liqueur. I usually pour about half of the shot into my coffee (already done in the photograph) and sip the other half, munching on a bean every few sips. It was the perfect Italian ending to a very flavorful Italian meal.
Fiorenzo is not a destination restaurant worth a special trip to Orlando. However, if you are in Orlando, and especially if you are staying at the Hyatt or elsewhere near the Convention Center, it is well worth a visit. The service was great and the food was delicious.
Fiorenzo Italian Steakhouse
Address: 9801 International Drive Orlando, FL 32819
Phone: (407) 345-4570
Reservations: opentable.com
Website: http://orlando.regency.hyatt.com/
Dress Code: Smart Casual
Price Range: $31-50
Hours: Monday – Saturday – Thursday: 6:00 pm – 10:00 pm
Credit Cards: AMEX, Diners Club, Discover, MasterCard, Visa
The author is a member of the Amazon Affiliate program but otherwise has no affiliation with any of the businesses or products described in this article.
All images were taken with a Sony Alpha a6500 camera and a Sony-Zeiss SEL1670Z Vario-Tessar T E 16-70mm (24-105mm full frame equivalent) F/4 ZA OSS lens or Sony 35mm (52mm full frame equivalent) F/1.8 E-Mount Lens using ambient light. Post-processing in Adobe Lightroom® and Adobe Photoshop® with Nik/Google and Skylum® Luminar® plugins.