New York. The Big Apple. The City that Never Sleeps. When people around the world think of a city in the United States it will very likely be NYC. Most foreigners visiting the US want to see New York and often land there for their first glimpse of American soil. Of course, only about 2.5% of the US population lives in NYC, and the lifestyle there is dramatically different in many ways from the other 97.5% of the country, but such is the power of TV and movies in shaping images and opinions.
It was no different when Valeria's cousin visited us from Russia. She wanted to see New York! We had taken her to Vegas on a previous visit, so it was time she saw more of New York than JFK Airport. A long weekend trip was planned and off we went.
We arrived in the early afternoon. We needed some lunch and I saw this sign two doors down from our hotel: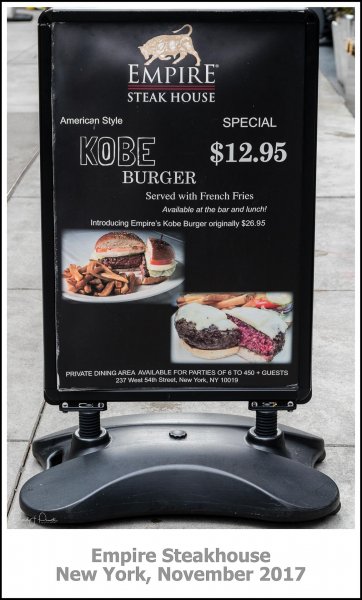 As a dedicated foodie, I have eaten in, or at least know about, a lot of restaurants in NYC, but certainly not all of the thousands on Manhattan alone. This was one I didn't know, but a burger sounded good and a Kobe burger sounded great. Since there were seafood, salad, and other choices on the menu (thank you OpenTable mobile app!) the ladies agreed to this choice for lunch. It turns out that Empire is a small chain, with two locations in New York and one in Tokyo.
It was almost 2:00 when we went in and there were only a few customers left from lunch. A bread basked landed quickly on the table.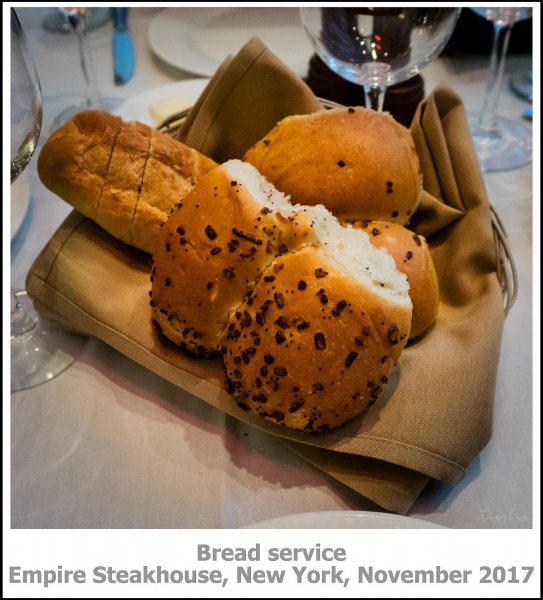 The rolls and bread were served fresh, warm and tasty. Since we were on vacation and none of us was driving, a drink at lunch was not unreasonable. I opted for a classic Martini (Bombay Sapphire, please) and it was served up promptly and very cold, as I like it.
I usually order a Martini with plain (or pimento stuffed) olives but, for some reason, a twist sounded good at that moment. The ladies ordered various glasses of wine from a short, but well-selected by-the-glass list. (The wine list also features a nice selection of half bottles, which I wish more restaurants would do.)
Two of the ladies ordered Maryland Crab Cakes.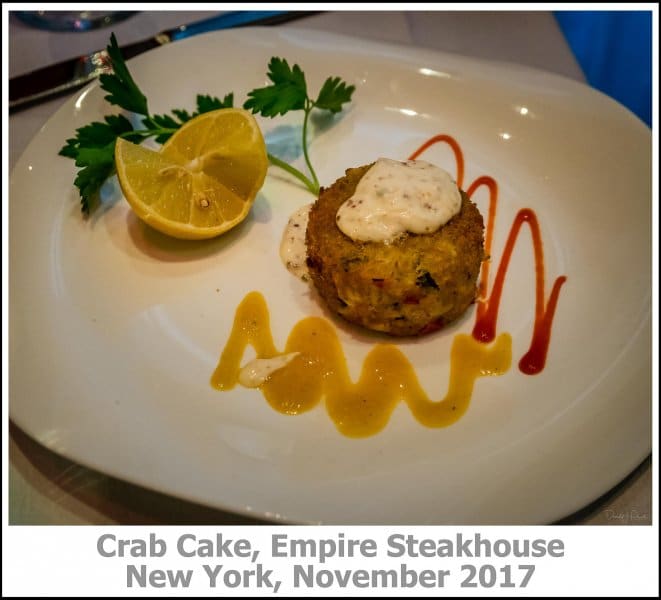 These were very well done. Lots of crab, some nice lump meat, not much filler, and nicely seasoned. They were not a great bargain, however, at $21 for a single, average-sized cake.
I had to go with the Kobe burger, since the sign offering it as a special was what drew my attention to the place.
This plate look beautiful, but the picture-perfect appearance was spoiled as soon as I started to eat. The fries were greasy and underdone—almost crunchy in the center while the outside had not crisped up.
The burger was even more disappointing. Advertised as being made with "American Style Kobe Beef (see box below), it should have been incredibly rich and juicy, but it was drier than many "regular" hamburgers I have had in casual, even fast food, restaurants. I asked for it to be cooked medium and it may have been slightly past that, but not enough to make a significant difference.
Wagyu beef is the heavily marbled, meltingly tender meat from certain breeds of Japanese cows. The most famous of these is Kobe beef. True Kobe beef comes from a specific breed of cow, raised in a specific region in Japan and fed a specific diet. In American restaurants, you will see "Wagyu" and even "Kobe" beef on the menu, but it is almost never true Kobe beef. Most often, it is American or Australian raised wagyu cattle, and these have often been cross-bred with other breeds. Fortunately, beef does not have to be 100% pure-bred Wagyu from Japan to be amazing. A lot of truly wonderful beef is being produced in the US and Australia using pure-bred or cross-bred Wagyu varieties. However, it is not cheap. Ground beef from American or Australian Wagyu cattle can cost $10-50 per pound (450gm) and steaks range from $50 to $900/lb. The steaks are so luxurious and rich that 8 oz (225 g) is a bigger portion than most people will want to eat.
In hindsight, $12.95 for a good quality American Wagyu beef burger falls into the "too good to be true" category. It would be hard to offer an American Wagyu beef burger with fries for less that around $30 and still cover the cost of the ingredients. The $65 Rossini Burger at Chef Hubert Keller's Burger Bar in Las Vegas features truffles and foie gras along with Australian Wagyu Beef, but it is utterly amazing (as are the fries that come with it).
So our experience at Empire Steakhouse was definitely a mixed bag. Bread, drinks, wine list, and crab cakes were excellent, but the burger and fries were a bust. I have to believe that my experience was a one-off. Empire has been around a while in a city that doesn't tolerate mediocre restaurants for long, so, if the time is right, I may give them another try one day.
Empire Steakhouse
Address: 151 East 50th Street New York, NY 10022
Phone: (212) 582-6900
Reservations: opentable.com
Website: http://www.empiresteakhousenyc.com/
Dress Code: Business Casual
Price Range: $50+
Lunch: Sunday-Friday 11:30am – 3:45pm
Dinner: Sunday-Saturday: Dinner: 4:00pm – 11:00pm
Credit Cards: AMEX, Carte Blanche, Diners Club, Discover, MasterCard, Visa
The author is a member of the Amazon Affiliate program but otherwise has no affiliation with any of the businesses or products described in this article.
All images were taken with a Sony Alpha a6500 camera and a Sony-Zeiss SEL1670Z Vario-Tessar T E 16-70mm (24-105mm full frame equivalent) F/4 ZA OSS lens or Sony 35mm (52mm full frame equivalent) F/1.8 E-Mount Lens using ambient light. Post-processing in Adobe Lightroom® and Adobe Photoshop® with Nik/Google plugins.