It had been a long day! Up at 4:00am for an early flight from Miami to Havana, Cuba. Off the plane on onto a bus to the Plaza de la Revolución, then to a couple of parks. But you know all that, right? because you read Cuba: Day 1, Part 1 that describes the morning in words and pictures.
But now it was time for lunch. Cuba Explorer, the organization that has arranged our itinerary to Cuba, had selected a landmark Cuban restaurant for our first meal there, El Aljibe.
In most popular tourist destinations there are certain sights you have see and certain places you have to eat. Well, maybe you don't have to, but most people do. El Aljibe is one of those places. It is a open air, state-owned restaurant surrounded by tropical greenery.
As you enter, a sign gives you a brief history of the restaurant.
We were the first group to arrive that day, so we had the whole place to ourselves for a few minutes.
That would change very quickly. Soon the place was full.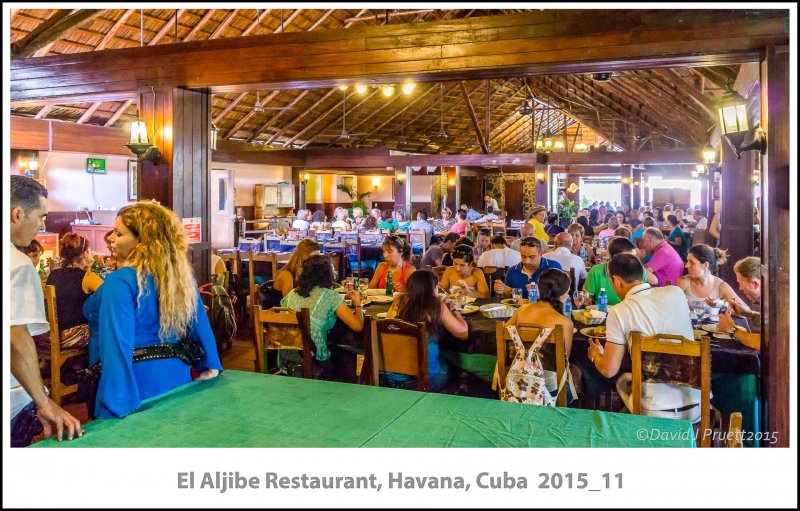 You may remember from previous posts that this trip was organized by Ross Halleck of Halleck Vineyard for members of their Inner Circle Wine Club members. We are all wine lovers, so we were excited to learn their was a big, temperature-controlled wine cellar in the restaurant.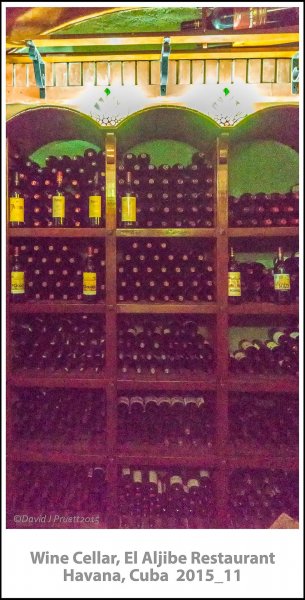 Sorry about the poor quality of the picture in the cellar, but I was shooting in the dark and pretty amazed I got a useable shot al all. There was a wide selection of European and South American wines here, as well as some from Australia and maybe a few other places. Storage conditions were excellent—55oF (13oC) and dark—so, assuming the wines arrived in good condition, they should all be aging gracefully. That's good news, since we saw 20 and 30-year-old wines from France, Spain and Italy that should be amazing. Alas, we had a full itinerary scheduled for the afternoon, so we only sampled a glass or two of the house red and wine, which was fine, but nothing to write home about.
As we sat down, we found appetizer platters waiting for us on the table.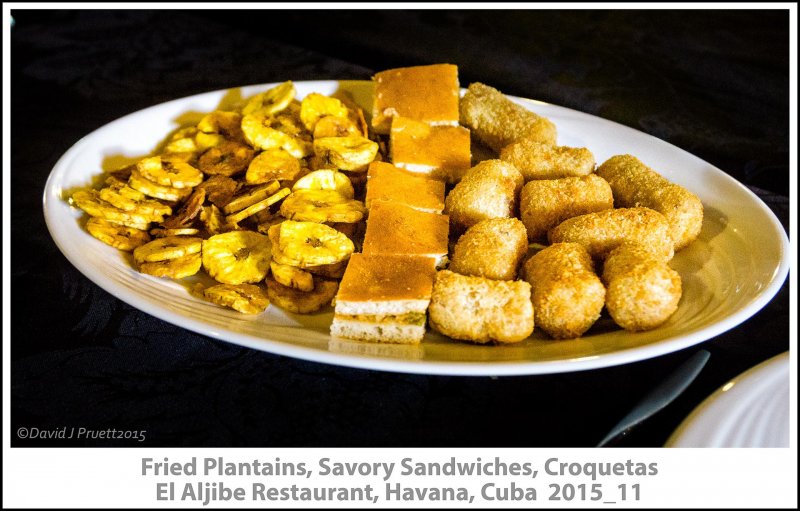 Fried plantains were almost unheard of in the United States when I was growing up, but they have become more common as people have learned about this starchy fruit. They look very much like a banana and are a member of the banana family, but they are much more starchy and not generally eaten raw. A banana is ripe and at what most people consider its peak when it turns yellow. When a banana turns black, it is overripe (though it may still make a tasty banana pudding or bread). Plantains are not ripe until they have turned completely black. Even then, they are not sweet or eaten raw (though they can be); instead, they are usually baked or fried. There are many recipes for using plantains online and they are available in most grocery stores. Recipes on FoodTV tell you how to fry them, bake them, use them in pancakes and soups and what to dip them in.
Next on the plate were some savory little sandwiches that I found bland and uninteresting, but the Croquetas (croquettes) were delicious. Various types of croquettes are found in the cuisine of many countries all over the world. They are ubiquitous in Cuban restaurants and homes and also popular in Spanish tapas bars.They can be made with mashed potatoes mixed with all manner of chopped vegetables, meats and spices, rolled into a log (like the croquettes in the photo above), then breaded and fried. They are also very commonly made with vegetables, meat or fish that have be ground up quite fine and bound with a thick béchamel sauce (flour cooked with butter or other fat then used to thicken milk).
Cuban croquettes are most commonly (but certainly not always) ground chicken or ham seasoned with chopped, sautéed onions, usually some chopped parsley and then the cook's choice of garlic, herbs and spices all folded into a béchamel sauce. They are usually formed into a little log or cigar shape (though they can round, flat or any shape the cook conjures up), rolled in flour, then beaten egg, then bread crumbs (a classic breading formula) then fried in oil. Good ones are addicting.
The croquetas served at El Aljibe were two types: ham and chicken. Both were delicious; crunchy on the outside and creamy smooth on the inside.
Here is a link to a recipe for homemade Cuban-style croquetas that is very detailed and a great starting point for you to develop your own version.
The reason most people come to El Aljibe, however, is the chicken.
The chickens are perfectly roasted and juicy and have a deep chicken flavor. The recipe for the sauce is a closely-guarded family secret. Sour orange and garlic are two of the ingredients that everyone seems to agree on. I think there may be some wonderful Cuban oregano involved and probably the pan drippings from roasting the chicken itself. Perhaps the fat that drips from the roasting chicken is used to make a roux and thicken the sauce. Whatever the secrets are, they spoon the sauce over the chicken and over the beans and rice and it's all delicious. Everything is served family style and tastes just like you are at your favorite grandmother's table (if your favorite grandmother made great roast chicken).
I have to say something about the black beans, too. Beans and rice are common foods among poor people all over the world. Without them, many Cubans would probably have starved during the Special Period. They can be plain, seasoned in a variety of ways, or spiced up with chiles. I have had delicious red beans and rice in New Orleans, but I have never tasted beans as delicious as the ones at El Aljibe. Once again, the recipe is a family secret. I sure there were onions and oregano and garlic involved. They also spooned some of the "secret sauce" from the chicken over them. Whatever they did, they were heavenly.
To finish off the plate, bowls of house-made fried potatoes (basically thick cut potato chips) were placed on the table.
These seemed a little bland compared to the rest, but a chip is still a chip!
The meal ended with some orange and coconut ice cream that was quite tasty,
You will hear live music in most Cuban restaurants and El Aljibe is no exception. The day we were there a group called Son Por Cuatro was playing. Here is a video of one of their numbers.
So, if you find yourself in Havana, El Aljibe is definitely worth a stop. No, it is not a Michelin ★★★ temple of gastronomy, but the food is good (especially the chicken and the beans), it is inexpensive, the service is friendly, it's a relaxing place and the music is live and enjoyable. Oh, and you can spring for a great bottle of wine, if you want.
Look for the next entry this this travel log, Cuba:Day 1 Part 2, in the days to come.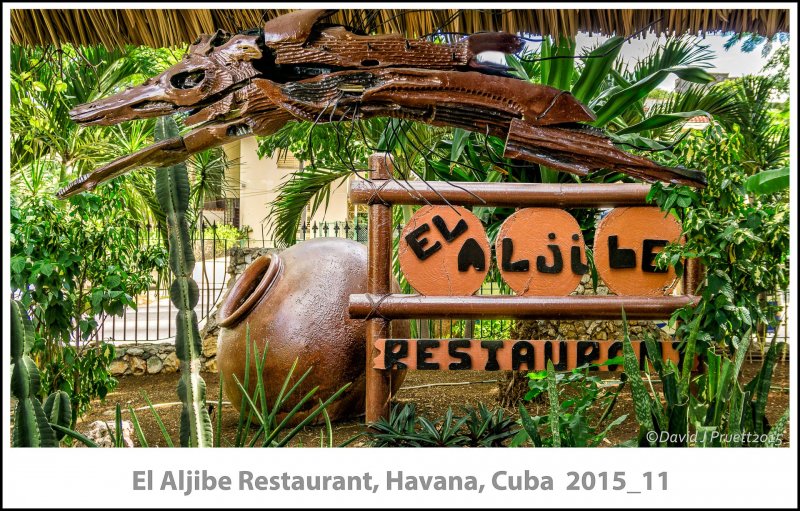 The author is a member of the Halleck Vineyard Inner Circle Wine Club and the Amazon Associate program, but otherwise has no affiliation with any of the places, companies, equipment or locations mentioned in the article.
All images were taken with a Sony Alpha a6000 camera and a Sony-Zeiss SEL1670Z Vario-Tessar T E 16-70mm (24-105mm full frame equivalent) F4 ZA OSS lens or Sony 18-200mm (24-300mm full frame equivalent) F3.5-6.3 E-Mount Lens using ambient light. Post-processing in Adobe Lightroom® and Adobe Photoshop® with Nik/Google plugins.