Valeria and I enjoyed the days around Christmas and New Year's very much this year, and I hope you did, too. A couple of days before Christmas we took in a matinee showing of the second Fantastic Beasts and Where to Find Them Harry Potter spinoff (not nearly as good as the first) and wandered out of the theater with no plans for dinner. The Copper Fox Gastropub was on the route by which we planned to walk home on, so we snagged a quick table on the OpenTable app and headed in that direction. It proved to be a good choice for a casual dinner.
We started by sharing some Deviled Eggs.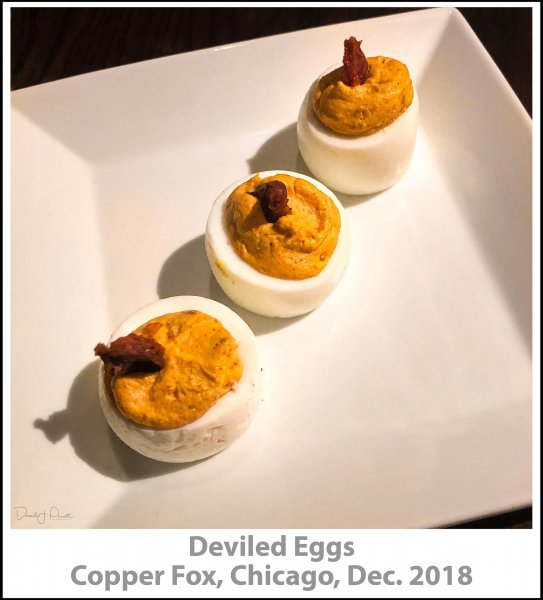 We had just had some Fried Deviled Eggs at Lazy Dog about a week earlier and they made these more standard deviled eggs seem a bit ordinary. This is not to say they were bad. I don't think I've ever had a bad deviled egg. These were good and the bit of andouille sausage added a nice extra touch of flavor and texture. The difference was the cold deviled eggs on a cold winter night, tasty as they were, did not seem as good as the warm deviled eggs from a few days earlier.
I chose a Signature Old Fashioned to wash things down.
This was an expertly made, classic Old Fashioned. Great Bourbon choice, and the touch of vanilla flavor from the Demerara (a type of light brown sugar) was a nice, if non-traditional, addition. I really like the large round or square-shaped ice cubes (is "round ice cube" an oxymoron?) that are used in many bars these days. It keeps the drink nice and cold but does not dilute it as quickly.
Valeria ordered an Albariño from Senda Verde, Rias Baixas, Spain (vintage not listed). Albariños are reliably clean, crisp, aromatic and flavorful white wines and this one was no exception. The Copper Fox wine list is not encyclopedic (nor should it be in a gastropub), but it has a wide range of wines from around the world that were clearly selected by a knowledgeable wine lover.
Our waitress extolled the virtues of the Fox Burger, so I had to give it a try.
It was the white BBQ sauce, a relatively rare variation usually found in northern Alabama, that most got my attention. This type of BBQ sauce was invented by Robert "Big Bob" Gibson in the back woods near Decatur, AL, around 1925. It's most commonly used on roasted, smoked, or grilled chicken, but it works well on just about any meat or seafood. It has a tangy, peppery, sweet, and spicy flavor that perks up anything it is spread on.
The hamburger was delicious. It was well-seared on the outside and medium on the inside, juicy and beefy. The white sauce was wonderful on the burger. Honestly, I would never have thought of trying it and now I am wondering why not. The onion strings were also perfectly cooked—thin onion slices with a light batter. A toasted brioche bun, some crisp lettuce and a couple of homemade pickles topped off a really good burger.
You have an option of fries or house made rosemary chips as a side. I went for the chips and they were good, but they could have been better. They were served at room temperature and were crispy and well-seasoned, but they would have been so much better still warm from the frier.
I ate at Big Bob's a few times back on the '60s on family vacations, and the big, hickory smoked BBQ pits have been my idea of what BBQ should look and taste like ever since then. If you have 15 minutes to spare, here is a short documentary on Big Bob and his restaurant.
There are many kinds of barbecue sauces that are popular across the US and, for that matter, around the world. The thick, tomato-based sauces that can be spicy, sweet, or any combination of those flavors are probably the best known. In the Carolinas, mustard and vinegar based sauces are popular. In Northern Alabama, however, Big Bob's white sauce is king. It is based on mayonnaise and vinegar and spiced up with some black pepper and horseradish. Back in the day, Big Bob shared his recipe freely, so this is the authentic version and it's very easy to make.
Big Bob Gibson's Bar-B-Q White Sauce
from Big Bob Gibson's BBQ Book by Bob Lilly, ©2009
Makes 4 cups
2 cups mayonnaise
1 cup distilled white vinegar
1/2 cup apple juice
2 teaspoons prepared horseradish
2 teaspoons ground black pepper
2 teaspoons fresh lemon juice
1 teaspoon salt
1/2 teaspoon cayenne pepper
In a large bowl, combine all the ingredients and blend well. Use as a marinade, baste, or dipping sauce. Store refrigerated in an airtight container for up to 2 weeks.
The sauce will be quite thin compared to the tomato-based sauces you might be used to, but that's OK. You will find all sorts of variations on the recipe that use more mayo (or less vinegar) to make a slightly thicker sauce, apple cider vinegar instead of white vinegar, and varying amounts of the other ingredients to adjust the spiciness and other flavors to taste. I think Big Bob would be perfectly happy with you playing with the the recipe to make it your own.
At Big Bob's, they smoke the chickens seasoned with just salt and pepper over hickory. The chicken is dipped (they like to call it "baptized") in the sauce after it is cooked. They also dip the chickens in melted chicken fat about halfway through the cooking process. That would be a bit messy for most home cooks, but if you happen to have some chicken fat on hand, why not baste some on? I suspect you could use some olive oil or bacon fat to good effect as well. Many people will marinate the chicken in the sauce before cooking and/or baste the chicken with it while it is smoking or roasting. The recipe book is available on Amazon if you want to learn more.
You can also buy the sauce in many grocery stores or online.
While I was munching on my burger, Valeria was enjoying some Fish Tacos.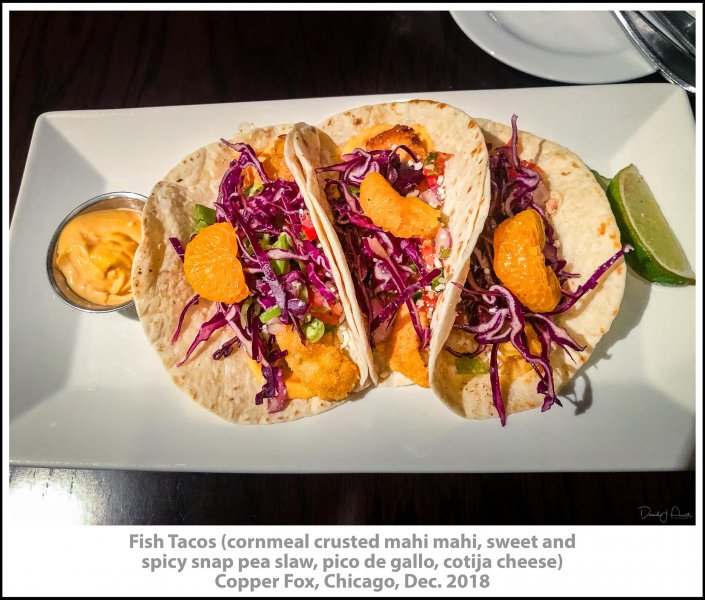 These were classic fish tacos. The fish was firm and cooked through with a light, crispy crust. The slaw had a nice spicy-sweetness, and the mandarin orange segment gave a nice little burst of citrus. Yummy.
We'll definitely stop here again sometime when we are looking for a casual meal. This is the restaurant that served the adjacent Marriott Courtyard, so it is open for breakfast, lunch, and dinner.
Copper Fox Gastropub
Address: 155 E. Ontario Chicago, IL 60611
Phone: (312) 255-8505
Reservations: opentable
Website: https://copperfoxchicago.com
Dress Code: Casual
Price Range: $30 and under
Hours: Monday – Thursday
Breakfast 6:30 am – 11:00 am
Lunch 11:00 am – 4:00 pm
Dinner 5:00 pm – 10:00 pm
Bar 8:00 am – 11:00 pm
Friday – Saturday
Breakfast 7:00 am – 12:00 pm
Lunch 12:00 pm – 2:00 pm
Dinner 5:00 pm – 11:00 pm
Bar 8:00 am – 12:00 am
Sunday
Breakfast 7:00 am – 12:00 pm
Lunch 12:00 pm – 2:00 pm
Dinner 5:00 pm – 10:00 pm
Bar 10:00 am – 11:00 pm
Credit Cards: AMEX, Diner's Club, Discover, MasterCard, Visa
The author is a member of the Amazon Affiliate program but otherwise has no affiliation with any of the businesses or products described in this article.
All images were taken with an Apple iPhone X using ambient light. Post-processing in Adobe Lightroom® and Adobe Photoshop® with Nik Collection by DxO and Skylum® Luminar® plugins.