I hope you enjoyed the stroll through New York City's Central Park that I shared with you in my previous blog post. We ended the day having a late lunch at the restaurant in the Loeb Boathouse. Here is a brief review of how that went.
The restaurant was still pretty busy, but we were seated promptly. Our waiter also showed up quickly and was friendly and helpful throughout the meal.
The restaurant occupies a beautiful space with a wall of windows overlooking The Lake (capitalized because the name of the lake is The Lake).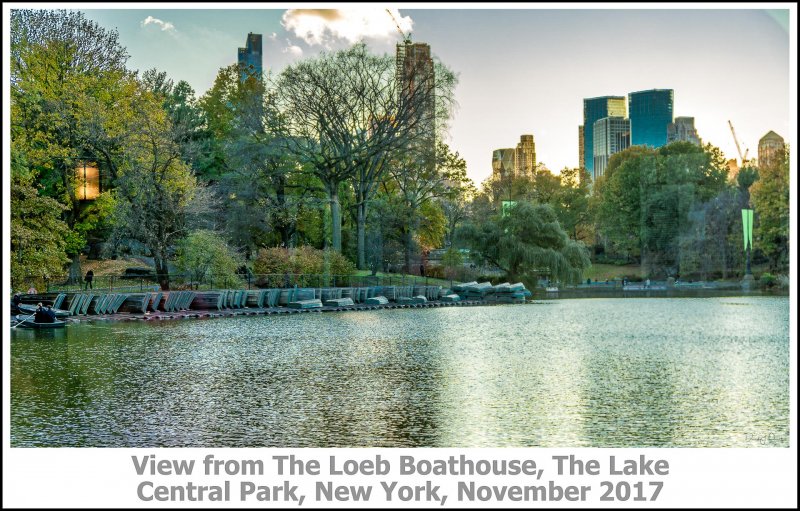 The green tint in the image is from the windows, which I should have removed when I processed the image, but I didn't. So much for my career as a high-end retoucher. Green tint or no, it is always nice to eat a meal looking out over water.
The menu is diverse but, as you might expect for a prime spot in Central Park, a bit pricey.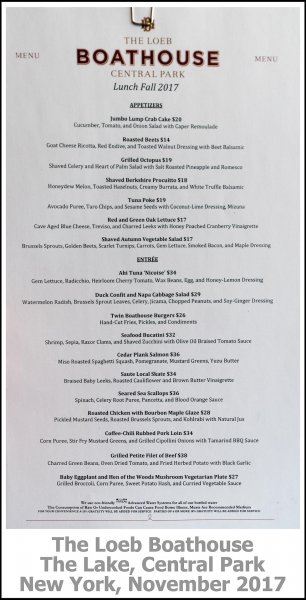 Choices range from relatively simple things like salads, burgers and pasta to more adventurous selections like octopus and duck. Vegetarian options are available, but I don't know if any are Vegan. I took a very pedestrian route and chose the burgers.
As it turned out, it was not a great choice. The burgers, ordered medium, were well past well done—dry and flavorless. Had I been alone, I would have sent them back, but I didn't want to make the rest of my party wait. Their dishes all came out much better than mine.
I should mention that the fries were terrific—pillowy on the inside with a nice crust outside. Also, a trio of sauces—mustard-based, chimichurri (herb and garlic in olive oil), and ketchup-based—made good dips for the fries and lubricated the dry meat enough to make the burgers edible.
Ehleonora chose the scallops.
These were excellent. Perfectly seared and nicely complemented by the celery root purée and delicious blood orange sauce. The spinach was nicely sautéed with roasted garlic. Pancetta (basically unsmoked Italian bacon) makes everything taste better.
Valeria went for the cedar plank salmon.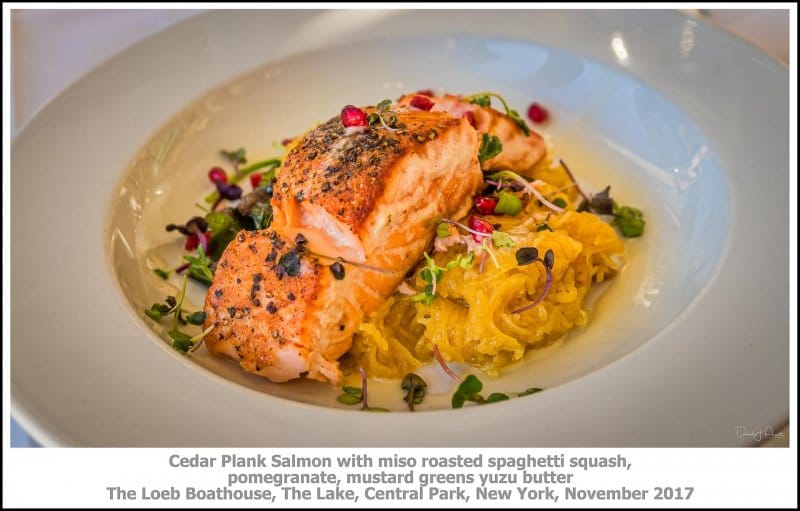 Generally a very good dish, the salmon was a little overcooked, but not as badly as restaurant salmon often is. The rest of the dish was on point. Miso added some subtle flavor and umami to the roasted spaghetti squash. The yuzu (a Japanese citrus fruit) butter was excellent with the fish.
So, overall we had a good experience in spite of the hockey puck burgers. Since we were only there for a light lunch, we did not try many dishes, but we would go back. If you find yourself walking through Central Park at meal time and want a nice set down meal instead of hot dogs and ice cream from the food carts (which, by the way, are excellent if you are in the mood for that sort of thing), our experience suggests that the Boathouse can deliver some creative dishes.
The Loeb Boathouse Restaurant
Address: East 72nd Street and Park Drive North
Phone: (212) 517-2233
Reservations: opentable.com
Website: http://www.thecentralparkboathouse.com
Dress Code: Business Casual
Price Range: $31—$50
Lunch: Monday-Friday 12:00 pm – 4:00 pm
Brunch: Saturday & Sunday: 9:30 am – 4:00 pm
Dinner: Monday – Friday: 5:30 pm – 9:30 pm
Saturday & Sunday: 6:00 pm – 9:30 pm
Credit Cards: AMEX, MasterCard, Visa
The author is a member of the Amazon Affiliate program but otherwise has no affiliation with any of the businesses or products described in this article.
All images were taken with a Sony Alpha a6500 camera and a Sony-Zeiss SEL1670Z Vario-Tessar T E 16-70mm (24-105mm full frame equivalent) F/4 ZA OSS lens or Sony 35mm (52mm full frame equivalent) F/1.8 E-Mount Lens using ambient light. Post-processing in Adobe Lightroom® and Adobe Photoshop® with Nik/Google plugins.