Devoted readers (there must be one out there somewhere! 😀) will remember that I visited the downtown Chicago location of Carson's Prime Steaks & Famous Barbecue back in July of 2016. I wrote about the experience here. Since I had always heard the place referred to as "Carson's Ribs," that's what I ordered. (The website is ribs.com, so they must identify with ribs pretty strongly.) In summary, the ribs were very good and the sides good enough to make an enjoyable 4th of July meal for me that day.
While Carson's has locations in Deerfield and Milwaukee, I think the location I visited on Wells Street was the original. Regardless, that location has been closed and a new one opened on Illinois near Navy Pier—even more convenient for me than the original. Clearly a sign from the gods of BBQ that I should visit again. (Or maybe a smoke signal, as I can smell the smoke from the restaurant from my condo when the wind is just right.) One should never ignore the signs (or smoke signals) so off I went.
The new location used to house Quay Restaurant if you ever went there. The old location had a lot of dark wood paneling and had a more rustic feel. This is a brighter, more modern space. In the back is a second bar area with a windowed porch over the Ogden Slip and offering views of Lake Michigan. That's where I sat.
My visit to the old location was for lunch. I almost never have a drink at lunch, so I did not pay a lot of attention to the cocktail and wine list. The best wine with BBQ ribs is probably beer, but I don't like beer (practically un-American, I know), so I took a look at the cocktail list.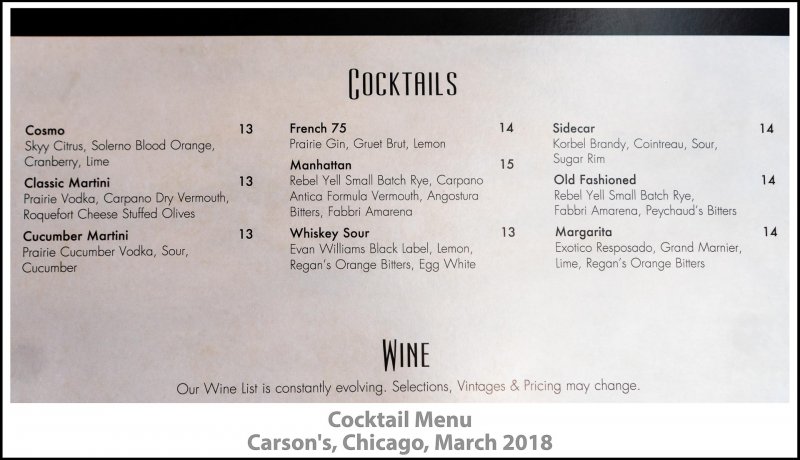 Bourbon is also a classic match with BBQ, as is Rye whiskey. I enjoy a good Manhattan made with either. However, Rebel Yell has never been a Top Shelf product. The brand was born in 1849, but it has undergone many changes of ownership since then. It is currently owned by Luxco, which produces such brands as Everclear® (pure ethanol), Arrow© Peppermint Schnapps, and pre-made cocktails—not a sign of high quality ambitions. However, they have introduced a small batch version of Rebel Yell Rye. I have not tasted it, but the reviews I've seen acknowledge it as a step up and good as a mixer if not to sip neat.
Carpano Antica Formula, in contrast, is a high-end, complex vermouth that is one of my favorites. I usually use it in a Bourbon Manhattan, but it should give a nice flavor boost to the Rebel Yell Rye.
I pretty much lose all respect for a bar that serves neon-red Maraschino "cherries" in a drink. As I have written before, (here, here, and here, among other places), a high-quality, natural cherry that has been preserved in an alcohol and sugar syrup is far superior. The quintessential example is Luxardo Cherries, made from Marasca cherries since 1905. They are far more flavorful than the candied cherries you might be used to.
Fabbri Amarena is a second brand of cocktail cherries, also developed around 1905 in Italy using Amarena cherries. They are packaged in a thinner syrup that is a bit more tart than the Luxardo brand. It, too, is an excellent cocktail cherry and that is what Carson's chose to use. Well done.
Angostura Bitters are, of course, the standard bitters used in many cocktails. You shouldn't have any trouble finding these products in a good grocery or liquor store, but Amazon will be happy to send them to you.
Put all of that together and you get a very good Manhattan.
I decided on a classic starter to go with my classic ribs: a shrimp cocktail.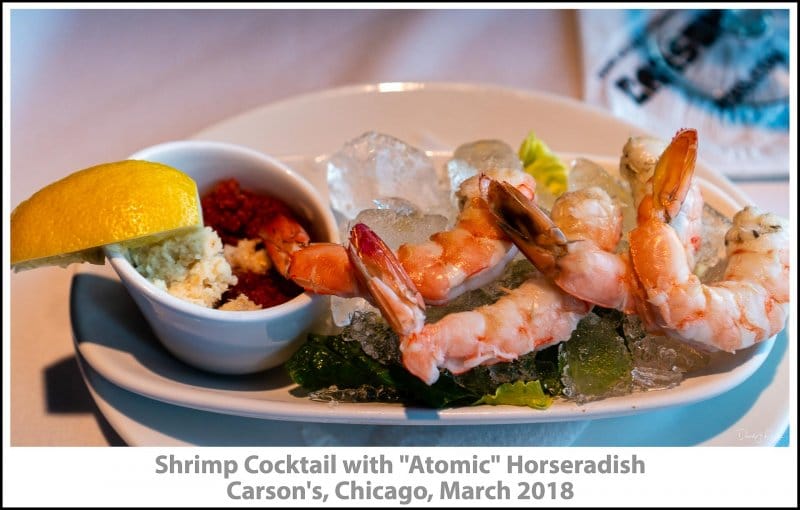 A shrimp cocktail is a simple dish and, like most simple dishes, it can be easily messed up. In principle, all you have to do is properly cook the shrimp and serve them well chilled with a nice dipping sauce. However, it is very easy to over or under-cook shrimp. These were perfect.
There are lots of fancy aiolis (garlicky mayonnaise) and other sauces that can be served with the shrimp, and some of them are delicious. My simple Midwestern taste grew up with classic cocktail sauce, however (basically ketchup with horeseradish and a little Worcestershire and lemon), and that is still what I prefer. Carson's has a nice twist, adding some "atomic" (freshly grated) horseradish on the side, so you can mix in as much as you like to increase the heat of the sauce. This is how simple, but delicious, is done.
For the main course, a slab of baby back ribs, some Cole Slaw, and a twice-baked potato.
As classic and American as apple pie, this was summer on a plate (even though it was only spring). As far as I could tell, the ribs were exactly the same as I'd had before: tender, but not falling off the bone, smoky, and coated with a nice, spicy-sweet, tomato-based BBQ sauce. These are not ribs that will win major competitions, but they are well made, tasty, and satisfying.
As to the Cole Slaw, I'll quote myself from last time: "Nothing fancy here, just shredded cabbage in a creamy, mayonnaise-y, slightly sweet, slightly tart, dressing." Good stuff.
The potato was a little dry (not unusual with twice-baked potatoes that can sit around for a long time after baking), but had good cheese and onion flavor.
Oh, I had long-since finished my Manhattan and followed it up with an Old Fashioned.
The whiskey has to carry an Old Fashioned alone, as there is just a little sugar, bitters, and a cherry and orange peel garnish to accompany it. The Rebel Yell was really not up to it if you love good whiskey. No major flaws, just not the complexity and depth that a whiskey lover would order an Old Fashioned to enjoy. Drinkable, but forgettable.
So overall, the new location is brighter than the old, especially in the back bar. The BBQ is not the best in Chicago, or even as good as some I make at home (if you'll forgive my lack of modesty), but it is good. If you have a itch for BBQ, Carson's will scratch it well enough at a reasonable price. Some day I am going to have to try one of their steaks.
Carson's Prime Steaks & Famous Barbecue
Address: 465 E. Illinois Street Chicago, IL 60611
Phone: (312) 280-9200
Reservations: opentable.com
Website: https://www.ribs.com
Dress Code: Smart Casual
Price Range: $30 and under
Hours: Lunch: Daily, 11:30 am–4:00 pm
Dinner: Sun–Thu, 4:00 pm–10:30 pm
Fri–Sat, 4:00 pm–11:30 pm
Credit Cards: AMEX, diner's Club, Discover, MasterCard, Visa
The author is a member of the Amazon Affiliate program but otherwise has no affiliation with any of the businesses or products described in this article.
All images were taken with a Sony a7 III camera with a Sony FE 24-105mm F4 G OSS Standard Zoom Lens (SEL24105G) using ambient light. Post-processing in Adobe Lightroom® and Adobe Photoshop® with Nik Collection by DxO and Skylum® Luminar® plugins.
. .