Valeria and I recently paid a brief, but enjoyable, visit to Washington DC to attend the wedding of an old friend's daughter. We had a little free time when we arrived and enjoyed a (mostly) nice lunch at Cafe Deluxe near our hotel. The evening was full of wedding-related events, but the next day was free until the wedding and reception in the evening. We seized the opportunity to sleep in a bit, then went off to brunch at Firefly, an American restaurant adjacent to the Klimpton Hotel Madera near DuPont Circle in Washington DC.
1310 New Hampshire Ave NW
It was a beautiful early spring day and the restaurant was about a 20 minute, casual stroll from our hotel. The entrance was inviting with glass windows across the front and spring buds breaking all around.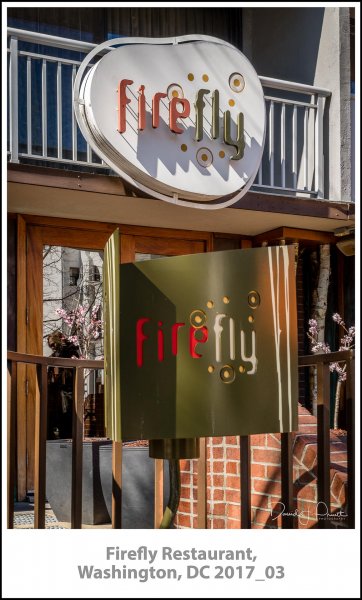 We saw French Press coffee on the menu and decided to risk it.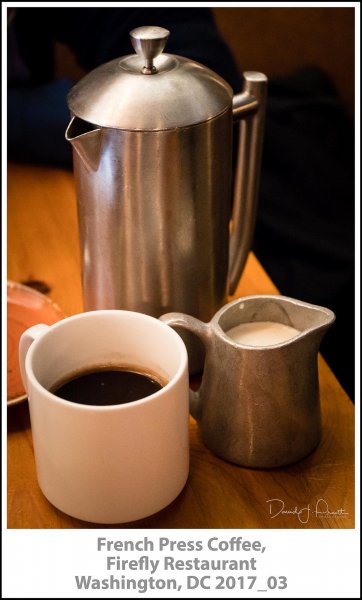 Valeria and I are both particular about coffee. We rarely order it in restaurants—even three Michelin star restaurants—because it is so often mediocre at best. We call Starbucks® "Charbucks" as the coffee tastes burned to us (though we realize millions and millions of people disagree!). We use Nespresso® machines at home and love the variety of roasts and blends. There are several models, but the Pixie is one of our favorites and we have the optional milk frother for cappuccinos, lattes and such.
The coffee at Firefly was excellent. Hot and dark, but not over-roasted. We ordered a second pot that was as good as the first.
Firefly emphasizes farm-to-table comfort foods in a casual setting. The decor is meant to make you feel like you are having a picnic in the woods (or so it looked to me). There was a big tree trunk in the middle of the room (artificial, I think, but never got up close) and birch logs lining one wall (real, I think).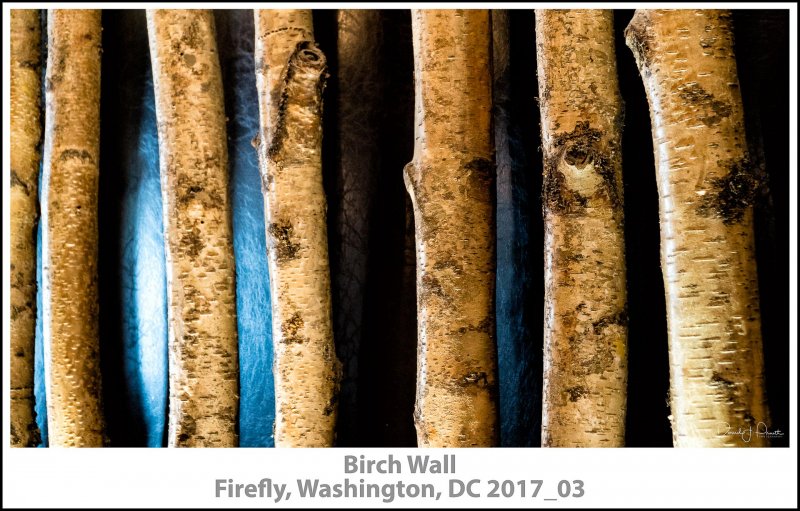 It took what seemed like a very long time for our plates to arrive, but they looked good when they did. I ordered the Corned Beef Hash with poached eggs.
This was amazingly delicious. The beef is corned in-house, slow roasted and cut/pulled into substantial pieces. There was a nice amount of roasted red and green peppers, onion and potatoes in the mix. The chunks of potato had been browned separately and were crispy outside, tender inside. The eggs were perfectly poached and the yolks provided the perfect sauce for the dish. I can't remember ever having corned beef hash as good and certainly none better.
Valeria went a very different route: chilaquiles.
Chilaquiles are a traditional Mexican dish that is popular for breakfast and brunch. They may have been developed as a way to use leftover tortillas and salsa from the night before. The basic recipe is very simple, but the variations are infinite. Cut some tortillas into the familiar triangle chip shape and lightly fry them until just crisp. Cover in the sauce of your choice—red or green salsa or even an amazing mole (pronounce mo-lay, not like the little animal with the same name). Simmer the chips in the sauce until they soften a bit, then top with almost anything. Traditional toppings might include some shredded chicken, Mexican crema (a slightly more sour and salty version of sour cream), grated queso fresco (fresh cheese, a mild, usually cow's milk cheese), sliced onion, avocado and/or chiles and some chopped cilantro leaves. Sides (or additional toppings) include refried beans, eggs (scrambles, fried or poached), shredded beef or pork, and guacamole.
It is certainly possible to make every component of this dish home, starting with corn flour to make your own tortillas, fresh pork to make your own sausage, and fresh tomatoes and chiles to make your own salsa. Arguably, you can always make these things better at home (if you are a good cook), but most supermarkets these days have high-quality versions of all the ingredients pre-made and ready to go. Purists and your abuela mexicana (mexican grandmother) might not approve, but you can very easily make a darn good version of chilaquiles this way.
There are chilaquiles fanatics who try them everywhere and endlessly debate which ingredients and versions are "authentic" or "the best." I'm pretty much an "all of the above" guy, as long as the toppings are delicious. Firefly topped theirs with chorizo, the Mexican version of a sausage made with pork, chiles, garlic, smoked paprika and various combinations of other herbs and seasonings. A cast iron pan, such as the one in the picture above, is great for both making and serving chilaquiles. Topped with poached eggs, I thought these were delicious, as did Valeria.
We saw Parmesan Truffle Fries in the list and ordered them because we love them. They were totally unnecessary, but we ate them anyway.
The fries were perfectly cooked—crispy outside, puffy inside—with nice hit of Parmesan, but the truffle flavor was a bit weak. The dipping sauce, which looked a lot like Utah's famous Fry Sauce (a mixture of catsup and mayonnaise) was good.
All in all, a delicious brunch. The bill comes in a mason jar with a candle (electric) inside so it looks like a firefly caught in a jar. I hope you knew the joy of running around at sundown catching fireflies in a jar when you were a kid!
Other than the fact that it took a long time for our food to come out, we really enjoyed this meal. We would definitely stop in again if we were staying in the area.
Firefly, Washington DC
Address: 1310 New Hampshire Ave. NW Washington, DC 20036
Phone: (202) 861-1310
Reservations: opentable.com
Website: http://www.firefly-dc.com/
Dress Code: Casual
Price Range: $30 or less
Hours: Breakfast: Monday – Friday: 7:00am – 10:00am
Brunch: Saturday: 9:00am – 2:00pm, Sunday: 9:00am – 2:30pm
Lunch: Monday – Friday: 11:30am – 2:00pm
Dinner: Sunday – Thursday: 5:30pm – 10:00pm
Friday & Saturday: 5:30pm – 10:30pm
Credit Cards: AMEX, Diner's Club, Discover, MasterCard, Visa
The author is a member of the Amazon Affiliate program but otherwise has no affiliation with any of the businesses or products described in this article.
All images were taken with a Sony Alpha a6500 camera and a Sony-Zeiss SEL1670Z Vario-Tessar T E 16-70mm (24-105mm full frame equivalent) F/4 ZA OSS lens or Sony 35mm (52mm full frame equivalent) F/1.8 E-Mount Lens using ambient light. Post-processing in Adobe Lightroom® and Adobe Photoshop® with Nik/Google plugins.