Although I visit the Northern California Wine Country, on average, more than once a year, there are still a number of excellent restaurants that I have not had a chance to explore. Topping the list is The French Laundry, but getting a reservation there requires planning months in advance and a little luck on the side. Other really good restaurants fill up almost every night, but don't require Herculean efforts to get into. Brix has been a highly-regarded Napa Valley destination restaurant since 1996, but I just made my first visit this year.
Brix is a self-described "restaurant and gardens" and the "garden" part is obvious as you drive in. There is beautiful landscaping all around the parking lot and the building that was clearly designed to blend into the landscape as much as possible. We were there on a night when the temperature was still well over 90°F (32°C) and the humidity was unusually high for this part of the country, so we elected to eat indoors rather than out on the terrace. I have a few good pictures, but this video of the property around the restaurant will give you a much better view of just how beautiful the gardens and vineyards around the restaurant are.
KELLEHER VINEYARDS (BRIX) from Flynn Kelleher on Vimeo.
Like most good restaurants these days, Brix has a first-class cocktail program as well as a great wine list. The list of summer cocktails was quite intriguing.
If the photo is a bit hard to read, here is a link to the Brix cocktail and wine list that you can explore in detail. I was tempted by several of these, but decided on the Glascow Manhattan for several reasons. I like Manhattans in general, Bulleit makes one of my favorite bourbons (and ryes, too, for that matter) and I like Scotch, especially the peaty ones like Ardbeg, so the idea of adding a trace of those flavors to the cocktail appealed to me.
Ardbeg produces one of the smokiest, peatiest (if peatiest is a word!) Scotches in Scotland. The Ardbeg Uigeadail (pronounced 'Oog-a-dal') is aged in Sherry casks and is not chilled and filtered before bottling, which leaves more of the essential oils in the finished product. It is a terrific whisky, but I got only a faint trace of it here, which presumably was the idea. I actually got more enjoyment from the simple addition of the orange twist rather than the more traditional cherry garnish. The oils of the orange peel really brightened up the nose and flavors, at least for me.
One nice feature on the wine list was a pretty extensive list of wines available in a half  bottle. Valeria and I generally like a little white and a little red wine with a nice meal, but two whole bottles is way too much. Wines by the glass can work, but the selection is generally limited and it is the most expensive way to by wine. Happily, we found two half bottles that were perfect for our mood and food selections, the NV Louis Roederer Brut Premier Champagne and the 2012 Merry Edwards Russian River Valley Pinot Noir.
Louis Roederer is one of the few large Champagne houses that is still family-owned. It's origin dates back to 1776 (an easy date for Americans to remember—Declarations of Independence and all that) when Dubois Père & Fils was founded. When Louis Roederer inherited the operation from his uncle in 1833, he decided to re-name the business after himself and expand the operation by exporting to more countries. Russia has traditionally been a big market for Champagne even when the beverage was out of fashion elsewhere, and it became an important market for Roederer until the communist revolution in 1917.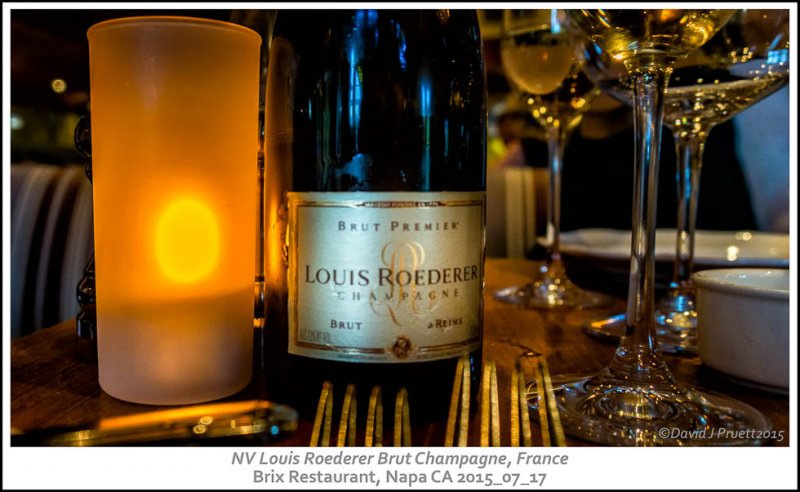 If you are not familiar with the Louis Roederer name, you might recognize the name Cristal, which is the ultra-premium vintage Champagne that became incredibly popular with hip hop stars starting in the 1990s well into the 2000s. Unfortunately, this made the price skyrocket.  It was originally created for Tsar Nicolas II of Russia as a private bottling.
Merry Edwards is one of the best know and successful female winemakers in California. After working as a winemaker for over 20 years, she started her own winery in 1997 and focuses primarily on Pinot Noir, although she makes a delicious Sauvignon Blanc as well.
The 2012 Russian River Valley bottling from Sonoma County is quite big for a Pinot Noir and somewhat more tannic than expected. Still, it has  solid core of black cherry fruit and it was excellent with dinner after opening a few minutes in the glass.
The menu at Brix is not huge and gets tweaked every day. There is a nice selection of small plates, salads and entrées, many enhanced by cooking in a wood-burning oven or on a wood-burning grill.
This photo of the menu may be a little small to read, but you can find all the current menus here in a nice, large .pdf format.
OK, time to eat! The first food to arrive on the table was some excellent bread and butter.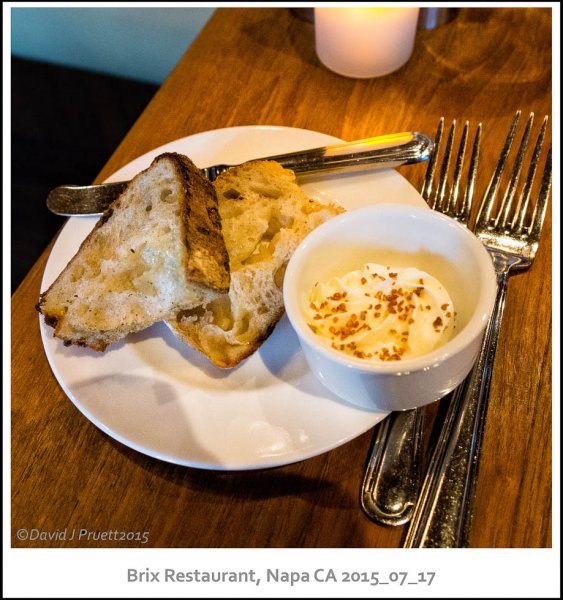 Now, there is only so much to be said about bread and butter, but these were excellent. Very flavorful sourdough bread with a really chewy-crunchy crust that I love. The butter was locally produced, but I have, unfortunately forgotten by whom.
We chose a salad and one small plate to share as appetizers. My one bad experience this night happened when these came out. It had taken quite a long time for my cocktail to appear. Very shortly after it did, a glass of Champagne was poured for my wife—a good thing—and the first courses appeared immediately—a bad thing. When a customer orders a cocktail before dinner, the presumption should be that he or she wants to enjoy the cocktail before starting the meal. If uncertain, ask, but don't start delivering the food courses and pouring wines before the customer has had more than a sip of the pre-prandial libation.
Pacing quibbles aside, the small plate we ordered, Dungeness Crab Fondue with braised artichokes, melted leeks, gruyere, brie and garlic flatbread, was absolutely delicious.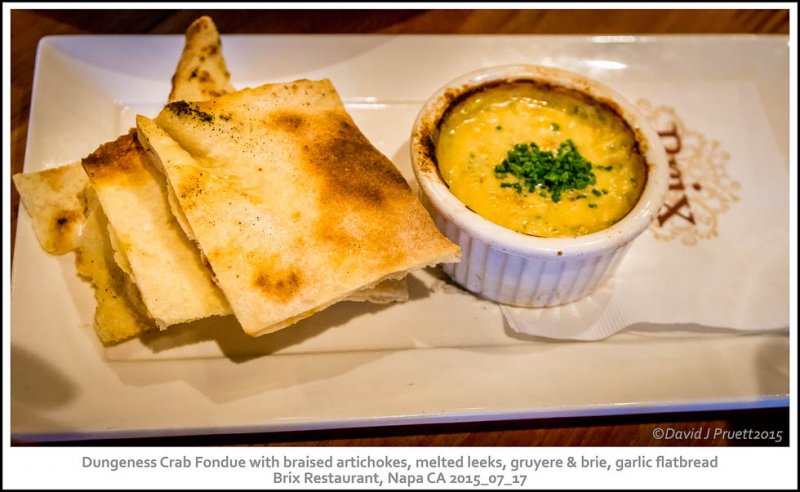 Still hot from the oven, it packed plenty of flavor from the crab, artichokes, leeks and cheese with a nice hit of garlic on the bread. Definitely a winner.
We also ordered a Burrata and Butter Lettuce with Early Girl tomatoes, cucumbers and pickled peppers salad with summer herb vinaigrette.
As with the bread and butter it would be easy to ask "what can you say about a salad?", but hold on. Burrata has become something of an "in" cheese in recent years. It is sort of fresh Mozzarella on steroids—a ball of Mozzarella filled with cream (or sometimes fresh cheese). It is generally served the day it is made and is great on its own or with minimal accompaniment. Here, the fresh—and I do mean fresh—vegetables in the salad work perfectly with the cheese. I would bet that the lettuce, cucumber and tomato had just been picked that day. It was truly a pleasure to bite into a tomato that was perfectly ripe and had tons of flavor. The house made pickled peppers added just a touch of tang while the light herb vinaigrette tied it all together. Yes, this was "just a salad," but a really good one.
Next, entrées. Valeria ordered Caramelized Sea Scallops with puréed potatoes, English Peas, forest mushrooms, Hazelnuts and truffle vinaigrette.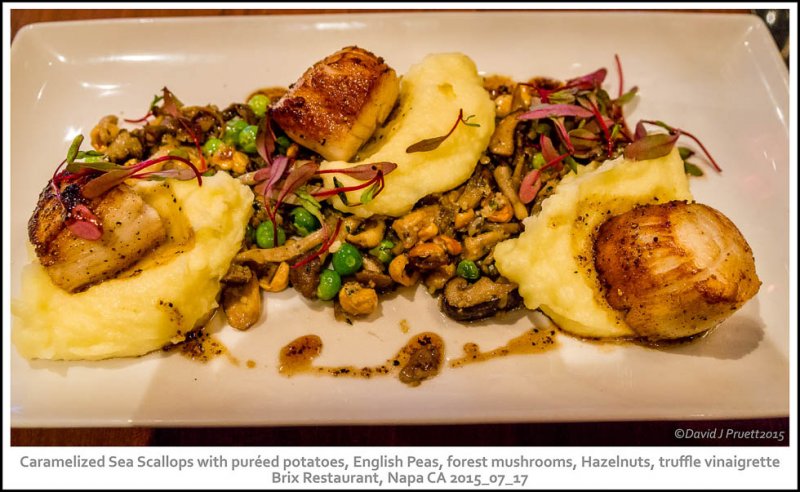 Large, perfectly seared sea scallops with a nice sauté of English Peas and mushrooms, rich mashed potatoes and a truffle vinaigrette to accent it all. The scallops were sweet, tender and perfectly cooked. The vegetables and the vinaigrette made the whole dish work quite nicely with Pinot Noir (Pinot loves mushrooms, and vice-versa.) Scallops aren't that great with Pinot, but the overall combination was fine.
I went of the real meat course, Wood Grilled Angus Flat Iron Steak with romesco sauce, arugula and salt & pepper fries.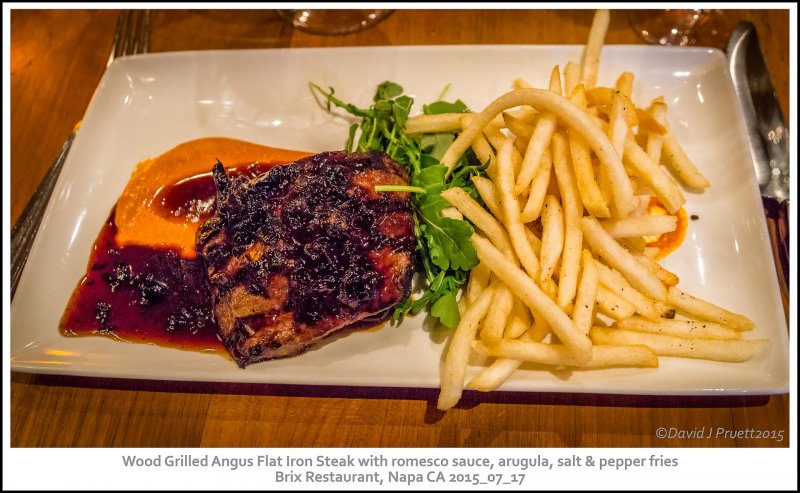 The Flat Iron Steak, like the Flank and Skirt Steaks, was once an inexpensive piece of meat that generally went home with the butcher and sold at very low prices. The Flat Iron Steak has a tough piece of connective tissue running through the middle. A team of researchers from the University of Nebraska and the University of Florida figured out a way to remove the membrane and leave a uniformly thick, rectangular steak that has terrific flavor and is very tender when cooked and sliced properly. This steak takes beautifully to marinades and a quick cooking to no more than medium over a hot grill. I grab a few whenever they are on sale. It's a great go-to hunk-o-beef for a quick dinner or a dinner party.
This one came out medium, as I had ordered it, with a great charred, smoky flavor. Romesco (also called Choron) is a sauce originally developed in the Catalan region of Spain. Basic ingredients include roasted red peppers, almonds, hazelnuts, olive oil, stale bread (to act as a thickener) roasted garlic and perhaps some other peppers for additional flavor or heat. There are countless variations on the basic recipe, adding roasted tomatoes, red wine vinegar, onions, fennel, smoked paprika, mint and, I am sure many other flavorings. It is a great accompaniment to many kinds of fish, vegetables and meat and it worked well here.
There was only a little pepper on the Salt & Pepper Fries, but they were cooked perfectly—crunchy outside, fluffy inside. A good reminder of just how often we get served bad fries.
We decided to splurge and enjoy a dessert, and what would be more seasonal that Strawberry Shortcake?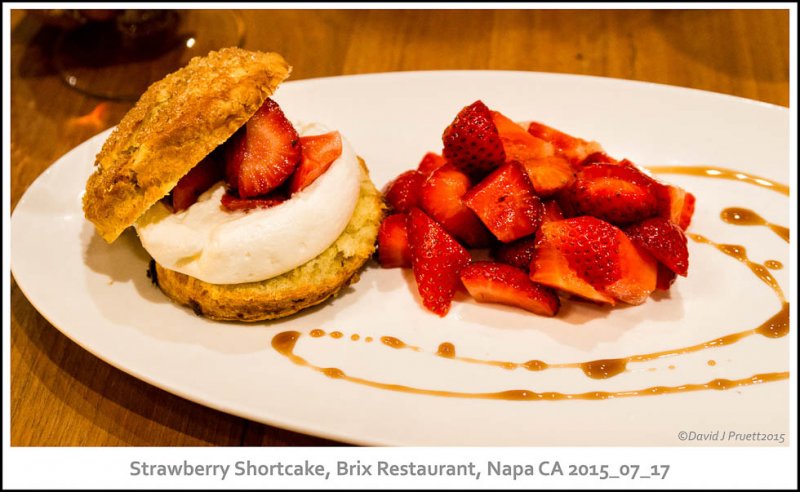 This is one you really want to keep simple: warm shortcake, whipped cream and really fresh, ripe strawberries.
So, our first experience at Brix was definitely a success. I can quibble a bit with the timing of some of the service, but the staff was friendly and accommodating. Each of themes we tried was well-prepared and  delicious. I certainly would go back, hopefully on a cooler day when a seat on the terrace would be more comfortable.
Brix
Address: 7377 St. Helena Highway, Napa, CA 94558
Phone: (707) 944-2749
Reservations: opentable.com
Website: http://www.brix.com
Dress Code: Casual
Price Range: $31—50
Lunch: Monday-Friday: 11:30am-5:00pm
Saturday: 11:30am-3:00pm
Sunday Brunch: 10:00 am – 2:30 pm
Dinner: Sunday-Thursday: 5:00pm-9:00pm,
Friday-Saturday: 5:00pm-9:30pm
AMEX, Carte Blanche, Diners Club, Discover, JCB, MasterCard, Visa
7377 Saint Helena Highway
All images were taken with a Sony A6000 camera and a Sony-Zeiss SEL1670Z Vario-Tessar T E 16-70mm (24-105mm full frame equivalent) F4 ZA OSS lens using ambient light. Post-processing in Adobe Lightroom® and Adobe Photoshop with Nik/Google plugins.