Some of you may remember that Valeria and I loved a little restaurant called Henri. It was a quiet oasis of French elegance – with no French stiffness or pretensions – on Michigan Avenue. Alas, there was a business decision to change the format to casual Italian and we lost a favorite waiter and a favorite restaurant.
I may have found a new favorite. Brindille has been open just over a year and is the product of a partnership between Chef Carrie Nahabedian and her cousin, restauranteur Michael Nahabedian. Chef Nahabedian has been winning Michelin stars and other awards in her (abbreviated) eponymous restaurant, Naha since 2002. Brindille was opened in 2013 and designed to have "a menu and feeling that gives a nod to [the Nahabedians'] favorite local spots in Paris." While I don't know precisely what local spots the Nahabedians hang out in when they visit Paris, I can tell you that, much like Henri did, they have captured the flavors and the style of a really nice French restaurant, without all of the stuffiness that can be a part of the experience.
"Brindille" is French for "twig." Perhaps a reference to branching off of Naha? I don't know. If Naha is the trunk, Brindille certainly is a branch – smaller and more intimate. It is elegantly decorated and the staff is well dressed. No tuxedos or undue formality, but crisp and clean. Somehow, they have created a place that, to me at least, seems both elegant and homey.
Brindille is located just a block north of Naha on Clark Street. The corner on which Naha sits is a bit of culinary heaven, as you can look out the window there and see Roka Akor (great Japanese), Xoco, Topolobampo and Frontera Grill (Chef Rick Bayliss's Mexican-inspired trio). Sunda (Asian fusion) is next door, but, while some rave about the food, it seems more like a place for the beautiful people to see and be seen than to eat.
The menu is simply laid out: half a page of appetizers and half a page of entrees. A tasting menu is discretely mentioned at the bottom of the page, but you are clearly welcome to stop in for a one, two or three course (with dessert) meal if that is what you want.
I, of course, want the tasting menu; with wine pairings, please. Valeria was otherwise committed on this night, so I was dining alone – well, me and my iPad – but after hundreds of solo business trips in my career, dining alone is not a problem. The nice thing was, the staff treated me the same as the tables of two or four – promptly and personally. Indeed, as I started discussing the food and wine with them, they were happy to spend a little time to discuss things in more detail.
Seated not far from the big window in the front of the restaurant, I had a nice view of the interior and of the people walking by in the street. A quick look at the cocktail menu – first rate – and I settled on a "Vieux Carre," made of Michter's Rye Whiskey, Le Reviseur VS Cognac, Cocchi di Torino Vermouth, Benedictine D.O.M., Angostura Bitters, Peychaud's Bitters.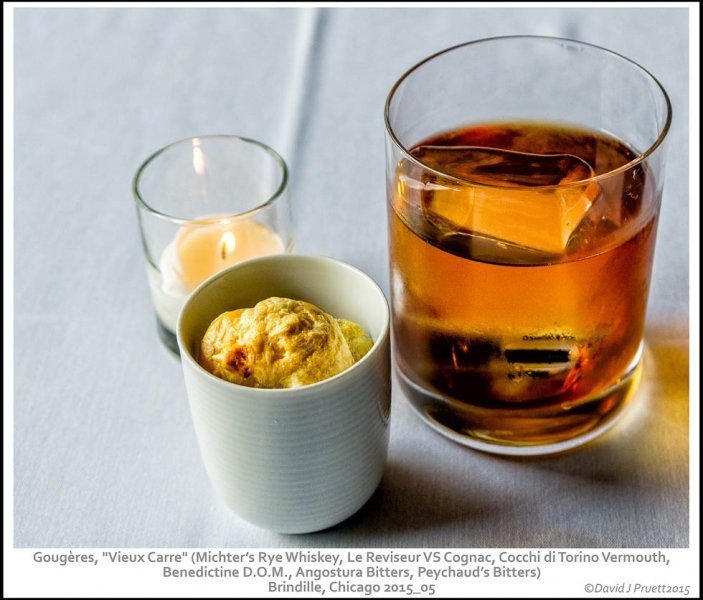 A few warm and tasty gougères were serves as an amuse bouche with the cocktail. Gougères are a terrific accompaniment to a cocktail or a glass of wine (perfect with Champagne!). They are made with an eggy, savory pastry dough that is enriched with cheese, traditionally Gruyére. They are not that hard to make, with a little practice, and once you master the dough you can play with the cheese you add to make all sorts of variations. If you like to cook, do try to make them yourself. Here is a recipe.
"Vieux Carré" literally means "Old Square," but it refers, of course, to the French Quarter in New Orleans, where this drink was invented in 1938 by Walter Bergeron, the head bartender at the Monteleone Hotel in New Orleans. The original recipes was:
1 ounce rye whiskey
1 ounce Cognac
1 ounce sweet vermouth
1 teaspoon Bénédictine D.O.M.
2 dashes Peychaud's Bitters
2 dashes Angostura Bitters
Whether you are talking about a dish created by a great chef or a cocktail created by a great mixologist, you will hear over and over, ad nauseum, that you must start with quality ingredients. You hear it because it is true. You can make a nice cocktail with non-name spirits, but you need great sprits (and additions) to make a great cocktail. Brindille gets that and has selected premium brands  to make this classic cocktail.
I am a fan of Rye whiskey (that's the main reason I ordered this drink 🙂 ). Like Bourbons, Gins, and many other hard spirits, more and more small producers are springing up and larger, historical producers have upped the quality of their products, adding new, premium bottlings. Michter's is a very good, single barrel rye whisky from Kentucky. Here is a fun review.
Similarly, Le Reviseur VS Cognac is a cut above most VS Cognacs. The grapes for it come from a single estate in the Petite Champagne region. Of course, if you want a cognac to savor neat, VS is not the best choice, but it is perfect for use in a cocktail.
For most of my life, sweet vermouth was synonymous with Martini and Rossi. I actually have no problem using M&R in a cocktail, but now there are many, many alternatives on the market that have distinct and interesting flavor profiles. One of them is Cocchi di Torino. Torino is one of only two regionally designated areas for vermouth. You can definitely taste the extra flavor this brings to the cocktail.
Bénédictine is a venerable liqueur developed in 1510 in the Benedictine Abbey of Fécamp, in Normandy, France. Like all such drinks, it's purpose was originally medicinal as the herbs and botanical in the blend were thought to have various healing powers. Perhaps they do, but there is no doubt that the elixir tastes good. It is a bit sweet for modern palates, so people began mixing it with brandy. Seeing a market opportunity, the producers soon started mixing it themselves and B&B (Bénédictine and Brandy) was born.  In this cocktail, a small amount of the original is used to add a little more sweetness and lots of subtle herbal and floral notes.
Once upon a time, "cocktail" was defined by the addition of bitters to a drink. Peychuad's Bitters were developed in New Orleans around 1830 by the Haitian apothecary Antoine Amédée Peychaud. The are on display most famously in the Sauzerac cocktail, another rye-based favorite of mine. Angostura Bitters were developed in 1824 in Angostura (now Ciudad Bolivar), Venezuela. In 1875, the business moved to Trinidad, where it has remained. These are two staple bitters in any bar and they enhance each other when used together.
OK, enough about the cocktail. Let's eat, shall we?
If you are gluten-intolerant or eating low carb, I feel sorry for you as the bread and butter service here is terrific. The bread is a rustic loaf with a crisp crust, tender interior and a complex flavor that has to include several grains. A little honey butter (or not – the bread is delicious by itself) and you're in business.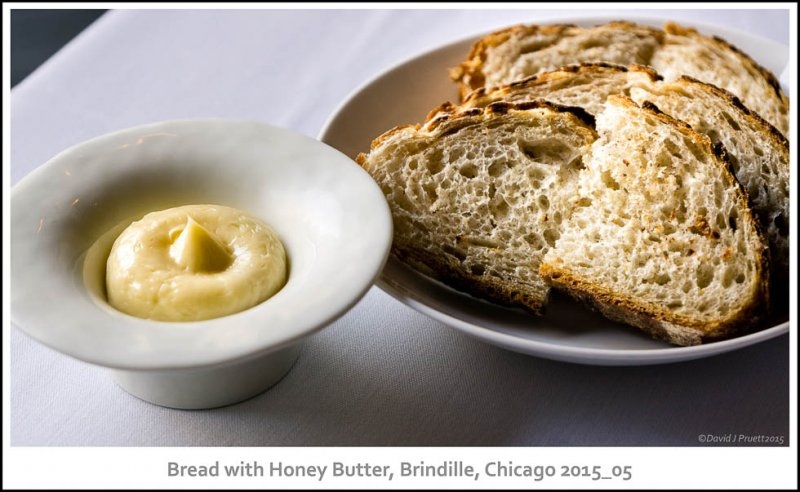 The first proper course was Cortes Island Oysters from Nova Scotia, Eggs Brouillés, Leeks and Osetra Caviar.
Now, obviously, if you do not like raw oysters this is of no interest to you. Feel free to skip on down to the next course. OK, for the remaining oyster lovers, this dish was fabulous. Eggs Brouillés are a wonderfully French version of scrambled eggs, made with a good portion of cream and cooked until they are just thickened, not set as we usually think of scrambled eggs. Think of them as an egg sauce and you're about there. Click here for a recipe if you want to give them a go.
Anyway, these were beautifully fresh oysters, enrobed in this beautiful, eggy sauce and garnished with a dollop of Osetra caviar. Oysters and caviar play very well together.
Of course, you need something was all this goodness down. How about a glass of Champagne? Brilliant!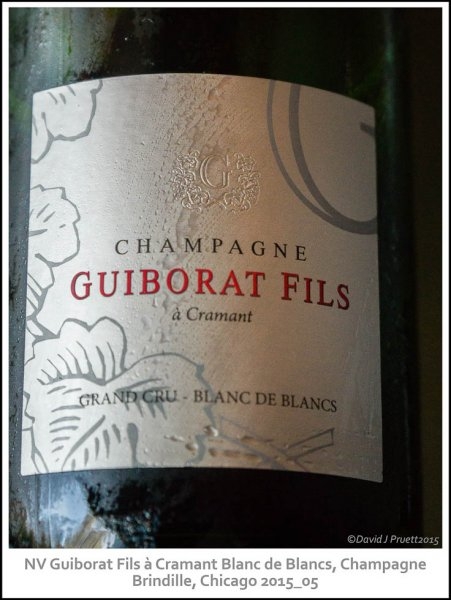 The NV Guiborat Fils à Cramant Blanc de Blancs, Champagne, France, was perfect with the oysters. Cramant is a commune within the Champagne region. All of it's vineyards are classified as Grand Crus – the good stuff. Guiborat Fils is small, fifth-generation producer of estate bottled Champagne. While the huge and well-known Champagne houses produce some great wines, the many family estate producers that have become more widely available offer a wider range of flavors and styles than we have had in the past.
This Blanc de Blancs (white from white) is 100% Chardonnay from the family vineyards. It is light, crisp and a bit lemony, which made it delicious with delicate the oysters and eggs.
The second course was Alaska Halibut and Cracked Blue Crab a la Nage, Nettles, Fava Beans, Crisp Sunchokes and Cockles.
It would be too bad a joke even for me to say this dish warmed the cockles of my heart, so I won't say it.
Seriously, somebody has a way with seafood here. The halibut was lightly crusted and perfectly cooked. The crab and the nage (broth) made from it married beautifully with the fish. Nettles were once a common part of the British and American diet, but they are tricky to harvest and prepare given the irritating chemicals they produce (think poison ivy – sort of). They have largely been abandoned for more friendly plants, but, properly prepared, they are delicious and a great source of vitamins and even protein. Fava beans, aside from an unhappy association with Hannibal Lechter, have no unpleasant properties and are full of springtime deliciousness.
Some wine to wash it down? I though you would never ask.
Vouvray, a region in France's Loire Valley, deserves to be more popular that it is. The region is home to the Chenin Blanc grape (or Pineau de Loire, as it is known there), which can be used to make wonderful white wines ranging from dry to very sweet dessert-styles. The 2012 Domaine Vigneau-Chevreau Abbaye de Marmoutier Vouvray, Clos de Riugemont, Loire, France is a dry wine with apple, lemon and pineapple aromas and flavors. It is produced from a vineyard around the venerable Abbaye de Marmoutier, a Benedictine monastery founded in 372 with a long history of growth, destruction and regrowth. It is currently being restored again.
The seafood theme continued with the next dish, the signature Lobster Brindille.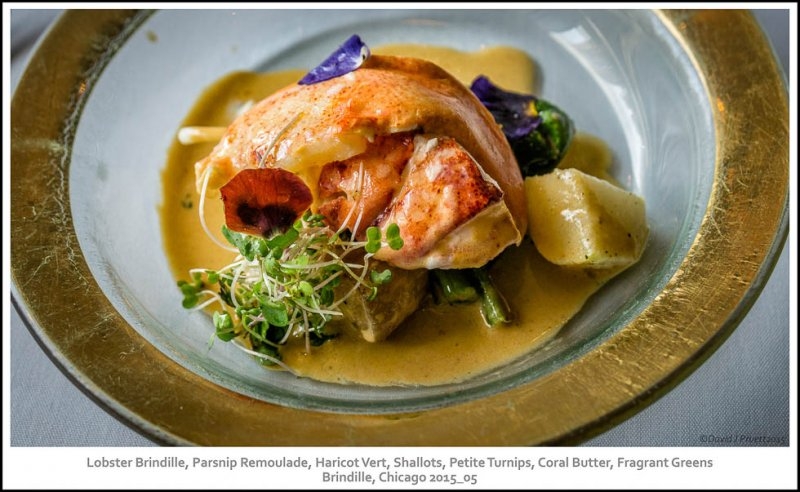 Ordered a la carte, this dish come with the meat of a whole 1 to 1.5 pound lobster (the best size to eat, in my opinion). The tasting menu portion is smaller, but still generous. The lobster is enrobed in a sauce made of butter and lobster roe flavored with vanilla. It's rich and delicious. To keep the lobster from feeling lonely, a Parsnip Remoulade, Haricot Verts, Shallots and Petite Turnips are on the plate along with some micro greens. Parsnips are another under-appreciated vegetable which, paired with the turnips, add sweet root vegetable taste and texture to the dish.
Another French wine accompanied the lobster, the 2010 Celine et Vincent Dureuil, Rully 1er Cru "Rabourcé".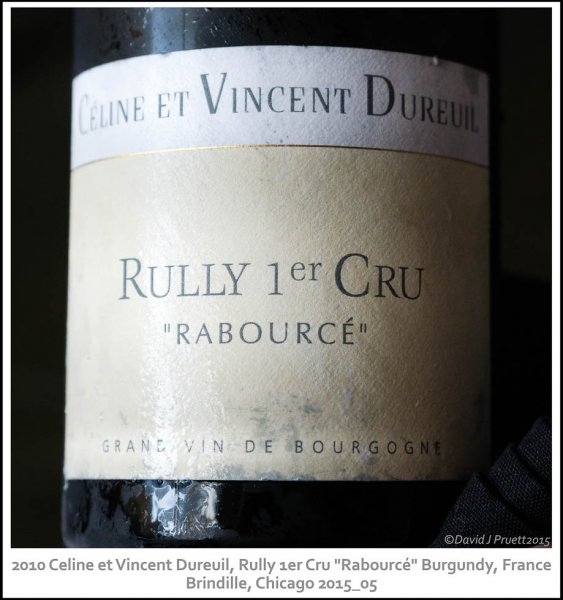 The legendary wine region of Burgundy can be roughly divided into quarters as it runs from north to south. The northernmost quarter is the Côte D'Or where (arguably) the greatest Pinot Noirs and Chardonnays in the world (as well as some of the most overpriced and disappointing examples) are produced. Just south of the Côte D'Or is the Côte Chalonnaise, which includes the villages of Mercurey, Givry and Rully, where the wine poured with the lobster course was made. There are no Grand Cru Vineyards in the Côte Chalonnaise, but there over 20 Premier Cru vineyards and this wine came from one of those, Rabourcé. While it is true the best wines from this region are not as grand as those from the Côte D'Or, they can be wonderful wines and much more affordable.
Rich sauces and White Burgundy are a classic match and this course demonstrated why. The wine was full-bodied with good lemon, peach and apple flavors with a vibrant acid backbone to cut through the rich sauce.
The next course took me out of the water and onto dry land: Hand-cut Noodles, Red Wine Braised Snails, Gesier de Poulet, White Beech Mushrooms and Fines Herbs.
I know snails are pretty high on the list of foods that make people go "ewwwww!," but I like them. Clean them well, cook them properly so they don't get tough and chewy and they can be delicious. This dish seems to be a play on the classic Burgundian Escargots With Spaghetti. The pasta was nicely al dente, the snails tender and delicious in the red wine broth, and mushrooms are great with both snails and pasta. You probably know "Gesier de Poulet" as chicken gizzards, but don't they sound so much better in French?
As we left the sea with this dish, so, too, did we leave France for a New World wine: 2012 J.K. Carriere "Provocateur" Pinot Noir, Willamette Valley, Oregon.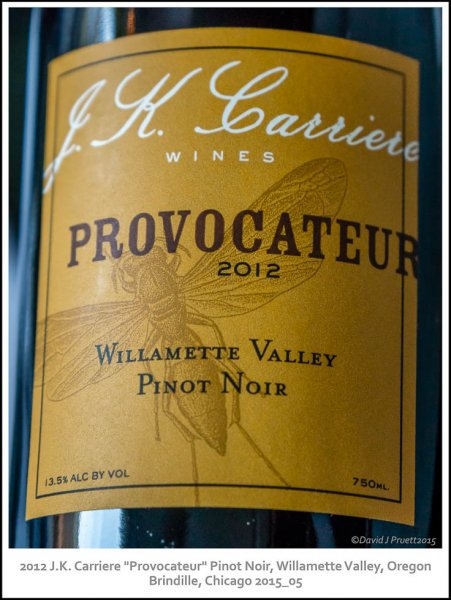 Burgundy may be the ancient home of Pinot Noir, but viticulturists and winemakers are slowing finding other places in the world where this finicky grape will grow and prosper. Among them is the Willamette Valley in Oregon.
J. K. Carriere Wines is owned by winemaker Jim Prosser. He buys grapes from several vineyards to be bottled individually, but produces a blend made from several vineyards each year called "Provocateur." It is consistently good and  generally sells for under $30 at retail, making it a bargain in the Pinot Noir world. 2012 was a very good year for Pinot in the Willamette Valley, and that is reflected in this wine. Medium-deep color with lots of cherry and raspberry fruit, spice and a bit of earthiness.
Moving on to still larger land animals, the 5th course was Medallions of Lamb Rack Scented with Lavendar and Orange, Foraged Morels, English Peas, Country Pâté and Scarlet Pearl Onions.
Most restaurants these days will ask of there are any food restrictions or allergies they need to take into account, but, to the best of my recollection, I've never been asked during a high-end tasting menu how I like my lamb (or beef, venison, whatever) cooked. It always comes out somewhere between rare and medium rare because someone has pronounced "that is how it should be cooked!" Maybe so. Maybe I am uncouth and unsophisticated and have no idea what good food is all about. Be all that as it may, I want my lamb (or whatever) medium, please.
Other than being undercooked (to my taste) this dish was excellent. The lavender, orange and mushrooms flavored the jus and the meat. Morels have wonderful flavor and texture. It was also the right time of year for delicate spring peas. The toast smeared with country pâté and topped with onions was a brilliant stroke that added more textures, flavors and colors to the dish while blending in with the whole.
The wine choice surprised me. It was the 2013 Sparkman "Wonderland" Yakima Valley, Washington.
I am particularly fond of grenache wines from Spain (where the grape is called "garnacha") and it is one of the important grapes of the Rhone region. I don't recall ever having one from Washington, but this was a great introduction. This wine displayed many of the same characteristics as its European counterparts. It was dark, with lots of black and red fruits on the nose supported by spice, herbal and floral notes.
The next course was absolutely brilliant, not so much because of what it was but where it was served in the progression.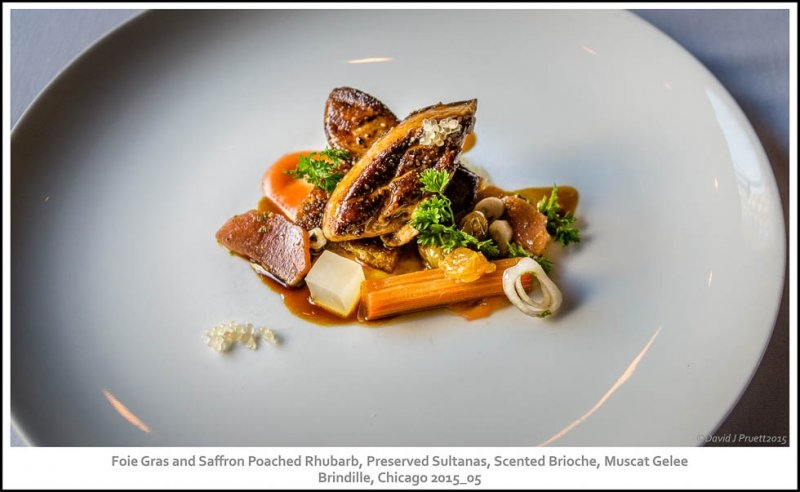 I love foie gras (apologies to those who think it promotes animal cruelty and/or clogged arteries) and will almost always order it if it is an option. It is normally served early in the meal as a first or second course. The problem is, foie gras is most often served with a sweet, usually fruit-based sauce. It also is best enjoyed with a sweet wine, most traditionally a Sauternes from Bordeaux, France. That makes for a delicious dish, but the sweetness seems out of place so early in the meal. It is also problematic to follow a sweet dish and wine with a dry wine, which is exactly what usually happens.
Brindille showed me what is now a blindingly obvious solution: serve the foie gras course after the meat course and before the true dessert. Brilliant!
The wine chosen to go with the foie gras was the 2007 Domaine l'Ancienne Cure "L'abbaye" Monbazillac, France. Like Sauternes, Monbazillac is a region in Bordeaux and it produces dessert wines very similar to Sauternes and Barsec. However, Monbazillac is east of Sauternes, separated by the Garonne River and the Entre-Deux-Mers region. Sauternes is generally a blend of Semillon and Sauvignon Blanc, while Monbazillac is more often a blend of Semillon and Muscadelle. Despite the differences, Sauternes and Monbazillac are of a family and can be easily substituted when either is appropriate.
Finally, dessert. Thankfully, just one, not a whole progression. Too many restaurants ruin a great experience by serving a half dozen desserts to diners who are already pretty full. You can't go wrong with chocolate, so I was not unhappy to see the Darked Chocolate Entremet with Espresso, Vanilla and Salted Hazelnut Ice Cream land in front of me.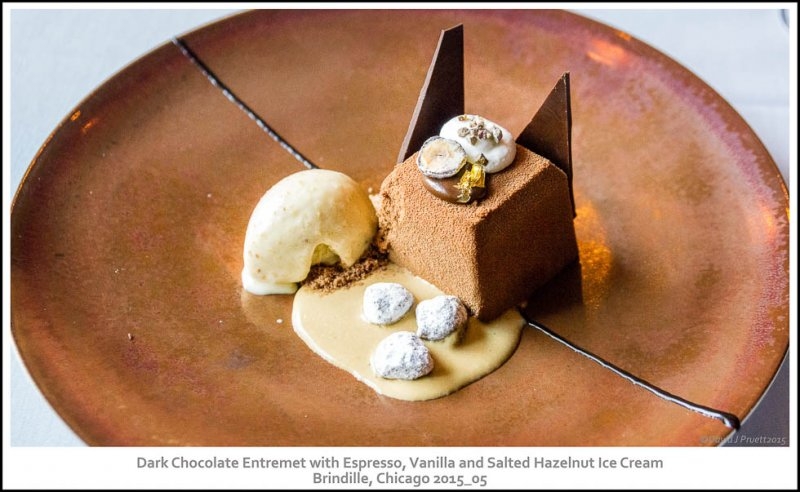 For my taste, this was a terrific dessert. It was not too sweet, not too big, but clearly said "dessert, we're done."
A tawny Port is an excellent match with chocolate and Brindille poured the Kopke 20 Year Old Tawny Port.
Characteristic of old tawnies, the wine was silky smooth with flavors of figs, caramel, and vanilla.
One last bit of sweetness: a gelée and a piece of chocolate.
So, all in all, I was very happy with my meal at Brindille and I am anxious to take Valeria there. It is not a place for everyone. It is expensive, earning $$$$ on OpenTable. It is fine dining; not place to come in summer shorts and tank tops, although business casual is fine. The people there with me that night ranged from 20-somethings to 70-somethings. The snatches of conversation I heard with waiters made me think that the common thread was a real interest in food and wine. For me, it is a real find and I look forward to my next visit.
Brindille
Address: 534 N Clark St, Chicago, IL 60654
Phone: (312) 595-1616
Reservations: opentable.com
Website: brindille-chicago.com
Dress Code: Business Casual
Price Range: $50 and up
Hours: Monday-Thursday: 5:00pm-10:00pm, Friday & Saturday: 5:00pm-11:00pm
AMEX, Diners Club, Discover, MasterCard, Visa
All images were taken with a Sony A6000 camera and a Sony-Zeiss SEL1670Z Vario-Tessar T E 16-70mm (24-105mm full frame equivalent) F4 ZA OSS lens using ambient light. Post-processing in Adobe Lightroom® and Adobe Photoshop with Nik/Google plugins.