Way back on October 1, 1938, a restaurant called The Pump Room opened in a hotel that was then called The Ambassador East. Over the next 40 years or so, virtually every celebrity that passed through Chicago would eat there. Moreover, just about every celebrity and businessman (businesswomen were pretty scarce in 1938) had to stop in Chicago. The Windy City was the stopover for the train route between New York and Los Angeles. The trains from New York arrived at 8:30 am, but the trains for LA did not leave until 4:00 in the afternoon, so those who could afford it booked a room at The Ambassador East, freshened up, and ate an expensive lunch in the Pump Room before catching the afternoon train. Of course, some of them would stay longer for performances or business meetings in Chicago before going on to the west coast.
Frank Sinatra was perhaps the most well known regular at The Pump Room. He spent a lot of time in Chicago and frequently held court in the table called Booth One. A dedicated telephone line was installed in Booth One early on so the rich and powerful could call and be called right from the table and Sinatra used it a lot. He was only one of many celebrities, however, to spend a day (or several) eating and drinking in The Pump Room. Humphrey Bogart and Lauren Bacall had their wedding day dinner in Booth One, as did Robert Wagner and Natalie Wood many years later. Judy Garland was a frequent guest with her children, including Liza Minelli. The lyrics to Garland's immortal version of "Chicago (that toddlin' town)" includes the line "we'll eat at The Pump Room/Ambassador East, to say the least". Sinatra also mentions the Pump Room in "My Kind of Town."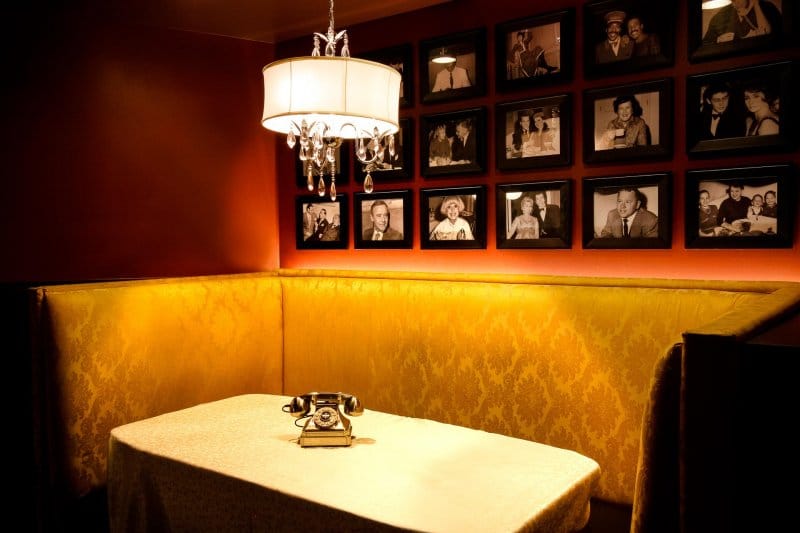 John Barrymore, Marilyn Monroe, Bette Davis, Beverly Sills, David Bowie, Paul Newman and Joanne Woodward, John Steinbeck, Ronald Reagan, Paul Harvey, Helen Hayes, Clark Gable, Sammy Davis Jr., Jerry Lewis, Dean Martin, Elizabeth Taylor, Lena Horne, Joan Crawford, Tallulah Bankhead, Audrey Hepburn, Robert Redford, Bill Murray, Josephine Baker, Phil Collins, Gertrude Lawrence, Eddie Fisher, Michael J. Fox, John Belushi, Eddie Murphy, Gene Wilder and Gilda Radner, Mel Brooks, Olivia Newton-John, Peggy Lee, Mick Jagger, Vivien Leigh and many others stayed at the Ambassador East and dined at the Pump Room. If you were a celebrity watcher, it was certainly the place to be.
The restaurant's cuisine was as stellar as it's clientele back in those days. Many dishes that were new and innovative at the time made their way to the Pump room even before making it to New York. Caesar Salad is a cliché today, but it was fresh and exciting back in the day. Like several dishes, it was made fresh tableside in the Pump Room. Other dishes emerged from the kitchen flaming on swords or were flambéed tableside. The celebrities expected to eat well and they were not disappointed.
Time rolls on, however. Eventually planes replaced trains for travel from coast to coast. By the 1980s, the fine dining scene exploded in Chicago, led by Charlie Trotter and his contemporaries and trainees. The Pump Room did not keep up either in decor or cuisine. The hotel was sold in 2010 and the new owners closed it for a complete remodel. It re-opened in the Fall of 2011 as The Public House. The Pump Room had been remodeled (though Booth One was preserved) and celebrity chef Jean-Georges Vongerichten was brought in to revamp the menu. The new Pump Room never really caught on, however, and the hotel was sold again in 2017. It was renamed the Ambassador Chicago and the Pump Room became Booth One (yep, Booth One is still there). The restaurant is now run by the Lettuce Entertain You group, which operates over 120 restaurants around the country, including over 50 in Chicago that range from bars to burger joints to fine dining with every price range and most cuisines covered. Let's see how they're doing.
The menu at Booth One is varied, with a mix of new dishes and updated classics.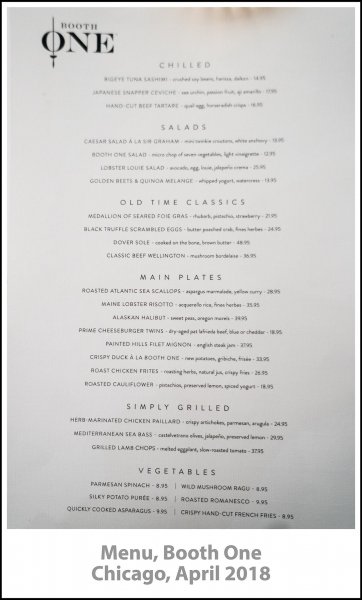 See the sword in the Booth One logo? A nod to the days when flaming swords of food emerged from the kitchen.
The cocktail list features some very modern artisan drinks.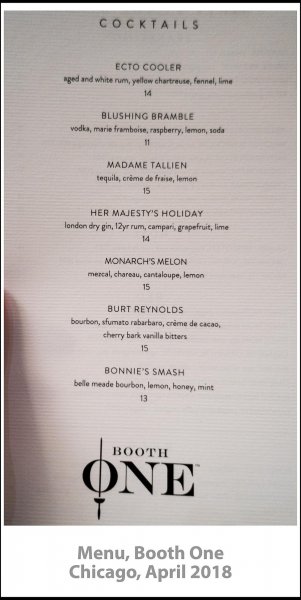 The wine list, both by the glass and the full list, is quite comprehensive. Valeria chose to start with a glass of a sparkling rosé from Burgundy, France, while I opted for a Burt Reynolds Cocktail.
First, the rolls: oh, my! Parkerhouse Rolls were developed at the Parker House Hotel in Boston in the 1870s. They are light and fluffy and usually topped with melted butter and a sprinkling of course salt. These upped the ante by adding garlic, onion, and poppyseed. Apparently a Parkerhouse Roll had an affair with an Everything Bagel. Way too tempting and delicious, delivered hot to the table.
The 2015 Val De Mer Rosé Brut Nature, Burgundy, France is not Champagne, which, by law, can only come from the Champagne region, but is made from 100% Pinot Noir (as some Champagnes are) using exactly the same winemaking method called the methode champenoise. The juice of red grapes is, with a couple of rare exceptions you will likely never see, always white. The color is all in the skins. To make a red wine, you must leave the juice in contact with the skins for a day or two to extract the color. True rosés are made when the juice is left in contact with the skins for only a few hours after the grapes are crushed. "Nature" indicates that no sugar is added back to the wine after it finishes fermenting in the bottle, so it is very dry. Despite this, the fruitiness of the wine gives an impression of sweetness. There is also a brisk acidity to the wine. It is a perfect summer wine, or for anytime of the year as an aperitif or with lighter dishes.
The Burt Reynolds Cocktail was, not surprisingly, heavier and more masculine. I meant to ask what bourbon was used, but forgot whenever the waiter came by. "Sfumato rabarbaro" was new to me, though I thought it was Italian for something like "smoked rhubarb" (more or less correct). The waiter said it was a vermouth, but later research confirmed it was an amaro (see box), which would add a variety of flavors and bitter notes to the drink.
Italian amari (plural of amaro) are a class of bittersweet liqueurs traditionally used as digestifs (after dinner drinks intended to aid digestion). While still commonly used as digestifs, they are nowadays sometimes used as aperitifs (before dinner drinks) and very often appear in modern craft cocktails where they add a great many complex flavors and bitter notes. Amari are generally made by infusing brandy (distilled wine) with a variety of herbs, spices, plant barks, flowers and so on using a proprietary recipe. These ingredients all come from plants and so are often referred to as botanicals. Some amari have been developed recently, others were developed centuries ago. All have a certain amount of sweetness from added sugar and bitterness from the mixture of botanicals, but the bitter notes dominate.
Amaro Sfumato Rabarbaro is made by an Italian producer of amari and aperitivi called Cappelletti whose history goes back 100 years. The "secret ingredient" is a type of Chinese Rhubarb that has been grown in Trentino Alto Adige e Veneto, a region in northern Italy, for generations. I have not tasted it alone, but the flavors are said to emphasize ripe berries and bitter rhubarb.
To counteract the bitterness of the amaro, sweet crème de cacao (cocoa cream) is added. This is a common liqueur produced by many companies first in France (there is a reference to it from 1666) and now many countries. It is, as the name suggests, a liqueur made with cocoa beans, sugar, and usually some vanilla. It is generally more alcoholic, thinner, and less sweet than more modern chocolate liqueurs, which can be quick viscous and usually much sweeter. In this cocktail, the sweetness balances the bitterness of the amaro while the chocolate and vanilla notes play very nicely with the flavors of the bourbon.
Finally, cherry bark vanilla bitters were added, giving another layer of fruit, vanilla and bitter flavors and aromas to the drink.
Cocktail aficionados will recognize this combination as an updated, more complex version of a classic Manhattan (2 parts bourbon or rye, 1 part sweet vermouth, couple dashes of Angostura bitters) and that is exactly how it tasted. It was delicious and very nicely balanced (I generally avoid cocktails that are too sweet).
While Valeria and I usually order different appetizers and entrées so we can share and create a mini-tasting menu, there are exceptions to the rule. Foie gras is one. We both love it, and portions are usually too small for sharing (large portions of foie gras would be too much of a good thing). Such was the case here, so we both ordered classic seared foie gras served in a fresh, modern way.
The richness of foie gras is almost always served with something sweet, usually fruit based, to balance the dish. Often a very sweet sauce or jam is used, but fresh, ripe, sweet, and juicy strawberries and some fresh rhubarb compote were used here. If you like foie gras, don't miss this dish.
We did order separate entrées. I went for a classic I haven't had in years: Beef Wellington.
I remember learning to make this dish watching Julia Child and following the recipe in Mastering the Art of French Cooking, Vol. 2, many, many years ago. It was, and is, more expensive (start with a whole beef tenderloin) and more complicated than the average home cook wants to tackle, to say nothing of modern concerns about rich sauces, buttery crusts, etc. However 1960s this dish may be, it is still delicious and it was perfectly executed here.
Here's a cool video for making Beef Wellington largely following the classic recipe, but with a twist: the final baking is done on a grill to add some smokey flavor. Also, take a tip from Julia: use Brioche bread dough instead of puff pastry. It bakes up much better around the beef. Happily, you don't have to make the bread you choose from scratch (like I did back in the day) as they are readily available in good quality in the frozen food section of your local grocery store.
Valeria chose another classic: Dover Sole with Brown Butter.
This dish is often carved table side with with whole fish presented, then skinned and boned table side (ideally with some skill and showmanship) before being enriched with a brown butter sauce and brightened up with a squeeze of lemon.
Booth One does all the prep in the kitchen and just brings out the finished plate, except for pouring on the brown butter sauce. That was perfectly fine with us, as we came for dinner, not a show. The fish was perfectly cooked and seasoned which is, unfortunately, not always the case when you order Dover sole.
For a starch, we ordered a variation on a dish that is both classic and still very popular, risotto.
Risotto seems intimidating to make, since some recipes claim you have to stand over the dish, constantly stirring and watching as you add portions of liquid. It really isn't that fussy and there is no need for constant stirring, though you do need to keep an eye on it. Here is a vegan version that you can "un-vegan" (if you want; it will be delicious as is) by using chicken stock instead of vegetable stock and adding as much grated Parmesan as you like instead of the coconut oil.
The Booth One Version would make your Italian Nana proud. It could easily be an entrée for a lighter meal.
We also ordered some asparagus.
These were a little too quickly cooked for my taste—still pretty crunchy. I don't like my vegetables cooked to death, but I do like them cooked until just tender, as Marcella Hazan championed.
Though we had both a meat and a fish dish, I ordered a red wine, with Valeria's hearty approval: the 2012 J.L. Chave Farconnet, Hermitage, Rhone, France. I mentioned earlier than the Booth One wine list is quite comprehensive. There is an excellent selection of wines from most of the world's great wine producing regions, usually with a few inexpensive (for a restaurant), a few moderately priced, and a few more expensive selections to choose from. We were especially happy to see several really good selections from France's Rhone Valley, a favorite of ours.
J. L. Chave produces several consistently good-to-great wines at several price points year after year. His flagship Hermitage costs well north of $200 at retail, $300 or more in a restaurant. It is an immense wine that generally needs 10 years or so in the bottle to start to show it's best. His Farconnet bottling, however, is made from grapes not quite good enough to make the flagship blend, but which come from the same vineyards and are treated with the same care. The result is a much cheaper bottle of wine (around $50, retail) that captures the flavors and aromas of it's big brother, but is ready to drink after only a couple of years (though you can enjoy it for 10 or more in a good year).
The 2012 was absolutely beautiful. It was a dark garnet color. The aromas jumped from the glass: cassis, violets, blackberries, dark spices, pepper and vanilla. The fruit really came out when we tasted the wine. It still has some tannin (needed for aging) and also a clean acidity, which helps the wine age and also makes it refreshing. If Rhone wines are your thing, this one is amazing.
The sommelier noted our order and we chatted with him a bit about wines, what we liked, etc. He said, "We had a staff tasting this morning and one of he bottles we tasted was a Syrah (Hermitage wines are made from 100% Syrah) from Sonoma in California. There's a little left. Would you like to taste it?" (I'm sure I paraphrased that a bit.) Since we know some great Syrahs are being produced in Sonoma County (e.g. Peay, Failla, Joseph Phelps), we accepted the kind offer.
I did not know of the Pax Mahle winery before, but I'll look for it now. The nose on this Syrah was unbelievable (no doubt helped by the fact that the bottle had been open for a while). While the fruit was perhaps a bit more dominate than in it's Rhone cousin, it showed almost all the nuances that you can find in an Hermitage: pepper, lavender, warm spices, a bit of earthiness and smokiness. Again, one to look for if you are a Syrah lover.
Pax Wine Cellars is owned by Pax and Pam Mahle. They started the business in 2000 and decided to focus on Syrah-based wines. If this bottling is at all representative, they are doing an amazing job with this grape. Apparently they have begun branching out into other, less widely planted grapes like Carignan (a red wine grape originally from Spain, now widely planted in Southern France), Chenin Blanc (dry and sweet white wines in France's Loire Valley), and Gamay (Beaujolais). It's a small, family run operation, so the wines will be hard to find.
When we dine a la carte, we are rarely order dessert, but almost everything on the desert menu got our attention.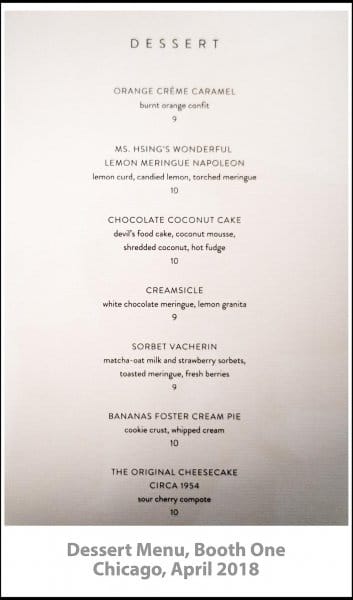 Since we couldn't order it all, Valeria chose the Crème Caramel…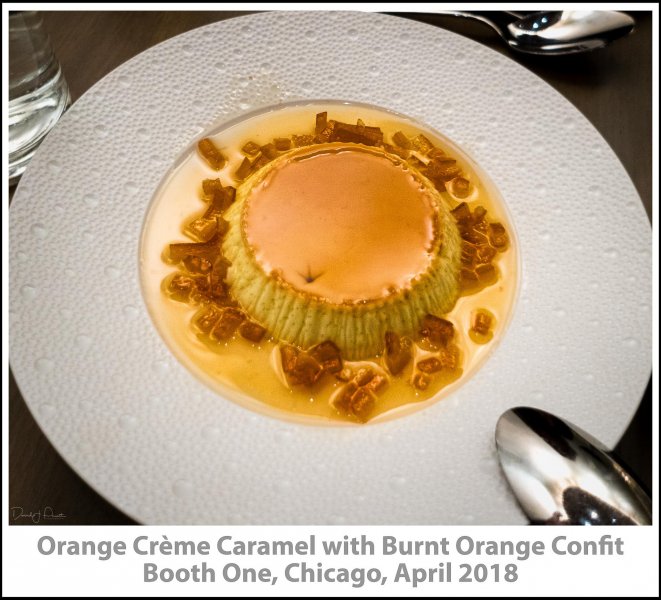 …and I chose the Chocolate Coconut Cake.
They were both beautiful! The crème caramel was perfectly smooth and creamy, not too sweet, but with lots of orange flavor, both fresh and caramelized in the burnt orange "confit."
Similarly, the cake perfectly balanced the flavors of coconut and chocolate (a combination I love) without going too crazy on the sweetness.
If today's movie stars and moguls were still riding the trains between New York and LA, I think they would be very happy to have a stopover and a meal at Booth One. The new incarnation of the Pump Room will probably never capture the aura of the original, simply because the conditions that made it popular with so many stars no longer exist and there are dozens of excellent restaurants to choose from in Chicago. Still, based on the ambience, the service, and, most of all, the food and beverage offerings, it deserves to succeed.
Booth One (in Ambassador Chicago Hotel)
Address: 1301 N State Parkway Chicago, IL 60610
Phone: (312) 649-0535
Reservations: opentable.com
Website: http://boothone.com
Dress Code: Smart Casual
Price Range: $31-50
Hours: Saturday – Thursday: 6:00 am – 11:00 pm
Friday: 6:00 am – 12:00 am
Breakfast (Daily) 6:00 am – 11:00 am
Lunch (Monday -Friday ) 11:00 am – 4:00 pm
Brunch: Saturday-Sunday 10:00 am – 4:00 pm
Dinner: 4:00 pm – closing
Credit Cards: AMEX, Discover, MasterCard, Visa
The author is a member of the Amazon Affiliate program but otherwise has no affiliation with any of the businesses or products described in this article.
All images were taken with a Sony Alpha a6500 camera and a Sony-Zeiss SEL1670Z Vario-Tessar T E 16-70mm (24-105mm full frame equivalent) F/4 ZA OSS lens or Sony 35mm (52mm full frame equivalent) F/1.8 E-Mount Lens using ambient light. Post-processing in Adobe Lightroom® and Adobe Photoshop® with Nik/Google and Skylum® Luminar® plugins.