Almost a year ago now, Chicago's Boka Restaurant Group, in partnership with Chef Jimmy Papadopoulos, presented Bellemore, a big, open restaurant with an eclectic, modern interior designed by Karen Herold of Studio K.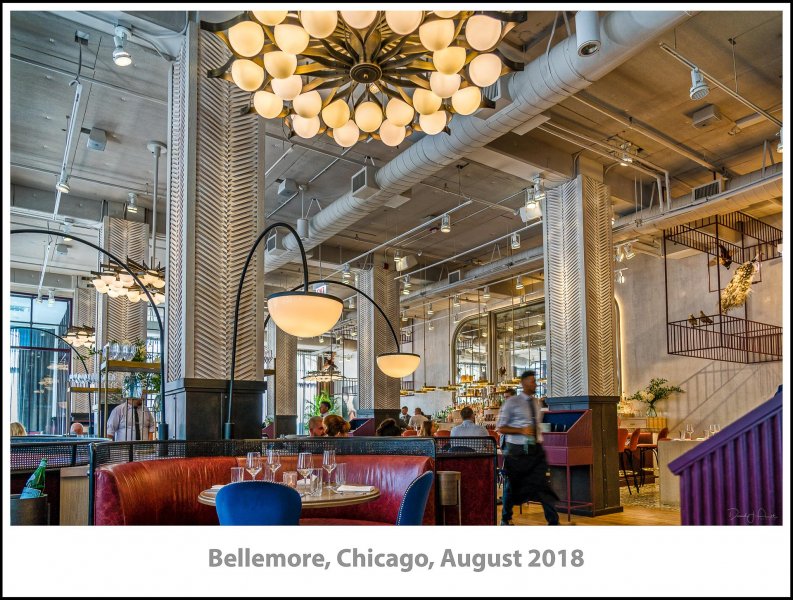 Since opening their flagship, Michelin-starred Boka restaurant over 10 years ago, the group has worked with some of the best chefs in Chicago to build over 15 diverse lounges and restaurants with cuisines ranging from sushi to steak. Each has its own vibe and a unique decor, and Bellmore is no exception. If you look closely, you'll see several stuffed birds, including a peacock and a pheasant, on the middle-right side of the picture. There is also a beautiful owl mural on another wall.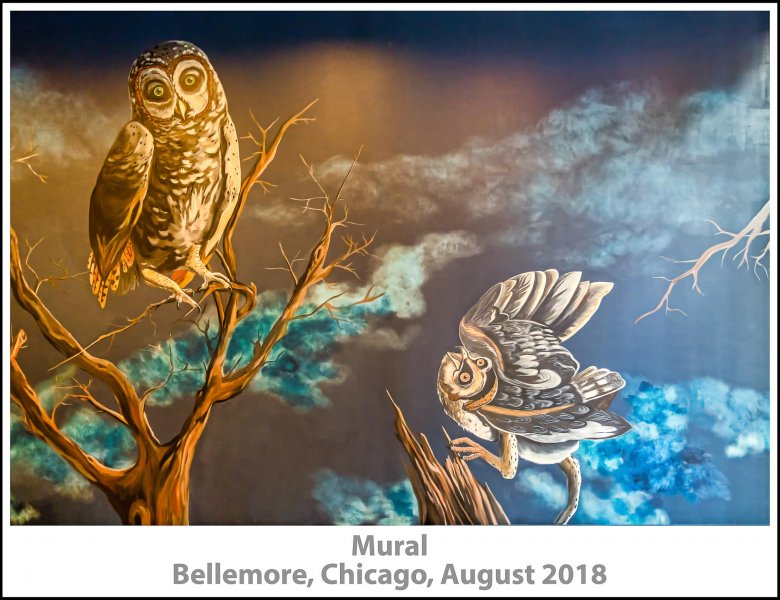 As beautiful as the decor is, most of us go to a restaurant for the food and drink, not the architecture. By the end of the night, it was clear that the cuisine met and perhaps exceeded the standards set by the interior design.
Let's start with the Cocktail Menu. We have seen a renaissance of skillfully crafted cocktails in Chicago and the rest of the USA in recent years. Gone are the day-glo colored, sticky-sweet "Martinis" that once dominated cocktail lists. Instead, we have balanced, flavorful cocktails that are riffs on the classics or new creations. If there is a downside to this new creativity, it's that mixologists can get a bit carried away, mixing too many exotic ingredients into one drink. Perusing the cocktail list at Bellemore, each drink looks well thought out.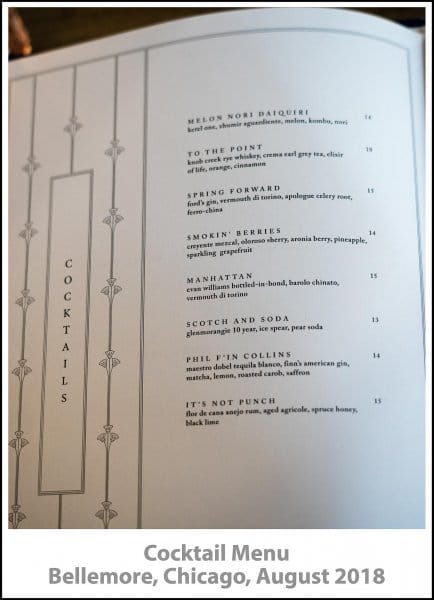 Take a look at the Manhattan, for example. This classic cocktail is a simple blend of 2 parts bourbon or rye, 1 part sweet vermouth, and a couple dashes of bitters. You want to use a good Bourbon (or Rye), but not necessarily a great one that you would want to sip neat. Evan Williams is just that: a reliably good, reasonably priced Bourbon.
The most common sweet vermouth in bars in the US is Martini and Rossi. It makes a perfectly serviceable Manhattan, but an easy way to upgrade the drink is with a more interesting vermouth, many of which are readily available these days. The Bellemore Manhattan uses a mixture of two vermouths: Barolo Cinato and Vermouth di Torino. I have made Manhattans with each of these vermouths individually, but I have never thought to add a little of each. Mentally, the flavors would combine nicely, but I didn't actually try it. Next time.
I did try the Phil F'in Collins because it looked unique, but not crazy complex, and, well, the name.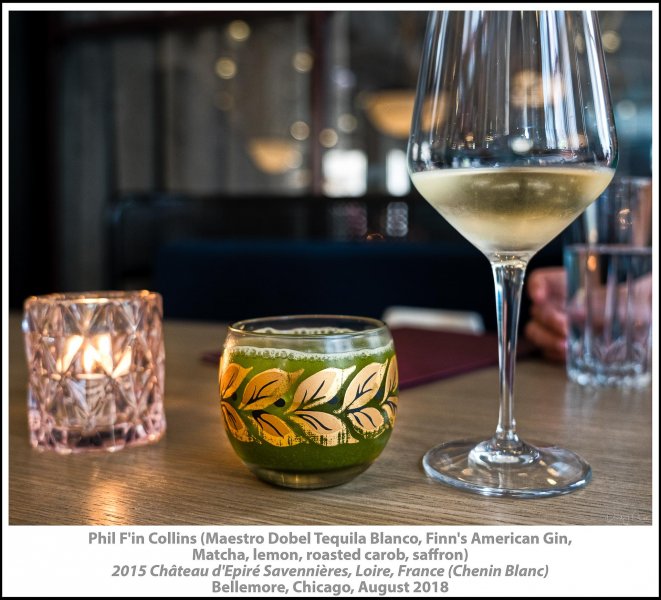 First, it's made with a tequila from Maestro Tequilero, which produces one of the best tequilas I have ever had, their Dobel Diamante. The Diamante (Diamond) tequila is a blend of reposado, añejo, and extra-añejo (rested, aged, and extra-aged) tequilas that have spent years in oak barrels and taken on a golden color. Thes older tequilas are bended and then distilled to produce the amazingly smooth, complex and clear Dobel Diamante.
While several ingredients when into the cocktail, the flavor of each, with one exception, was apparent in the final drink: the agave flavor of the tequila, the juniper of the gin, the green tea flavor (and color) of the Matcha, the citrus notes of the lemon and the complex, earthy, spiciness of the saffron. I didn't taste anything I could identify as carob. Carob is made from the dried and ground pods from a tree that is native to the Mediterranean but is now common in North America. The resulting power looks a lot like cocoa and carob has been used as a substitute for cocoa in many recipes. There is just one problem: carob tastes nothing at all like cocoa or chocolate. It's a little sweet and a little nutty, but I didn't taste it here. This was not a problem, as the cocktail was delicious and well-balanced.
The wines-by the glass menu was also well chosen with some interesting choices beyond the usual suspects. Well done!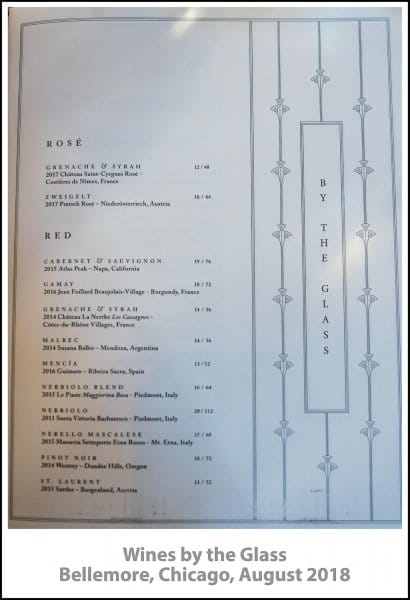 The a la carte menu at Bellemore is short, but has plenty of interesting dishes.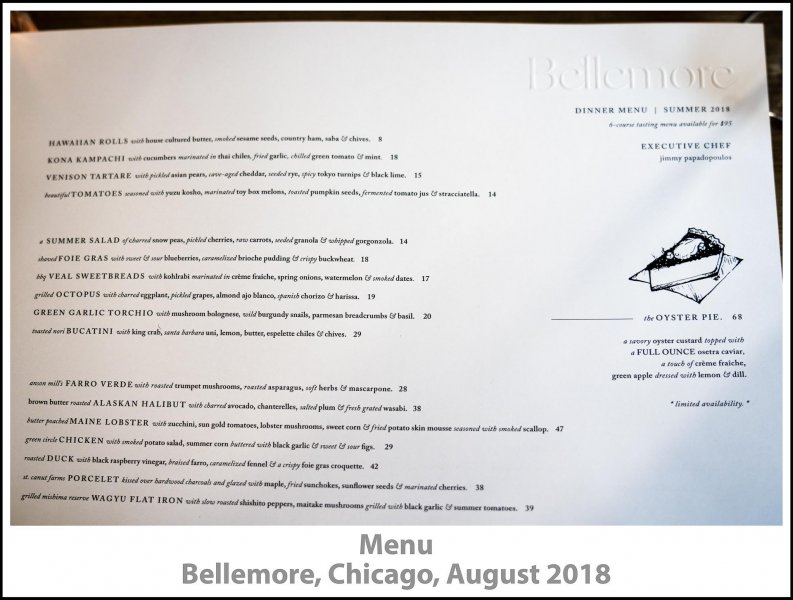 Two things caught my eye: the Oyster Pie, which occupies a dominant spot on the menu, and the fine print that says "6-course tasting menu available for $95." After considerable discussion of the options, Valeria and I decided to create our own tasting menu by ordering three courses each and sharing. There was never a doubt that we would start with the Oyster Pie.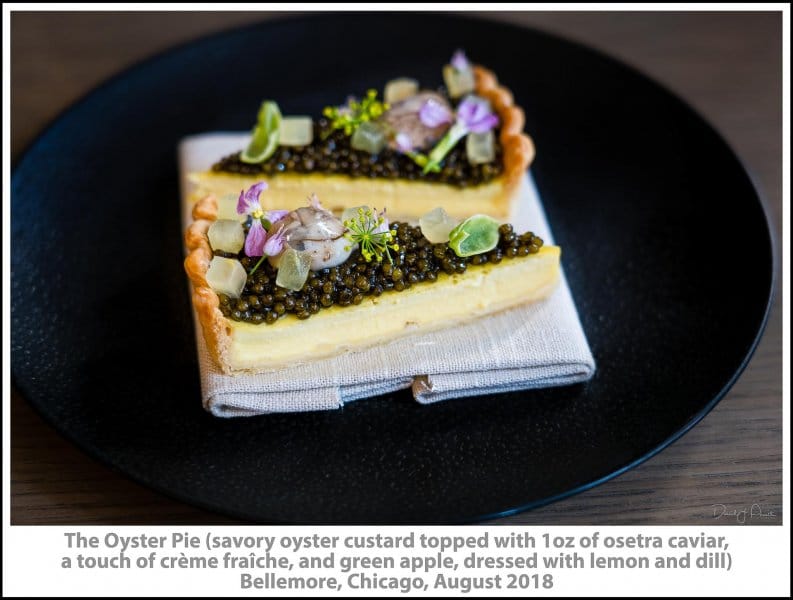 I completely understand that, for many people, this is not an attractive course. Not everyone likes caviar. Not everyone likes oysters. Certainly there are many people who do not want to pay $68 for an appetizer. That's all completely reasonable. However, for those who do like caviar and oysters and who are willing to pay for them, this is a decadent indulgence. The mildly flavored, perfectly creamy oyster custard sits on a flakey crust. The layer of caviar is topped with a perfect raw oyster, some apple, and some herbs and edible flowers that add texture a a little more flavor. It is perfectly balanced and each ingredient shines even as it combines with the others.
Our second first course (is that an oxymoron?) was tomatoes, but not just any tomatoes, beautiful tomatoes.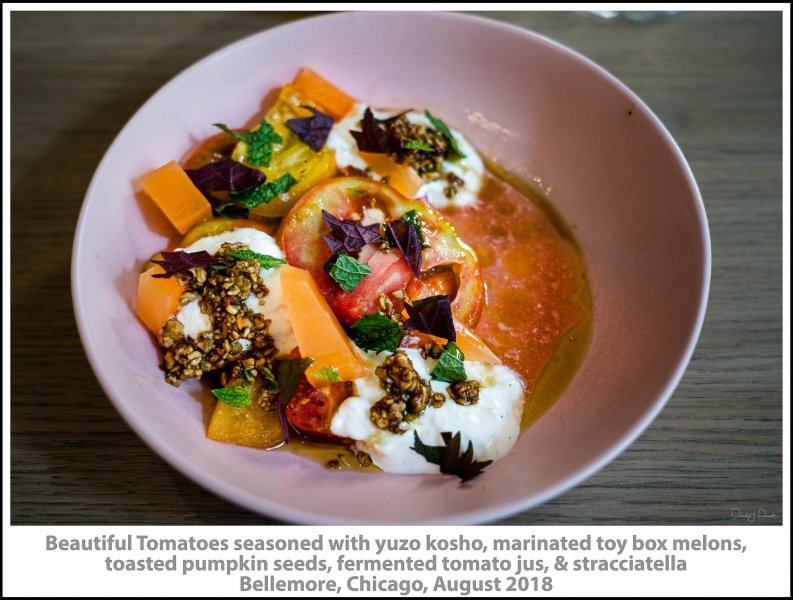 If there is ever a time of year to get beautiful tomatoes in the Chicago area, it's August. In this (shall we call it a salad?) course, ripe, sweet tomatoes were seasoned with yuzu kosho, which is a Japanese fermented paste made with a Japanese citrus fruit called yuzu (the flavor of which is sometimes described as a cross between a Meyer lemon and a grapefruit) chili peppers, and salt. It is spicy and citric and a little bit adds a lot of flavor, as it did here. "Toy box melons" are simply a variety of summer melons with different colors the are cut up and tossed together like a child's toy box. Pumpkin seeds added some nice crunch. "Fermented," as in "fermented tomato jus" means "pickled" or "brined," not converted to an alcoholic beverage. Finally, stracciatella is the creamy filling usually found in Burrata cheese. It is made of shredded Mozzarella and heavy cream. The result of combining all of these ingredients is a symphony of flavors, textures and colors. A great summer dish.
We were again faced with some tough choices for the next 2 dishes to share. We first settled on the sweetbreads.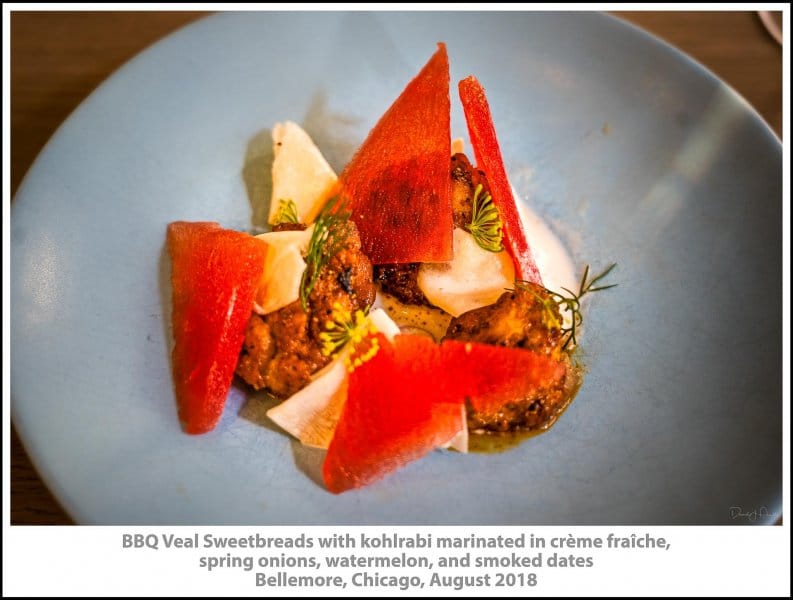 The sweetbreads were perfect with a bit of a crunch on the outside and meltingly tender on the inside. The white chunks you see in the dish are kohlrabi, a vegetable related to cabbage, cauliflower, and Brussels sprouts. It has a very mild flavor and sometimes a bit of sweetness. Here it mostly provided a cool crunch to the dish, while the watermelon (which I think may have been compressed a bit) added some cool sweetness. The dates added some smokiness and a bit more sweetness.
Your reaction to the next dish will depend entirely on how you feel about foie gras (fattened duck liver). If you love it, this is a dish for you. If you hate it, just move on to the next dish; there's nothing to see here.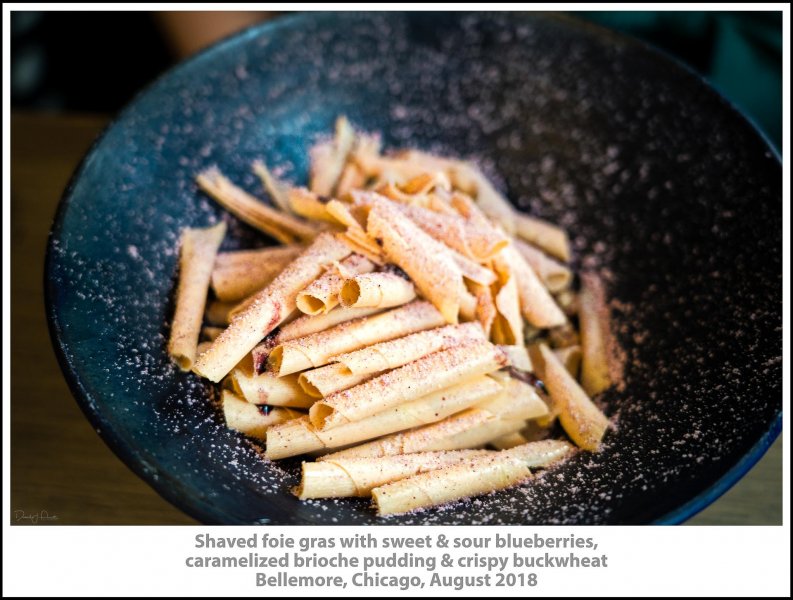 I've never had foie gras served this way before (on second thought, maybe a couple curls as a garnish). It must of been frozen, or at least very well chilled, then shaved into curls. Foie gras loves sweet fruits and the blueberries played very well here. The brioche pudding (buried under the foie gras, above) added more sweetness and a different texture, while the crispy buckwheat added a much needed crunch.
We had chosen wisely for our first four dishes/two courses. Now for the main event. Our first choice combined a lot of flavors that sounded like they should harmonize beautifully: St. Canut Farms Porcelet kissed over hardwood charcoals and glazed with maple syrup, fried sunchokes, sunflower seeds and marinated cherries.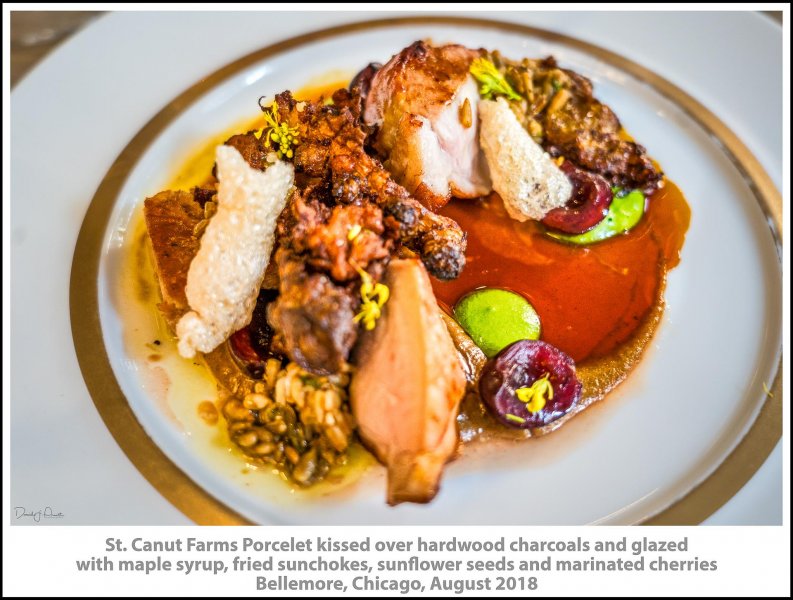 How can you resist a pig that has been kissed? Porcelet is a young, milk-fed pig that is slightly bigger than a suckling pig, but not yet weaned. I have not seen it often in the United States until recently, when it has shown up on several menus. I suspect this may be related to the Farm-to-Table emphasis many restaurants are adopting. The piglets (cochon de lait in France) are usually raised in relatively small numbers on dairy farms where they can covert excess milk to another salable (or edible) product. The meat is particularly tender and delicately flavored, although, like all pork, it can easily be overcooked and dried out.
That was not the case here, though. The meat, from St. Canut Farms in Quebec, was tender and juicy and the maple syrup glaze was perfect. Sunflower seeds added some crunch and the marinated cherries added some sweetness and tartness. The fried pork skin on top was a nice touch.
Sunchokes, also called Jerusalem artichokes or earth apples, are not from Israel and they are not related to artichokes. They are related to sunflowers and they are a tuber (enlarged, underground stem—like a potato). They are edible raw (crunchy, slightly sweet, a bit nutty), but are generally peeled and roasted or steamed. They mash very nicely and have a mild flavor that might remind you of artichoke hearts and potatoes. They are a cold-weather plant and make excellent soups in winter.
The final dish in our exploration of the menu was duck breast.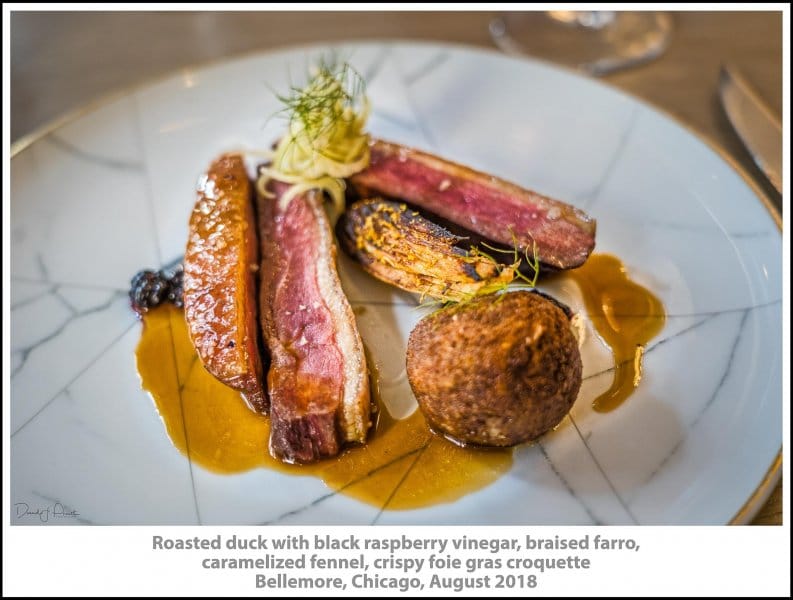 Crispy skinned and a perfect medium-rare, enhanced with a little black raspberry and vinegar sauce, anyone who likes duck would likely love this dish. We really enjoyed it, but should have asked for it to be cooked medium, which is our preferred doneness. We usually remember to ask when we order duck, but we didn't this time. (On the other hand, they always ask how you want your steak. Why do they assume everyone wants duck medium-rare?)
The duck has a couple of winning accompaniments. Fennel (aka, Italian celery) is delicious raw or cooked or, as served here, caramelized. The foie gras croquette was just wonderful. Crunchy and a full of foie gras, the are addicting (again, for foie gras lovers only!).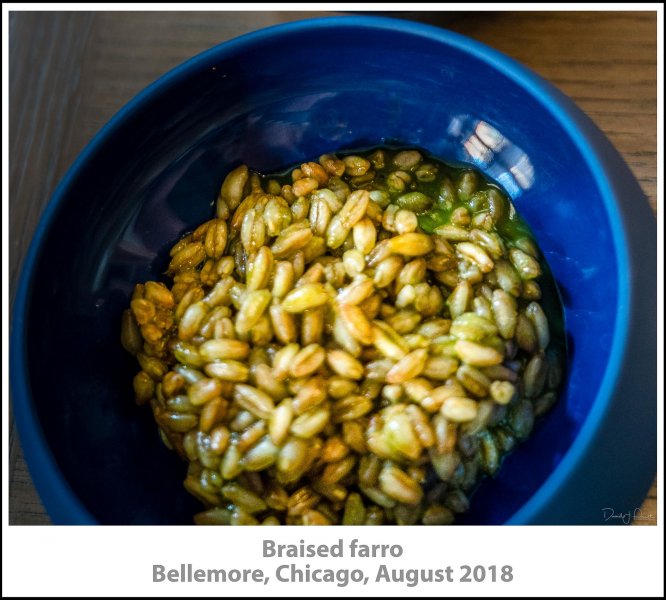 The braised farro served on the side was tasty enough, but it is hard to make the ancient grain special. It can be purchased several forms, but this was whole-gran farro that looks and tastes a bit like barley
Of course the mandatory dessert menu appeared.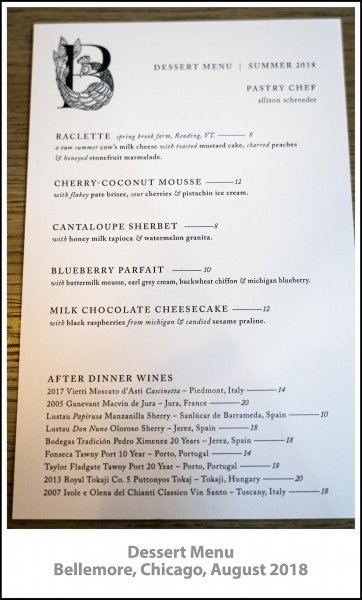 Of course we professed that we did we did not need or want dessert. Of course we ordered the Cherry-Coconut Mousse.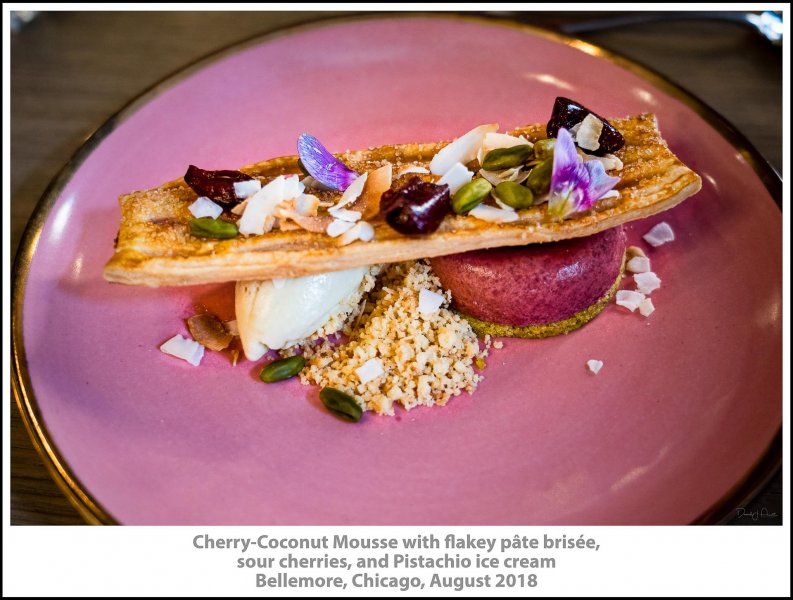 This was a relatively light, refreshing dessert in which each component contributed the flavor and texture you would expect.Kind of a deconstructed pie or tart with the pastry on top instead of the bottom, it was delicious.
Finally, a couple of non-at-all-needed but very tasty fruit jellies appeared on the table.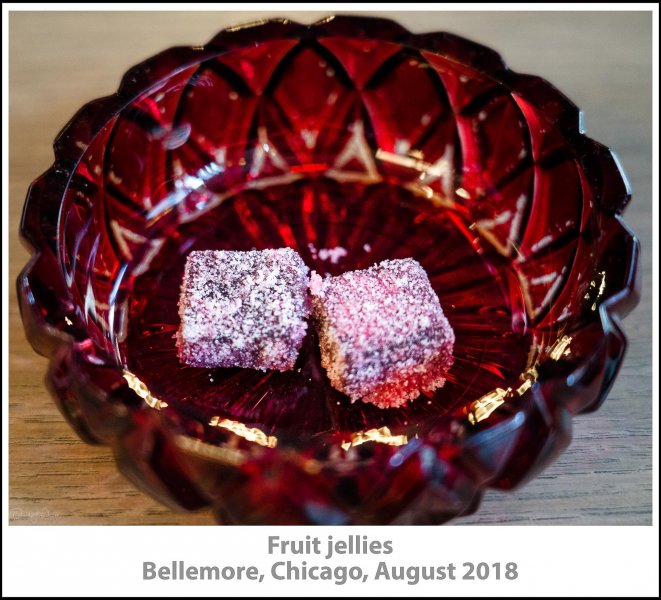 This meal immediately elevated Bellemore to our short list of favorite restaurants in Chicago. Each course was beautiful and delicious. The service was friendly and the staff knew the menu very well. If the dishes you've seen here are the kind of thing that appeal to you, make your reservation soon.
Bellemore
Address: 564 W Randolph St Chicago, IL 60661
Phone: (312) 667-0104
Reservations: opentable.com
Website: https://www.bellemorechicago.com
Dress Code: Smart Casual
Price Range: $50+
Hours: Lunch: Monday – Friday: 11:00 am – 2:00 pm
Dinner: Monday – Thursday: 5:00 pm – 10:00 pm
Friday & Saturday: 4:30 pm – 11:00 pm
Sunday: 4:30 pm – 10:30 pm
Credit Cards: AMEX, Discover, MasterCard, Visa
The author is a member of the Amazon Affiliate program but otherwise has no affiliation with any of the businesses or products described in this article.
All images were taken with a Sony a7 III camera with a Sony FE 24-105mm F4 G OSS Standard Zoom Lens (SEL24105G) using ambient light. Post-processing in Adobe Lightroom® and Adobe Photoshop® with Nik Collection by DxO and Skylum® Luminar® plugins.
. .