I spent a few days just before Thanksgiving on a family visit to New York City. Not everyone in my family is a foodie, so 3-hour meals at 3-Michelin Star restaurants were not an option. Nevertheless, I made sure we would eat well.
Had I been alone or with only Valeria, one meal would have probably been at Daniel, Chef Daniel Boulud's flagship, 2-star restaurant. (I have eaten there once and it is extraordinary.) It has been a mainstay of the NY dining scene since 1993—about a thousand restaurant years. Fortunately, Chef Boulud has several properties in the city, including Bar Boulud, a far more casual place with a menu that offers more identifiable items for non-foodies, as well as some more adventurous choices.
The restaurant occupies a long, narrow space with an almost Scandinavian decor: wooden-backed booths, wooden chairs and tables, and a matching, well-stocked, wooden bar. Businessmen in suits were interspersed with casual diners. The overall effect was casual and almost cozy.
Chef Boulud is a classically trained French chef. He moved to New York in 1982 and has, over time, created a culinary empire with multiple restaurants in New York as well as outposts in Boston, London, Miami, Montreal, Palm Beach, Singapore, Toronto, and Washington D.C.
The menu is not huge, but offers a fairly wide range of hot and cold appetizers and a reasonably priced (especially for NYC) prix fixe menu.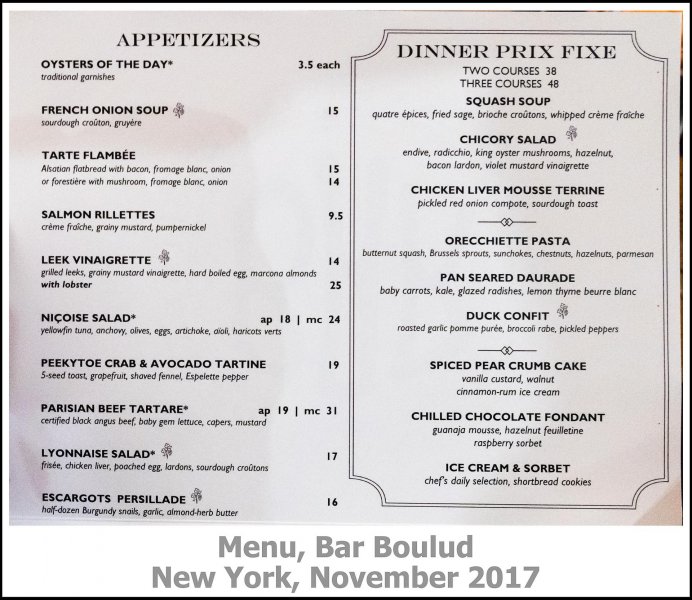 Similarly, the Main Course choices offer a nice range of seafood, poultry and beef offerings.
There is also a cheese menu, which can be ordered as an accompaniment to drinks, an appetizer, or after dinner, however you choose.
Gougères are a cheese-filled puff pastry, usually served bite-sized as a appetizer, passed at cocktail parties, or offered as an amuse bouche (a small complimentary bite from the chef).I have written about them on a few occasions, including reports on Brindille and Steadfast. Usually they are small, maybe the size of a golf ball. They are somewhat larger at Steadfast in Chicago, and positively huge at Bar Boulud, where they are served as an amuse.
These were delicious, warm and cheesy (Gruyère is the traditional cheese). It's not hard to imagine coming here, ordering a bottle of wine, some of these and a cheese board and having a great time with friends.
Chef Boulud published his recipe for gougères in Food and Wine, so, if you aren't going to the Big Apple anytime soon, you can make some at home. It's not hard, as this video for more traditionally sized gougères shows.
The wine list at Bar Boulud is not huge, but very well chosen, especially if you are a fan of French Burgundies and Rhone wines. A Rhone that caught my eye almost immediately was the 2010 Domaine du Coulet "Billes Noires" Cornas.
Regular readers know that Valeria and I love the wines from the Rhone Valley, and this 100% Syrah from Cornas was delicious. A big wine with the aromas and flavors of blackberries and black cherries as well as the characteristic peppery notes from the Syrah grapes. Very drinkable, but built to age another 10-20 years.
On to the menu. This was a family dinner so we ordered several appetizers and shared them family style. First, a classic Niçoise Salad:
The development of this salad began in the city of Nice, France in the late 19th century. Most of us have a pretty casual attitude about what goes into a salad, but what ingredients can be used in a "real" Niçoise Salad has caused considerable controversy among the culinary elite, at least some of them. The original version was simply tomatoes, anchovies and olive oil. Over time, it became known as a summer salad and a variety of fresh vegetables were added. Recipes for the dressing began to include vinegar, mustard and herbs. Tuna, fresh or canned was sometimes substituted for (or added with) anchovies. Hard-boiled eggs became a common part of the recipe. Boiled potatoes, green beans and artichokes invaded the salad bowl, though some chefs argued passionately that only fresh vegetables could be used in a true Niçoise Salad. In recent times, celebrity chefs have made all sorts of substitutions for the proteins and the vegetables. It is usually assembled carefully as a composed salad, but no less a French chef than Jacques Pepin makes a tossed version.
What are we humble foodies to make of all this? Well, I learned to make Niçoise Salad, like I learned so many things, from Julia Child. Here is a quick video recreating Julia's version.
Many of the ingredients that Julia uses—potatoes, green beans, capers—would be rejected by traditionalists but have been embraced by others. The best line in the video is "Julia Child don't care. She just cooks what she wants!" We should do the same.
Though it is a 30-minute video that few of you may take the time to watch, here is Julia Child in the Original French Chef TV show making Niçoise Salad, visiting Nice, and explaining in detail her reasons for each step.
As you can see from the image of the Bar Boulud Niçoise Salad, Chef Boulud treats the dish as a composed salad but incorporates elements that some traditionalists would reject: seared fresh tuna, mushrooms, and aioli. Like Julia Child, I am pretty sure that a chef of Boulud's stature "don't care."
The next dish is probably more trendy than traditional: Peekytoe Crab & Avocado Tartine with 5-seed toast, grapefruit, shaved fennel, and Espelette pepper.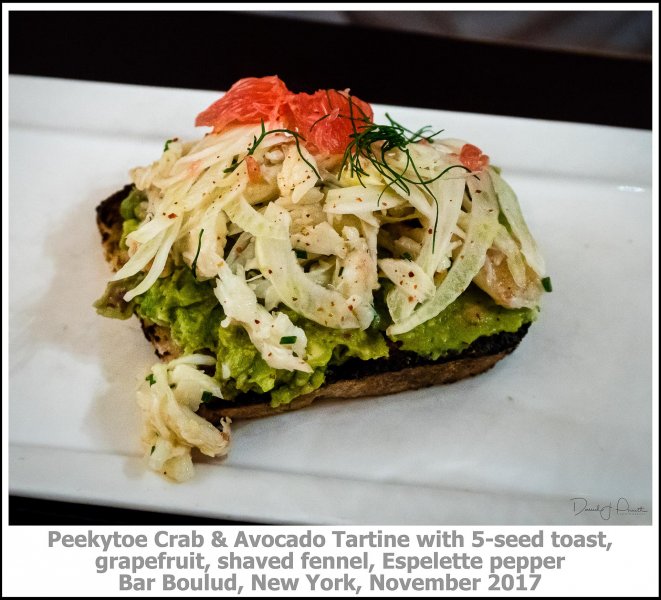 I describe this as "trendy" because avocado toast is all the rage these days. This, however, is avocado toast at a whole different level. Start with a hearty 5-seed slice of bread, toasted. Apply a generous schmear of mashed avocado. Add a layer Peekytoe Crab, then some finely shaved fennel, dust it with a few grinds of Espelette pepper, and top it with some red grapefruit supremes and a few fennel fronds. That's six or seven layers of different flavors and textures to dance around in your mouth as you chew.
Let's take a look at some of the perhaps less-well-known ingredients in this dish.
First, what is Peekytoe Crab? Well, before 1997, it was called an Atlantic Rock Crab and was (and is) common all through the western part of the North Atlantic from Iceland to South Carolina. It's a small [5″ (12.7 cm) across], reddish crab that lobster fishermen caught in their traps and generally just threw back.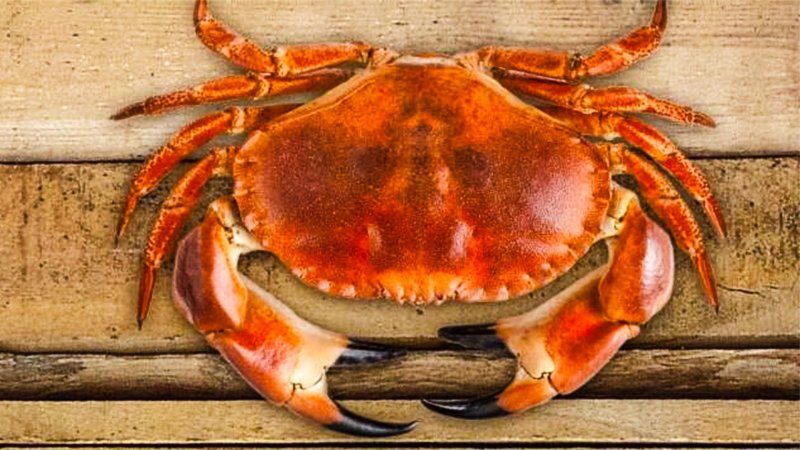 This crab is too perishable to ship live, so if it is to be used, it must be cooked and the meat picked out by hand. While this was done on a small scale, mostly by lobsterman's wives, the Rock Crab seemed to be a poor candidate for commercial use.
Then, in 1997, a man named Rod Mitchell, the owner of the Browne Trading Company, a seafood wholesaler in Portland, Maine, came up with the idea of selling the Rock Crab meat under the name "Peekytoe." The toes of the crab are curved or "picked" on Maine slang. "Picked toe" became "Peekytoe" and was marketed to restaurants like The French Laundry in California and Daniel (as in Daniel Boulud) in New York. It is now considered a premium product and is used in fine restaurants all over the USA.
Almost any good supermarket, and certainly every bakery and health food store, nowadays carry one or more breads made with sprouted grains and various seeds. I don't know exactly what loaf was used here, but the one I have seen mentioned most often is a brand called Ezekiel 4:9 Bread.
The name comes from the Bible verse, Ezekiel 4:9, which reads, "Take wheat and barley, beans and lentils, millet and spelt; put them in a storage jar and use them to make bread for yourself." To make Ezekiel bread, the Biblical combination of wheat, barley, soybeans, lentils, millet (a small grass seed most often seen in birdseed), and spelt (an ancient grain) are all sprouted (like bean sprouts at a salad bar), then dehydrated and ground into flour. Sprouting is said to release more of the nutrients in the grains and make them more digestible. It is not gluten free, however, although sprouting breaks down gluten and makes it more digestible.
This is not a health food blog, so I'll let you read about Ezekiel bread here and sprouted grains here if you want to learn more. I have bought Ezekiel bread (usually in the freezer section at the supermarket—it freezes very well) and it's good if you like hearty, whole-grain breads.
Fennel, sometimes called Italian Celery, is a bulbous plant that tastes mildly of licorice.
It can be eaten raw or cooked. In this dish, the raw vegetable was sliced very thin and some of the dark green fronds (they look a bit like dill) from the top were used as garnish.
Finally, Espelette pepper is a chili pepper that is a characteristic ingredient in the Basque country of Spain and widely used elsewhere in southern Europe. It is dried and ground and used much like black pepper.
It is readily available in the USA as well.
Next dish: Squash Soup with quatre épices, fried sage, brioche croutons, and whipped crème fraîche.
There are few things more satisfying than a good bowl of squash soup flavored with warm spices on a cool day in autumn. Quatre épices (four spices) is sort of a French version of allspice. It is traditionally made with cloves, dried ginger, nutmeg, and pepper. Proportions vary with the cook, but it always adds a lot of flavor and a touch of heat to a dish. In this case, it complements the natural sweetness of the winter squash (not sure exactly which one was used). Brioche bread makes lovely croutons. The were nice and crunchy, but also easy to bite through. The flavor of sage also plays very well with squash, and the fried leaves added some texture as well as color. A few pumpkin seeds (or perhaps seeds from the squash in the soup) added more crunch and the creaminess of some crème fraîche (a thicker, slightly less sour, and less fatty type of sour cream) as a final garnish and you had as good a bowl of soup as you could ask for.
Another classic dish completed our quartet of shared appetizers: Chicken Liver Mousse Terrine with pickled red onion compote and sourdough toast.
Chickens are common in most of the world's cultures and the livers are used many ways. Cooked, chopped fine, or ground to a fine paste and well seasoned, there are many, many recipes for chicken liver spreads or mousses. Mousse literally means "foam" in French, and typically indicates a recipe that incorporates air, usually by whipping or by adding whipped egg whites, in order to lighten the mixture. Terrine refers to the dish that is used to form the mixture (think ceramic meat loaf pan).
A typical chicken liver mousse recipe calls for sautéed onions and chicken livers to be whipped in a blender or food processor with butter (a lot of butter), a little cream, warm spices like nutmeg, cloves, and allspice, salt, and pepper. A splash of Cognac is usually added during or after cooking. Processing in the blender or food processor whips in the air that lighters the mixture and makes it a mousse. Bear in mind that there are as many variations as there are cooks. Here's a simple recipe from Food & Wine.
Note that they do not call it a terrine as it is shaped in a round mold, not a rectangular terrine. They call it a pate (pâté in French), but a pâté is technically courser than a mousse and contains more ingredients. However, all of these terms (mousse, pâté, terrine) are used rather loosely and often interchangeably outside of classical French kitchens.
Whatever you call them, they are delicious. They are nobody's idea of health food—high in fat, cholesterol, and calories. Unlike the old days, however, when you would have been working on a farm all day and had to make sure you didn't waste any of the chicken (or anything else), most of us these days only indulge in these dishes on a special occasion or in small amounts as an hors d'oeuvres.
Meat pâtés and mousses are traditionally served with cornichons, a type of small, tart pickle made with vinegar and tarragon. They are readily available in many US supermarkets or by mail order.
Boulud substituted a red onion compote, which worked just as well as a cornichon to give an acid note as well as a touch of sweetness to cut through the richness of the terrine. The portion of mousse was generous, but we had to ask for some more bread.
With the appetizers out of the way, it was time for the main courses. Despite the fact there were four of us, everyone wanted one of the same two entrées: duck and scallops.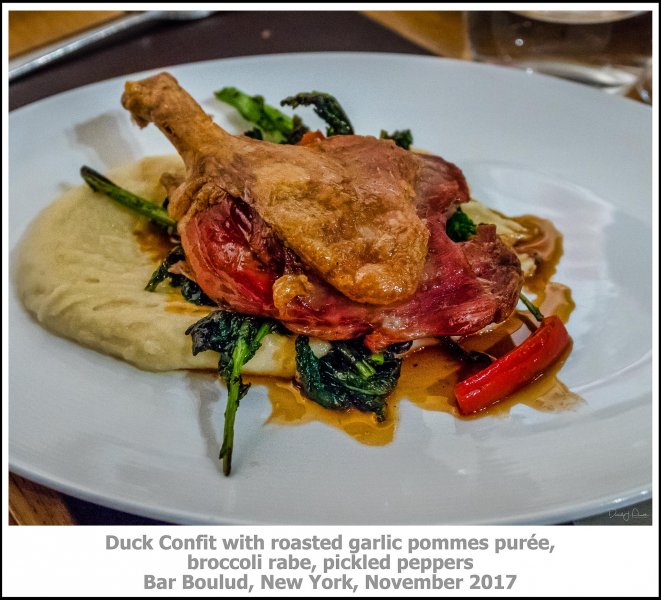 Duck confit is, without a doubt, one of my favorite French bistro comfort foods. Confit is an ancient cooking/preservation method in which the duck leg/thigh section is submerged in a pot full of duck fat flavored with herbs and spices at a relatively low temperature for a long time—sort of a colonial slow cooker. The pot full of legs and fat is then allowed to cool and the meat is preserved in an air-tight layer of solid fat. To serve, the leg is fished out, as much of the fat as possible is scraped back into the pot (the fat can be used over the next year) and seared to heat through and crisp up the skin. Properly done, the result is meltingly tender, beautifully seasoned meat and a shatteringly crisp skin. While it sounds like it should be very greasy, it is not (again, if properly done).
I do confit of duck using sous vide. I am not sure this is technically "confit" which is defined as a long, slow cook for preservation (I eat them as soon as they are done). That detail aside, I simply score the skin of the duck leg, give it a good rub with salt, pepper, and granulated garlic (sometimes I throw fresh garlic in the bag), a couple sprigs of rosemary and thyme, and some orange zest. I vacuum seal the bag and let it cook for a long time at 165℉ (74℃). I usually start it after dinner one night and serve it the next night. Once cooked, I'll remove it from the bag, dry it off, and crisp the skin in a very hot pan, on a very hot grill, or in a 500℉ (260℃) oven. Here's a video showing the basic technique and a similar recipe.
I cook the breasts separately at around 140℉ (60℃) for 2-3 hours and sear the skin in a hot pan for a nice medium doneness. However, I suspect they would be good cooked with the legs as in this video.
Not surprisingly, the confit at Bar Boulud was perfect. Served on a bed of creamy, garlicky pommes purée (mashed potatoes) with some slightly bitter broccoli rabe and a vinegar hit from the pickled peppers, it was as good as any I have had in France.
The other dish that two of us ordered was Diver Scallops with autumn squash, wild mushrooms, baby spinach, and barberry chicken jus.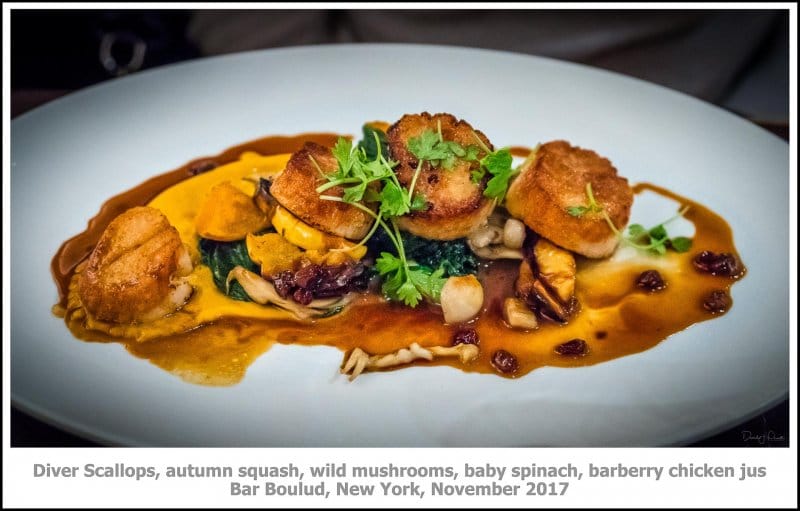 Perhaps not a lot needs to be explained here. The scallops were perfectly seared: crispy outside, creamy inside. The squash was served as a creamy purée. The mushrooms and spinach adding more texture, color and flavor.
Barberry is a less common ingredient and is the fruit of a shrub. The red berries on the small, green-leaved branches look a bit like Christmas holly. The raw berries have a very sharp flavor but are high in vitamin C. They have been a staple in European and Middle Eastern cuisine for centuries, but are much less commonly used in Europe these days. They added another layer of flavor and texture after cooking in the rich chicken jus.
None of us needed dessert, but so many of them looked so good. Besides, if you share them all and only eat a bite or two of each, there are no calories, right?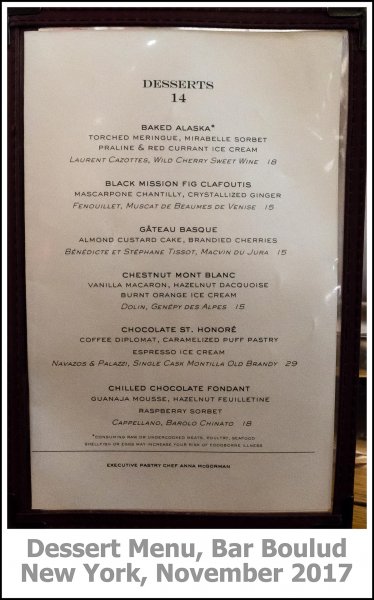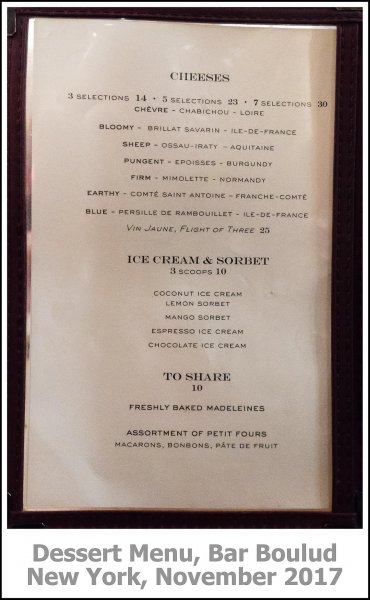 We had enough discipline to limit ourselves to three. The first: Black Mission Fig Clafoutis with Marscapone Chantilly and Crystallized Ginger.
A clafoutis is a dessert originally from the Limousin region in central France. It is actually very simple to make. Put some fruit (usually fresh) in a baking dish (cherries are common in Limousin), cover the fruit with a simple custard mixture, and bake. Here's a typical recipe.
The fruit is pretty much up to you—most any berry, figs, peaches, plums, whatever. Serve it warm and garnish with whipped cream and maybe some powdered sugar and it will probably taste just as good as the one we had at Bar Boulud.
Second dessert: Gâteau Basque (almond custard cake with brandied cherries).
As the name implies, this one originates from the Basque country in Spain. It is basically a layer of custard between a couple of shortbread layers. It is rather more difficult to make than a clafoutis, but if you like to bake it will probably not be a problem. Here is a typical recipe.
The Bar Boulud version was flavored with some almond extract and there may have been some almond flour in the crust. It is a rich, but not too sweet, cake. The brandies cherries offered a nice, tart, contrast.
Final dessert: Chilled Chocolate Fondant with , Hazelnut Feuilletine and Raspberry Sorbet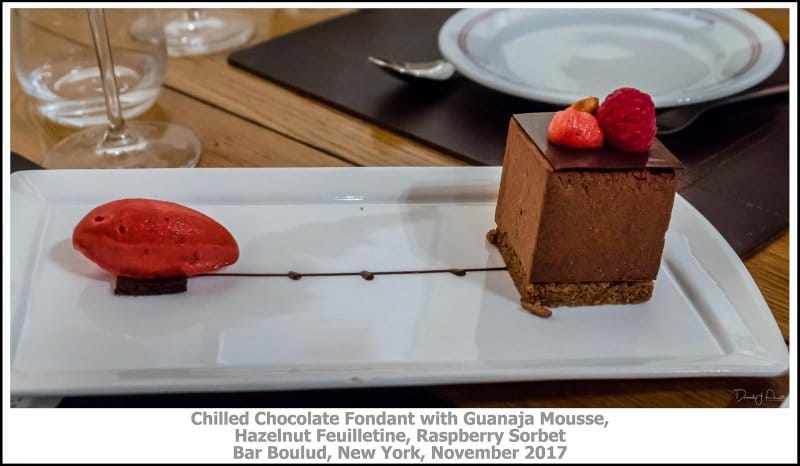 I mean, it's not really dessert unless there is some chocolate involved, is it?
Chocolate Fondant is just that thick icing that you see on top of the chocolate tower. Guanaja is a dark chocolate developed in 1986 by the Valrhona chocolate company. It was the first 70% cacao made commercially available. Here it was used to make a chocolate mousse—very different in flavor from the chicken liver mousse we started with, but called mousse for the same reasons. The crumbly cookie on the bottom is the hazelnut feuilletine. I'll let you figure out where the raspberry sorbet is. 😀
Bar Boulud may be much less fancy than Daniel, but the food is no less delicious. Moreover, it is far more approachable for people who don't want to deal with formal setting and three-hour meals. We enjoyed everything about the meal and service here.
Bar Boulud
Address: 1900 Broadway New York, NY 10023
Phone: (212) 595-0303
Reservations: opentable.com
Website: https://www.barboulud.com/nyc/
Dress Code: Business Casual
Price Range: <$30
Hours: Lunch: Monday-Friday: 11:30 am – 2:30 pm
Brunch: Saturday and Sunday: 11:00 am – 3:30 pm
Dinner: Monday – Thursday: 5:00 pm -11:00 pm
Friday – Saturday: 5:00 pm – 12:00 am
Sunday: 5:00 pm – 10:00 pm
Credit Cards: AMEX, MasterCard, Visa
The author is a member of the Amazon Affiliate program but otherwise has no affiliation with any of the businesses or products described in this article.
All images were taken with a Sony Alpha a6500 camera and a Sony-Zeiss SEL1670Z Vario-Tessar T E 16-70mm (24-105mm full frame equivalent) F/4 ZA OSS lens or Sony 35mm (52mm full frame equivalent) F/1.8 E-Mount Lens using ambient light. Post-processing in Adobe Lightroom® and Adobe Photoshop® with Nik/Google and Skylum® Luminar® plugins.