One of the most luxurious places to stay in the Napa Valley is Auberge du Soleil in Rutherford. The rooms, the views, the restaurants and the spa are all world class. Alas, the price of admission reflects the level of service and amenities you can expect, with room prices starting at around $800/night and rising to $4000 or more depending on the season and the type of room requested. Substantial discounts can be found at times for those of us who do not routinely book the Presidential Suite when we travel.
Valeria and I booked a room at Auberge for a couple of nights on this trip because we were able to snag a good discount and because one of us (probably me) waited too long to book a place and almost everything else was full. I can't honestly say I am sorry things worked out that way. It is an amazing place to stay.
We took a fairly early flight from Chicago and, even with the 90 minute drive from San Francisco airport to Napa, arrived in time for lunch. While I had not previously stayed at Auberge, I had eaten there many times. The restaurant is outstanding. The food is excellent, the wine list terrific. If you can snag a seat on the rail of the balcony, the view as the sun goes down is spectacular.
This was my first visit at lunchtime, however, and they did not disappoint. While we perused the menu, we enjoyed some lovely marinated olives.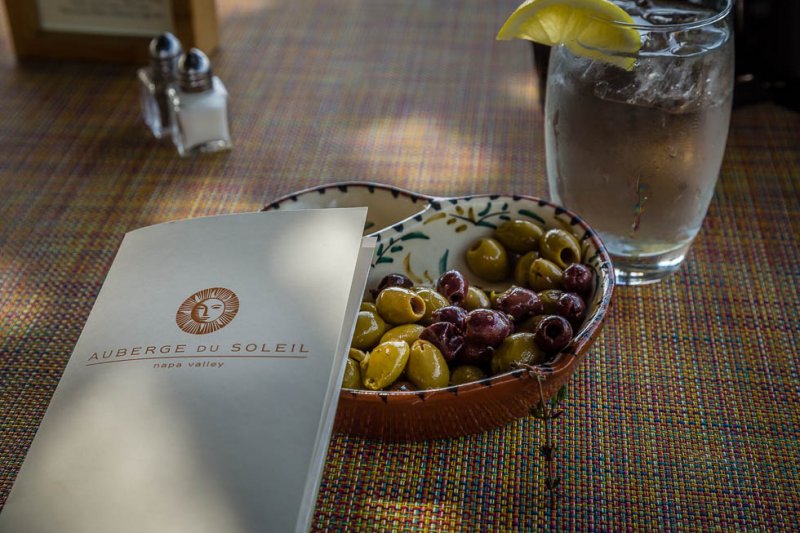 Valeria opted for a relatively light and healthy approach, starting with Tuna Tartare, one of her perennial favorites,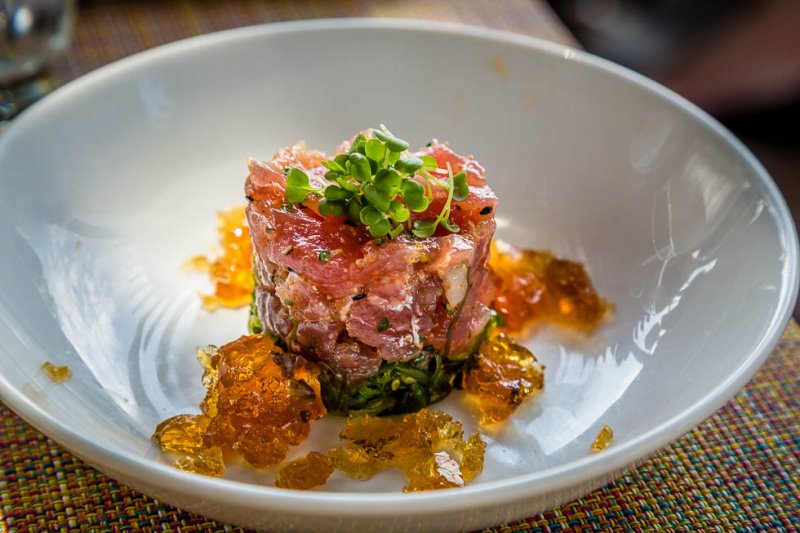 As you can see, the dish was beautiful and it tasted as good as it looked. The Ahi tuna was perfectly fresh. The wakame (seaweed) bed added texture and flavor. The dashi gelée added some nice flavor and saltiness. Dashi is a Japanese broth made with dried kelp and dried tuna flakes. It is used in so many ways in Japanese cuisine that I think of it as Japanese chicken stock. This was a particularly clever combination to me, as the main part of the dish was fresh tuna and fresh seaweed while the dashi garnish was made from dried kelp (seaweed) and dried tuna. Well played! Valeria does like a little spicy kick to her tuna tartare, however, and this one was a bit mild, though entirely delicious.
She followed the tuna with a bowl of Asparagus Soup with Lobster.
The soup was like liquid asparagus with a beautiful flavor of the vegetable, perfectly seasoned. The lobster pieces were added generously, were a nice bite-size and had been cooked perfectly. An elegant bowl.
I, on the other hand, took a much more pedestrian approach. I went with a burger.
Some high-end restaurants go crazy with their hamburgers, grinding Kobe beef and topping it with foie gras and truffles or whatever. I certainly do not object to that at all, but Auberge chose to do a simple burger impeccably well. The juicy patty was a perfect medium-well with a generous topping of melted blue cheese. The whole-grain bun was toasted and sized exactly for the patty (or, I suppose, vice-versa). The bread was firm enough to stand up to meat, juices and condiments, but soft enough to eat easily. A classic slice of tomato and some lettuce completed the construction. Ketchup, mustard and mayo were all served on the side to be added as desired. 
The fries—pardon me, "pommes frites"—were also perfect. Piping hot, nice crunch of the outside and soft of the inside. Just enough salt and a little parsley for color. Burger and fries done right. Now, before you try to take away my gourmet-foodie-snob card, wait and see what dinner in the main restaurant was like! You can read all about that here.
Anyone who knows me by now must be asking "What about the wine? What did you drink?" Thanks for asking. We welcomed ourselves to the Wine Country with a glass of 2004 Roederer Estate "L'Ermitage" Brut-Rosé Anderson Valley, a delicious sparkling wine. Valeria followed that with a glass of 2010 Trimbach Gewürztraminer from Alsace, France, a white wine we both love. I opted for a Guigal Châteauneuf-du-Pape from the Rhone Valley in France. It might seem odd that we chose French wines while sitting in the Napa Valley, but the Auberge wine list is dominated by wonderful California and French wines (though there are excellent selections from most everywhere in the wine world) and we knew we would be drinking plenty of California wines over the next few days. 
Having spent a couple of hours sipping wine, flirting, relaxing, eating and basking in the warm Napa Valley weather, it was time to find our room. Auberge du Soleil is built on a hillside, so getting from the main building to the rooms can be a challenge. The friendly staff runs around on golf carts and they are happy to transport you and your luggage as needed. If you have a car (which we did and which most people will here) you can drive down to your room and park out front. The grounds are beautifully landscaped and it is very pleasant to follow the paths to the  main building when you are not burdened with luggage.
The buildings are named for wines, which is no surprise in the Wine Country, but most of them invoke French regions, which is less expected. We were in the Bordeaux building, which housed the Hillside Suite we had booked. Apparently we were expected, as our names were already on the mailbox.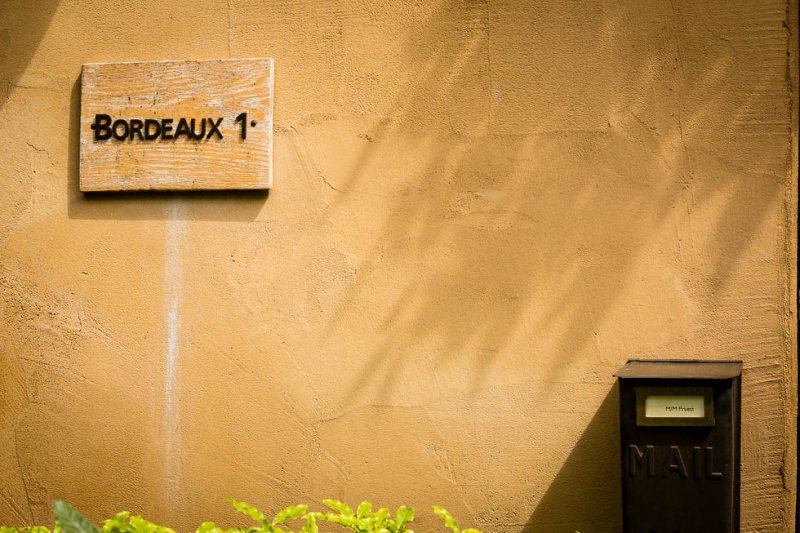 It would not be the Wine Country if there were not a bottle of wine and some fruit waiting for you in your room, and this was no exception.
A room at Auberge comes with far more than that, however. Lots of hotel rooms have minibars stocked with overpriced snacks and drinks. The Auberge "minibar" looked like this – and everything in it was included in the price of the room.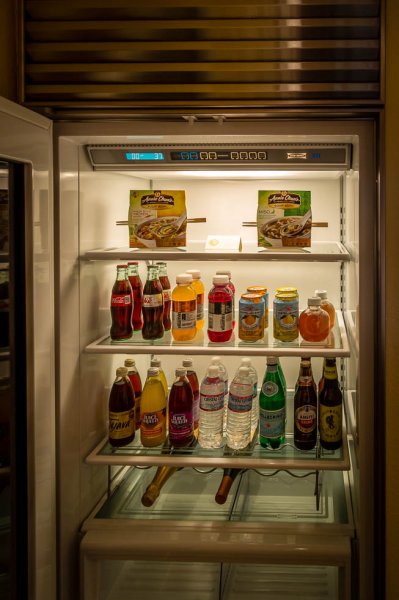 The kitchenette area included a microwave and, most wonderful of all, a Nespresso® espresso maker. We use Nespresso® machines at home and usually miss them terribly when we travel. We have a small version that we throw in the car for road trips, but is too big for plane travel. We have been known to select a hotel because the room had Nespresso® machine. A little crazy, perhaps, but we need good coffee in the morning.
Oh, perhaps you are wondering what the room looked like. I keep forgetting not everyone checks out the food, wine and coffee options first. Here's the living room.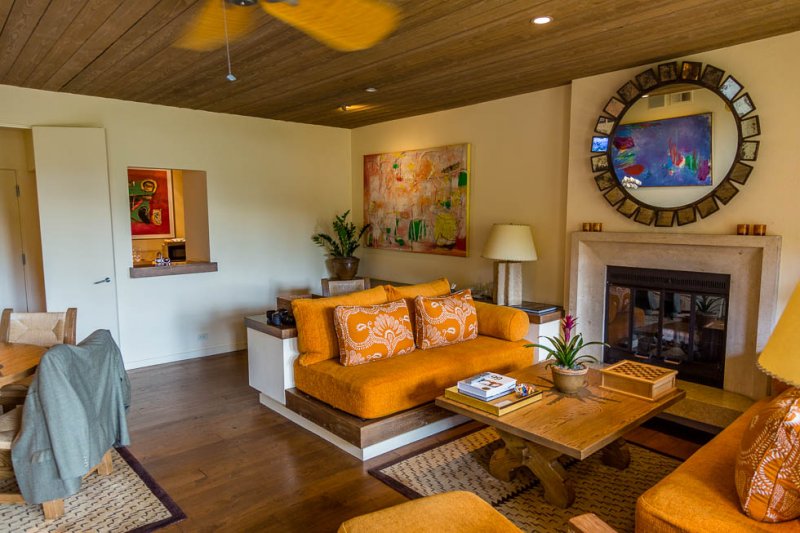 The Hillside Suite is advertised as 1250 ft² (116 m²) and it seems bigger. The living area is spacious and beautiful decorated. The fireplace is real and was a nice addition in the evening.
The bathroom was also large with a double sink, tub big enough for two and even a television above the tub.
And the bedroom? Lots of space and a huge California King bed.
Of course, you don't want to be inside when the weather is so good, so just step through the French doors and out onto your private terrance.
Enjoy the flowers and the bees busily pollenating.
Overhead, a lichen-covered trellis.
After unpacking and relaxing  for a while, we went into St. Helena for dinner at Archetype. You'll find a full report on that experience here.
The next morning was off to breakfast in the Auberge restaurant.
Breakfast always starts with some delicious fresh-baked bread. Today, it was banana-mango bread.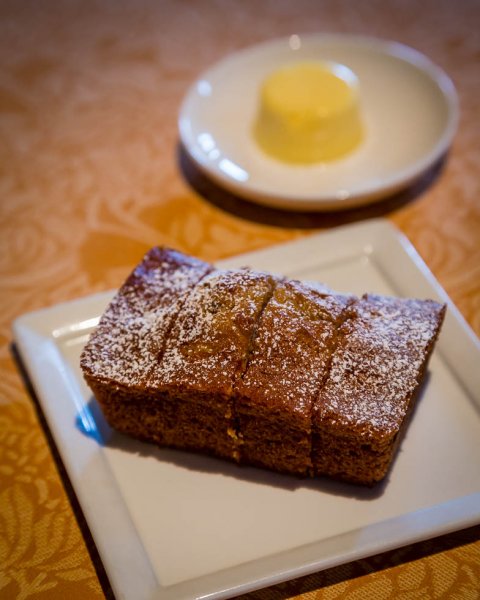 There are plenty of a la carte choice to suite most any taste, from light and healthy to decadent and rich. I tend to be on the decadent and rich side, so it was Breakfast à l' Américaine (Two Farm Fresh Eggs, Crisp Sautéed Potatoes, Bagel, Applewood Smoked Bacon) for me.
Valeria, perhaps wiser, went for something lighter, Breakfast à la Japonaise (Steamed Rice, Miso Soup, Farm Egg, Roasted Salmon, Pickled Cucumber)
As usual, we sampled around each other's plates. Every component was very well done.
After breakfast, we walked around the grounds a bit to enjoy the gardens and the art collection.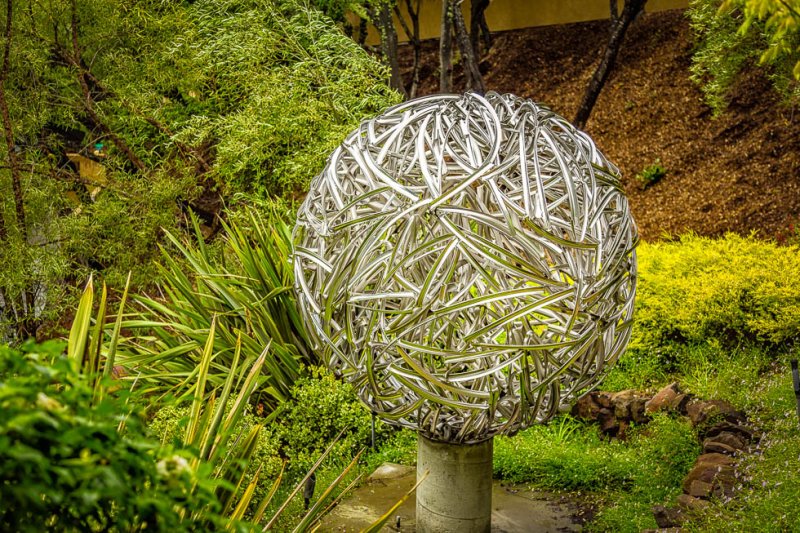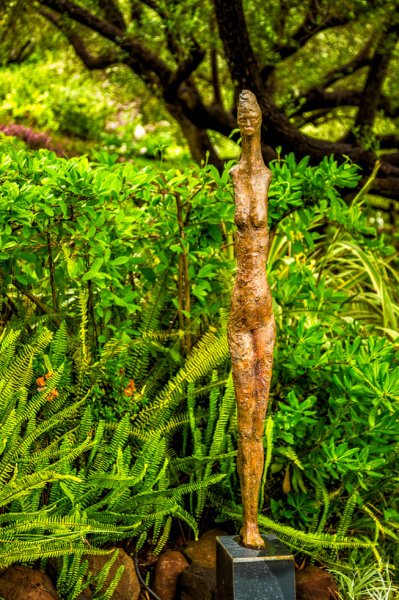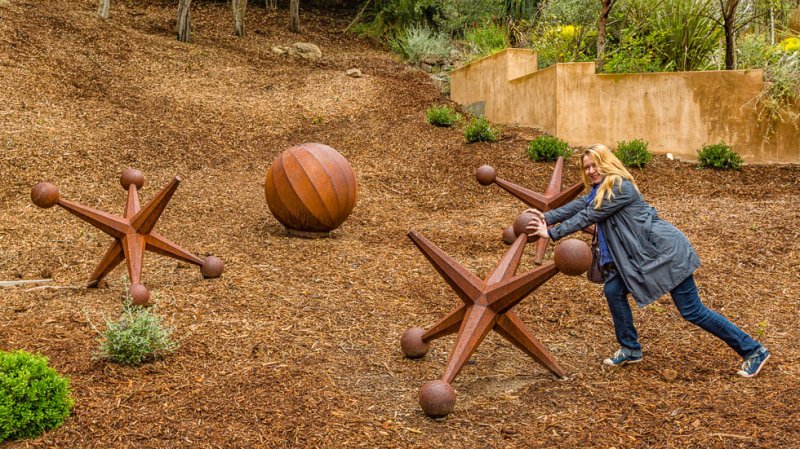 We spent the rest of the day touring wineries (quite a surprise while in the Napa Valley, right?). We returned to the hotel in the late afternoon and needed a bit of a snack to get us to dinner later that evening. Valeria ordered another round of her beloved Tuna Tartare, while I decided to try the Hong Kong Wings with Soy Lime Vinaigrette.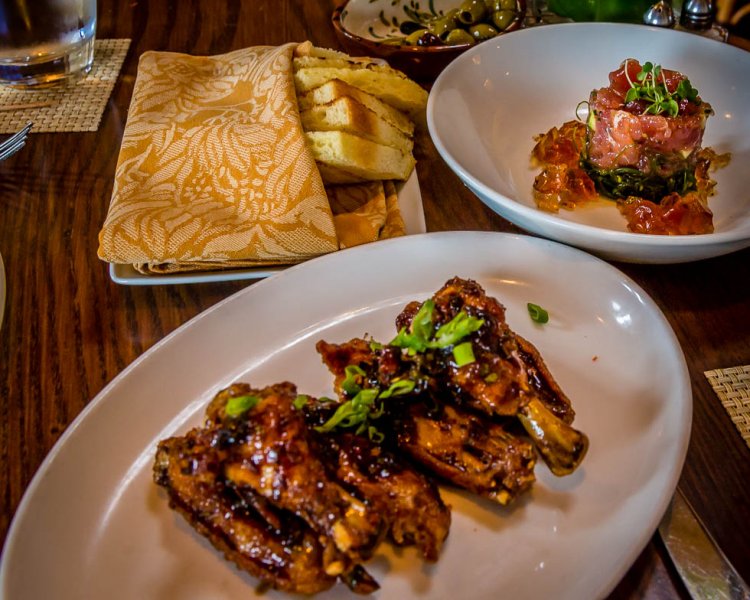 Yummy, and just the right size to calm our hungry stomachs without filling us up before the sumptuous dinner to come.
That dinner deserved a blog entry all of it's own, so you can read about that here.
The next morning it was back to the restaurant for another wonderful breakfast. I chose the Mexican-inspired Esperanza Breakfast (Huevos Rancheros, Scrambled Eggs, Chorizo, Black Beans).
Valeria chose classic Eggs Benedict, which I, of course, also sampled to make sure they were up to our quality standards.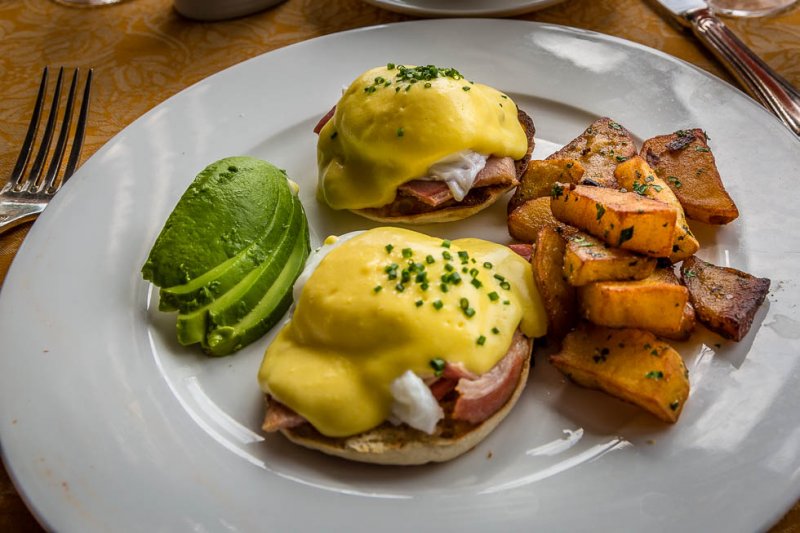 As we headed back to our room we admired one more piece of art…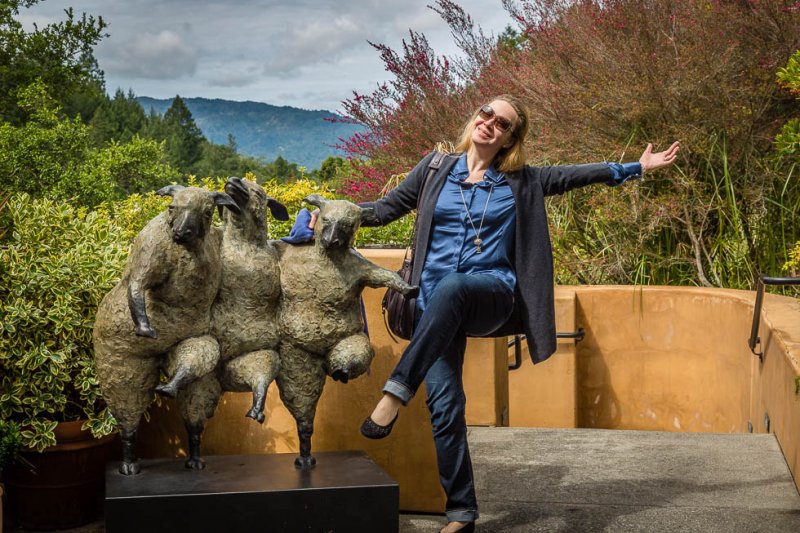 …and the flowers.
After breakfast it was time for us to pack up and head on to Healdsburg, where we visited a Redwood Forest and enjoyed wonderful meals at Partake and Barndiva. It's tough to beat Northern California for it's natural beauty. Add the wine and the food and it is a little bit of heaven on earth.
As I said at the beginning, Auberge du Soleil is a luxury hotel that you will pay luxury prices to enjoy, but the accommodations, food and service are out-of-the-world. If you can indulge in a stay there, you won't soon forget it.
The gallery contains some images not shown in the blog entry.
Website: https://aubergedusoleil.aubergeresorts.com
Phone:    1-800-348-5406
 The author is a member of the Amazon Affiliate program, but otherwise has no affiliation with any of the locations and products described in this article.
All images were taken with a Canon 5D Mark III camera and a Canon EF 24-105mm f/4 L IS USM Lens or a Tamron AF 28-300mm f/3.5-6.3 XR Di LD VC Aspherical (IF) Macro Zoom Lens (now discontinued; replaced by Tamron AFA010C700 28-300mm F/3.5-6.3 Di VC PZD Zoom Lens) using ambient light. Post-processing in Adobe Lightroom® and Adobe Photoshop® with Nik/Google plugins.