Archetype is a wonderfully relaxing restaurant in downtown St. Helena, CA that offers up creative food at breakfast, lunch and dinner. We had been there a few times in the past when it was French Blue, but it was revamped in the fall of 2013 and re-christened Archetype. Their stated goal is to be an Archetype for California cuisine and they are actually doing that very well.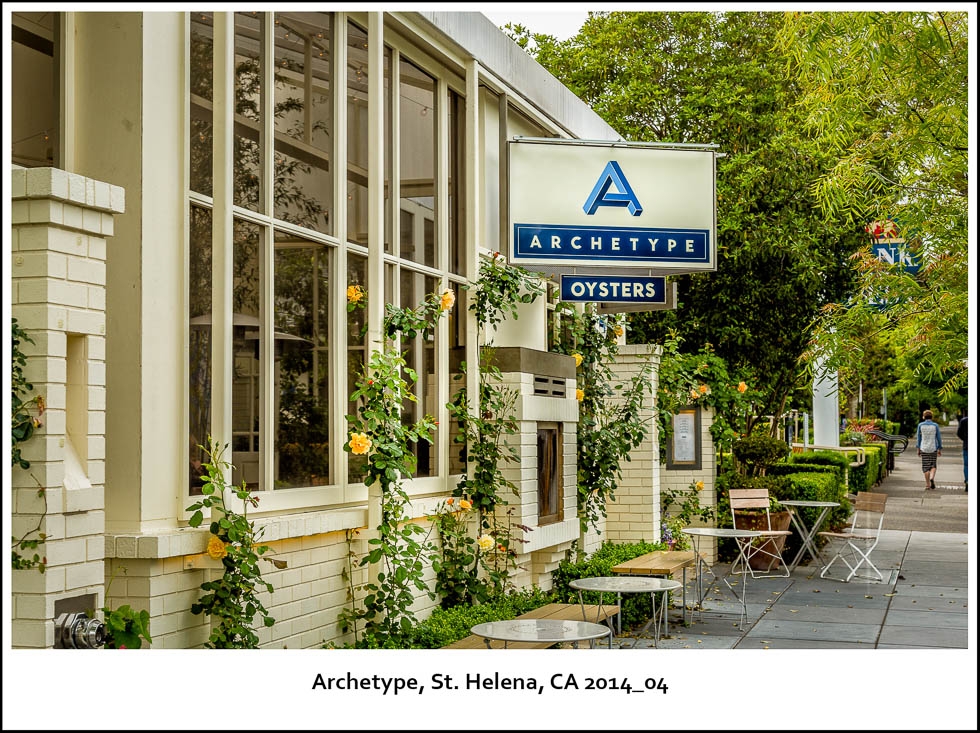 The space itself is beautiful with a semi-enclosed patio area, very comfortable main dining area and bar-type seating that runs along the open kitchen. The ambiance is elegant, but relaxed.
Our dinner that night started with cocktails. We are primarily wine drinkers, but many bars and restaurants have started really excellent cocktail programs in recent years. Gone are the brightly colored, cloyingly sweet, so-called "Martinis" (an unforgivable bastardization of the name of the classic – and classiest – cocktail of all time, the Dry Gin Martini). Now mixologists take great – and justifiable – pride in new creations or updated versions of classic cocktails made with fresh juices, house made bitters and other herb, spice and floral infusions and top-shelf liquor.
Valeria ordered a Rhubarb Blush (wodka vodka, tarragon, rhubarb syrup, lime juice, while I ordered a Vanderbilt Cocktail (Maker's Mark, Carpano Antica, orange bitters, burnt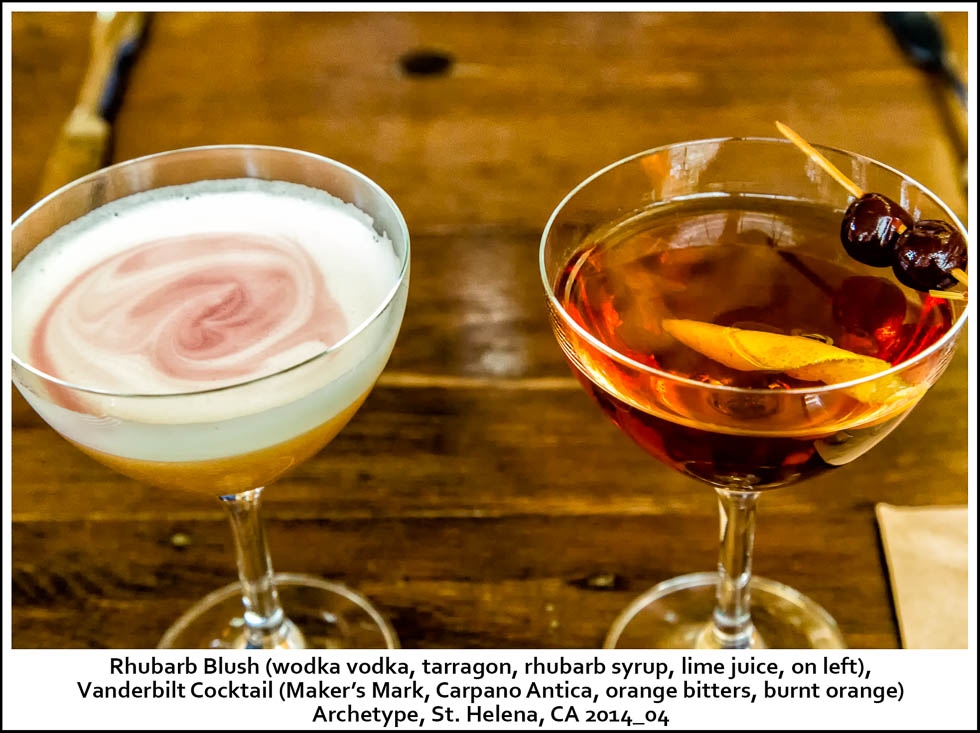 orange). The Rhubarb Blush was a unique combination (at least to us) and very refreshing. The Vanderbilt Cocktail was an excellent update on a classic Manhattan-type cocktail. Both were delicious and neither was too sweet.
We had been traveling all day after getting up at zero-dark-thirty to go to the airport, so we weren't in the mood for several courses and wines. We decided to just order a couple of entrees and call it a night.
Valeria ordered the Liberty Farm Duck Breast with pecan-sorghum butter, black kale, and rhubarb mostarda. While it is "correct" to serve duck bread a nice medium-rare, we truly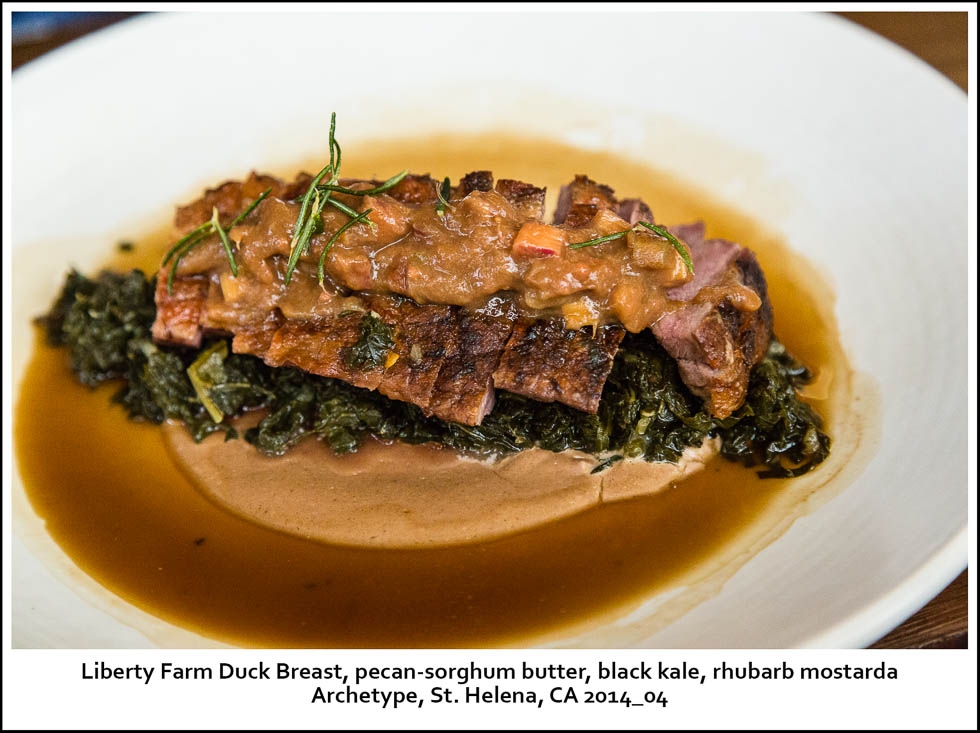 prefer it medium and always ask for it that way. Some places comply and some do not; Archetype did. The meat was a perfect medium and the flavors of the accoutrements were outstanding. 
I went with the boneless baby-back ribs served with Anson Mills grits, gravenstein apple butter and a kohlrabi-dry mustard slaw. Some crunchy fried onion bits were on top. The ribs had great flavor, but were a little dry. The grits were delicious (I am a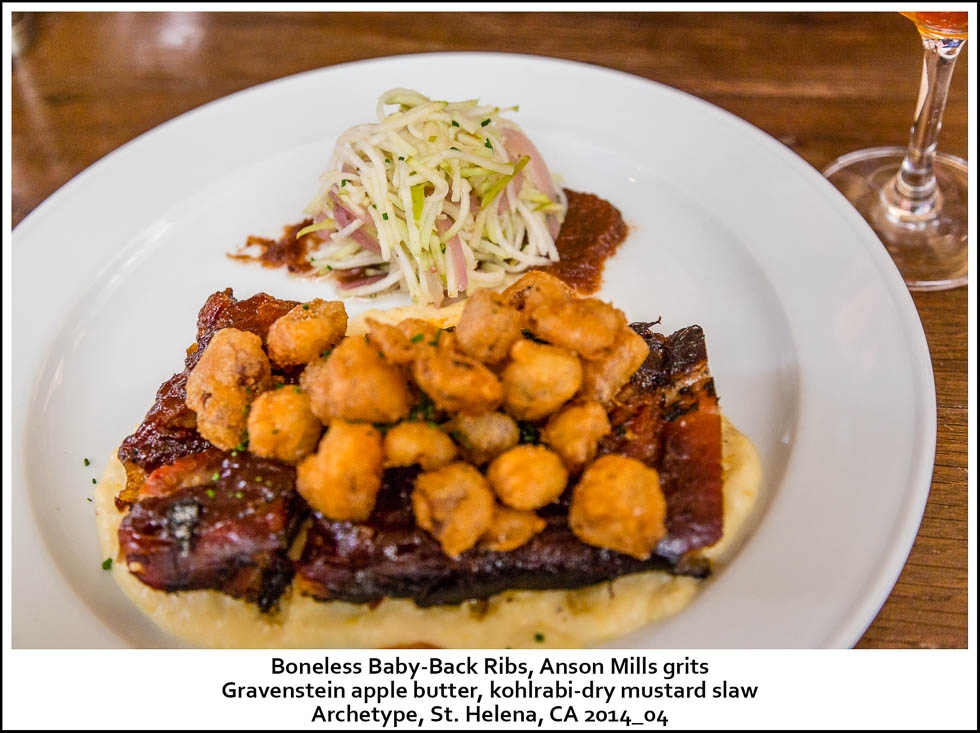 Southern boy at heart) and the kohlrabi slaw sitting on a little apple butter was a crunchy, tasty change from cabbage.
It was a limited test of the new concept, but they passed easily and allayed our fears of the loss of French Blue. The ambiance and service are as good as ever, and the food appears to be, too. We'll definitely stop in again the next time we are in the Napa Valley – perhaps hungrier and ready to really put them through their paces!