Our last visit to Allium was for a 4th of July lunch earlier this year. Valeria and I enjoyed it a lot, so when our friend, Ronie, arrived in town from California, we decided that we would take her there for one meal. Good call.
Ronie, like Valeria and me, is a great lover of food and wine. This was the first time she had joined us in Chicago, so we wanted to eat and drink well. To get things started on the right foot, we ordered a celebratory bottle of Henriot Brut Rosé Champagne and began plotting a food strategy.
Things soon fell into place. Three people, three appetizers, three entrées. All would be shared and, hopefully, thoroughly enjoyed. Our orders were placed and we soon had three appetizers on the table.
The first appetizer: Tuna Tartare.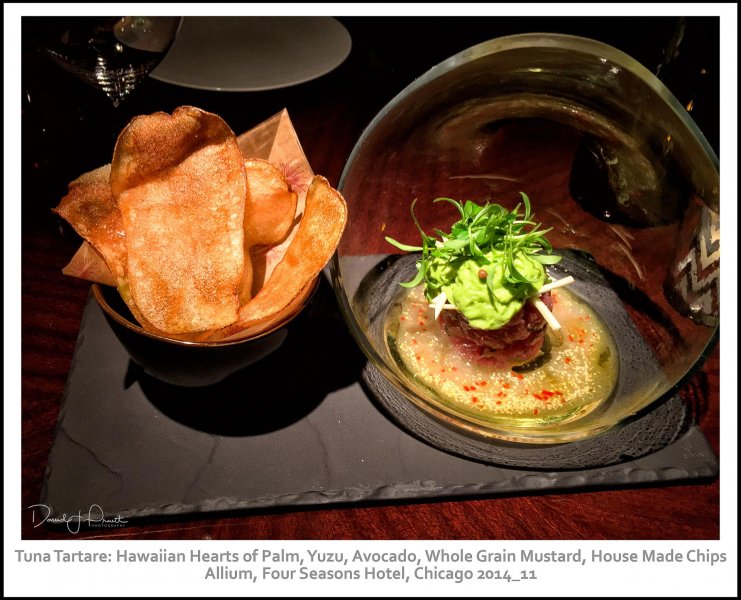 Valeria is a true connoisseur of Tuna Tartare. She orders it almost every time she sees it and is brutally honest in her evaluation. This one made the grade, though it did not make her list of the top five she's ever had. The tuna was very fresh and well cut from the tender parts of the fish. The hearts of palm were, well, hearts of palm. They add a little texture but never seem to me to be that important. The mustard and yuzu sauce on the bottom added great flavor and acidity that played nicely with the tuna. Yuzu is a Japanese citrus fruit, very sour, kinda similar to lime or lemon, that has become quite popular in the US since the turn of the century. The avocado purée added another texture and more flavor. The house made chips were excellent. They were not at all greasy and had a good potato flavor that worked well with the tartare. Valeria would have like a little more chili kick to this one—she likes Tuna Tartare to be a bit spicier.
We did have some spice, though, in the form of Buffalo Rock Shrimp.
This was my choice. Not very sophisticated, not very healthy, I know, but I love fried shrimp and and I love Frank's Red Hot Sauce, so what could I do? This one had a little too much spice for the ladies, so they only ate 2 or 3 apiece. I tried (and failed) to look sorry that I had to finish them all by myself.
If you like Buffalo fried stuff and don't have a shellfish allergy, you should love these. The shrimp were perfectly fried in a light batter, a bit heavier than tempura but not the heavy breading you usually get in fast food, frozen shrimp baskets. Frank's Sauce is Frank's Sauce so there was no surprise there, just Buffalo sauce goodness.
We knew what our favorite appetizer was going to be before we ordered, however. In fact, we ordered two of them to make sure there was enough: Foie Gras "Bread and Butter."
Blocks of Foie Gras mousse "under glass" with crisp black pepper Brioche toast slices and an array of fall flavors to complement the foie: lemon curd, fruit jellies and even a bit of roasted butternut squash.
Foie gras is, of course, the fattened liver of a goose or, more commonly in the US at least, a duck. Many people dislike liver of any kind and that, of course, is fine—to each his or her own. Others decry the high fat content, which cannot be denied, although it is not the unhealthiest of fats and can be awfully good for your skin in winter. Then there are those who consider foie gras production a form of animal cruelty and, if you don't understand the life cycle and physiology of a duck, it certainly appears to be. However, ducks and geese gorge themselves every fall in nature and their livers swell with fat to provide fuel for long migrations. Poultry farmers speed up the process by force feeding the birds through a tube down their throat. That sounds horrible, but the birds don't have the same gag reflex that we have. Still, I understand that some could view this as cruel.
All that aside, the three of us love foie gras, however unhealthy and inhumane it may or may not be. Smeared on the toast like butter, topped with one of the fall condiments, this could be served in any Michelin 3-star restaurant in the world.
Our entrées were a consensus decision: one pasta, one fish, and one meat course. The pasta dish was a special that night. It was white truffle season, so Cavatelli with White Truffle was featured.
In terms of pure decadence, this one matched the foie gras dish. Executive Chef Stephen Wambach noticed that one table was ordering quite a varied and decadent menu and came out to meet us. He personally shaved the white truffles over the pasta. Then shaved some more. And then shaved some more. Pretty soon the pasta was almost completely hidden by the truffles, as you can see in the photograph. This was easily three times the amount of truffle you would expect on a dish of this size and the heady aroma as the slices hit the hot pasta was amazing.
For those of you who are not familiar with truffles, they, like mushrooms, are a type of fungus. Unlike many mushrooms, however, they have never been successfully grown in the proverbial dark basement. They can, however, be cultivated when the right trees are planted in the right soils in areas with the right combination of heat and humidity. Since they grow underground, specially trained pigs or dogs are used to find them. The animals can be trained to smell the truffles as deep as three feet underground. Historically, going back at least to the Romans, pigs were used as they have a keen sense of smell and are naturals at rooting things out of the ground. One problem: the pigs love the truffles and will eat them if the farmer is not quick enough to beat the pig to the prize. Nowadays, dogs are generally preferred as they are easier to train and don't have as much interest in eating truffles.
The truffle is an ancient food. The first recorded us as a food goes back to around 2000 BC when the Amorites are known to have used them. There are a couple of species of black truffles that can be found in various places across Europe. They are now cultivated in a few places around the world, including the US, China and Australia.
The black Perigord truffle from France is considered the best black truffle in the world, selling for $1000 to $3000 per pound (450 g).
White truffles basically grow only in Italy and can sell for even higher prices.
An average truffle weighs only an ounce or two (30-60 grams), but truffles over 4 pounds (almost 2 kg) have been found.
When a high-quality truffle is shaved over a warm dish, an amazing, earthy aroma can fill a room. This was a really good truffle. Ronie and Valeria watched intently as I divided the dish among us to be sure I gave everyone exactly the same amount. There was a light cream sauce that just coated the pasta. The truffle was the star and it shown brightly that night.
That would be a difficult dish to beat and, honestly, the other two entrées did not, although they did keep up pretty nicely.
Our fish course: Wild Striped Bass with Beluga Lentils, Celery Root and Red Wine sauce.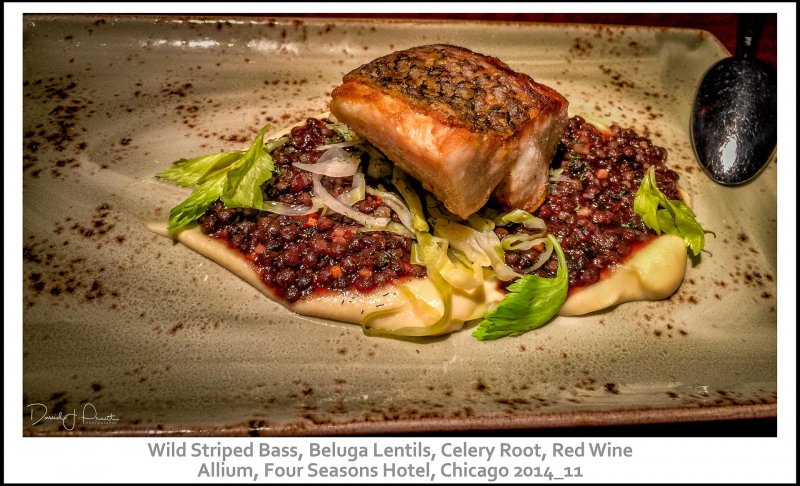 This dish was a wonderful combination of flavors and texture. Starting on the bottom, the celery root purée provided a creamy, flavorful base. If you are not familiar with celery root (also called celeriac) imagine the love child of a Russet potato and a celery stalk and you get about the right flavor and texture when steamed and puréed. Celery root is a very underappreciated vegetable. The lentils brought a nice texture and subtle flavors of their own. These were cooked in red wine with herbs I could not quite identify. Beluga lentils are a large, black lentil that get their name because they resemble Beluga caviar, although these had picked up a lot of red color from the wine.
The bass itself was perfectly seared and (I suspect) finished in the oven before serving. It was not overcooked or undercooked but, as Goldilocks would say, it was just right.
Finally, the beef course, a great take on Steak Frites found in bistros all across France and around the world. This one, however was raised to a new level: Wagyu Skirt Steak with Cheese and Herb Fries.
Many of you probably know that skirt steak was once a very inexpensive cut of meat that butchers usually took home. It has to be trimmed of excess fat, then cooked carefully and sliced across the grain or it will be tough as shoe leather. It is the cut of choice for beef fajitas, those delicious roll-your-own soft tacos that come out on a sizzling platter with cheese, guacamole, salsa lettuce and other condiments. Because fajitas have become so popular, skirt steak is no longer the bargain it once was, but it is still relatively inexpensive.
This however, was not just any skirt steak, but wagyu skirt steak. Wagyu is a species of Japanese cow (wagyu just means cow in Japanese) that is naturally very fatty and flavorful. This is the type of cow they use in Kobe in Japan for what is arguable the richest beef in the world. While this likely came from wagyu beef grown in the US (possibly Australia) that did not make it any less rich and delicious. Served with herbed butter, a rich demi-glace and red wine sauce, and fries that had been seasoned with Parmesan cheese and herbs, this was enough to satisfy any man, woman or child with a craving for meat and potatoes.
While I love going to great restaurants with multi-course, prix fixe menu, it's a lot of fun to eat with friends who love to taste and share and create your own tasting menu. That's what we did here and our 6-course menu (with two bottles of Champagne on the side) left three very happy (and full) friends.
There was no way we could finish three desserts, so we ordered only one: Caramelized Crepe Souffle "C.T." with Meyer Lemon and Pomegranate.
This was an elegantly simple classic. The thin crepe was folded over a pomegranate cream and rested in a Meyer lemon sauce. Meyer lemons are smaller, less acidic, and sweeter than common supermarket lemons and are thought to be the result of crossing lemons with either oranges or tangerines. The result was a nice dessert, just sweet enough to end the meal on a high note. One was enough for us, but none of us is a big dessert eater.
There is a reason that people have gathered with friends and family around a meal since fire was invented—maybe before. Enjoying a meal and a glass of wine while laughing, talking and reminiscing with people you love is one of life's greatest pleasures. The quality of the food on this night rose to the quality of the company.
Allium
Address: 120 E. Delaware Street, 7th Floor, Chicago, IL 60611
Phone: (312) 799-4900
Reservations: opentable.com
Website: Allium
Dress Code: Business Casual
Price Range: $30 and under
Breakfast: 6:30am to 11:00am
Lunch: 11:00am to 3:00pm
Dinner: Sun. – Thurs, 5:00pm to 9:30pm
Fri. & Sat, 5:00pm – to 10:30pm
Sunday Brunch: 11:00am to 2:30 pm
AMEX, Diners Club, Discover, MasterCard, Visa
The author is a member of the Amazon Affiliate program but otherwise has no affiliation with any of the businesses or products described in this article.
All images were taken with an Apple iPhone 6 Plus. Post-processing in Adobe Lightroom® and Adobe Photoshop® with Nik/Google plugins.