It's not often that a hotel makes references to physics in its name or the name and decor of its restaurant, but one recently-opened hotel in Chicago does just that. The hotel is EMC2, an obvious nod to Albert Einstein's most famous equation from Special Relativity, E=MC2. This is the equation that lead to the development of nuclear energy. In case there was any doubt about what is meant by the name, the restaurant in the hotel is called The Albert. The Albert is decorated to look a bit like a university library and laboratory, with rows and rows of science books going up to a high ceiling. The gorgeous, laboratory-like bar dominates the room, which makes it hard to say if the overall effect is that of a restaurant with a really fancy bar or a bar surrounded by a really fancy lounge. Regardless, the space is unique and beautiful. You'll find some great photographs on the restaurant's website.
An eye-catching decor can easily get you into a restaurant, but it's the food and drink that must provide the "gravity" (sorry, couldn't resist) to keep you there. Let's see how The Albert does on that score.
The Executive Chef at The Albert is Brandon Brumback. At 29 years old, this is Chef Brumback's first turn as the head of the culinary team, but he has deep experience at such Michelin-starred restaurants as Chicago's Blackbird, Grace and Roister as well as the legendary French Laundry in California. That is an impressive resume for anyone and we'll come back to his menu in a moment.
As is customary, however, meals begin by ordering something to drink, whether plain water, a cocktail, or something in between. Rebecca Royster oversees the wine and cocktail program as Director of Food and Beverage at The Albert. Ms. Royster came from Hogsalt Hospitality where she worked at several of the group's bars and restaurants in Chicago. Like the decor, the cocktail menu has a unique arrangement: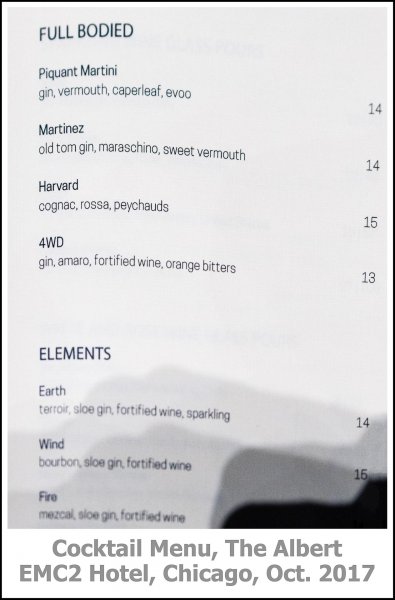 My first reaction was "How clever!" Lightweight, Full-bodied and non-alcoholic (Drivers) cocktails neatly arranged, not unlike some wine lists. But as I looked at the list in more detail, my reaction was "How annoying!" It was not immediately apparent that "Drivers" meant non-alcoholic cocktails for the Designated Driver, especially since they appeared in the middle of the list of alcoholic beverages rather than at the beginning or end. There is no logic to the progression of the sections on the list (at least none that I could figure out. Maybe because I am not Einstein?)
I appreciate it when bar menus list the ingredients used to make the cocktails. The Albert's cocktail menu does that, but in a way that is inconsistent and sometimes raises more questions than it answers. For example, why is "sweet vermouth" listed as an ingredient in some cocktails but called "fortified wine" in others? (I suspected the fortified wine was vermouth, but had to ask my server to know for sure.) There are dozens of fortified wines that could be used in a cocktail, so that name really says very little. "Sweet Vermouth" does narrow things down some, but why not just tell us what vermouth is being used? Carpano Antica, Dolin and Martini and Rossi, to name three, are all popular sweet vermouths, but each one has a distinct flavor and aroma profile that changes the cocktail significantly.
Given the breadth of experimentation with ingredients going on in the cocktail world these days, it is not unusual to see an ingredient I don't recognize, even as a devoted foodie who studies these things. Still, there are too many mystery words on this list. For example, "Rossa" can be a proper name, a person with blond hair, or a rosé. There are probably other meanings I have not learned. What does it mean in the Harvard cocktail? I don't know.
Similarly, what the heck does "terroir" mean as an ingredient in a cocktail? It's an important term in grape growing and wine making, but what does it mean here? (I meant to ask, forgot to, should not have had to.) If you are going to tell me what is in the cocktail, then tell me, don't leave me a puzzle to figure out.
"peychauds [sic]" should be spelled Peychaud's. It is a popular bitters invented by a pharmacist in New Orleans named Peychaud.
Ultimately this menu made me want to pull out a red pencil, mark the whole thing up, and send it back to be fixed.
Some of you, however, might say something like, "I don't care much about grammar, spelling, or the ingredients in the cocktail, I just want to know how it tastes." Fair enough, let's taste! I ordered a "Wind" cocktail.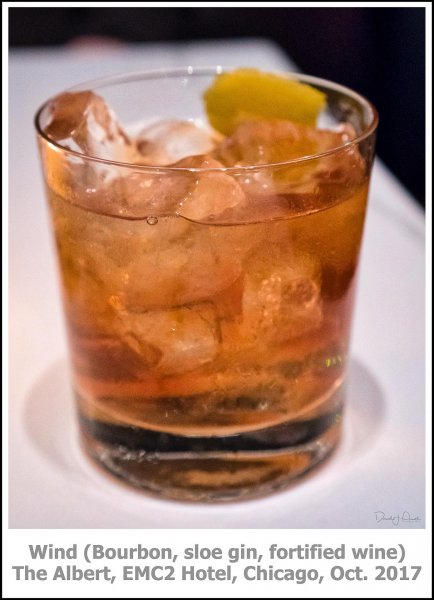 I have no idea what is "windy" about this drink, but craft cocktail names are often pretty strange so we'll let that go. It's sort of a riff on a good old Manhattan (bourbon, sweet vermouth, bitters) but with some fruitiness from the sloe gin. Bitters were not listed as an ingredient. If they used them, they did not use enough. Bitters add complexity to the aromas and flavors of a cocktail the way herbs and spices and complexity to food. Regardless of all that, it was, in the end, a tasty cocktail.
Valeria ordered and old favorite of ours, a Penicillin cocktail.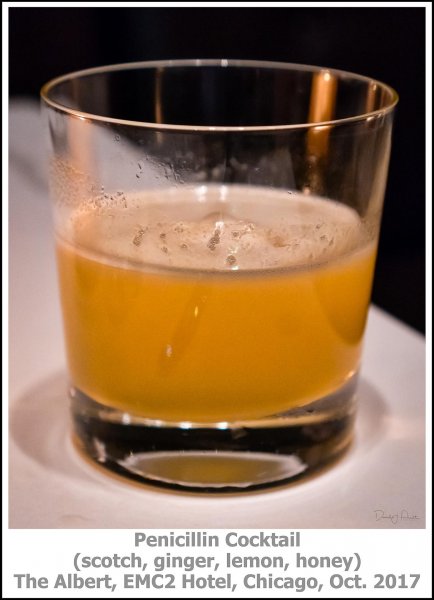 This cocktail was actually invented by an Australian bartender and is a modern version of the classic whiskey with lemon and honey that has been used as a home remedy for a couple of centuries at least (not endorsed by any medical group I am aware of). The Albert's version was not great, with too much lemon and not enough ginger.
All in all, we were not very happy with our initial "cocktail experience." (Don't you just love how having a drink has become an "experience?")
So, it was time to move on to the food. Valeria's first course was the Hawaiian Kampachi Crudo.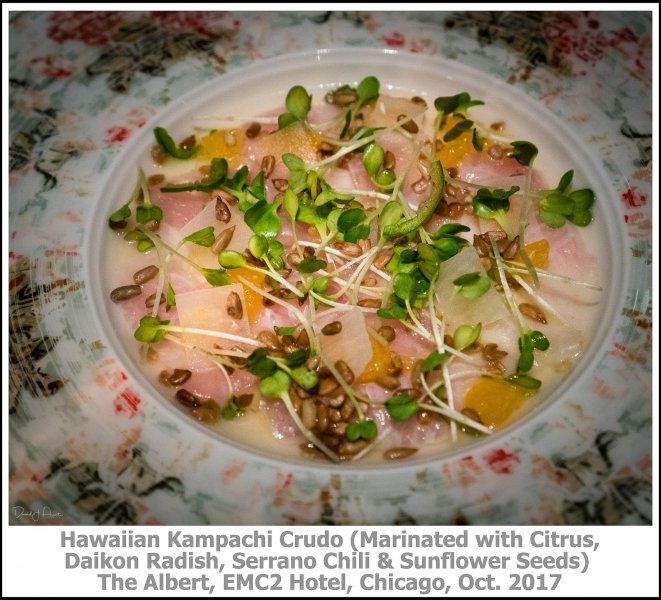 This dish was absolutely delicious. Kampachi is a very mild fish that almost literally melts in your mouth. With some bright citrus to further tenderize it (think ceviche), daikon and sunflower seeds for texture and flavor, and a little Serrano for heat, it was complex and perfectly balanced.
Kampachi is in the Yellowtail and Amberjack family and is farm raised off Kona, Hawaii. I usually avoid farm raised fish as too many fish farms are dirty, use a lot of antibiotics and hormones, and produce a poor quality product. The Kampachi farms in Hawaii, however, are exceptions. They are environmentally responsible, large, and clean. The fish are not genetically modified, so, if they escape, they do not affect the local population.
I love sweetbreads and rarely pass up an opportunity to order them. The Albert's version looked intriguing with a green curry for some spice and maple syrup and sweet potatoes for sweetness to balance the heat.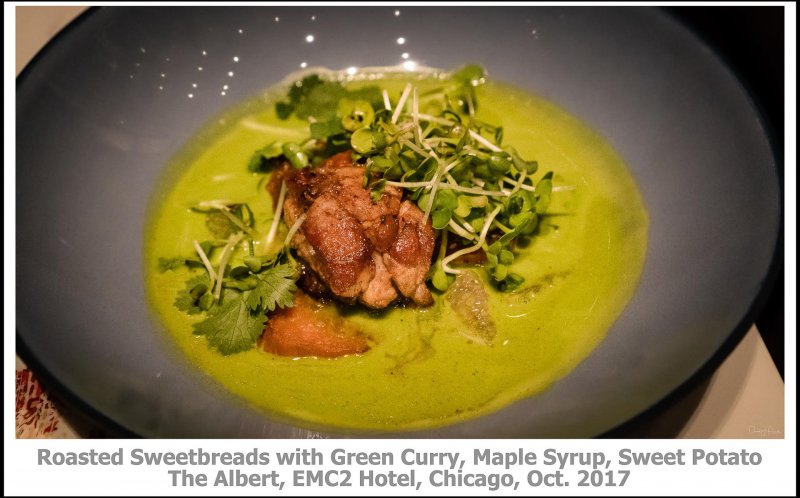 This dish, too, was delicious. The sweetbreads were perfectly cooked with a nice crust on the outside and creamy tenderness on the inside. The curry was complex and spicy, but did not overwhelm the sweetbreads. The sweet potato, citrus and greens all added complementary notes to the dish (I didn't really taste the maple syrup). My only complaint is that the dish as served without a spoon or, better yet, some kind of bread or rice or something to soak up the pool of absolutely delicious curry sauce that was left when the rest of the dish was finished. It seemed like a terrible waste.
My problems with The Albert's alcohol program continued when I ordered a bottle of wine for dinner. I saw what appeared to be a real bargain on the list: 2011 Château Lynch-Bages (affectionately known as "Lunch Bags" by Bordeaux lovers) for $144. This is what I expected to see:
Instead, what I saw was this:
If you are not familiar with Bordeaux wines, the famous Châteaux usually bottle at least two and sometimes three or more wines. The first wine carries the name of the Château and is made from the best selection of grapes from any particular vintage. There is often a second label that is made using grapes not quite good enough for the first label. Any remaining grapes may be sold off or used to make wine that is blended with wine made from other vineyards in the same region or beyond. The wine being sold at The Albert as Château Lynch Bages is in this third category. It is a third label made from grapes or wines purchased from around Pauillac (a sub-region in Bordeaux where Château Lynch-Bages is located) and sold as a generic, regional wine. It is often a good wine, but it is not Lunch Bags and should not, in any honest wine list, be listed as Château Lynch-Bages.
When I explained this to the waiter, who clearly had no idea what I was talking about, he sent over a woman identified as a manager who showed me the back label on the bottle, proudly pointing out that it said "Château Lynch Bages" in the fine print.
What the back label and the fine print in French actually says is that this is a bottle of region wine from Pauillac that was bottled on the Château Lynch-Bages property. Bottling wine at a château is not at all the same thing as making the wine at the château with grapes grown on the château estate. Sort of like I made some wine in my basement, then took it to a famous winery—let's say Caymus in California—bottled my wine there and the tried to sell it as Caymus. Sadly, the manager at The Albert knew no more about wine than the waiter.
I am not a lawyer and do not know the laws, rules and regulations concerning how wines can be described on a wine list, but this seems like blatant false advertising. Imagine that you ordered a Cadillac and a Chevy was delivered with the explanation that they are both made by General Motors. If this is legal, it should not be.
I did accept the wine as it is a good one, just not nearly as good as the estate wine. Instead of a really good price on Château Lynch-Bages, I paid a typical restaurant price for a third label, proving once again that if a deal looks too good to be true, it probably is.
Moving on to the entrées, I went for the Roasted Berkshire Pork Ribeye.
This was a bone-in pork rib chop. It is the same cut from the pig as a bone-in ribeye would be from a cow, though its less common to see the pork version referred to as a "ribeye." Regardless, it was a delicious and perfectly prepared piece of pork, nicely seared on the outside and a tender, juicy, medium on the inside, nicely sliced and presented on the plate.
Berkshire is the name of a heritage breed of pig originally from—you guessed it—Berkshire in England. It is very much what pork used to be before fat became public enemy #1 in the 60s and 70s. Pigs were bred to make them as lean as possible, which had the unfortunate side effect of making them tougher, drier, and less flavorful. Happily, pork fat has since been shown to be not deadly, but actually quite nutritious in moderation, and "real" pork from heritage varieties is again showing up on restaurant menus.
If the pork was a super success, the kohlrabi was much less so. Kohlrabi is a woefully underutilized vegetable that looks a bit like a scaly green turnip. It is sometimes called a German turnip even though it is actually in the cabbage family.
It can be eaten raw or cooked in any number of ways. The bulb, stems, and leaves are all edible. On my plate, chunks of the bulb and slices of plum were presented on top of a purée of what appeared to be the cooked stems and leaves. The bulb and plum pieces were good and played nicely with the pork, but there was something about the purée that just didn't work for me. I can't say there was a problem with it, just that the texture and flavor did not suit my taste. Your mileage may vary.
Valeria took a chance on something we do not often order in restaurants: chicken. It proved to be a very wise choice.
The chicken piece is made by pressing a layer of dark meat and breast together. The top is beautifully crisp while the rest of the white meat stays tender and juicy, protected by the layer of dark meat on the bottom. I am not sure how the dark meat was prepared and seasoned, but this chicken "sandwich" was absolutely perfect in texture and flavor. The fingerling potatoes were also perfectly cooked and, along with the green olives and trumpet mushrooms, combined beautifully with the chicken. There was just enough flavorful broth to moisten every bite. Just an outstanding dish on all counts.
In the end, our meal at The Albert was equal parts delicious and annoying. The food, with the exception of the kohlrabi purée, was uniformly delicious and beautifully presented, but please give us a way to finish the curry sauce with the sweetbreads! The cocktail list should be re-written to be less clever and creative and more informative and useful. Deceptive wine listings (since there is one, I cannot help but wonder if there are others) need to be fixed. While still relatively new, The Albert had been open about 5 months by the time we visited, which should have been time enough to get things right. I suspect we will return, if only to have that chicken again. It will be interesting to see if any of the problems have been fixed.
The Albert (inside EMC2 hotel)
Address: 228 E Ontario St, Chicago, IL 60611
Phone: (312) 471-3883
Reservations: opentable.com
Website: http://www.thealbertchicago.com/
Dress Code: Business Casual
Price Range: $31-50
Hours: Sunday – Wednesday 11am – 10pm
Thursday – Saturday 11am – 11 pm
Brunch Friday – Sunday from 11am – 2pm
Credit Cards: AMEX, Discover, MasterCard, Visa
The author is a member of the Amazon Affiliate program but otherwise has no affiliation with any of the businesses or products described in this article.
All images were taken with a Sony Alpha a6500 camera and a Sony-Zeiss SEL1670Z Vario-Tessar T E 16-70mm (24-105mm full frame equivalent) F/4 ZA OSS lens or Sony 35mm (52mm full frame equivalent) F/1.8 E-Mount Lens using ambient light. Post-processing in Adobe Lightroom® and Adobe Photoshop® with Nik/Google plugins.