You might not believe it, given all the restaurant reviews I write, but I love cook. During the week, when I am at home in the Chicago suburbs, I cook almost every day. Valeria is a great cook, but she does not like cooking, so she is quite happy to let me do the job most of the time.
We generally spend weekends in The City (which for us, is Chicago, not, as some of you old enough to remember the Dragnet series on TV might think, Los Angeles). Chicago is filled with great places to eat, from hot dogs, burgers and pizza to three Michelin star temples of gastronomy. As in most of the world's great food cities, whatever kind of food you crave, ethnic or all-American, budget or budget-busting, you'll find it in Chicago.
The suburbs have their own culinary riches as well, though not as densely packed as in the city. In downtown Chicago, toss a rock in any direction and you will likely hit a steakhouse. (Better make that an imaginary rock—throwing a real one is not a good idea.) You may have to drive a little farther in the suburbs, but many of the upscale steakhouse chains have a presence there. One of them is Eddie Merlot's. Eddie Merlot is a real person—sort of. The founder of the restaurant is actually a man named Bill Humphries. He was known to his friends and colleagues as a wine lover, so he was often asked to choose the wine at dinner. One day a friend of his named Ed asked Bill to surprise him with a great wine to go with the steaks they were ordering. The wine Bill chose was a Merlot. Ed liked it so much he said "For now on, always order the Merlot!" Bill's reply was "From now on, you're Eddie Merlot!" When Bill created his new concept for a steakhouse, he named it Eddie Merlot's as an homage to his friend. Today there are 13 Eddie Merlot's in 9 states, three of them in or near Chicago.
As I have written before, you should be able to get a great steak cut from USDA Prime beef and cooked to your preferred degree of doneness in any steakhouse worthy of the name. What sets one steakhouse apart from another are the appetizers, sides and wine, cocktail and beer selections. Eddie Merlot's scores highly with me in these areas as well as with a few unusual beef offerings that go beyond the usual Prime ribeye, NY strip or filet.
Let's start with their cocktails. Valeria and I each ordered a before-dinner cocktail. (One weak spot in the Eddie Merlot's wine list is the lack of a good Champagne, our go-to aperitif, by the glass.)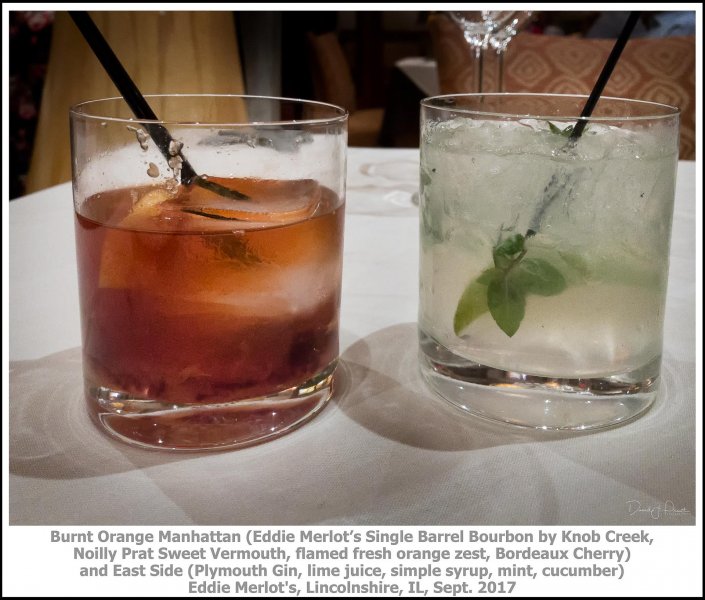 The dinner menu comes with a list of craft cocktails along one side. Most are always available and a few change seasonally. The Burnt Orange Manhattan, if my memory serves (a dangerous assumption!) has always been an option, although the exact bourbon and vermouth have changed from time-to-time. The flamed orange zest—more traditionally found in an Old Fashioned cocktail—is a great touch that adds a nice citrusy note to the drink. They also serve it with a proper preserved cherry, not one of those neon-red "maraschino" cherries that are more candy than fruit and which, to my taste anyway, should be avoided. I really enjoy these Manhattans.
Valeria's East Side cocktail has an interesting pedigree. It's grandfather (grandmother? grandperson?) is the Gimlet, made with gin, lime juice and sugar. It was created in the 19th century and is traditionally made with Rose's Lime Juice, a bottled, sweetened lime juice product.
This may be the only drink where I not only accept, but prefer, using a bottled juice in a cocktail. You may recall from history class that, prior to the late 1700s, sailors on long voyages often died of scurvy. In 1753 it was discovered that scurvy was caused by a lack of Vitamin C. The British Navy's Captain Cook began issuing a daily serving of lime or lemon to his sailors, which almost eliminated the problem by the end of the century. Since British sailors were also given a daily ration of rum (or gin), the juice and booze were quite naturally mixed into a crude cocktail. Lemons and limes are perishable, however, and they would rot on long voyages. Juice was more compact but spoiled even more quickly, so the ships carried citrus juice that had been preserved with about 15% rum. In 1867, Lauchlan Rose patented a method for preserving the juice using sugar instead of alcohol and Rose's Lime Juice was born.
The Gimlet is made by mixing gin with Rose's. (Rum with lime juice and sugar makes a Daiquiri.) Originally, equal parts were mixed, but today's tastes run to less sweet cocktails and 2 parts gin are usually mixed with 1 part Rose's to make a Gimlet. Given the emphasis on fresh, high-quality ingredients in cocktails these days, most bars no longer stock Rose's and make a Gimlet with gin, fresh lime juice and simple syrup (a 50:50 mix of water and sugar). This is a perfectly delicious, refreshing cocktail, but, for me, a genuine Gimlet is made with Rose's. Here's an expert take on the subject.
Interestingly, Mr. Hess uses old-fashioned Rose's with a very modern gin: cucumber infused Hendrick's from Scotland, first sold in 1999. You can, of course, use any kind of gin you like and vary the amount of Rose's to suit your taste. The closest approximation to what the limeys (British sailors) drank is a mixture of Plymouth gin and Rose's.
During Prohibition, the Gimlet evolved into the South Side Cocktail, generally regarded as an invention of Chicago's South Side (though some argue it's place of origin is New York City). It is strongly associated with Al Capone, whose gang made a particularly bad tasting gin that needed more than a little lime juice and sugar to cover up the flavor. (Many of todays cocktails were developed during prohibition to mask the bad flavors and odors of bootleg booze.) A little mint did the trick and the South Side Cocktail became a speakeasy favorite. Here's how to make a classic Southside as explained by an Australian bartender.
The Southside became the Eastside with the addition of cucumber. I wasn't able to find just how and when this variation came about, but the cucumber adds a little more flavor and freshness to the drink. Cucumber-infused Hendrick's gin is a natural in this drink but, again, your favorite gin will work just fine. Here's how to make a basic version:
Eddie Merlot's has posted a video showing how they make their version.
After all this history, how did the cocktail actually taste? Delicious, although Valeria would have liked it a little less sweet (she likes all her cocktails on the drier side). It is a wonderfully refreshing summer cocktail.
There is one dish we order every time at Eddie Merlot's: the Sweet and Spicy Shrimp.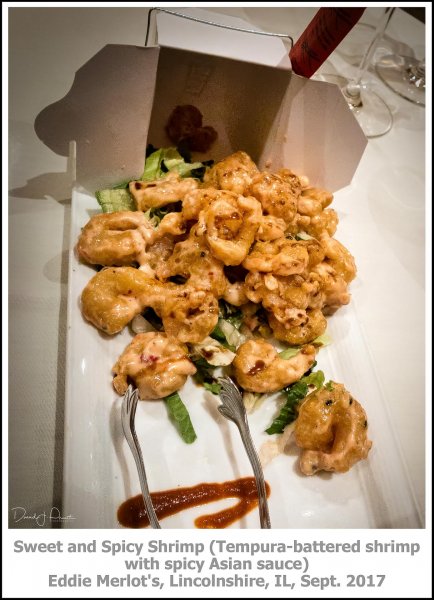 We often share this as an appetizer when we see some version of it on a menu. Eddie's is about as good as any we have had. Very lightly battered shrimp are tossed with a creamy, sweet and spicy sauce. The sauce is based on a mixture of sweet chili sauce and mayonnaise. Each restaurant may add other ingredients (garlic powder, soy sauce, Sriracha, whatever) to make it their own. Eddie's, to our taste, is just spicy enough and they add just enough to coat the shrimp nicely without drowning them.
We also shared a Merlot Iceberg, their version of the steakhouse classic wedge salad, which we asked the kitchen to chop up and split onto two plates.
Since all wedge salads start with a wedge of iceberg lettuce (hence theme), any differentiation must come from the toppings, which are themselves pretty standard: tomatoes, bacon, onions, blue cheese, blue cheese dressing and, optionally, olives, croutons, diced red pepper or whatever else the chef decides to add. I rate the salad on the quality and quantity of the toppings, and Eddie's gets full marks, except on the bacon which was, sadly, pretty ordinary.
We also shared a bowl of Crab and Sweet Corn Bisque.
It was late in the corn season, so we wanted to enjoy one of our summer favorites while we still could. This was a rich soup, velvety and delicious. The sweet crab meat and sweet corn just play off each other beautifully.
Time for the real reason you go to a steakhouse: steak!
Eddie Merlots' offers all the usual USDA Prime suspects—ribeye, NY strip, filet mignon and the like—but they also offer Bison and Wagyu steaks as a standard part of their menu. Bison, in general, is a little leaner, a little less tender and a little more flavorful than beef. Wagyu is more-or-less the opposite—fattier and more tender than "regular" beef with a slightly richer flavor profile, mostly due to the extra fat. Wagyu beef is heavily marbled, meltingly tender, and comes from certain breeds of Japanese cows. The most famous of these is Kobe beef. True Kobe beef comes from a specific breed of cow, raised in a specific region in Japan and fed a specific diet. In American restaurants, you will see "Wagyu" and even "Kobe" beef on the menu, but it is almost never true Kobe beef. Most often, it is American or Australian raised wagyu cattle, and these have often been cross-bred with other breeds. Having said that, I will add that beef does not have to be 100% pure-bred Wagyu from Japan to be excellent. A lot of truly wonderful beef is being produced in the US and Australia using pure-bred or cross-bred Wagyu varieties. However, it is not cheap. Ground beef from Wagyu cattle can run $10-50 a pound (450gm) Wagyu steaks range $50-900/lb.
Valeria ordered a Bison ribeye with the optional blue cheese and bacon crust.
I went with my usual NY strip, also with the Bacon-Gorgonzola crust.
I am often entirely satisfied with a good steak served "straight up" with nothing more than salt and pepper. I do like to change it up a bit once in a while. I love blue cheese and bacon with steak and Eddie Merlot's crust is delicious. I would put on a little less if I was making it at home, but better to serve a little extra than not enough. Both steaks were a perfect medium (as we requested) and delicious. If you haven't tried Bison, I encourage you to do so. It is (arguably) a healthier choice (less fat, more protein) than Prime beef and, while not radically different in flavor and texture, it is a bit different. Chances are, if I served you ground Bison burgers of a Bison NY Strip hot off the grill, you would just assume you were eating beef.
On the side, Parmesan-Truffle Fries.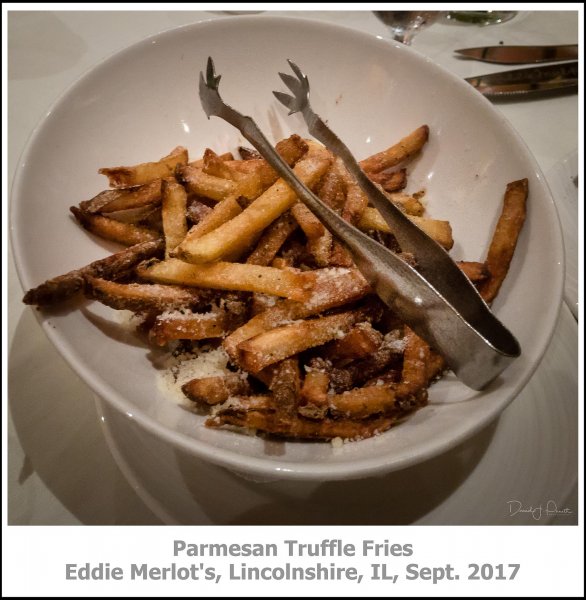 Some argue that this dish should never be ordered, as real truffles are almost never involved. What truffle flavor there is comes from truffle oil, which is rarely made with actual truffles. I would love to have real, fresh truffles grated over the fries, but it would no doubt double or triple the cost of the dish and, let's face it, how many people would order $50 French Fries? These taste consistently good and, most importantly, are well-prepared: tender inside, crispy outside and not greasy.
We could have—should have—skipped dessert, but the Bourbon Butter Cake just sounded too good to miss and I am weak.
This cake was delicious. A basic butter cake, made extra moist with a generous pour of a warm Bourbon-butter sauce. Simple enough in concept, but beautifully executed and flavorful.
Valeria decided that if I was ordering a dessert she would, too: a Peanut Butter Cup.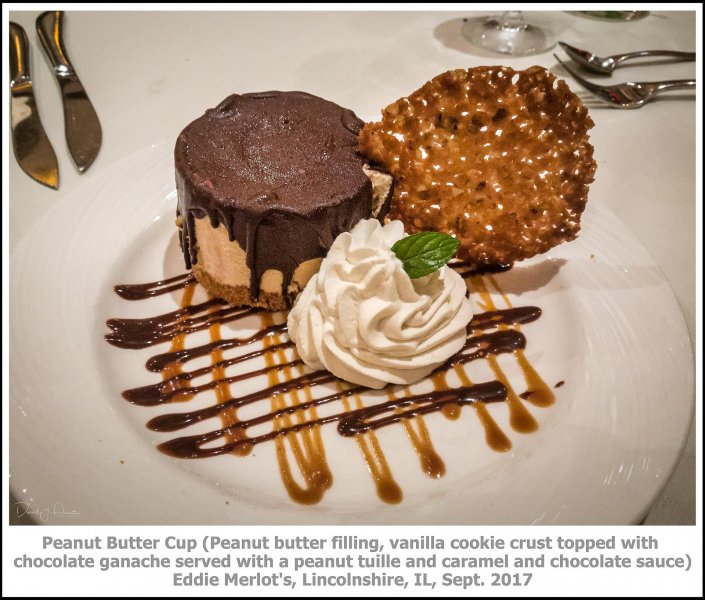 Basically peanut butter mousse on a vanilla cookie crust frosted with chocolate ganache, peanut butter and chocolate lovers would be remiss not to order this one.
Both of these desserts were huge and we ate only a couple of bites in the restaurant. We took the rest home and enjoyed a little bit each day for 4 more days!
So, where does Eddie Merlots's rank on the long list of Chicago-area steakhouses? I really don't know as the answer lies in what you think of the ambiance and the quality of the sides. The steaks are a given. To my taste, Eddie Merlot's has come up with some great additions to the usual beef lineup and some very flavorful and interesting sides. Add an interesting cocktail list and a fairly solid wine list and Eddie Merlot's can easily stand among it's peers.
I should also mention that you can dine more casually in the lounge, which offers a Bar Menu (burgers are very good here) or the option of ordering from the full menu.
Eddie Merlot's—Lincolnshire
Address: 185 Milwaukee Ave, Ste 100, Lincolnshire, IL 60069
Phone: (847) 276-2000
Reservations: opentable.com
Website: https://www.eddiemerlots.com/locations/lincolnshire/
Dress Code: Business Casual
Price Range: $31 to $50
Hours: Dinner: Sunday-Thursday: 5:00pm – 9:00pm
Friday-Saturday: 5:00pm – 10:00pm
Credit Cards: AMEX, Discover, MasterCard, Visa
All images were taken with an Apple 7Plus iPhone. Post-processing in Adobe Lightroom® and Adobe Photoshop® with Nik/Google plugins.