In the United States, barbecue (long, slow cooking at low temperatures with wood smoke) is generally associated with the Southern states. Texas boasts of its brisket and beef ribs smoked with a flavorful spice rub and/or a tomato-based sauce. Missouri offers up slabs of spare ribs, also smoked with top secret rubs and sauces. The Carolinas work magic with smoked pork shoulders, pulled and tossed with their delicious mustard or vinegar-based sauces. And let's not forget Alabama and its unique white barbecue sauce.
Once upon a time you had to look hard to find good, genuine, slow-smoked barbecue in the Northern states, but not so much anymore. Chicago has a very long history of musicians moving in from the south. I suspect that has contributed to the popularity of barbecue restaurants in this midwestern melting pot of a city. Some (e.g., Chicago Q) have been opened by chefs who have competed and won in the biggest barbecue competitions. Some (e.g. Carson's) have been around for decades. With the many ethnic groups that have made Chicago their home, it's not surprising that you can find barbecue joints that are based on Japanese, Korean, Thai and just about any barbecue tradition around the world. OpenTable.com lists over 40 barbecue restaurants in the area, but that does not count the dozens of others that do not take reservations and may not even offer seats, just carry out.
If you want to start an argument that will spiral out of control even faster than Democrats versus Republicans, try offering up a strong opinion about what is the "best" or "real" barbecue. Beef? Chicken? Pork? Dry rub? Wet mop? Hickory smoke? Mesquite? Applewood? Sauce or no sauce? Should the sauce be spicy? Sweet? Both? Tomato-based? Vinegar? Mustard? Some bbq aficionados will passionately defend their preferences as the only "real," and unquestionably the best, barbecue.
Not me. I am definitely an equal opportunity bbq consumer, unbiased and ecumenical. I have enjoyed barbecue all across the US and in many countries around the world. Want to add some Thai elements to your Texas bbq? I'm a sport. Dry rub? Great! Delicious sauce? Sure! Beef or pork? Yes and Yes. Just cook it right and use whatever flavorful rub and/or sauce you want and I'll be over for dinner.
A few years ago, restaurant veterans David Flom and Matthew Moore teamed up to create Chicago Cut Steakhouse, a highly regarded addition to the upscale steakhouse scene in Chicago. A second effort, Ocean Cut, is a seafood-centric restaurant that has had its ups and downs, but seems to have found its sea legs with the current chef and menu. The newest offering of the partnership is Southern Cut (notice anything about the names?) with Executive Chef Lee Ann Whippen presiding. Chef Whippen has been entering (and winning) pretigious national barbecue competitions for 20 years or so and can be seen on TV, heard on radio and podcasts, and read about in print.
It was 4th of July weekend (Independence Day here in the States) and we were looking for an appropriate way to celebrate the holiday. Now, when I talk about a holiday or other special occasion, "celebrate" is usually just a code word for "eat." Don't get me wrong. I'm all for appropriate decorations, music, parades, church services and whatever else is appropriate and traditional to the holiday, but my plans usually start with "what are we gonna eat?"
The weather was beautiful and it was a nice walk from our condo. The next thing we knew, we were walking in the front door.
The restaurant was fairly busy with diners sitting inside and out on the patio. It was too pleasant a day not to opt for a spot outside, although a few of the passing tour buses made us have brief second thoughts about that decision. Still, on balance, it was the right choice.
Our server, Colan, was friendly and knew the menu well. He started with the usual drink order request as we perused the cocktail menu.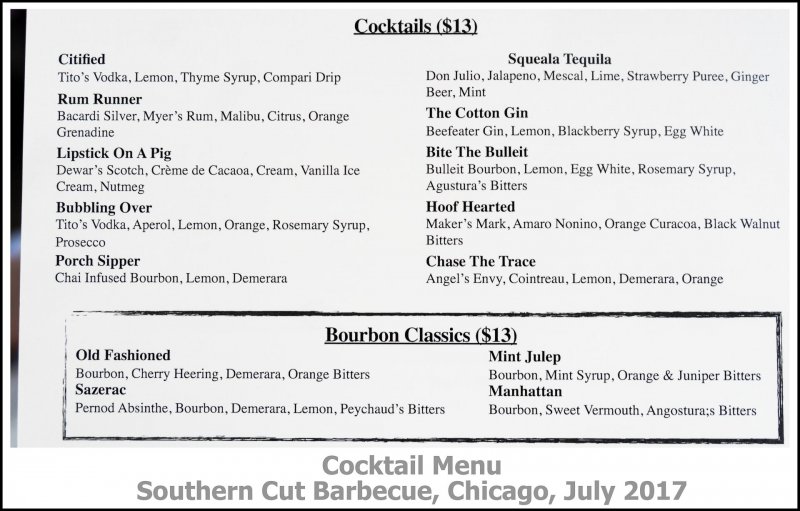 Bite the Bulleit caught my eye. It looked like a classic whiskey sour (whiskey, lemon, egg white, sugar, bitters) with the addition of some rosemary infused into the sugar syrup. I love rosemary, so the dice were rolled.
I came up sevens on this one. It was a perfectly balanced whiskey sour and there was just enough rosemary flavor and aroma to add nuance without overpowering the basic drink. Bulleit Bourbon, as regular readers know, is a favorite of mine.
Valeria drinks cocktails only sparingly because she finds most of them to be too strong or too sweet. Today, however, she decided to try an Old Fashioned.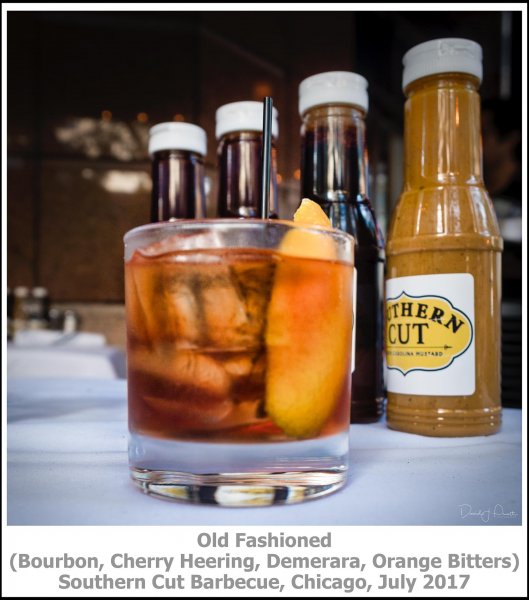 The Southern Cut Old Fashioned stays pretty close to the classic version of the cocktail, but with a couple of twists. In order to appreciate the twists, you must first know how to make the original. Here's Robert Hess to explain.
The Southern Cut version uses Bourbon instead of rye, which is fine, but it would have been even better if they had used Bulleit Rye, which, in my opinion, is one of the best Rye whiskies on the market. They also add a splash of Cherry Herring, a Danish, cherry flavored liqueur. (Some people think it tastes like cough syrup, but I like it once in a while.) In order to amp up the orange flavor a bit, they use oranges bitters instead of the more traditional Angostura bitters. The Demerara sugar (a slightly brown sugar that has not be completely refined to white) perhaps added a nuance, but is completely in keeping with the original recipe. These twists just added subtly to the flavor an aroma of he drink without changing its basic character. I thought it was great, but it was a little too sweet for Valeria's taste.
While sipping our cocktails, we talked about the four house made barbecue sauces on the table, each of which represents one of the major styles found among the southern states.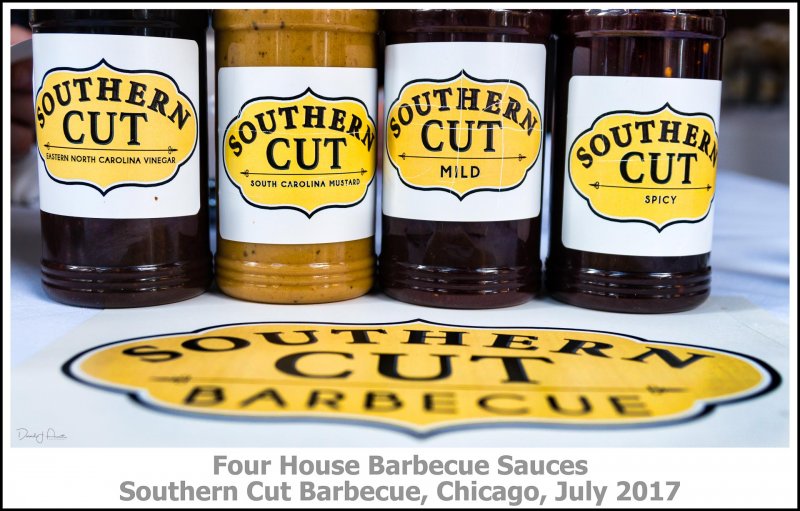 Which one was "the best" or "the most authentic?" No way I am getting into that argument! Each one was certainly representative of the style listed on the label and I ended up playing with all of them later in the meal.
Naturally we needed a few appetizers to get the food side of the equation going. We love truffles, deviled eggs and grilled asparagus, so our first choice was a no brainer.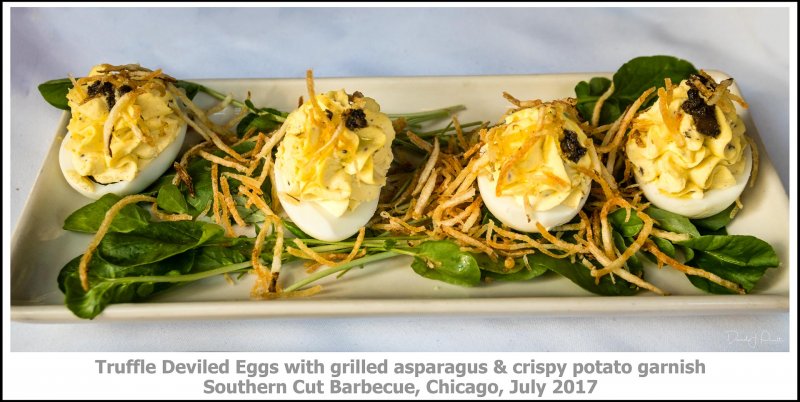 These were delicious, with a bit of a mustardy bite to the creamy yolk filling and just enough truffle to give that unique flavor and aroma to the dish. The crispy potato strings, while really just meant as a garnish, made me happy because I love the little crunchy critters.
Valeria rarely passes on a chance for spicy tuna tartare, and today was not an exception.
This version definitely passed the Valeria test. The avocado layer was creamy and flavorful and the tuna was impeccably fresh. The flavor of sesame oil, ginger and aioli (garlic mayonnaise, essentially) along with the clear, but not overwhelming, heat from the chilies combined with the tuna and avocado to deliver layers of textures and flavors.
Part of my mission on this visit was to try as many of the barbecue meat variations as I could. They offered an excellent appetizer option to get me started: 3 sliders with your choice of BBQ chicken, pork or brisket or ground beef (if you are in need of a cheeseburger fix). I chose one of each of the BBQ meats.
The chopped brisket was my favorite—beautifully smoked, very tender and juicy. I'd rank the pulled pork second, though not by much. It, too, was delicious. The chicken came in a clear third for me. It was tasty, but the chicken was just a little dry. To be fair, keeping chicken juicy after it has been shredded in not easy and a squirt of bbq sauce balanced things out nicely. If you are not a fan of BBQ beef or pork, don't hesitate to try the chicken. Also, keep in mind that there is inherently going to be some variation in each batch of these barbecued meats. The raw materials vary, there will be a certain amount of variation in cook time and temperature, and the. length of time since the meat was smoked, then shredded/cut will also vary. All of this will change the flavor, juiciness and texture of any given serving on any given night. Overall, I was pleased with all 3.
The picked onions and pickles added some nice crunch, sweet notes and vinegar bite to the mix.
My Bite the Bulleit cocktail was gone just before the appetizers were, so I wanted to order another drink to go with the entrées. I chose a pure classic, the Sazerac.
The Sazerac was invented in New Orleans back in the 1800s and is one of the classics that has never gone away. Originally made with Cognac or brandy (i.e., spirits distilled from wine), Rye and later Bourbon whiskey became popular in the drink. Here is Robert Hess to share some of the history and techniques for making the drink.
The Southern Cut version was a by-the-book, perfect version.
Our entrées arrived with the Sazerac.
Vera ordered our only non-barbecue dish, filet mignon.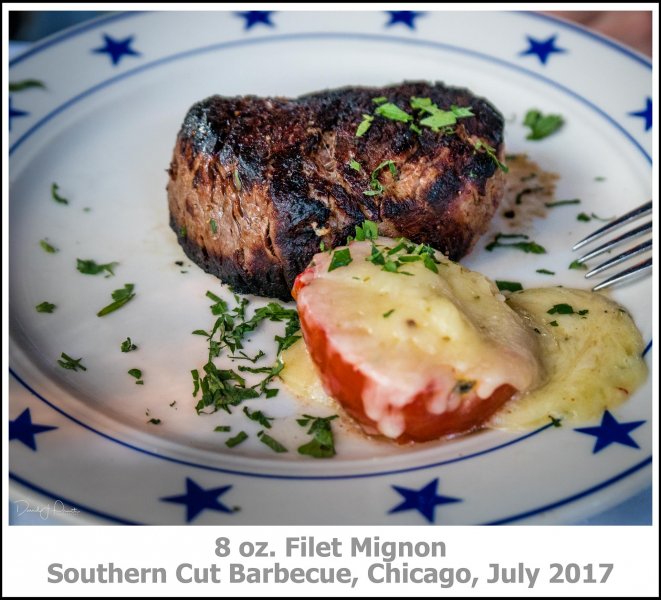 Not surprisingly for a restaurant related to Chicago Cut Steakhouse, the filet was excellent. Seared on a 1400°F broiler to a perfect medium (as ordered) with a nicely roasted tomato topped with melted cheese on the side it's a great (and reasonably sized) alternative to the big barbecue plates.
To continue exploring the rest of the barbecued meats, we ordered the Three Meat Platter.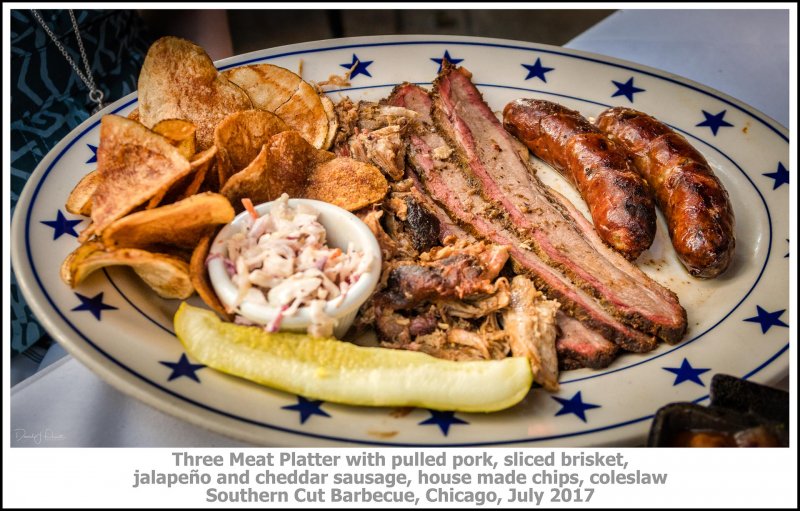 Since we had tried the chopped brisket in the slider, we went with the sliced version here (not that we expected much difference) along with the Jalapeño & Cheddar Sausage and pulled pork. Yes, we had the pulled pork in a slider, but there is no such thing as too much pulled pork. The pork and the beef tasted the same as in the sandwiches, but getting them on the platter gave us a chance to mix and match the various sauces with them. Again, I realize people have exceeding strong feelings about what kind of sauce (or no sauce at all) goes with which kind of BBQed meat, but I enjoyed them all. The sausages were juicy, nicely charred, and had a nice kick from the jalapeño.
The house made potato chips were a mixture of good and bad. When the slices fried up individually, they were wonderful—crisp and delicious. However, 2 or 3 potato slices sometimes fused together in the frying process, resulting in a lump that was not cooked through, yet somehow very hard. Fortunately, there were only a couple of these lumps on the plate.
The obligatory coleslaw was fine, crunchy and creamy and cool, but, really, do you go to a BBQ place for salad?
To finish the meat gluttony, a full slab of baby back ribs.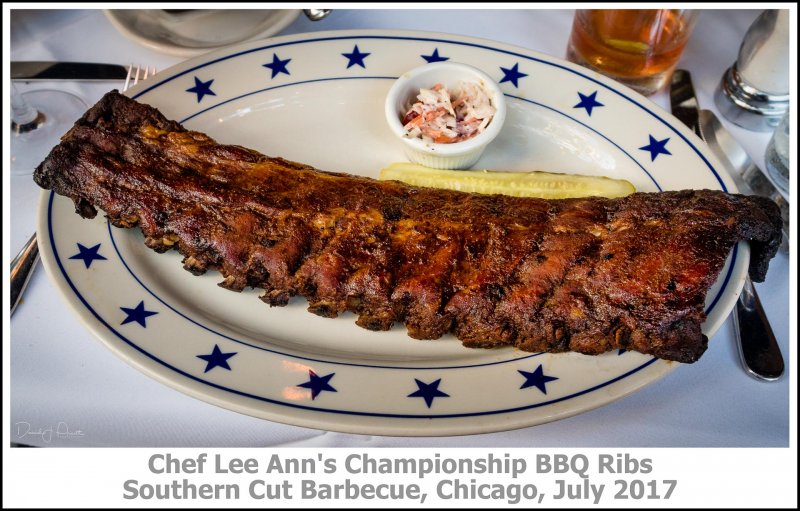 These are what the chef has won BBQ championships with, so we expected them to be good and they were. The first couple of ribs on the small end were a little dry, but still tasty. The rest of the slab was juicy and tender. They have quite a flavorful rub, so dry-rub-only purists can enjoy them their way. I played with all of the sauces on the ribs and all were tasty, but I found myself going back most often to the Spicy version. There should have been some of the house made chips on my plate, but there weren't and I really didn't notice until the plate was almost gone and ordering more food seemed unnecessary.
We ordered several sides, starting with the baked beans.
These things were freaking delicious! I could make a meal of them, no problem. They weren't just seasoned with brisket and bacon but were bursting with chunks of meat swimming with the beans in a classic smokey-sweet sauce.
The greens beans were also a hit. They were cooked through, but not overcooked, and got plenty of flavor and texture from the mushrooms, almonds and onions but, most of all, from the smoky Nueske bacon (a favorite brand of mine).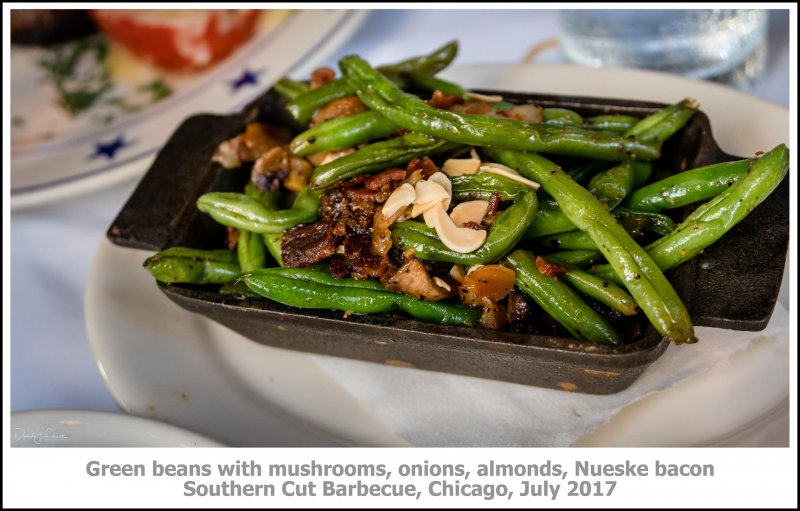 The mashed potatoes were, well, mashed potatoes. Given all the other flavors on the table, one dish that just provided the clean earthiness of potatoes was quite welcome.
We were pretty well stuffed and had leftovers to take home at his point, but, somehow, the waiter convinced up to try one dessert to share between the three of us: the Banana Fofana Cream Pie.
This might be thought of as Bananas Foster meet Banana Cream Pie. Bananas Foster is a delicious dessert created at Brennan's restaurant in New Orleans back in the 1950s. Bananas are sautéed in melted butter with brown sugar, cinnamon, and banana liqueur, then flambéed with rum and served over ice cream. Here is Ralph Brennan, who's aunt teamed with the chef to create the dish, to explain the history and how to make it.
Banana Cream Pie is another southern favorite and the caramelized bananas took it over the top.
Some of you will recognize immediately where the name Banana Fofana came from. Others may wonder what the heck that means. The answer is from a song by Shirley Ellis that was a big hit back in 1964.
We throughly enjoyed the meal. Ambience (tour busses excluded) on the patio, service, food and drinks were all excellent. Is it the best BBQ I have ever eaten? No, but it was very good. Will you like it? Well, if you are a BBQ snob gourmet who insists that there is only one specific way barbecue can be made, the chances are this won't be it. Nevertheless, I think most folks who enjoy barbecue will find something here to make them happy.
Southern Cut
Address: 198 East Delaware Place Chicago, IL 60611
Phone: (312) 280-8887
Reservations: opentable.com
Website: hhttp://www.southerncutbbq.com
Dress Code: Business Casual
Price Range: <$30
Hours: Breakfast: Monday – Friday: 7:00am – 11:00am
Brunch: Saturday & Sunday: 7:00am – 3:00pm
Lunch: Monday – Friday: 11:00am – 4:00pm
Dinner: Daily: 4:00pm – Midnight
Credit Cards: AMEX, Discover, MasterCard, Visa
The author is a member of the Amazon Affiliate program but otherwise has no affiliation with any of the businesses or products described in this article.
All images were taken with a Sony Alpha a6500 camera and a Sony-Zeiss SEL1670Z Vario-Tessar T E 16-70mm (24-105mm full frame equivalent) F/4 ZA OSS lens or Sony 35mm (52mm full frame equivalent) F/1.8 E-Mount Lens using ambient light. Post-processing in Adobe Lightroom® and Adobe Photoshop® with Nik/Google plugins.