After a weekend of photography in the Alford dessert in the far southeast corner of Oregon, I returned to Portland to overnight before flying home the next day. I have not spent a lot of time in Portland so I don't know the city well. I turned, as I often do, to OpenTable.com to find a good restaurant that had a seat for one available on a Sunday night. It was already late afternoon, so there were few options. The Urban Farmer, a steakhouse in the upscale Nines Hotel in downtown Portland, was the option I went for. It proved to be a good choice.
Urban Farmer is a small chain (Cleveland, Philadelphia, and Portland with Denver "coming soon") that presents itself as a modern steakhouse with a unique look and locally sourced ingredients at each location. The Portland restaurant is located in a large atrium on the 8th floor of the hotel. Very open, light and airy, the ambience is not at all like a traditional steakhouse.
Their specialty cocktail list also looked anything but traditional.
Even the Classic Cocktail list added premium spirits and a few twists to old favorites.

The beer, wine and spirits lists were also extensive and prices were actually quite reasonable. Despite all of the delicious options, I was in the mood for a classic gin Martini. I noticed Tanqueray No. 10 on the list, which is not as common as my usual Bombay Sapphire, so that was my choice.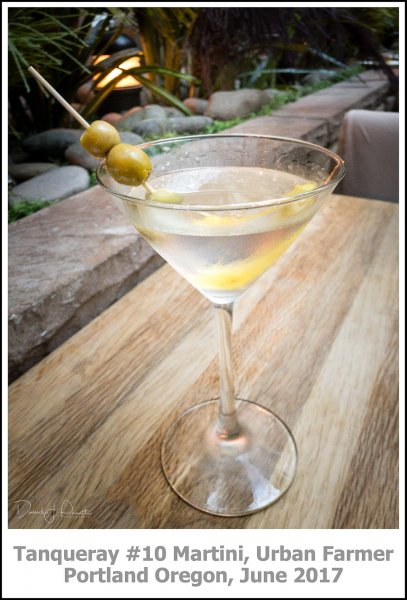 Feeling extravagant, I ordered both olives and a twist. It was served very cold and with just enough vermouth that it did not taste like gin on the rocks.
As I perused the menu, it was obvious that, just as with the cocktails, the restaurant aimed to elevate, or at least add a twist, to classic steakhouse dishes. I started with the chilled shrimp.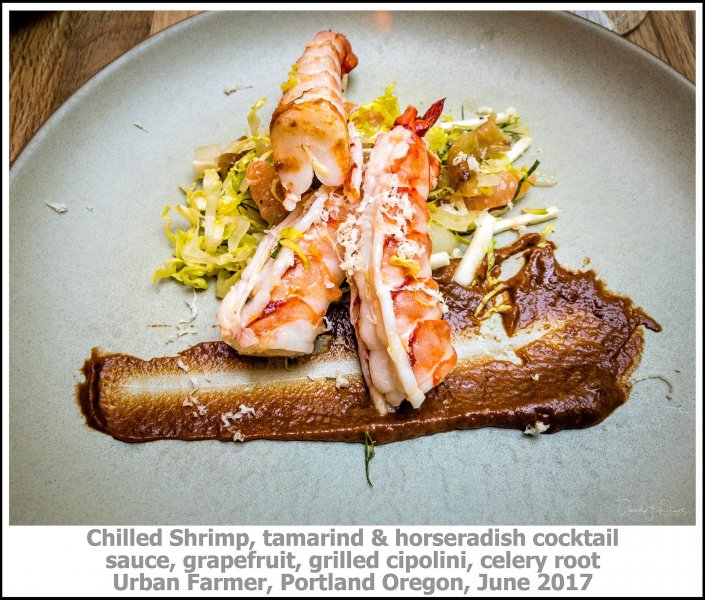 Almost every steakhouse will offer a shrimp cocktail—cold shrimp with a catsup & horseradish-based cocktail sauce. I am perfectly happy with these as long as they cook the shrimp properly and use a good cocktail sauce recipe. Urban Farmer decided to mix things up a bit, however, and mixed the horseradish with tamarind paste to create a very different, but delicious, cocktail sauce. Fruity and spicy, it played very well with the shrimp. If I have a complaint, it's that I would have liked more of the sauce!
Tamarind is a fruit that is not a common ingredient in the US. It is probably most used in India and the Middle East in all sorts of sauces, stews and even candies. Like many once exotic ingredients, however, it is now grown and used in many countries. Until recently, it's main use in Western cuisine was as an ingredient in Worcestershire sauce.
Shrimp and its cocktail sauce are often served very plain, with the shrimp on ice and the sauce in a little bowl. Sometimes little lettuce (leaves or chopped) is added mostly for presentation. Occasionally a little salad is part of the dish, with lettuce and celery the most common ingredients. Various other additions may show up at the whim of the chef. In this case, the small salad garnish could almost have stood on its own as a salad course, with lettuce, celery root, grapefruit sections and grilled cipollini onions.
The bread service came out just a moment after the shrimp were served.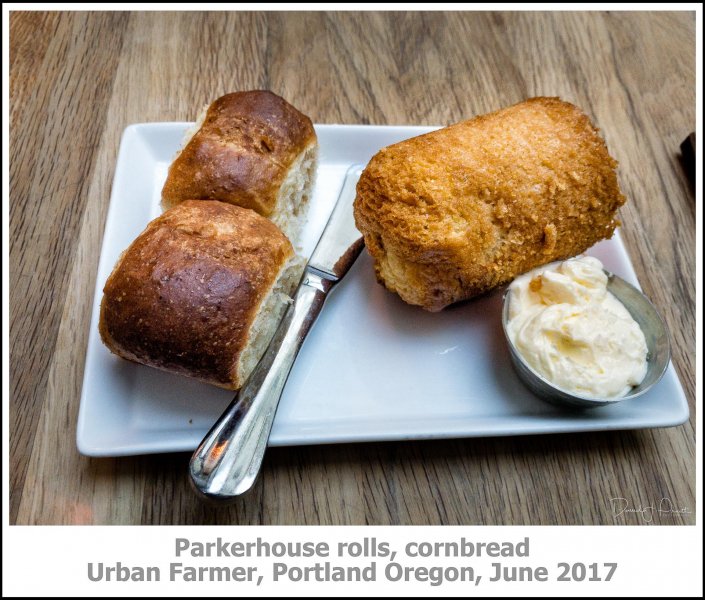 This was really good! The Parker house rolls were very good and could easily have been served alone. The cornbread, however, was a really nice addition. Fresh baked and hot, a bit sweet in the "Yankee" (as opposed to southern) style, it soaked up the soft butter as soon as it was spread.
As I mentioned at the top of this article, I had spent the weekend in the Oregon dessert. My meals were pretty basic and caffeine and alcohol nonexistent, so this meal was a bit of a spurge after several days of roughing it. I decided a second appetizer was in order: sautéed foie gras.
My preferred method of eating foie gras is seared, not that I will turn down a pâté or mousse if you offer it to me. It's always expensive and portions are small (which is probably a good thing given the calories and fat grams in a bite), but it's too rich to eat much of, anyway. It is traditionally served atop some type of bread to soak up the juices (toasted Brioche in the French tradition) and with some kind of sweet sauce to help cut through the richness. Once again, Urban Farmer had a twist on these traditions. The bread was a Danish pancake called an "ebelskiver" (you'll find the Danish name spelled many ways to get an English approximation: aebleskiver, æbleskiver, etc.) They are basically an extra fluffy buttermilk pancake. Whipped egg whites give the extra fluffiness and they are fried in a traditional cast iron pan, although many pans are available these days from teflon-coated to electric.
.
In Denmark, they are customarily made at Christmas and other holidays and dipped in powdered sugar, jam, or honey. Filled ebelskivers are common these days and you can stuff them with fruit, custard, Nutella—pretty much anything you might get in a filled donut. Savory versions can have bacon, cheese or (as was served here) herbs added to the batter. If you'd like to try your hand at them, here is one of the many YouTube videos on the subject. Making these is very much a family tradition passed down generation to generation, so I chose this video with a grandmother and granddaughter making the basic recipe.
The ebelskivers were the perfect interface between the sweet-tart cherry compote and the sautéed foie gras.
Foie gras is traditionally served with a glass of excellent dessert wine. In France, the wine is most often a delicious Sauternes made from Sauvignon Blanc and Semillon grapes that have been left on the vines to shrivel up and super-concentrate the sugar. I love that combination, but I found something on the wine list to give this course my own twist: the 2013 Anam Cara Late Harvest Gewürztraminer from the Willamette Valley, Oregon (you can see the glass in the upper right corner of the photo above). Gewürztraminer is, in my humble opinion, a sadly unappreciated grape. It is native to Germany and has has a wonderfully complex, aromatic aroma and taste that can include grapefruit, lychee, pineapple, apricot, peaches and various spices ("Gewürztraminer" means "spicy traminer," traminer being another wine grape). You may be familiar with Muscat (Moscato) or Prosecco. Gewürztraminer, to my taste, is a vastly more complex and interesting version of wines made from these grapes.
Unfortunately, the name is scary looking and hard to pronounce for native English speakers. Let me help you with that one with this 20-second video.
The second problem is that, even when it is fermented very dry, it is perceived to be a bit sweet because of its inherent floral fruitiness. Too many people have been convinced that because so many cheap, bulk wines are a bit sweet, "good" wines must be dry. In fact, many of the most expensive, most complex and most age-worthy wines in the world are very sweet dessert wines.
Finally, Gewürztraminer is just not widely produced. It is fairly common in Alsace, France, but very little is made in, for example, the United States or Germany. In fact, there are only about 20,000 acres planted in the whole world. Compare that with Chardonnay, with 100,000 acres in California alone.
Dry, slightly sweet, or a very sweet late harvest dessert wine (like the one I had here), Gewürztraminer smells and tastes wonderful. Look for one in an Asian, Indian or Middle Eastern restaurant and see how well it goes with the food there (Riesling is a good choice, Gewürztraminer is better.)
Also, if you ever find a sweet, Late Harvest version in your local wine shop, try it with pumpkin pie. The pie spices and the spiciness of the wine are perfect compliments to each other.
By this point I was really happy I had come to Urban Farmer. Great twists on some of my favorite dishes and a special wine by the glass. Let's hope they don't screw up the steaks!
As I perused the steak menu one item caused me to do a double take: a New York Steak Tasting. I have been to hundreds of wine tasting and a few Bourbon, Tequila and Scotch tastings, even an olive oil tasting, but a steak tasting?
Regular readers know that a NY Strip is my preferred steak most of the time. At home, I buy USDA Choice grade steaks at the supermarket, cook them sous vide and they are wonderful. In a steakhouse, I prefer dry-aged (though wet aged is just fine) USDA Prime grade NY Strips, medium. Here was a chance to try dry-aged Prime, wet-aged Prime and grass-fed Choice steaks side-by side. How could I pass on that?
Each steak was 6 oz, big enough that it could be seared properly on the outside and not overdone on the inside. To the kitchen's credit, each of these was cooked perfectly. The grass-fed, Choice steak was delicious, Tender and juicy, but with more of a chew than the other two. It had the most intense, pure beefy flavor. The RR (Double R Ranch, a family owned ranch in Washington State) Prime was meltingly tender with the rich taste of the extra marbling (fat) that made it Prime grade beef. Painted Hills beef is produced by a consortium of seven farming families that have been raising cattle in central Oregon for generations. The additional aromas and flavors that come from dry aging, which I can only describe as a bit funky and nutty, are delicious to me, off-putting to others. Any one of these steaks would have made a fine dinner by itself, but the foodie-geek in me was really happy to try all three at once. I should note that there is an option to add a 4th, Kobe beef steak to the plate. Had I been able to take leftovers home I would have certainly added that to the mix, but since I was getting on a plane the next morning, too much excellent beef would have been wasted. Maybe next time.
Of course I needed something to drink with the steaks. I was really torn between an excellent Oregon Pinot Noir and one of the fascinating cocktails Urban Farmer offered. I decided I had plenty of Oregon Pinot Noir available to me back home in Chicago, but I could not get one of their specialty cocktails, so I ordered the Barrel Aged Vieux Carré.
Vieux Carré, as many of you probably know, means "Old Square" and is the French name for the French Quarter in New Orleans. This cocktail, like many others, was invented in New Orleans. In this case, it was created in 1938 by a bartender named Walter Bergeron at the Hotel Monteleone's rotating Carousel Bar (which you can—and should—still visit).
It is made with Rye Whiskey (Bourbon is also used), Cognac (or any Brandy; Cognac is Brandy produced in Cognac, France), sweet vermouth, Benedictine and bitters. Think of it as a more complex version of a Manhattan. To save myself some typing, I'll let my go-to cocktail guy, Robert Hess, give you the details.
For the record, I don't actually know Robert Hess but his cocktail tutorial videos are good and his Bartender's Guide, sadly no longer in print, is excellent.
If you'd like to learn more about the cocktails created in New Orleans (and if you love cocktails, why wouldn't you?) a classic text first written in 1937 and updated a few times since then is Famous New Orleans Drinks and How to Mix 'Em by Stanley Arthur.
The Urban Farmer version is made with Elijah Craig Bourbon, Remy Martin VSOP Cognac, Carpano Antica vermouth (my favorite), and Benedictine, then barrel aged in-house to let the flavors blend and mellow. This was a delicious cocktail.
I ordered just one side, a unique potato treatment called a Twice Baked Fingerling Potato Tart.
Start with a very flaky crust (puff pastry, I think) lining the cast iron skillet. Fill it with mashed potatoes. Stud the mashed potatoes with fingerling potatoes and cover the whole thing with bacon and cheese before heating through in the oven. Add some sour cream and chives and you have a gourmet version of a good old twice baked potato. It was delicious, and the perfect accompaniment to the steaks.
I left only a couple of bites of steak and maybe a quarter of the potato behind as I made my way back to my hotel. If you are in Portland and are in the mood for a steakhouse that gives some creative riffs to classic steakhouse fare, I can heartily recommend Urban Farmer to you.
One last image: as I was leaving the restaurant (which is on the 8th floor of the hotel), the sun was setting on the Pioneer Courthouse. I love the light, so I grabbed a shot.
Urban Farmer
Address: 525 SW Morrison St. Portland, OR 97204
Phone: (503) 222-4900
Reservations: opentable.com
Website: http://urbanfarmerportland.com/
Dress Code: Business Casual
Price Range: >$50
Hours: Breakfast: Monday – Friday: 6:30a.m. – 11:00a.m.
Brunch: Saturday – Sunday: 6:30a.m. – 3p.m.
Lunch: Monday – Friday: 11:00a.m. – 3:00p.m.
Dinner: Sunday – Thursday: 5:00p.m. – 11:00p.m.
Friday – Saturday: 5:00p.m. – 12:00a.m.
Credit Cards: AMEX, Discover, MasterCard, Visa
Urban Farmer in The Nines Luxury Hotel
The author is a member of the Amazon Affiliate program but otherwise has no affiliation with any of the businesses or products described in this article.
All images were taken with and Apple iPhone 7 Plus using ambient light. Post-processing in Adobe Lightroom® and Adobe Photoshop® with Nik/Google plugins.