Valeria and I have walked by Howells & Hood many times. We often considered making a reservation there, but never did. Reviews often said it was loud, sometimes mentioned poor service, and there was a lot of emphasis on beer, which neither of us drink. We finally decided to give it a try one beautiful afternoon when we could sit outside (so if it was loud inside it would not be an issue). We're glad we finally went.
Howells & Hood is located in the Tribune Tower on Pioneer Court on the Magnificent Mile in the heart of downtown Chicago.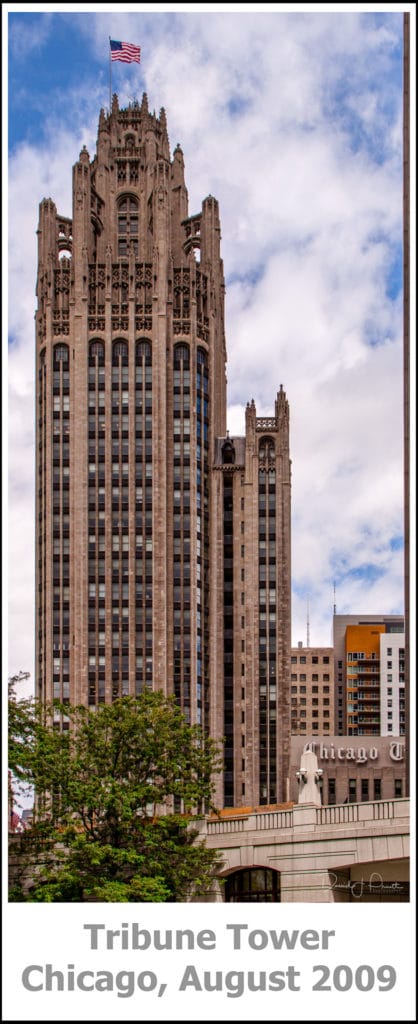 The restaurant's name is an homage to the building's architects, John Howells and Raymond Hood. In 1922, the publisher of the Chicago Tribune newspaper, Colonel Robert R. McCormick, held an international competition to design "the most beautiful and eye-catching office building in the world." Over 260 designs were submitted to compete for the $50,000 first prize. In their winning design, Howells and Hood incorporated design and construction elements of a modern skyscraper with elements of older architectural styles, especially Gothic elements such as flying buttresses, spires and gargoyles modeled after the Butter Tower of the cathedral at Rouen, France.
If you visit Chicago, this building is a landmark on Michigan Avenue's "Magnificent Mile." It is beautiful to see (especially at night) and has all sorts of interesting features inside and out. You can read about those here.
Once we were seated outside with a view of Pioneer Court, the Wrigley Building and Michigan Avenue right at the Chicago River, we began to look over the drink menu. We were happy to see that it included a number of creative cocktails and not just the much-ballyhooed 120 beers served out of 360 taps at three bars.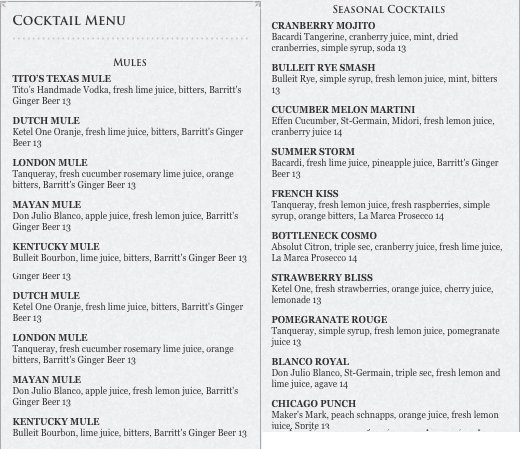 The wine list was quite short, but it did include some really nice bottles such as Orin Swift's "The Prisoner," Flowers Chardonnay, Guigal's Côtes-du-Rhone rosé, and Dampierre Grand Cuvée Brut Champagne. Yes, the emphasis here is on beer (it was one of the first things our friendly and knowledgeable waitress pointed us toward when she arrived), but someone has put some thought into the cocktail and wine lists as well.
Given it was a pleasantly warm summer day, I wanted a drink that would be light and refreshing. It looked like the Bulleit Rye Smash would work.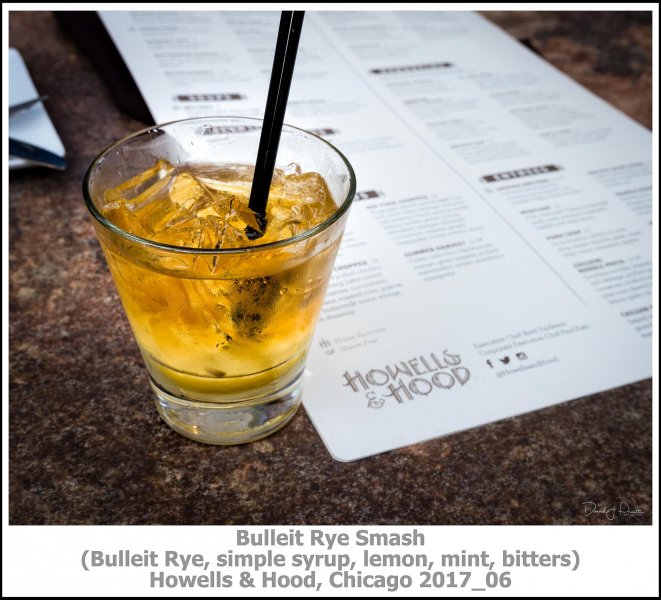 This drink might be thought of as a whiskey sour (whiskey, lemon, sugar, bitters) crossed with a mint julep (whiskey, mint, sugar, bitters). This is, indeed, a perfect summertime sipper. The lemon and mint play very nicely together to make a drink just a bit more complex than either the sour or the julip alone.
Bulleit produces a good Bourbon and one of the best Ryes on the market (at least to my taste). If you would like to know more about them, I talk about them in some detail here and, of course, you can always visit the Bulleit website.
The menu offered a variety of classic American bar food choices, but each had been reimagined and given at least a bit of a twist to make it a fresh take. For example, Firecracker Shrimp (lightly battered and fried shrimp served with a spicy, creamy sauce over lettuce) can be found in many bars and restaurants. Quality ranges from dreadful to delicious. We love them when they are good, and we will almost always try them when we see them on a menu.
These definitely fell on the delicious end of the quality scale. The shrimp had been fried in a light tempura-style batter and tossed with a creamy, spicy sauce that packed just the right amount of heat. (I realize that how much since is "enough" is a matter of individual taste. We like things with a good kick, but don't buy über-spicy sauces with names like "The Flames of Hell" or compete in pepper eating contests.) A sprinkling of black sesame seeds added a little more color, texture and flavor. The pickled Fresno chili slices added a nice vinegar bite and a bit more heat, if you choose to eat them. I believe the "Szechuan dust" was just ground Szechuan pepper. Finally, the crispy rice noodles were a change from the usual bed of lettuce, though I can't say it made the dish significantly better or worse.
Another bar food staple are chicken wings made in numerous styles. As with Firecracker Shrimp, wings can be a culinary disaster or delight. Howells and Hood opted for a Korean version.
The wings were significantly spicier than the shrimp—too spicy for Valeria and getting close to my upper limit. They were, however, delicious. Crunchy and meaty, the wings were juicy and, in addition to the spicy heat, very flavorful thanks to the Gochujang and umami dust.
Gochujang is a hot pepper paste that is used extensively in Korean cuisine. It is made with red chili powder (gochutgaru in Korean), rice, fermented soybeans (as in soy sauce and miso), salt, and perhaps some sweeteners or other ingredients. It is usually quite spicy, and can be flaming hot, depending on the brand. It looks a bit like catsup, but is thicker and you will be in for quite a surprise if you dip your French fries in this!
"Umami" is the so-called 5th taste (along with sweet, sour, salty, and bitter) that is often described as "meatiness." It is the tongue's reaction to a class of chemical compounds called glutamates (as in monosodium glutamate, or MSG) that are found in meats and mushrooms, among other foods. Umami Dust is a term for a number of seasonings now available that have a strong umami favor. Dried, powdered mushrooms are the primary ingredient, but bonito (dried tuna) flakes, seaweed, salt, garlic, tomato and more can be part of the mix. If you like to grind your own spices at home, it's easy to make with recipes like this one. It is also readily available in many gourmet shops and finer grocery stores or, of course, from good old Amazon.
After a couple of spicy dishes, something to cool the palate a bit seemed appropriate, so we shared a Wedge Salad.
The traditional wedge salad is a simple one and it lives or dies by the quality of the humble ingredients: iceberg lettuce, bacon, tomatoes, croutons and blue cheese. Each component here was given due respect. The lettuce was crisp a fresh (admittedly, not a high hurdle). The bacon was salty, smoky, and, well, bacony (there is a lot of cheap, flavorless bacon out there). The croutons were made with brioche bread and were both delicate and crunchy. I think the tomatoes had been dried a bit to concentrate their flavor. Finally, a really good blue cheese, and plenty of it, was used in the rich buttermilk dressing. A few micro greens scattered on top added some color and flavor as a garnish.
We decided we had room for one more plate, so we ordered the fish tacos.
These, too, were delicious. The cornmeal beer batter was crunchy and had enough flavor to complement the fish. The chipotle coleslaw and pico de gallo added texture, color and just a bit of spice that was cooled by the cilantro cream. The micro-cilantro garnish looked nice and added a touch more flavor. Wrap it all up in a warm, soft, white corn tortilla and serve with a few chips and a nice tomatillo salsa on the side and you have about as good a fish taco as you will find outside the Baja peninsula.
With that, our first—but definitely not our last—visit to Howells and Hood ended. There were still plenty of things on the menu we wanted to try. The noise levels was not high, either when we were walking through the indoor part of the restaurant or in the outside seating area. Our service was very good. If everything on the menu is as well done as the items we tried, almost everyone should find a variety of dishes to their liking. If you are a wine or cocktail drinker, you will also find something tasty to quench your thirst. If you are a beer drinker, those 120 beers will keep you busy for a while!
Howells & Hood
Address: 435 N Michigan Ave, Chicago, IL 60611
Phone: (312) 262-5310
Reservations: opentable.com
Website: hhttp://www.howellsandhood.com
Dress Code: Casual
Price Range: <$30
Hours: Sunday – Thursday: 11:00a.m. – 11:00p.m.
Friday & Saturday: 11:00a.m. – 12:00a.m.
Credit Cards: AMEX, Discover, MasterCard, Visa
The author is a member of the Amazon Affiliate program but otherwise has no affiliation with any of the businesses or products described in this article.
All images were taken with a Sony Alpha a6500 camera and a Sony-Zeiss SEL1670Z Vario-Tessar T E 16-70mm (24-105mm full frame equivalent) F/4 ZA OSS lens or Sony 35mm (52mm full frame equivalent) F/1.8 E-Mount Lens using ambient light. Post-processing in Adobe Lightroom® and Adobe Photoshop® with Nik/Google plugins.