Le Petit Paris had been on my list of places to try for a while. I love French Bistro food and it's only about a 15 minute walk from my place in Chicago. One Sunday night Valeria was off with her mom and I was on my own, so I went to OpenTable.com and booked a reservation. What followed was an almost surreal dining experience.
I arrived exactly on time and was greeted by the owner, Chef Alain Sitbon. He looked rather shocked to see me. When I said I had a reservation he asked how I made it. "OpenTable," I answered. He said that he had told OpenTable not to accept any reservations that night and that I should not be there. I am not sure what the issue was. The restaurant was about 75% full, but there were open tables. Chef Sitbon led me to one, so I sat down feeling a bit confused. Should I just leave or stay for dinner? A waiter came and asked if I wanted a drink before dinner, so I asked for a gin Martini and hoped for the best.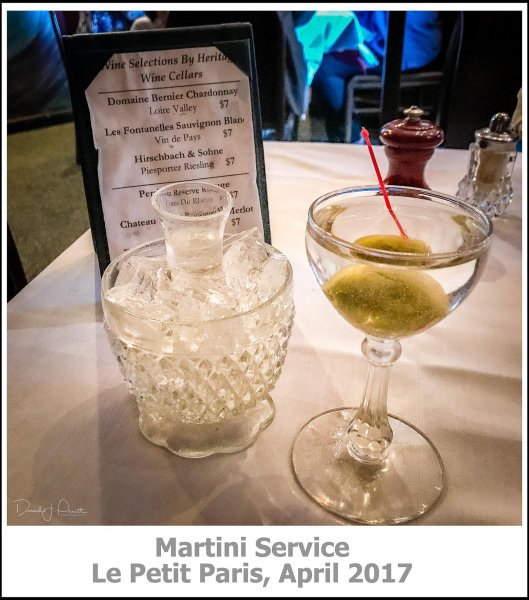 I must say that I was impressed with the way the Martini was served. As I discussed in a recent blog, the modern trend of serving cocktails in huge glasses may seem like a good thing on the surface (especially if you're more interested in getting drunk than enjoying a well-made cocktail), but it's not a great thing for the cocktail, which gets warm if it is served "up" or gets diluted if served "on the rocks." This service was brilliant: a small glass with an excellent olive (pit included, which is good) and half of the cocktail on ice on the side. Perfect.
Both the liquor and wine list is limited here, as is appropriate for a small, bistro-style restaurant. You can get a classic cocktail or a inexpensive glass of regional wine that will be very nice with your dinner. You can see most of the wine list behind the Martini in the image above. If you are looking for cutting edge modern cocktails, cult California cabernets or Grand Cru Burgundies, this is not the place. If you are looking for nice wines with flavors that speak of the region they are from, this is the place.
Bread and butter appeared next.
The bread seemed more Italian than French to me, but it was delicious with a nice crust and good chew. The butter was also of excellent quality.
I ordered a simple salad as my first course.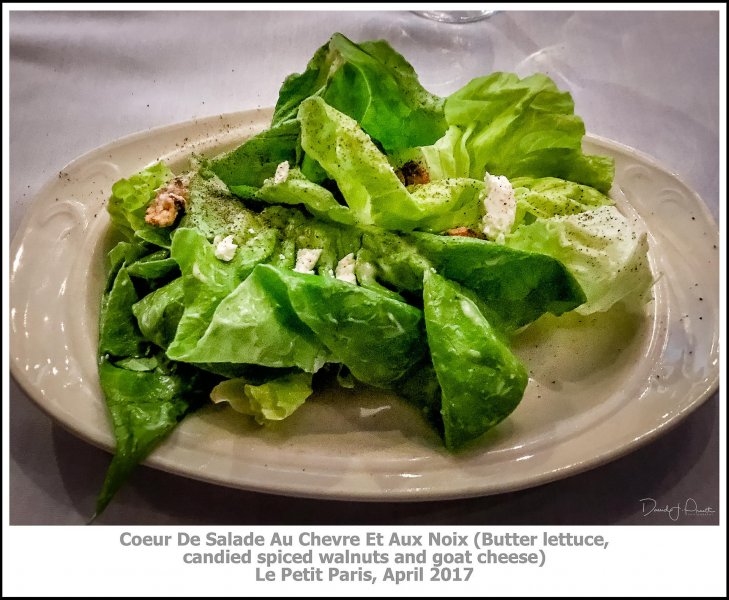 The lettuce was fresh and lightly dressed with a lemony dressing. The scattering of spiced walnuts and goat cheese and a few grinds of fresh pepper completed the basic, but delicious, presentation. I would have liked a little more goat cheese, but I really love goat cheese so that may just be me.
My entrée was a bistro classic that I love, but which may make some of you look away with a "ewwww!": Foie de Veau au Porto (Sautéed calf liver, smoked bacon, onion and port wine sauce)
I know, I know. For some of you few things are more disgusting than liver of any kind cooked any way. For others, properly prepared calf, chicken or duck liver is delicious. I am, obviously, in the latter group.
Calf liver can be easily ruined. The thin slices are easily overcooked, leading to dry, gamey meat. This was perfect. Seared nicely on both sides, medium in the middle. Add sautéed onions, a crispy piece of thick-sliced smokey bacon and the subtle sweetness of a port sauce and you have, for me, a perfect bistro dish.
The veggies on the side were also well cooked. The carrots and broccoli were done, but not overdone and the potatoes were nicely cooked and seasoned.
I could not resist ordering a side of French fries—I mean Pommes Frites—however, which was another surprise to Chef Sitbon.
I certainly didn't need these, but I saw "truffle aioli" and lost control. Aioli is basically garlic mayonnaise in France, garlic and olive oil in Spain. It is delicious on its own, but adding truffles takes it over the top. Here is a dead simple method for making it.
You can get the book, Truffle Hunt, referenced in the video from Amazon, along with some truffle paste or pieces.
I have used several Truffle Hunter products and they have been uniformly good. I included a link for their truffle mustard, which you can certainly use in making the truffle aioli and which is the best truffle mustard I have found with a good, strong truffle aroma and flavor.
The fries, by the way, were perfect. Crisp on the outside, fluffy on the inside, perfectly seasoned, and piping hot.
I was pretty full at this point and normally pass on dessert, but they laid the card in front of me and there was another bistro classic: apple tart.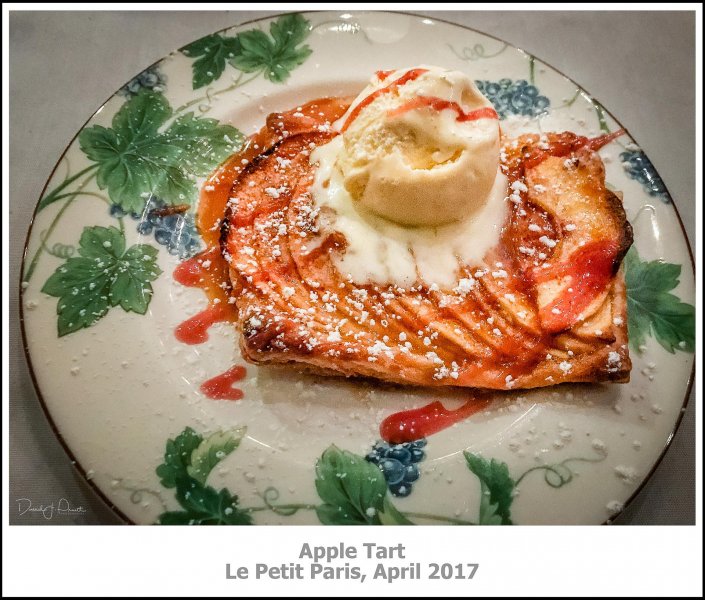 I don't know why the French tend to bake up their apples in a tart while Americans tend to bake them up in a pie and I don't really care. Either way, you get a delicious dessert.
So what do I make of my overall experience here? I can't say I ever felt entirely welcomed. I was there on time and well dressed (sport coat, dress pants, dress shirt). I was polite and, as far as I knew, had a valid reservation. Whatever issues the chef had with OpenTable, I don't think they should have been taken out on me. The open hostility I felt on entering (and perhaps I should have just left then) never became friendliness or welcoming, but at least gave wave to neutral, efficient service.
The food, on the other hand, was delicious from start to finish. Nice portion sizes, perfectly prepared and presented. In that regard, it was a perfect bistro experience.
Will I go back? I'm still debating. I did love the food and everyone has an off day. I will probably never know what was troubling Chef Sitbon that night or why his ire was directed at me rather than the source. On balance, I will probably give him the benefit of the doubt and go back, preferably with Valeria and hopefully to a more friendly welcome.
The night did end with a smile, however. As I was walking home, I spotted several rabbits in a park between the restaurant and my place.
Given the carrots scattered around, it was obvious that the locals were feeding them. You might be surprised at how many rabbits you'll see in the heart of downtown Chicago.
I should warn you that the restaurant can be difficult to spot. It is on the ground floor of a high rise and the signs for it are small.
Le Petit Paris
Address: 260 E Chestnut St Chicago, IL 60611
Phone: (312) 787-8260
Reservations: opentable.com
Website: http://www.lepetitparis.net
Dress Code: Business Casual
Price Range: $30—$50
Hours: Daily: 5:00pm – 10:00pm
Credit Cards: AMEX, Discover, MasterCard, Visa
The author is a member of the Amazon Affiliate program but otherwise has no affiliation with any of the businesses or products described in this article.
All images were taken with a Sony Alpha a6500 camera and a Sony-Zeiss SEL1670Z Vario-Tessar T E 16-70mm (24-105mm full frame equivalent) F/4 ZA OSS lens or Sony 35mm (52mm full frame equivalent) F/1.8 E-Mount Lens using ambient light. Post-processing in Adobe Lightroom® and Adobe Photoshop® with Nik/Google plugins.