Valeria and I had eaten at Eddie V's Prime Seafood not long after it opened. We went before the theater, so we were on a deadline. We did not have a bad experience, nor did we have a good one. Everything was OK, but should have been better at a high-end steak and seafood place. We said many times that we should go back after they had been open for a while and when we were not watching the clock to give them another chance. We finally did and it was definitely more impressive, but was it impressive enough?
Eddie V's has about 16 locations across the country and is affiliated with the Capital Grille, a similar chain of upscale steakhouses (and one of my favorites). Even the web sites are similar, no doubt developed by the same people. Eddie V's emphasizes seafood first and steaks second, while it is the other way around at the Capital Grille. Eddie V's has more blue light and nautical themed decorations, while the Capital Grille is modern, but somehow retains some the old-fashioned, men's clubby feel of a traditional steakhouse. Both chains feature extensive cocktail and wine selections.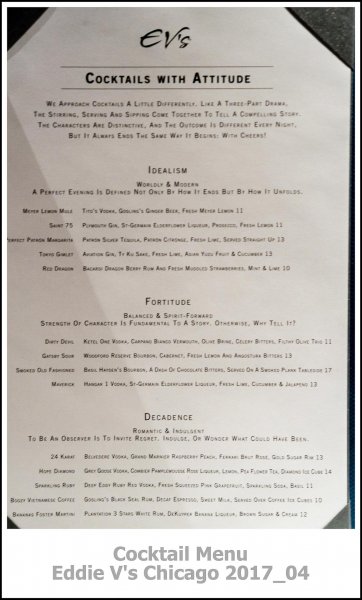 There were some interesting looking craft cocktails on the list, but I decided to go with a classic Manhattan when I learned they had Woodford Reserve Bourbon and Carpano Antica vermouth.
I have written a lot about the ingredients that go into a good Manhattan and how to make it before, most notably here and here, so I won't repeat myself, but feel free to check those earlier posts for lots of information and videos. Long story short, this one was perfect right down to the (not Maraschino) cherry.
There was nothing particularly fancy about the bread service, just really tasty, crusty, bread that I am sure was made with flour from at least three different grains, and some excellent butter. It was delicious, and the four nice slices were perfect for the two of us. (I'm sure they would have brought more had we asked.)
My meal turned out to be classic steakhouse, starting with the Manhattan and continuing with a shrimp cocktail.
The cocktail included four quite large and perfectly cooked shrimp. On the side were two classic seafood sauces, a mustard sauce and a cocktail sauce, with a bowl of "atomic" (hopefully referring to the heat level and not radioactivity) horseradish to spice up either one.
Growing up in the midwest, shrimp were a rare and expensive treat for me, usually only seen at holidays. (These were the days before jets started delivering fresh seafood overnight all over the country.) They were always boiled and served with cocktail sauce. Despite the many ways I have learned to cook and sauce shrimp since then, this is still a childhood favorite that never gets old.
Cocktail sauce can be as simple as ketchup and horseradish. There are dozens, if not hundreds, of variations, usually including ketchup and/or chili sauce, horseradish, Worcestershire sauce, lemon (or lime) juice, and various optional flavorings like hot sauce, celery salt and whatever else a creative cook decides to throw in. Here is what I consider to be both a classic and a Cadillac version of cocktails sauce, kicked up from simple ketchup and horseradish, but not going too crazy with creativity.
Since people's preferences range from very little horseradish to lots of horseradish, I like the idea of serving some extra on the side for people (like me) who want a real kick in the sauce.
Another excellent, general purpose seafood sauce is a mayonnaise and mustard-based condiment. I don't know if it was invented at Joe's Stone Crab in Miami Beach, but their version is very popular. (We also have a Joe's Seafood, Prime Steak & Stone Crab here in Chicago; there is a third location in Las Vegas.) Joe's serves it's mustard sauce with their signature stone crab claws and both are delicious. Joe's has also been free to give out the recipe for they sauce so you can make it yourself. While there are slight variations, (this one attributed to the presenter's mom) this is basically the same as the sauce at Joe's.
The recipe use at Eddie V's was similar and delicious. Valeria and I shared the shrimp, knowing there was much more to come.
Next, we each ordered a salad. I stayed with the classic steakhouse theme and enjoyed Eddie V's take on a traditional Wedge Salad, which they call an Iceberg BLT.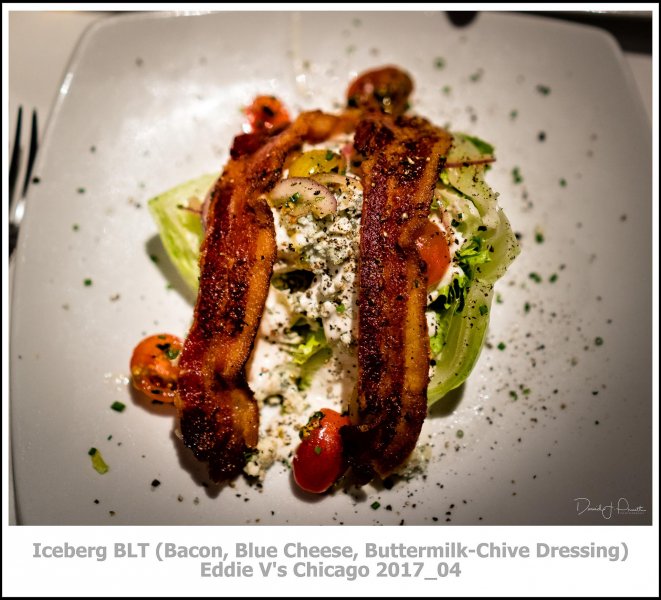 A simple salad that is utterly delicious if you use quality ingredients. Iceberg lettuce is the disrespected, poor cousin of all the fancier lettuces and other greens you can find in almost any grocery store these days, but it simply can't be beat for a fresh, clean crunch holding up whatever flavors you care to match it with. In this case, sweet cherry tomatoes, thick cut, smoked bacon, a buttermilk-blue cheese dressing and a little red onion made up the salad. You can do this with cheap, flavorless bacon, tasteless tomatoes and a mass produced blue cheese and have salad to be ignored. Here, all of the ingredients were first rate and full their respective flavors that combined beautifully on my fork. No complaints from this country boy.
Valeria, my upscale, city girl wife, took a more gourmet path with the Warm Goat Cheese Salad.
Definitely more 21st century than bacon and iceberg lettuce, this is still, fundamentally, a very simple salad that depends on the freshness and quality of the ingredients. We both love a warm, creamy goat cheese with all it's tangy goodness. Dress some peppery arugula, complemented by the slight bitterness of Treviso radicchio (the leaves that look like red Belgian endive), with a light champagne vinaigrette, top them with some flavorful wild mushrooms and warm goat cheese and once again the combination becomes more than the sum of its parts.
So far, so good. The food was excellent and the pacing of the meal had been good with courses coming out neither too quickly nor too slowly.
Our entrées came out next. Valeria chose one of her go-to dishes, Chilean Sea Bass with an asian inspiresd sauce.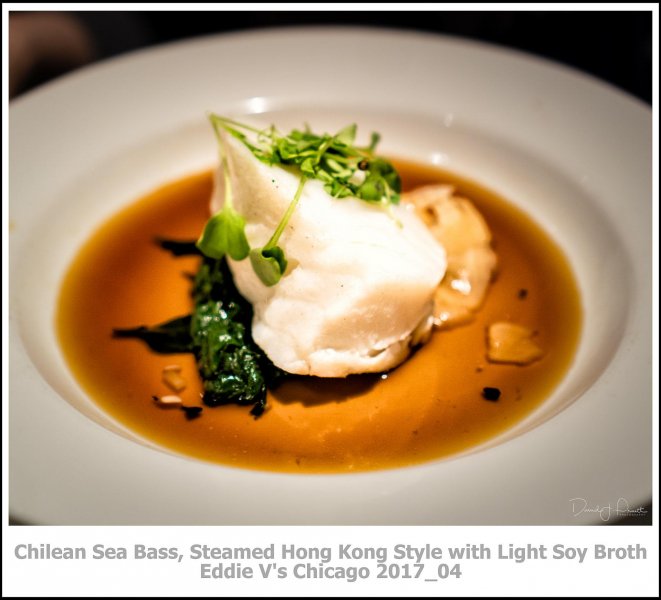 I share her love of this fish. When fresh and cooked properly, it is delicate, but has good texture and great richness. It seems to play very well with all sorts of asian sauces and spices. Here it was served in a light soy broth with ginger and garlic that was delicious, but did not overpower the fish. The fish itself was perfectly cooked.
I stayed in steakhouse mode and went my my go-to steak, the NY Strip.
I was not disappointed. It was well seasoned (salt and pepper) cooked as I requested (warm pink center) and as tender and deliciously beefy as you expect a prime NY Strip to be.
We knew we would not have room for too many side dishes, so we went with just one: broccolini with lemon, garlic and Parmesan.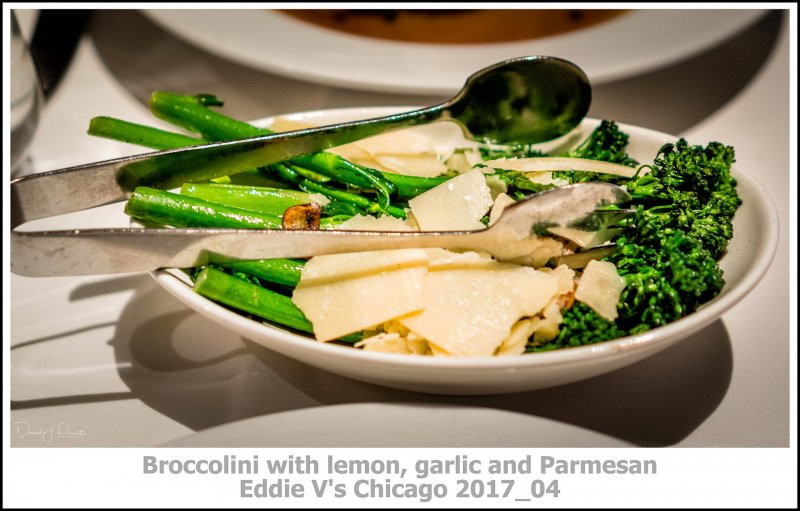 Broccolini has become a favorite vegetable for us. It was developed in Japan as a natural hybrid (not a GMO) of broccoli crossed with a vegetable called Gai lan (also called Chinese broccoli or Chinese kale).
Broccolini has smaller florets than broccoli and the long, thin stalks can be eaten without peeling. It is a bit sweeter than broccoli and, as you might imagine, packed with vitamins and other nutrients. The preparation here with garlic, lemon, and Parmesan as delicious because, well, what doesn't taste better with garlic, lemon and Parmesan? Also, the vegetable was just cooked through—neither too crunchy nor too soft.
So, overall, how did we enjoy this return visit to Eddie V's? Much more than the first one. The food, service and ambience were all very good. There was no "wow" factor that left us raving, but why should there be? After the first visit, we would have hesitated to recommend Eddie V's; now we would have no problem doing so. It certainly stands as a more seafood-centric, modern alternative to it's Capital Grille cousin (sister? brother?). In a city full of great steak and seafood places, Eddie V's fits right in. Ultimately it will be your responses to the nuances of the decor and food preparation that determine where you will rank it among the other choices.
Eddie V's Prime Seafood
Address: 521 N. Rush Street Chicago, IL 60611
Phone: (312) 595-1114
Reservations: opentable.com
Website: https://www.opentable.com/eddie-vs-chicago
Dress Code: Business Casual
Price Range: ~$30 – 50
Hours: Sunday: 5:00 p.m. – 10:00 p.m.
Monday – Thursday: 5:00 p.m. – 10:00 p.m.
Friday – Saturday: 5:00 p.m. – 11:00 p.m.
Credit Cards: AMEX, Diner's Club, MasterCard, Visa
The author is a member of the Amazon Affiliate program but otherwise has no affiliation with any of the businesses or products described in this article.
All images were taken with a Sony Alpha a6500 camera and a Sony-Zeiss SEL1670Z Vario-Tessar T E 16-70mm (24-105mm full frame equivalent) F/4 ZA OSS lens or Sony 35mm (52mm full frame equivalent) F/1.8 E-Mount Lens using ambient light. Post-processing in Adobe Lightroom® and Adobe Photoshop® with Nik/Google plugins.