Valeria and I were in the mood for a casual dinner one Saturday night and decided to give Doc B's Fresh Kitchen a try. As it turns out, they have two locations in Chicago, one on Grand in River North and one on E. Walton in the Gold Coast. (There are also two location in Florida, one in Tampa and one in Fort Lauderdale.) We go by the one on Grand all the time and I thought I had made a reservation there (I didn't know about the second location). As it turns out, only the Gold Coast location is on OpenTable®. So we turned up at the right time at the wrong location. Fortunately it was not that far to the other place (both are packed on Saturday nights). Yeah, I'm an idiot sometimes.
The restaurant has a modern, fairly minimalist look with lots of wood and concrete. The hard surfaces make for a pretty noisy environment which, depending on your taste, means a constant energetic buzz or a place where it is hard to have a conversation.
Our server showed up promptly to introduce himself and take our drink orders. The cocktail list was intriguing.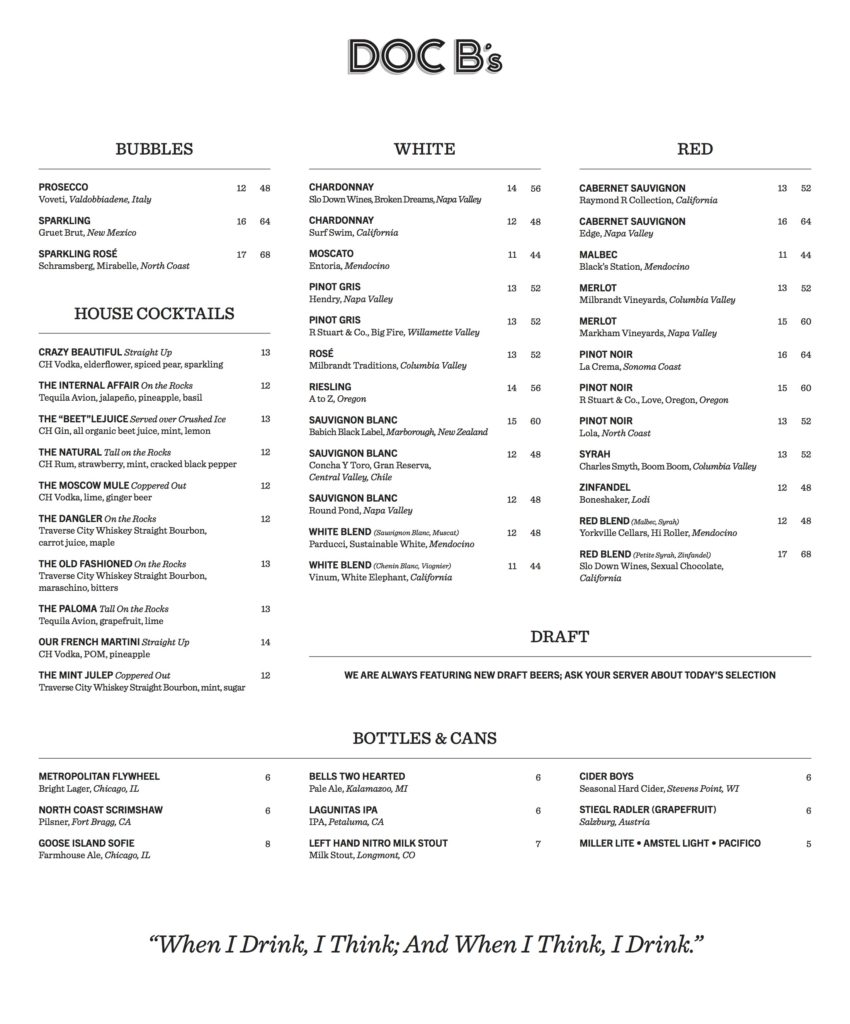 I grew up in Michigan and was in Traverse City any number of times of family vacations, so I was surprised to learn that Bourbon whiskey was being produced there.
As it turns out, the Traverse City Whiskey Co. has only been around for about 3 years, so I am sure it is among the many things that have changed in Traverse City since I last visited back in the '70s. The whiskey they produce is a straight bourbon. If your order a whiskey "straight" or "neat" in your favorite watering hole it comes to you right out of the bottle with nothing added—no ice, water or other mixers. When you see "straight" on the label of a whiskey bottle, however, it means that the liquor has been distilled from fermented grains (sometimes a single grain) and aged at least 2 years in charred new oak barrels. When distilled, the alcohol concentration can be no more than 80% by volume and it must be diluted to no more than 62.5% when it goes into the barrel.
There is a county in Kentucky and a street in New Orleans that are both named Bourbon after the Bourbon dynasty of kings in France. There are many legends and lies associated with the origin of the whiskey we call Bourbon today, and both the county and the street are said to be the origin of the name. I'll let the historians argue that out. Today, the name "bourbon" applies to a whiskey that is distilled from a grain mash that contains at least 51% corn and meets the same legal requirements as a straight whiskey. It can be made anywhere in the US as long as it meets these requirements.
I should have asked to taste the whiskey neat, since the bitters, sugar and orange in an Old Fashioned can cover up many problems with the whiskey. Nevertheless, the sweet vanilla oakiness of a good bourbon came through on the nose as did some warm spice notes. So, while I can't say if this is a good sipping whiskey or not, it certainly mixed up well in this cocktail.
Doc B's clearly designed the menu to offer a variety of dishes that would be considered lighter and healthier (kale slaw, quinoa salad, grilled salmon and more) as well as belly-busting favorites (burgers, ribs and fried chicken).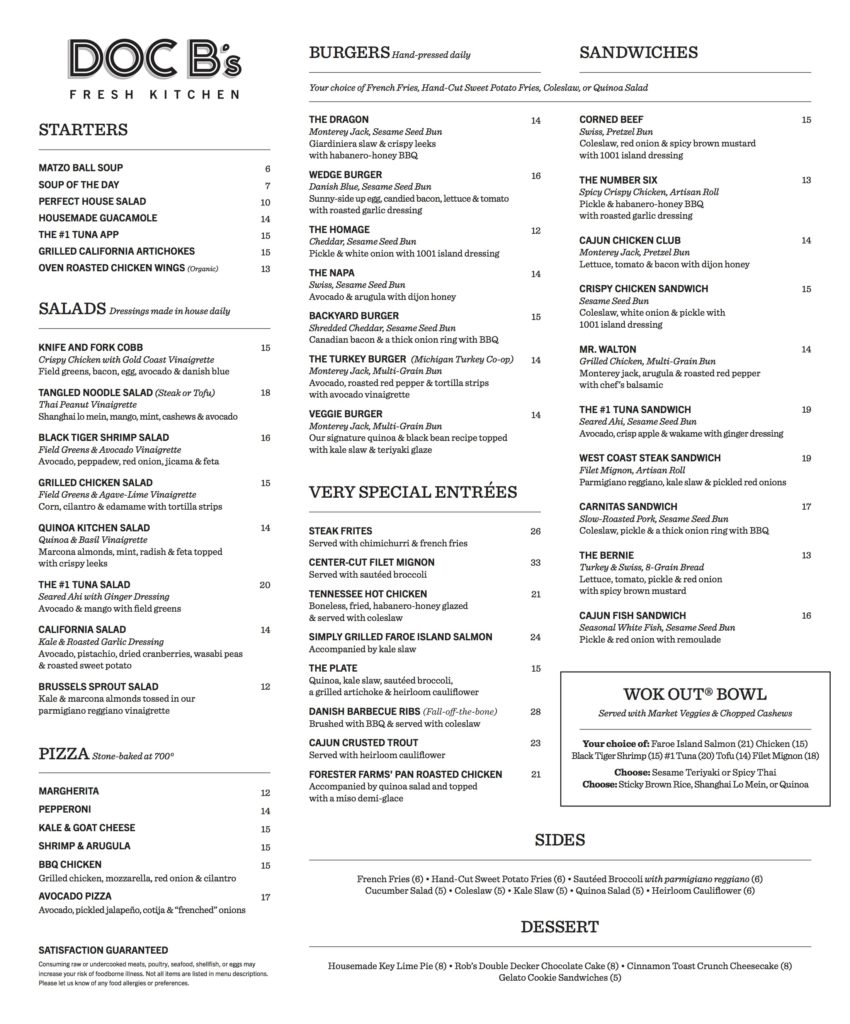 We chose an arguably slightly healthier version of guacamole and chips where the usual tortilla chips are replaced with house made sweet potato chips.
The chips were excellent—thin, crunchy and not at all greasy. The guacamole was sort of restaurant standard, which is to say creamy and fresh but rather bland. As I have written previously, Valeria and I have been totally spoiled by the amazing guac at Mercadito.
Valeria, as often happens, went for healthier dishes for her main course, Simply Grilled Faroe Island Salmon…
…with a cucumber salad on the side.
The salmon came with a side of the kale slaw that was about as good as kale salad gets. There was enough acidity in the dressing to have softened the kale a bit and make it tender but still toothsome. The salmon itself was nicely grilled—a nice char on the outside and barely cooked at the very center.
The Faroe Islands are a small group of islands in the North Atlantic that have developed a successful fish farm industry. Red flags go up whenever I see "farmed fish" as they can range of nightmares that produce fish that are deformed, full of hormones and swimming in their own waste to some of the very freshest, cleanest fish you can buy. The Faroe Islands have worked very hard to make their farms among the cleanest, most ecologically friendly and sustainable so (assuming an unscrupulous market or restaurant have not falsified the label) you can happily enjoy this salmon. (Well, unless you're a vegetarian.)
The cucumber salad was very fresh and refreshing. Nothing fancy, just a nice mix of vegetables and herbs tossed in a simple vinaigrette and topped with a little queso fresco (fresh cheese). We enjoyed it on this cool winter's night, but in the summer this would be a pure delight.
I, on the other hand, took the less healthy route: the Backyard Burger.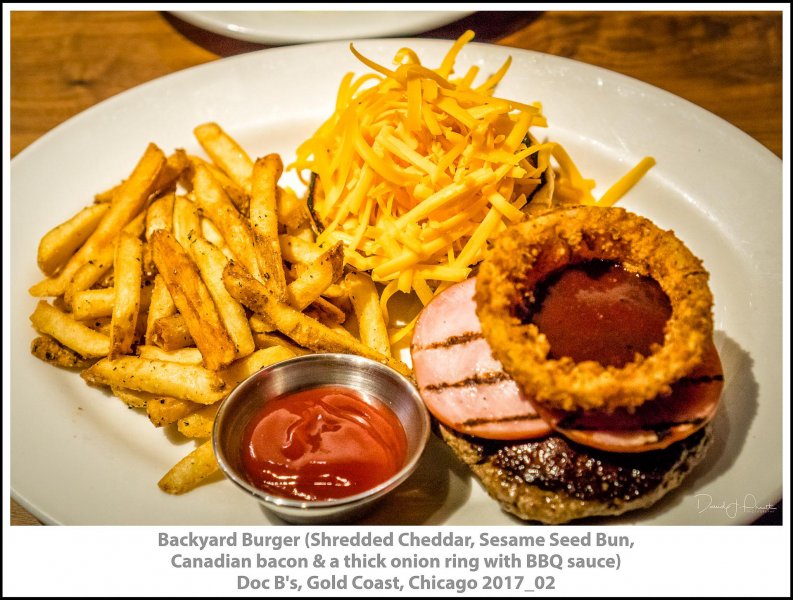 The menu offers options of sweet potato fries, Cole slaw or quinoa salad, but in for a penny, in for a pound I always say, so it was French fries for me.
The burger was perfect. Sized exactly to the bun, well charred on the outside, medium-well (as I ordered) on the inside, it was juicy and had good beef flavor. The Canadian bacon was nice, although I would probably have enjoyed some Applewood smoked bacon even more. The barbecue sauce was just the right combination of tangy, spicy and sweet. I suppose that the onion ring was meant to be eaten on the burger, but I pulled it off and ate it alone: crunchy, not overly breaded and delicious.
The shredded cheese, piled generously on the top of the bun, was the only thing that gave me pause. It was served cold and (I never thought I would say this about cheese) there was too much of it. Because it was cold, it sort of sat there as a separate thing rather than being melted and integrated into the sandwich. Perhaps some people prefer it that way, but I'd ask them to melt it down next time.
The fries were excellent: crisp on the outside, tender on the inside, piping hot and seasoned nicely with salt and pepper.
Since I had finished my Old Fashioned I decided to try another cocktail. I asked the waiter for a recommendation, but he said he was new and had only tried a couple, of the house cocktails, so he asked the bartender for a recommendation. She said that The Dangler was her favorite.
I was intrigued by the combination of ingredients, so I gave it a try. It is hard to describe the flavors of this one. It did not taste of carrots or of more than a hint of maple. It had a distinct earthiness that I can only assume came from the whiskey-carrot combination. I've never had anything else quite like it. It was good, but I think I need a couple more to get used to the new flavor combination. I am willing to try!
Overall, we enjoyed the food and service and would have only wished for a quieter environment, but some will find that a plus rather than a minus. We plan to go back as there are a number of things on the menu that look delicious.
Doc B's Fresh Kitchen Gold Coast
Address: 100 E. Walton, Chicago, IL 60611
Phone: (312) 626-1300
Reservations: opentable.com
Website: https://docbsfreshkitchen.com/locations/chicago-gold-coast
Dress Code: Business Casual
Price Range: $30 or less
Hours: Lunch: Dailey: 11:00 am – 4:00 pm
Dinner: Monday – Saturday: 4:00 pm – 10:00 pm, Sunday: 4:00 pm – 9:00 pm
Credit Cards: AMEX, Discover, MasterCard, Visa
Oc B's Fresh Kitchen, Gold Coast
The author is a member of the Amazon Affiliate program but otherwise has no affiliation with any of the businesses or products described in this article.
All images were taken with a Sony Alpha a6500 camera and a Sony-Zeiss SEL1670Z Vario-Tessar T E 16-70mm (24-105mm full frame equivalent) F/4 ZA OSS lens or Sony 35mm (52mm full frame equivalent) F/1.8 E-Mount Lens using ambient light. Post-processing in Adobe Lightroom® and Adobe Photoshop® with Nik/Google plugins.