Several years ago there was a trend for high-end hotels (Ritz, Four Seasons, and the like) to convert their high-end restaurants to something more casual. Some of the conversions were successful, some not so much. The Allium restaurant in the Four Seasons in Chicago is one of the successes.
I first wrote about Allium in July 2014 after an all-American lunch there.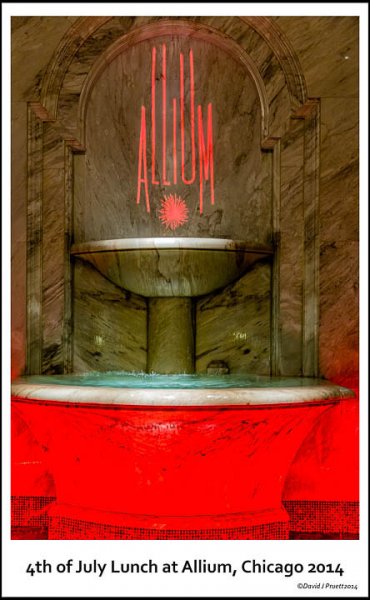 If you'd like to learn more about the conversion of the restaurant, the chefs and an awesome hot dog (it was the 4th of July, after all) click the link above the picture back to that article.
Valeria and I go back to Allium every once in a while when we want to have a nice walk through the city (the Four Seasons is about a mile from our condo) and casual, but good, food. How casual? I didn't even take a camera with me, just my trusty iPhone 7 Plus.
It was the Holiday Season, so a Christmas tree greeted us in the lobby.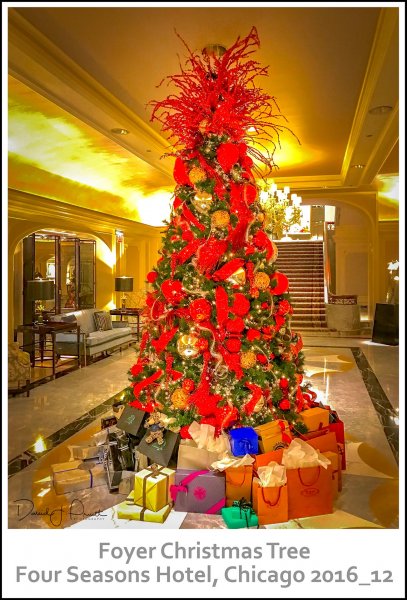 There is something about eating out during the holidays that is special. I suppose it's the combination of decorations, the hustle and bustle of the crowds and the (generally) good cheer.
We started the meal, as we often do, with a glass of rosé Champagne; in this case, the non-vintage (NV) Laurent-Perrier Rosé Brut.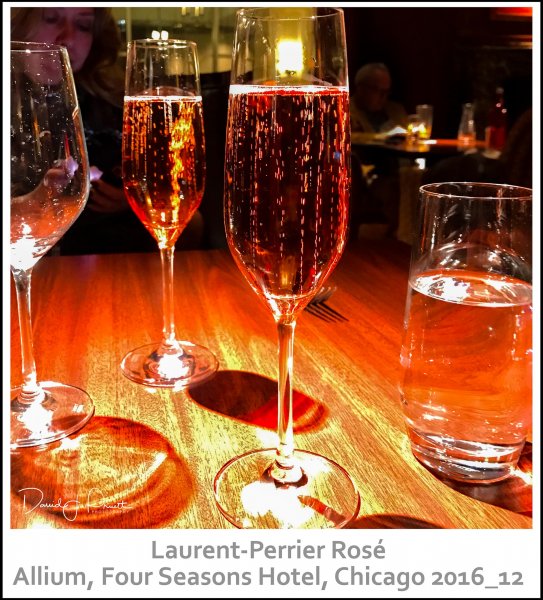 We drink Champagne year round, sometimes as our aperitif and sometimes as a wine with dinner. It is a festive, holiday sort of drink and some folks only drink it on special occasions. Our philosophy is that every day you are alive and well is a special occasion, so why not have a glass of bubbly? Laurent-Perrier was founded over 200 year ago (1812) and today is a highly regarded, large, family-owned producer. The NV Rosé costs around $75/bottle in the Chicago area, while the vintage Rosé will set you back over $300. We thoroughly enjoyed this one. There was lots of raspberry and strawberry fruit on the nose along with the toasty-yeasty aromas often found in Champagne.
We each ordered an appetizer to start. I chose Jumbo Prawns and Crisp Pork Belly with butternut squash and balsamic-glazed pears.
This was a lovely combination of colors, textures and flavors. There was a bed of puréed butternut squash, which for me is a great start. I love all the winter squashes and this was high season for enjoying them. Some slices of pear that had been glazed with balsamic vinegar added a slightly firmer texture and very different kinds of sweetness from the fruit and from the balsamic. The pork belly was nicely crisped, with firm meat and succulent layers of fat. Finally, the shrimp were nicely cooked—not too firm and not too soft. Really a nice start. The Rosé Champagne held up very nicely, as well. (The ability of Champagne to hold up to and enhance food is sadly underappreciated.)
Valeria, as she usually does, went a different, probably healthier route: Baby Beet Salad with Humbolt Fog Goat Cheese, Dukkah Spice and Vanilla Dressing.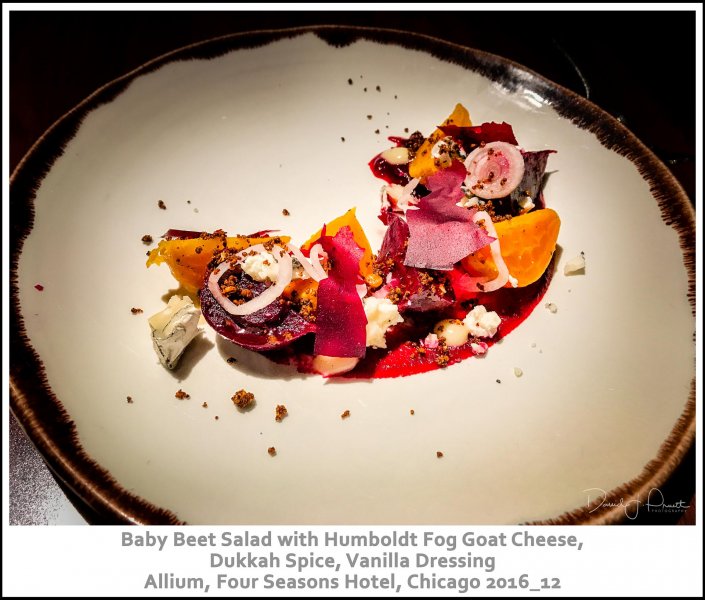 We both love beets and this dish featured several different types that had been roasted and cut up. Some blanched shallots (small onions?) were scattered over along with some goat cheese. Dukkah is an Egyptian nut and spice mix with many variations and uses. It traditionally starts with toasted hazelnuts, although cashews, pistachios, almonds, macadamia nuts or whatever you like can be substituted. Coriander seeds and cumin seeds are similarly toasted, then everything is ground up with a little salt and pepper to form a crumbly mixture. You can read the detailed recipe here. Nuts and warm spices like coriander and cumin play beautifully with beets, as they did here. The yellow-brown crumbles you see on the dish are the Dukkah spice.
Humboldt Fog goat cheese is produced by Cypress Grove™ in Humboldt County, California. If you have ever visited the northern California wine country and gotten as far as Healdsburg, which is farther north and west than most visitors ever get, you have to continue driving north on US 101 for over 200 miles and almost 4 hours to get to the Cypress Grove Creamery.
The United States is blessed with artisanal cheese producers in many states now, but that was not he case back in the 1970s. A woman named Mary Keehn, a single mother of four and a self-described "serious hippie" was looking for a source of healthier milk for her children. This was long before alternatives to commercial cow's milk could be easily found, even in California. She literally caught a couple of wild goats from her neighbor's property (with permission). Two grew into four and then more. Pretty soon there was way more milk than she needed, so she learned how to make cheese, first experimenting at home and later traveling to France to learn from master cheesemakers.
Cypress Grove Chèvre was formed in 1983 and her first product was a soft, fresh chèvre (goat cheese). The big breakthrough was when she developed Humboldt Fog, a soft-ripened (think brie, but more crumbly when young) cheese with a layer of edible vegetable ash in the center. This is a truly delicious cheese.
The ash represents the fog that often rolls in on Humboldt County—the same cool Pacific fog that rolls over parts of the Wine Country to help create the magic micro-climates to produce outstanding wine grapes.
Note the layer of creamy goodness that develops as the cheese ripens. Humbolt Fog is available in many fine cheese shops and grocery stores across the US and can be ordered directly from the company website. If you are an Amazon shopper, you'll find it there as well.
Want to learn more without taking the long (albeit beautiful) drive to far-northern California? Visit the website or take two minutes to meet Mary Keehn (at least virtually) in this video.
It was about time for our main course to arrive, so I ordered a Single Barrel Manhattan (Knob Creek Allium Barrel, Carpano Antica, Bitters, Orange Essence).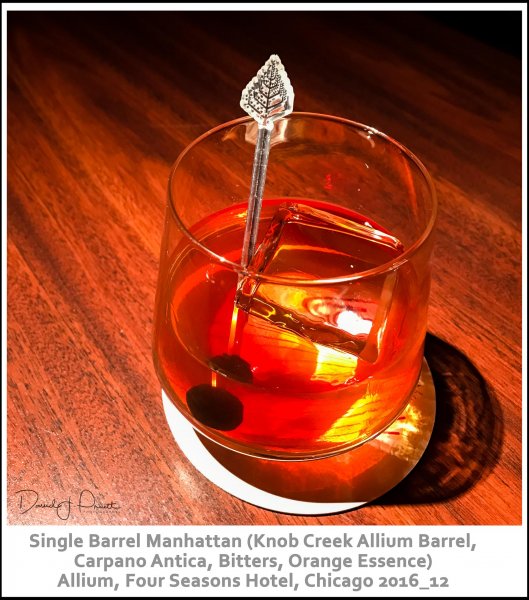 The Single Barrel Manhattan has been a mainstay on the Allium cocktail menu, but the whiskey changes from time-to-time. I wrote about it in the July, 2014 report. They use a high-end rye whiskey, which is what the original recipe calls for (bourbon is frequently used in Manhattans and that can be delicious, too). Knob Creek makes one of the best rye whiskeys I know. Allium gives it further aging in their own barrel (something a number of excellent bars do) and use it to create a smooth, complex cocktail with the addition of Carpano Antica vermouth, bitters and orange essence. Carpano Antica is another personal favorite of mine—heavier, more bitter, and more complex than the familiar Martini and Rossi sweet vermouth, which I still enjoy on occasion as well. The hint of orange from the housemade orange essence makes this version shine. This is a great, classic cocktail that has been elevated, but not caricatured.
I wrote expensively about the hows and whys of making a good Manhattan here. This is my go-to video for learning how to create a basic, excellent Manhattan, which can be elevated (or destroyed) by varying the whiskey, the vermouth, the bitters, the garnish and the proportions.
Valeria went with a second glass of Laurent-Perrier Rosé Champagne. That is never wrong.
For my entrée, I went with something I rarely order in restaurants: chicken, specifically the Allium Chicken (Italian Sausage Stuffed Leg, Kale Polenta, Crispy Onions, Roasted Garlic).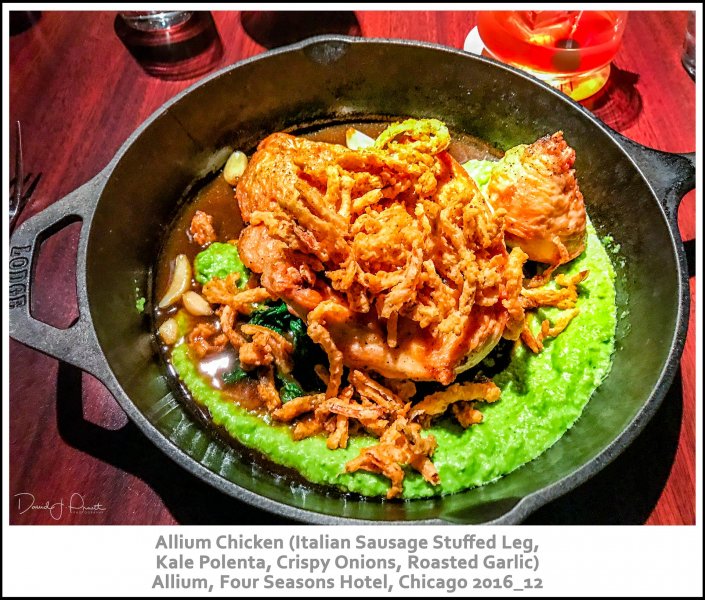 I cook chicken a lot at home. I love the millions of ways it can be seasoned, spiced, sauced, roasted, fried, basted slow-cooked, sous-vide, barbecued, and, and, and. That, however, is not why I don't order it out. I am not tired of it, I am just tired of restaurants who can't make it as well as I can. That may sound horribly egotistical, but Valeria (an admittedly biased witness) agrees and is even less likely than I am to order it out. This dish, however, was amazing. It was a half-chicken. The leg had been removed, boned, and stuffed with Italian sausage. The skin was perfectly crispy and it was not only perfectly seasoned, but it retained an excellent chicken flavor. The white meat was juicy, well seasoned and the garlic came through here as well. The jus (juice, sauce, gravy, as you like) tasted intensely of chicken with a nice hit of garlic. The crispy onions had a light, crispy crust.
Finally, puréeing kale into polenta made the kale more palatable, made the polenta tastier, and added a beautiful color to the dish.
By the way, you did realize that the name of the restaurant, Allium, is the name of the family of plants that includes garlic, onions and the like, right? And of course you remember that the name Chicago comes from an Indian (native American) name for an indigenous local garlic plant, right? So garlic = allium = Chicago. Cool.
Valeria's entrée choice combined two of her favorites: lamb and fennel.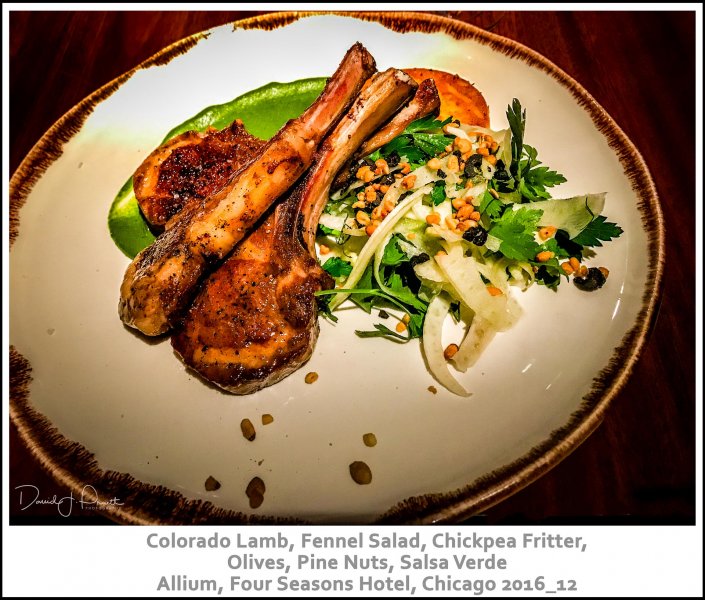 The meaty Colorado lamb chops were nicely trimmed, well seasoned and seared to a perfect medium, as requested. The salad was simple but flavorful: sliced fennel, parsley, toasted pine nits and chopped black olives. Her plate was clean before she finished.
What happened to the Chickpea Fritter? She ate it before I grabbed a shot!
Since it was transformed into Allium, the dessert menu has always included a category of "Little Bites"—small, sometime whimsical desserts that often reflect childhood treats from years and even decades ago.
Homemade ice cream, ice cream sandwiches, and milkshakes are always there with flavors rotating with the season. The milkshakes can be ordered in an "adult" version, i.e., which a shot of liqueur to give extra flavor and a touch alcohol.
We really did not need dessert, but we ordered the Pretzel Caramels anyway.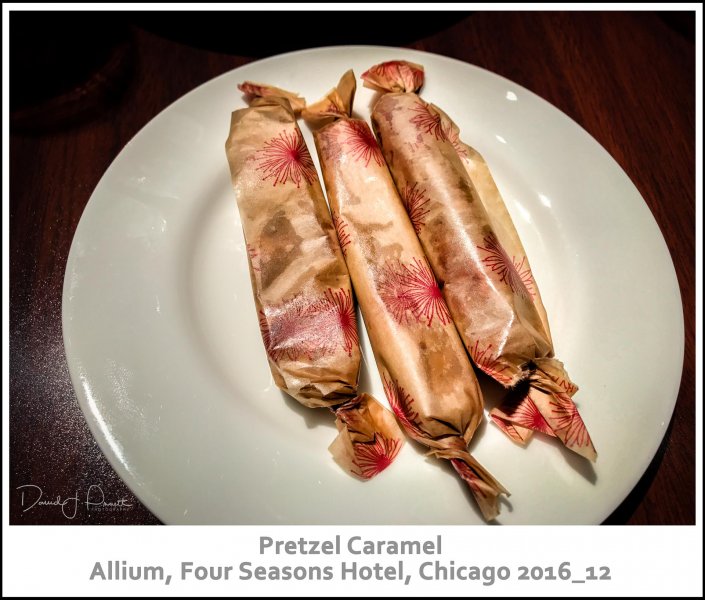 Great combination! Bits of salty pretzel wrapped in creamy, homemade caramel. An indulgence, but we split one order so it was a small indulgence.
We have enjoyed almost everything we have tried at Allium for both lunch and dinner. It is in a high-end hotel, so most people are dressed in business casual or something close. It is not a bargain, but what do you expect on the Magnificent Mile in a luxury hotel? Still, the prices are reasonable when compared apples-to-apples with other restaurants in the same niche. The dark paneled interior will strike you as either warm and cozy or stuffy and clubby, but we like it. Request a seat out by the windows if you like brighter, a more open feel.
One last image that reflects the season and not the restaurant. We walked by the Hancock Tower on the way home and enjoyed the holiday lights there for a few minutes.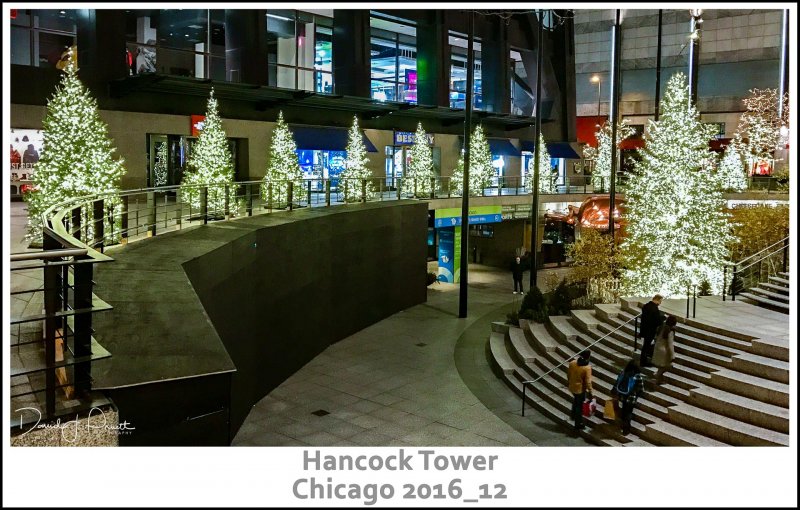 Allium
Address: 120 E. Delaware Street, 7th Floor, Chicago, IL 60611
Phone: (312) 799-4900
Reservations: opentable.com
Website: Allium
Dress Code: Business Casual
Price Range: $30 and under
Breakfast: 6:30am to 11:00am
Lunch: 11:00am to 3:00pm
Dinner: Sun. – Thurs, 5:00pm to 9:30pm
Fri. & Sat, 5:00pm – to 10:30pm
Sunday Brunch: 11:00am to 2:30 pm
AMEX, Diners Club, Discover, MasterCard, Visa
The author is a member of the Amazon Affiliate program but otherwise has no affiliation with any of the businesses or products described in this article.
All images were taken with an Apple iPhone 7 Plus. Post-processing in Adobe Lightroom® and Adobe Photoshop® with Nik/Google plugins.
Additional images not shown in the text are included in the slideshow.