How do the years roll by so quickly? It has been almost 2 years since I last wrote about Intro, shortly after it filled the space formerly occupied by L2O. The concept for the new restaurant was to bring talented new chefs in for a few months to introduce them to Chicago, hence the name, Intro. Valeria and I have returned at least once each time the chef changed. We've enjoyed every meal, but, for some reason, I haven't written any of them up—until now!
One of the Chefs-in-Residence, Stephen Gillanders, joined the Chicago-based Lettuce Entertain You (LEYE) restaurant group after his time as Resident Chef and became the Executive Chef at Intro. LEYE owns Intro and dozens of other restaurants in the Chicago area and around the country. The residency program at Intro continues, however, and Chef Hisanobu Osaka was Chef-in-Residence during our last visit. Chef Osaka was born in Kagawa, Japan and the menu he created and Italian-Japanese fusion menu for his residency.
Chef Osaka has worked all over the world in Michelin-starred Japanese and French restaurants with legendary chefs such as Iron Chef Masaharu Morimoto and Chef Daniel Boulud. He came to Chicago with Morimoto to revive Japonaise by Morimoto. (Apparently that didn't work as Japonaise is now closed.) He is a certified fugu chef in Japan. Fugu is a type of pufferfish that has deadly poison in some organs in its body. It must be cleaned and carved by a master fugu chef to make sure the pieces served (usually raw, sashimi style) contain no trace of the toxins. Fugu poison is 1200 times more powerful than cyanide, so eating an improperly prepared piece can be, and, for some people, has been, your last meal. This video explains. (Warning: not for the squeamish! Live fish being killed and cleaned.)
All this is to say that Chef Osaka definitely know his way around a kitchen and has serious food prep skills.
Intro has always been far more casual than L2O was, and there are no rules on how you approach this menu. You can make a meal of the small plates on the left side of the menu, sharing with your tablemates, if you like. You can build your own traditional tasting menu, making selections from each column from left to right, or just order and entrée and call it a night.
The restaurant gets a makeover with each new chef. This time, a light Japanese touch with some Japanese lanterns and typical minimalist decorating were added.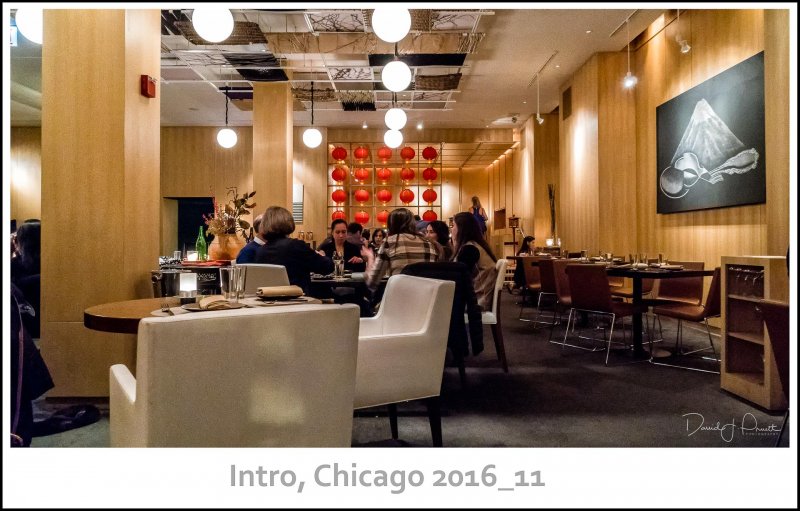 The cocktail menu gets a regular makeover as well. This was a cold November night and Valeria and I had spent a little time walking in Lincoln Park before dinner, so a warming cocktail seemed like a good idea.
I found myself irresistibly drawn to the Penicillin cocktail.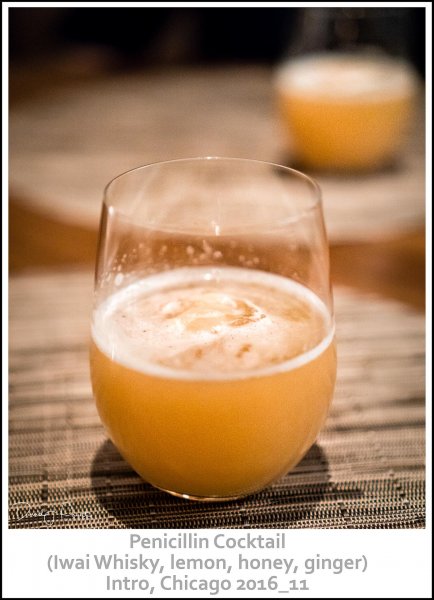 When I was growing up, whiskey with lemon juice and honey was a familiar cold remedy, even for children (in small amounts). I'm not sure that particular home remedy has been rigorously tested, but, apparently, their is some reason to believe it might help. Throwing in some ginger, to those who practice herbal and natural healing techniques, would certainly not seem like a bad idea. I will leave that debate to qualified medical researchers. I can tell you one thing about the drink, though: it was delicious.
If you want to make an outstanding, balancing complex flavors is a huge factor. Here, the sharpness of the lemon was balanced by the sweetness of the honey, and both brought out the brightness and spiciness of the ginger. The flavor of the whisky came though as well, complimenting everything else in the glass. Basically a really well done whiskey sour and a perfect example from my chart of sour cocktails.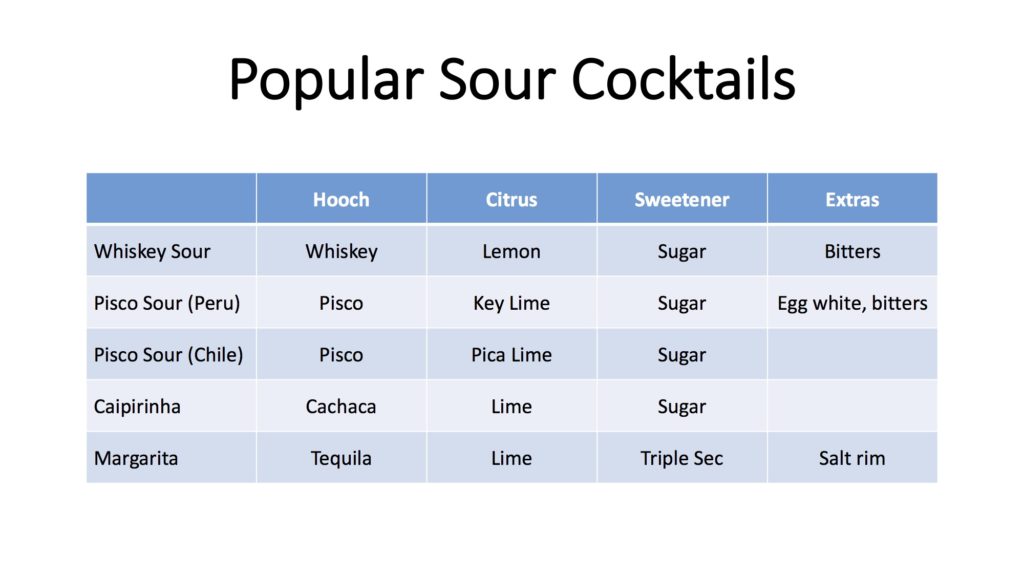 With honey replacing the standard sugar and pickled ginger in place of bitters, you have a new version of an old classic.
Iwai Whisky is also not a traditional choice for the whiskey in a Whiskey (or, in this case, Whisky) Sour. Whether or not to include the "e" in whisk(e)y boils down to the country in which the spirit is produced. As always, there are exceptions and oddities, but whisky comes from Scotland, Canada and Japan while whiskey comes from the Ireland and the US. The spelling says little or nothing about the style of spirit in the bottle, just about its country of origin.
Japan has been producing whisky for about 100 years. At first, their goal was to emulate the single malt Scotches that were much-loved by the Japanese. That is why the "whisky" spelling was adopted there. Over time, they have mastered bourbons and ryes and other so-called brown liquors as well. Their best bottles have been named the world's best in many international competitions and by respected whisky writers. Their secret, much like their secret to winning so much of the world's car market, is obsessive attention to detail and quality, rather than cost. That means their best whiskies can be quite expensive—hundreds of $US for a bottle—but, then, that is true of many of the best whiskies fro anywhere.
Not much Japanese whisky was exported until fairly recently, but it has become so popular in the US that the relatively small producers have not been able to keep up with demand. It can be hard to find the very best bottles, even if you are willing to pay for them. There are some modestly priced Japanese whiskies that are more available, however, and Iwai from the Mars Shinshu distillery is one of them. It is named after one of the men, Kichiro Iwai, who pioneered whisky production in Japan. It is actually closer to an American Bourbon that a Scotch, since it is distilled from a mash that is 75% corn and only 25% malted barley. (In the US, Bourbon must have at least 51% for in the mash, while in Scotland, a Scotch can only be called Scotch if is is distilled from 100% malted barley.)
Iwai is not a whisky I would sip straight, but it is a good whisky for mixing in cocktails and it was perfect here.
Of course, if you are not a cocktail drinker, Intro has a wine list that also changes to reflect the current menu. A glass of bubbly is a good choice before any meal, and they always have a selection of those.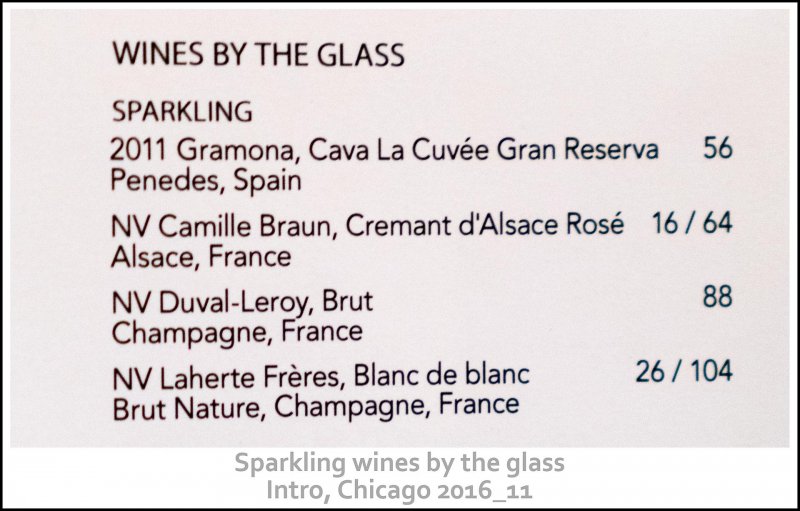 Valeria chose the NV Laherte Freres Blanc de Blanc Brut Nature from Champagne, France. I wrote a great deal about the different styles of Champagne in A Taittinger Champagne Dinner at Sepia, so please take a look there for more detail. Blanc de Blanc means this is a white wine made entirely from white grapes, which, in the Champagne region, means Chardonnay. Brut Champagnes are dry and Brut Nature Champagnes are even dryer, often to austere for my taste. This one managed to successfully find a balance between being very dry but retaining some pleasant fruit.
A small, complimentary bowl of olives marinated in thyme and shiso was placed on the table along with the cocktails.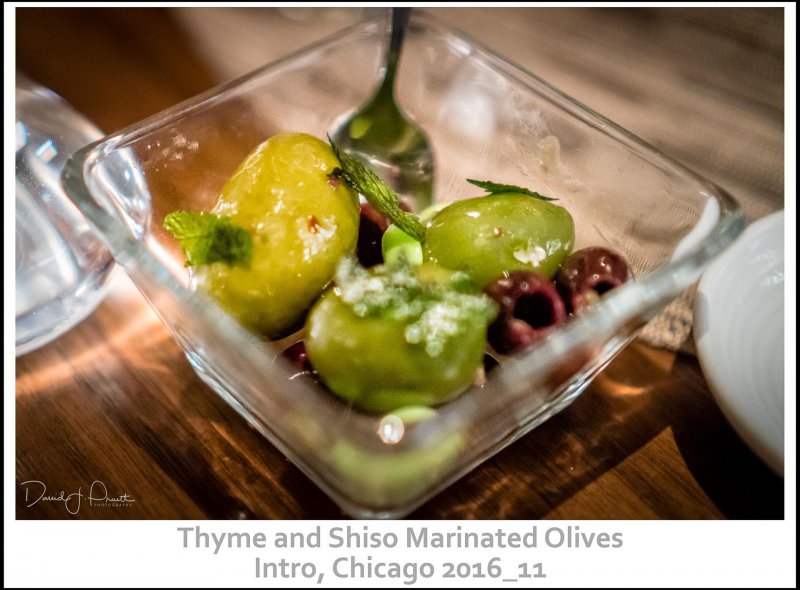 Shiso is Japanese herb (the green leaves you can see in the picture) that seems to have become quite popular lately. It is sometimes called "Japanese (or Chinese) Basil". The flavor can have some of the sweetness of basil and some of the spiciness of mint (the plant is a member of the mint family). Olive oil and a touch of red pepper flake were the other flavors we got in the marinade. It made for some very tasty olives.
We ordered three items from the left side of the menu to start our meal. The first to arrive was Sushi Rice Arancini with tobanjan aioli.
If there was any doubt that this was an Italy-meets-Japan menu, this dish dispelled it. Arancini, as you may well know is a Sicilian dish that has been adopted all over southern Italy. It is traditionally made with leftover risotto (that delicious, slow cooked Italian rice dish) formed into balls around a filling, covered with bread crumbs and fried to a golden brown. It is often served with Marinara sauce as an appetizer or snack or, in my house, breakfast. The most traditional filling is some leftover meat sauce and a bit of Mozzarella, but there are no particular rules or limits to what you can put on the inside. It started, after all, as a way to use leftovers. Nowadays they are made all over Italy and put out on counters with other items that are easy to pick up and eat as a snack, as a meal, or to take home.
In this video, Chef Mario Batali shares a bit of the history of arancini and gives examples of the many variations possible.
In Chef Osaka's East meets West version, sushi rice is used instead of risotto. Is that a big difference? That very much depends on who you ask. Both are traditionally made with short-grained rice. There are several types of short-grained Japanese rice that are commonly used to make sushi. Short-grained rice is generally starchier than medium of long-grained rice so it is sticky after cooking—perfect for forming into sushi or arancini. Arborio rice, which is a strain of Japanese rice now grown in Italy, is the rice usually recommended for making risotto. These short-grained rices have a higher starch content that makes sushi sticky and risotto creamy because of the different way the rice is cooked for each dish. Most cooks have little problem with substituting any short-grained rice for either purpose, but some aficionados insist—often loudly—that only one specific strain, perhaps grown in only very specific places, will do. Most people, including me, don't find the nuances worth arguing about. The trick is learning the right technique which is far more important than the specific rice used for either purpose.
So, if it's not the rice that gave these arancini an obvious Japanese twist, what did? It was the pieces of Japanese pickles and, even more important, the dipping sauce, that moved the dish from Europe to Asia. Aioli has become a fairly common condiment these days. Developed in Provence in southern France, aioli is basically mayonnaise made with olive oil and mixed with garlic that (traditionally) is ground to a paste in a mortar and pestle. You can buy it in most good grocery stores these days, but it is easy to make at home and so much tastier. Here's how.
Tobanjan is a fiery condiment made with chilis, garlic and fermented beans that I believe originated in the Szechuan (Sichuan) region of China and has variants all over southeast Asia and Japan. Depending on the brand and how much you use, it can add a little heat or turn your dish thermo-nuclear, but it has the kind of complex spiciness that speaks of Asian cuisine. This is the one that I use, but there are others out there.
Whisk in a couple of tablespoons (or an amount to your taste) of your favorite chili bean sauce into your aioli and you will have a very close approximation to the dipping sauce for the arancini.
Our second appetizer was Calamari Fritti, tempura fried, with tomato ponzu and the same spicy and delicious tobanjan aioli that came with the arancini.
Fried calamari, as anyone who likes it knows, can be a greasy, rubbery, almost inedible mess or a light, tender delicacy. This was perfectly fried, buttery soft and not at all greasy. This was what all fried calamari wants to be.
While the light tempura batter certainly moves this dish in a Japanese direction, the two sauces transport it all the way to the far east. For those who like it spicy and garlicky, the tobanjan aioli is as delicious with the squid as it was with the rice balls. If you like something more akin to a cocktail sauce, the tomato sauce with ponzu and a touch of heat fills the bill. Ponzu is a very popular Japanese condiment made with soy sauce and and very tart citrus fruits like bitter orange or the Japanese yuzu fruit (similar to grapefruit but much more sour).
While it is hard to find the Japanese citrus fruits needed to make an authentic ponzu, it's easy to make a version that is just as good, if subtly different, using readily available ingredients. You can get a typical recipe here.
Our third and last appetizer was Crudo hamachi with Chrysanthemum purée, turnips, tomato and Sido ponzu.
If there is a distinctly Italian touch here, it passed over my head. This seems like a pure Japanese play on traditional sashimi (thinly sliced raw meat or fish). Sashimi is traditionally served plain with just a little soy sauce on the side for dipping; it's all about the flavor and texture of the impeccably fresh fish or meat. The addition of the chrysanthemum purée, baby turnips, and radishes perhaps are a western touch, while the ponzu sauce brings it all together. Whatever the thought process behind the ingredients, they worked beautifully together. The raw hamachi slices were the star and the rest of the components were complimentary, adding texture and flavors to the dish without overpowering the fish.
Hamachi is also called Japanese Amberjack or Yellowtail (not to be confused with yellowfin tuna or the inexpensive brand of Australian wines). It is found in the Pacific between Japan and Hawaii and is best in the winter months when it is fattier. Given Chef Osaka's background, I have to believe he is incredibly picky about the fish (and, for that matter, any other ingredients) that come into and out of his kitchen. The quality of the fish was the focus of this plate.
It was time to move on to the entrées. First we needed a couple of glasses of wine. It was definitely a red wine night and we had a choice of several by the glass.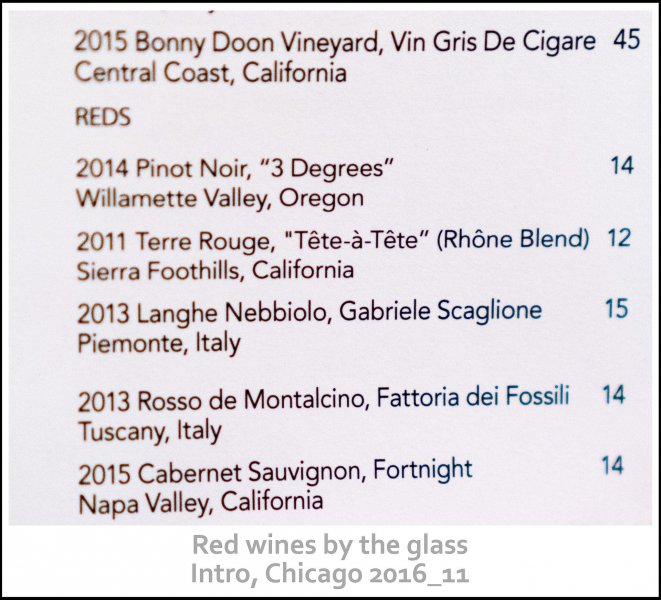 In keeping with the Italian influence, and because we love Italian reds anyway, we ordered a glass of the 2013 Langhe Nebbiolo, Gabriele Scaglione from Piemonte and the 2013 Rosso de Montalcino, Fattoria dei Fossili from Tuscany. When we order by the glass, Valeria and I share our wines just like we share our plates.
A little about these wines. I confess I had never heard of Gabriele Scaglione, who produced the Langhe Nebbiolo. Still, I knew 2013 was an excellent year in Piedmont and that Langhe Nebbiolo is, in general, a good value. Nebbiolo is the grape that is used to produce the marvelous Barolos and Barbarescos for which Piemonte (Piedmont) is famous. These wines, however, typically need years to fully develop and can be very pricy. Simplifying things a little, Nebbiolo grapes that are not quite good enough to go into the very best bottles (younger vines, a little outside the specified geography, whatever) can be used to produce Langhe Nebbiolo. These tend to be wines that show the character of the Nebbiolo grape in a less intense way and that are much more enjoyable to drink when young. This one was exactly that—young, fruity, very drinkable but with lots of dark berry, herb and spice flavor. I wouldn't buy this by the case to lay down, but if you like Italian, especially Piemonte, reds, this would be a good everyday wine and great with a steak off the grill.
As to the 2013 Rosso de Montalcino, Fattoria dei Fossili from Tuscany, Fattoria dei Fossili is another producer whose wines I have never tasted before. Like Langhe Nebbiolo, Rosso de Montalcino is sort of a baby brother to a bigger, more complex and far more expensive sibling, Brunello de Montalcino. The grapes for both of these wines grow in Montalcino, which is a sub-region in Tuscany. The most famous wine from Tuscany, as you may know, is Chianti. Chianti must contain at least 75% Sangiovese grapes, but the rest can be a blend of juice from several other grapes, including a couple of whites.
Brunelo is the name of a specific type of Sangiovese grape that thrives in the soil and microclimates around Montalcino. The very best Sangiovese grapes go into making Brunelo de Montalcino. By law, it must be aged at least 4 years, with a minimum of 2 years in oak barrels. Traditionally made wines and riservas spend at least 3 years in oak and can be aged well over the 4 year minimum. The careful selection and long aging make these wines expensive. If you find one much under $100, you have to ask yourself what might be wrong with it.
Rosso de Montalcino, on the other hand, is not given long aging and the grapes are chosen more for their fruitiness and approachability when young. As with the Nebbiolo grape wines we already discussed, this "baby brother" can offer many of the same aromas and flavors as the "big brother," but at a lower price and in a much more drinkable form.
I applaud whoever chose these wines to go with this menu. It makes no sense to build a list of wines that will not be mature for 10 years or more for a menu that will only be around for 3 or 4 months. If they had chosen to purchase Barolos, Barbarescos and Brunelos that were mature and ready to drink, they would have cost $100 per glass or more. Maybe OK in in $$$$ Michelin *** place, but it would make no sense here. These two wines were tasty, ready to drink, and perfect on a cold winter night.
So what are we going to wash down with them? How about a lamb shank, creamy polenta and sansho hot sauce?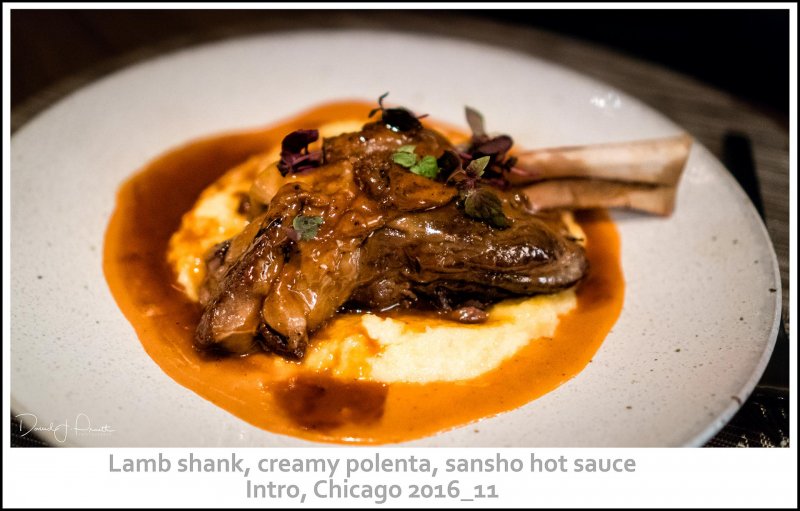 Winter comfort food? Oh, yeah. Italian? Lamb that had been slow braised in garlic and herbs served with polenta. Yeah, I think so. Japanese twist? Sansho is a Japanese pepper that is very closely related to the Szechuan (Sichuan) peppercorn from China. These trees actually do not produce peppercorns at all, but small citrus fruits. The peel of these fruits is dried and ground into what are called Szechuan and Sansho pepper. The spiciness is similar pepper, but they also produce a unique tingling, slightly numbing affect in your mouth that, as far as I know, is perfectly harmless.
The lamb was meltingly tender and the polenta, as advertised, was creamy. The spicy sauce played with my head, though, as I am programmed to expect a rich jus or gravy with a lamb shank, not something spicy. It was good, but, for me, unexpected and I never quite got over it, which is odd for me. Valeria, on the other hand, thought it was a great combination, so what do I know?
Our second entrée was, like the lamb, an old Italian favorite with a twist: Chicken Saltimbocca with tonkatsu sauce.
Saltimbocca is Italian for "jump in the mouth," meaning it is so good that it jumps off your plate and into your mouth. There are many variations on the theme. Start with a piece of meat (veal, chicken, pork) that has been pounded thin, add a layer of prosciutto (or speck, which is basically smoked prosciutto), an herb (sage is traditional), coat lightly in flour, sauté in olive oil and butter until brown, then add some white wine and perhaps some chicken stock and simmer until the liquid is reduced and thickened by the flour on the meat. Here is a quick demonstration using boneless, skinless chicken thighs.
As I said, the variations are endless. Different cuts of veal, chicken or pork are all fine, they just have to be pounded thin. Sage is the most traditional herb, but I've had versions with spinach, arugula, parsley, cilantro and even olives. Prosciutto di Parma (ham from Parma, Italy) is standard, but jamón ibérico from Spain or even a thin slice of boiled ham will work (though that would be rather bland to my taste). You can mix and match wine (usually dry white, but some use an off-dry white, like Riesling) and chicken or veal stock to make the sauce. Some bread only with a thin layer flour, others go with the full flour, egg wash and bread crumb treatment. There are, of course, purists who will insist that only their ingredients or method of preparation is "authentic." I will not pretend to know what is truly "authentic." I do know that all of these variations can make a delicious dish.
Chef Osaka went with chicken breast, which, with veal is by far the most common meat used in this dish (my vote goes to the chicken thighs used in the video). The coating included breadcrumbs which, since I like the added texture, is fine with me. Once again, it was the sauce that took the dish out of a purely Italian kitchen and brought Japan to the party. Tonkatsu, which translates loosely to "pork cutlet" is a simply a boneless pork chop that has been breaded (flour, then egg, then bread crumbs) and deep fried. Note the similarity to chicken saltimbocca: the chicken has been breaded and pan fried.
Tonkatsu sauce is basically a Japanese barbecue sauce and, like BBQ sauce in the US, there are many variations. You can buy it, but it is trivial to make and your probably have most, if not all, of the ingredients in your pantry: catsup, Worcestershire, sherry (or Mirin—Japanese rice wine), sugar, garlic powder, and ginger are common as in this recipe. This sauce is very different from the wine and butter sauce you would expect with saltimbocca, but no less tasty. Valeria and I both really enjoyed this dish.
So, it was time for dessert. Valeria and I are not huge dessert fans, though we do split one sometimes. The options here looked good…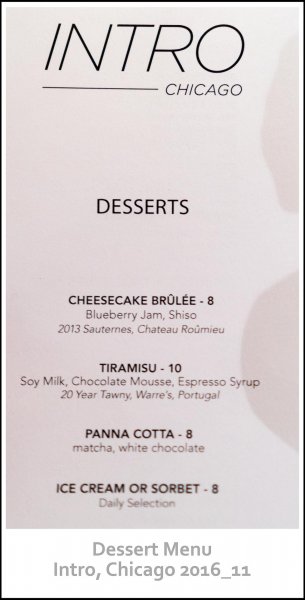 …but we opted for a very unconventional dessert: we each ordered a Penicillin cocktail.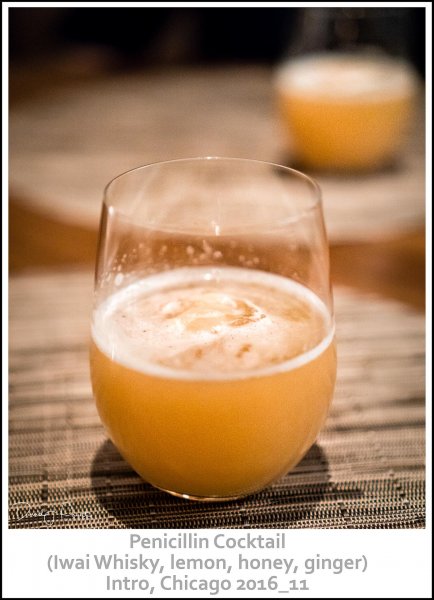 We thought it was a good way to fortify ourselves before heading back out into the cold and it gave us a few more minutes to just sit, let the meal settle and chat.
Once again we enjoyed the meal at Intro, as we have with each of the other Chefs in Residence. It's a unique concept for foodies who are always looking for something new, as opposed to someone who orders the same thing every time. We may well be back to try some more items on Chef Osaka's menu, and we will certainly return to see what the next Chef in Residence offers up.
Intro
Address: 2300 N. Lincoln Park West, Chicago, IL 60614
Phone: (773) 868-0002
Reservations: opentable.com
Website: introchocago.com
Dress Code: Smart Casual
Price Range: $31—$50
Dinner: Monday—Thursday, 5:30pm–9:00pm
Friday–Saturday, 5:00pm–10:00pm
Sunday, Closed
Payment: AMEX, Diners Club, Discover, MasterCard, Visa
Intro, in Belden Stratford
The author is a member of the Amazon Affiliate program but otherwise has no affiliation with any of the businesses or products described in this article.
All images were taken with a Sony Alpha a6500 camera and a Sony-Zeiss SEL1670Z Vario-Tessar T E 16-70mm (24-105mm full frame equivalent) F/4 ZA OSS lens or Sony 35mm (52mm full frame equivalent) F/1.8 E-Mount Lens using ambient light. Post-processing in Adobe Lightroom® and Adobe Photoshop® with Nik/Google plugins.