After reading several good reviews of Steadfast, a new fine-dining restaurant in the Klimpton Gray Hotel, Valeria and I decided to pay a visit one crisp October evening.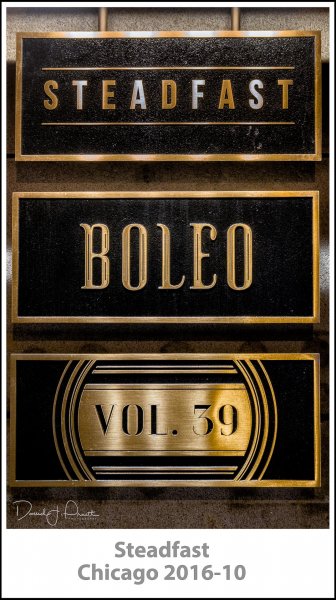 The restaurant is small, seating about 70 people. The design is fairly simple and modern, but the wood paneling gives it a warm, cozy feel.
The bar at the back of the space seats about 20 people and features the cocktails of Benjamin Schiller, a mixologist in Chicago known for his unique cocktail creations. Mr. Schiller is the Beverage Director for The Fifty/50 Restaurant Group, which owns Steadfast and several other bars and restaurants in Chicago, so it was not surprising to see a rather interesting cocktail list.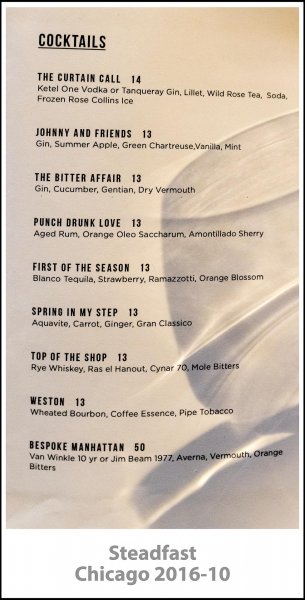 When I saw the $50 Bespoke Manhattan at the bottom of the list I was not sure what to think. Regular readers know that I enjoy a good Manhattan made with premium bourbon or rye and a good vermouth, but something about this struck me as off. The ultra-premium bourbons offered here deserve to be sipped all on their own, and not diluted with anything more than a couple drops of water. After all, the things that makes these aged bourbons great are all the subtle nuances of aroma and flavor that develop during a long rest in barrels. Covering those subtleties with vermouth and bitters seems wrong to me. That, however, is merely my opinion. By all means, mix up your drinks as you like them—there will be no judgement from me!
Valeria and I each ordered a cocktail, a Bitter Affair for her and a Classic Manhattan for me.
Valeria likes her cocktails on the dry side. She also likes Hendrick's Gin, which hails from Scotland and is flavored with roses and cucumber. Yes, that's unusual but also a great start to a cocktail. Hendrick's has only been around since 1999, but it's an old friend in our house.
Gentian is a type of liqueur distilled from an infusion that includes the root of the gentian flower with other herbs and botanicals—sort of like gin without juniper. It is among the bitter liqueurs, like Campari, Cynar and Fernet Branca, that have become popular in the US in recent years as apéritifs, digestifs and as an ingredient in cocktails. Suze is a popular brand of gentian, but I didn't ask which one they used here. You can enjoy it like the French (on the rocks with a big squeeze of lemon) or use it in cocktails to add bitterness and complexity.
I consider this a true craft cocktail. It takes the idea of a classic Martini (which I love—with gin, dammit, none of that vodka nonsense) and adds a few twists to give it new flavors and aromas, but does not bend it beyond all recognition. This was delicious.
I ordered my Manhattan with Knob Creek Rye and Carpano Antica vermouth. Knob Creek makes outstanding bourbons and ryes, but their small batch rye (caution: 100 proof!) is certainly one of the best, and possibly the best, rye whiskey I have tasted. Carpano Antica is one of my favorite sweet vermouths. It is more bitter and more complex than the ubiquitous Martini and Rossi vermouth (which I also enjoy) anti makes a deeper, richer Manhattan that is particularly nice (to my taste) in the fall and winter.
With libations safely ordered and received, it was time to turn our attention to the menu. The menu at Steadfast, which was developed by Executive Chef Christopher Davies and Executive Pastry Chef Chris Teixeira, offers, like many trendy places these days, offers snacks. medium plates and large plates so you can snack, share, mix and match or just order a big old steak as you see fit. What is special here is the Charcuterie and Artisanal Bread sections. More on those in a bit.
The snack that was impossible for us to resist was the chocolate covered foie gras.
"But that looks like dessert!" I hear you say. Yes, but have you not heard "life is short, eat dessert first." Foie gras (a creamy mousse made with duck liver) is often served with a sweet sauce and/or a sweet wine, so why not chocolate? As it turns out, it's a delicious combination. Add a sauce made with Cara Cara oranges for a little citrus punch and some almonds for a crunchy texture and you have a terrific dessert snack.
Cara Cara oranges are a red-fleshed, natural hybrid of two types of naval oranges that was discovered in Venezuela back in the 70s. It's a big crop in California these days and you will probably find them in your favorite supermarket in peak season (December to April).
Another irresistible snack (for us, anyway) was the Gougère.
Gougères are a French pastry, made with pastry dough mixed with cheese and baked to a light, aromatic, delicious bite, especially good straight from the oven. Sort of like fancy French cheese puffs that won't stain your fingers orange. They are often served in high-end restaurants as a little bite before the meal starts. They are perfect with a glass of Champagne, wine or a cocktail. Here is a great recipe for making basic gougères ahead of time with suggestions for variations (I like to use Gruyere cheese and add black pepper and thyme).
The gougère at Steadfast, however, took the concept to places I have never been before. Take a look inside:
The creamy goat cheese filling, flavored with he brightness of lemon and the brininess of capers, added a huge hit of cheesy goodness to the subtle cheesiness of the pastry. As if that were not enough, a few slices of truffle, that delicious, aromatic and wildly expensive cousin of the humble mushroom, were the icing on the cake, uhh, pastry. Just brilliant. Next time I will pair it with a good glass of Champagne.
Bread service is something that varies all over the map in restaurants these days. Many places have dispensed with it altogether. Others automatically bring a few pieces of bread or crackers that can range from completely bland to quite good, usually accompanied with butter and sometimes olive oil. Some high-end restaurants offer two or three servings of bread at specific points in the menu, each one fresh, hot and designed to go with specific courses.
The approach at Steadfast is new to me. They offer a selection of breads along with a variety of pickles (house made), oils and butters to go on the bread. You can order them all or make a selection. Our selection looked like this.
Unless you are gluten-intolerant or carbophobic, this is terrific. From left to right in the photo, we started with Flamiche bread. Flamiche is also a leek tart that is popular in northern France and Belgium, but flamiche bread is more like a cross between brioche (a rich, egg and butter bread) and focaccia (an Italian bread topped with onions, herbs cheese or whatever the cook decides). Next to that is Pain Rustic (rustic bread) which was more-or-less a mini-French bread. Next, an orange sourdough roll that had a hefty texture and taste, complemented by the perfume of the orange and the tang of good sourdough. Finally, a pretzel bread scented with lavender. I assume these are the creations of The Fifty/50 Restaurant Group's Executive Pastry Chef, Chris Teixeira. Whoever made them knows more than a thing or two about breadmaking.
These breads are flavorful enough to stand on their own, but really, don't you want to slather something on them? Maybe some saffron butter: a rich cow's milk butter flavored with the most expensive spice in the world (saffron). How expensive? Here is a 5-gram (0.17 oz) jar that sells for $56.
That works out to about $5,000 per pound ($11,200 per kg). It can cost more or less depending on the quality and quantity you buy, but there are no bargains for this spice.
Saffron threads are the dried stigmas hand-picked from inside the flowers of a specific type of crocus called (surprise!) the saffron crocus. It takes about 75,000 flowers to make a pound of saffron. If you find cheap saffron it is either very poor quality or has been diluted with something else or both. Fortunately, a small pinch is all it takes to flavor a dish.
Perhaps a slightly sweet honey butter from Oaxaca, Mexico would suit you better. Want to keep the calories down but still add some flavor to the bread? Try the pickles; they are delicious. Finally, you can dip the bread of your choice in olive oil that is redolent of fresh green herbs. At least for Valeria and me, there was no way to go wrong mixing and matching these breads and condiments.
We were strongly tempted by the charcuterie (sausage and cheese) section of the menu, but there is only so much we can eat in one meal. This, too, is a unique section on the menu, at least in my experience.
We had to move on to the main course. We both spotted the Roast 7-Day Dry-Aged Duck Breast with Lavender Honey Glaze as soon as we looked at the menu. In a nice bit of showmanship, they present the whole roasted breast for you to admire before it is sliced and served. For a foodie this is a beautiful sight.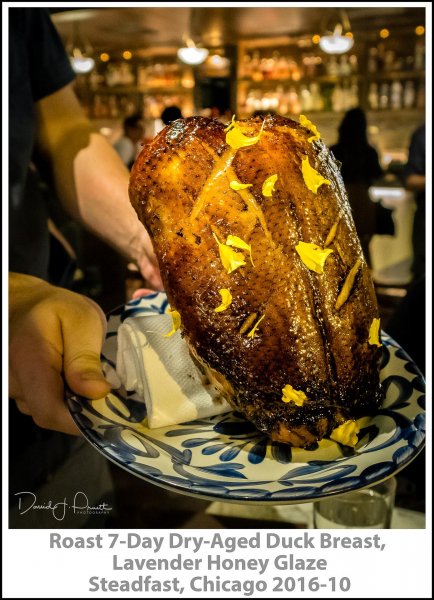 Once carved, the breast is plated with Confit Duck Leg, Armagnac Poached Prunes, and Sweet Corn-Jalapeño Relish.
Confit is a cooking and preservation technique in which meat is slowly poached submerged in fat until it is meltingly tender. Back in the day, the meat and fat would simply be allowed to cool together and the meat was safely preserved without refrigeration. It sounds like it would be very greasy and caloric, but, done properly, it is not.
Some kind of fruit is often served with duck to cut through the richness of the meat. Prunes that had been poached in Armagnac were used for this dish. Armagnac is sometimes called "Cognac's country cousin." Like Cognac, it is distilled from fermented white grape juice, but it is usually a bit more intensely flavored and a bit rougher around the edges. Many people, including me, often prefer Armagnac to Cognac.
The Sweet Corn-Jalapeño relish was different and added a spicy kick that we rather liked.
They did not waste any of the duck for this preparation, as the liver was processed into a mousse and served spread on toast with blueberries.
I know that liver is one of those things that make many people go "Ewwww!," but we both love it. This would be a great addition to the Snacks section of the menu.
One last side dish: Potatoes Robuchon.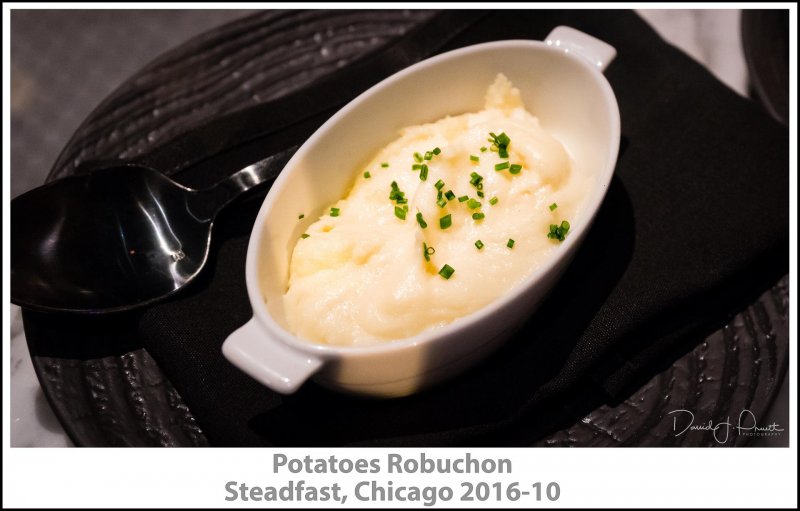 Joël Robuchon is one of the greatest living French chefs. While I have been lucky enough to eat in his restaurants in Paris, you don't have to make that trip if you live in the US. He has two restaurants in the MGM Grand in Las Vegas: the über-luxurious, 3 Michelin star Joël Robuchon and the slightly more casual L'Atelier de Joël Robuchon. If you are a foodie and haven't lost the rent money at the gambling tables, either is a great choice.
One of his most famous dishes, believe it or not, is mashed potatoes. That sound pretty ordinary, but we also had a dish that was basically mushrooms on toast in Joël Robuchon a few years ago that we still talk about. Taking the most ordinary ingredients and making them unforgettable is no easy task. Apparently Chef Robuchon can do it.
You can reproduce his potatoes at home, but it requires following a very specific technique and using a specific kitchen tool that is not so common these days, a food mill. Here is how you do it.
By cooking, processing and drying the potatoes carefully, they can absorb a ton of butter, making them decadently delicious and, if eaten regularly, disastrous to an average person's waistline and possibly to their arteries. While I would not suggest anyone should make these daily, they are definitely worth tasting at least once in your life.
Using a food mill to puree the potatoes is key. It is more work than a food processor, but they are cheap and the texture of the potatoes will be much, much better. Potatoes should actually never be puréed in a food processor as it will make them gummy.
So, after all that, did we have room for dessert? Yes, we did. Here it is.
Does it look familiar? It's the same chocolate covered foie gras that we started the meal with. Yeah, we liked it that much.
Whether you go for cocktails and snacks or full-on dinner, Steadfast is definitely worth a look.
Steadfast
Address: 120 West Monroe Street, Chicago, IL 60603
Phone: (312) 801-8899
Reservations: opentable.com
Website: http://www.steadfastchicago.com/#index
Dress Code: Business Casual
Price Range: $30-50
Hours: Breakfast, Monday – Friday 7:00am – 11:00am
Lunch, Monday – Friday 11:00am – 3:00pm
Dinner, Monday – Friday 4:00pm – 10:00pm
Dinner. Saturday: 5:00pm – 10:00pm
Dinner, Sunday: 4:30pm – 8:30pm
Credit Cards: AMEX, Discover, MasterCard, Visa
Steadfast, Klimpton Gray Hotel
The author is a member of the Amazon Affiliate program but otherwise has no affiliation with any of the businesses or products described in this article.
All images were taken with a Sony Alpha a6300 camera and a Sony-Zeiss SEL1670Z Vario-Tessar T E 16-70mm (24-105mm full frame equivalent) F/4 ZA OSS lens or Sony 35mm (52mm full frame equivalent) F/1.8 E-Mount Lens using ambient light. Post-processing in Adobe Lightroom® and Adobe Photoshop® with Nik/Google plugins.