I am a foodie. When I go out to dinner, I love ★★★ Michelin restaurants, 12-course tasting menus, and a different fine wine with each course.
But not always.
Sometimes Valeria and I just want to go somewhere quiet, have a cocktail or a glass of wine and enjoy a few small plates while we chat. That can be pretty hard to do. There are plenty of trendy bars in Chicago with outstanding cocktail programs and sometimes small plates of wonderful food, but they are crowded and the music tends to be louder than we care to shout over. Or the food, if there is any, is microwaved or deep fried right out of the freezer.
We found an exception in the Martini Bar at the Knickerbocker Hotel. It's a quiet little place with a pianist (or similar entertainment, depending on the night or season) and two sections: one part I would call the "Lobby Bar" with tables around the bar itself in the lobby of the hotel and the "Library Bar," which is a narrow room that runs along the front of the hotel with book shelves, a fireplace and some and coffee tables. We like the "Library" section (this is my term, not the hotel's) as we can sit at a small table in the window and watch the city go by. Well, a little of the city; the hotel is located just off the Michigan Avenue and the Magnificent Mile on East Walton place, which is a pretty quiet street without hundreds of people and dozens of cars going by.
There was a jazz pianist playing and singing the night were were there, and that was a definite plus. The volume was just right: clearly audible, but you could still talk to the person next to you.
Many bars and restaurants have started using iPads for their wine and cocktail lists and menus. Since I am a techie as well as a foodie (and an Apple techie at that), I really love it when I get handed one of these. Having said that, some of the apps work beautifully and some are a major pain to navigate. This was not the best one I have ever used, but it worked well.
Our first order of business: drinks. The iPad gave the ingredients and a picture of each cocktail; much better than just a text list and prices.
This a classic Manhattan recipe. The cocktail is perhaps even more classically made with Rye whiskey, but Bourbon is very commonly used and Maker's Mark is one of my favorites. Check out my recent Update on Michael Jordan's Steakhouse for a couple of short videos on how to make a great Manhattan.
My only objection to the Knick Manhattan was the use of those neon-red "cocktail" cherries. Bartenders of the world, rise up and throw out the bright red Maraschino cherries! I suppose there are people who love these chemically modified, usually artificially colored candied fruits, but I think there are better alternatives. This pains me a bit, as most Maraschino cherries you buy are made from cherries grown in Oregon or Michigan that are processed and canned in American factories. Nor am I categorically against the use of "chemicals"–I am a chemist by training and proud to be a part of the profession.
Still, there are better things to put in your drink or spoon over your ice cream. You can make your own Maraschino cherries at home quite easily. This video explains how. (The hardest part is pitting the cherries.)
Another alternative is to make Bourbon Cherries, also relatively easy. Here is a recipe from the Recipe Girl blog for Boozy Bourbon Cherries. Either of these versions are much more flavorful than supermarket Maraschino cherries.
Of course, not everyone likes to play in the kitchen, even to make boozy fruit. Even if you do, you may run out before the next cherry season rolls around. That's why I always have a jar of the original Luxardo Maraschino cherries on hand. Originally developed in Croatia almost 200 years ago using a local sour cherry to make both a cherry liqueur and the original Maraschino cherries. You can read a brief history of these products by clicking here. They can be found in many good grocery, party and liquor stores and, like pretty much everything in the world, are available by mail from Amazon, as are cherry pitters if you want to have a go at making your own.
Yes, they are much more expensive than the supermarket Maraschino cherry. Yes, they are imported from Italy, not a domestic product (unless you are reading this in Italy, in which case, benvenuto!). Moreover, the first time you bite into one of these deep, dark, almost black beauties, you may be shocked by the intense flavor and completely different texture compared to the cocktail cherries you are used to. Let a couple soak in your Manhattan or whatever drink your normally garnish with the neon-red variety. Taste them a few times and then try and go back to the bright red imitations. And try them over ice cream with a few spoonfuls of the syrup. Warm them a little if you like. Yum.
Now, where was I before I got distracted by cherries? Oh, yes, we were ordering cocktails. Valeria chose a Bloody Mary.
While the Knick Manhattan was a simple classic, the Michigan Avenue Bloody Mary took the classic and amped it up several notches. I am a purist when it comes to classic cocktails. They are classic for a reason. They are usually made with just a few simple ingredients, which allows the contribution of each to shine through. The Bloody Mary, even in its simplest form, is already pretty complex. It's made with Tomato juice, horseradish, Tabasco® (or cayenne pepper), salt (or celery salt), black pepper and, of course, vodka. A celery stick and maybe a slice of lemon or lime is more than enough garnish. Using these ingredients and adjusting the amount Tabasco and horseradish (I love a little extra horseradish) to your personally preferred heat level gives you a delicious, complex cocktail. You can substitute Clamato® for tomato juice to make a Bloody Caesar, though some Boody Mary aficionados consider this an abomination.
There are, in fact, a thousand variations on the basic Bloody Mary recipe. Swap out the vodka for gin or tequila. Use tomatillo juice instead of tomato juice. Add jalapeños, habaneros, pickles, pickled onions, olives—the list is endless. It's just a question of when have you made so many changes it is no longer a Bloody Mary but an entirely different cocktail? Here is a short video that demonstrates a good, basic Bloody Mary and discusses some of the possible variations.
The Martini Bar's Michigan Avenue Bloody Mary tried to raise the bar on almost every ingredient, using rosemary infused vodka, a famous New Orleans-based Bloody Mary mix, and jalapeño bitters. In addition to the classic garnishes, a pickle, shrimp and bacon were added. To my taste, none of this was an improvement. It was not a bad cocktail, but more classic versions are better and I really don't like an entire plate of garnishes in my drink (one of the few times you will ever hear me complain about bacon in anything). Having said that, Valeria enjoyed it, so, to each his (or her) own.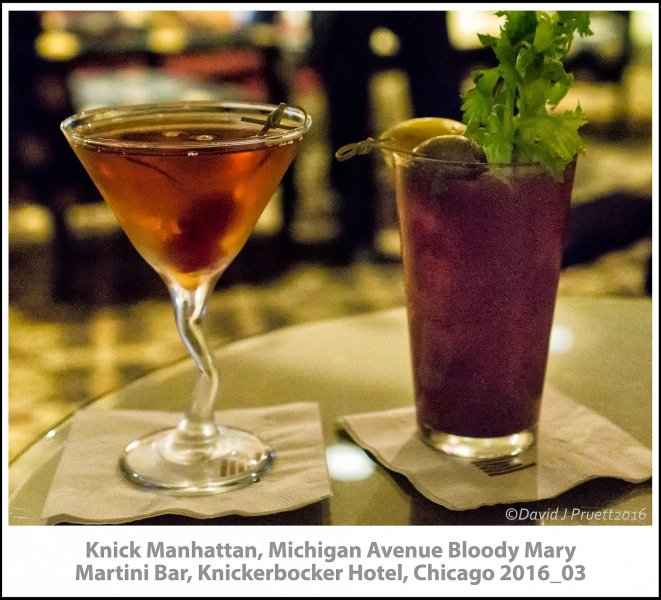 Having settled into the first cocktail, something to eat was in order. As with the cocktails, the bar menu is also on the iPad. For our first nibble, we chose Duck Pot Stickers.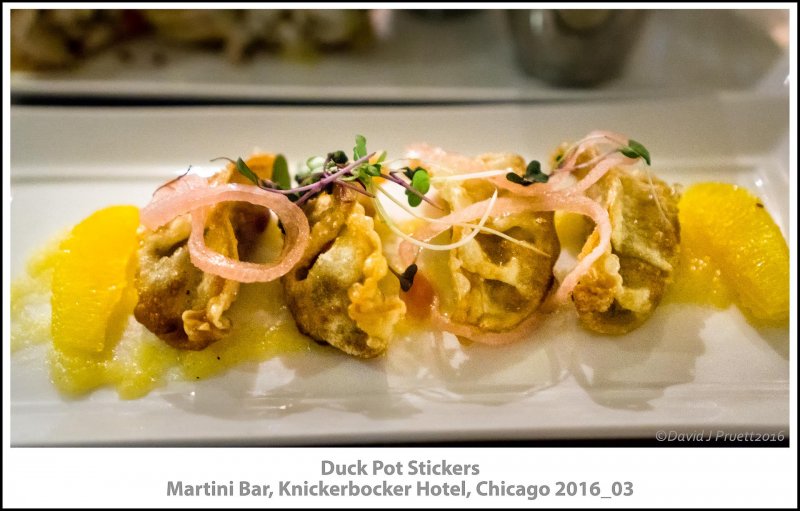 These were very tasty. The minced duck was wrapped in just enough dough that was, in turn, cooked just right: done and not soggy. The citrus sauce and slices of orange played very nicely with the duck, while the picked onions added a bit of texture and tang. Nice.
Next we tried the Chicken Fajita Egg Rolls.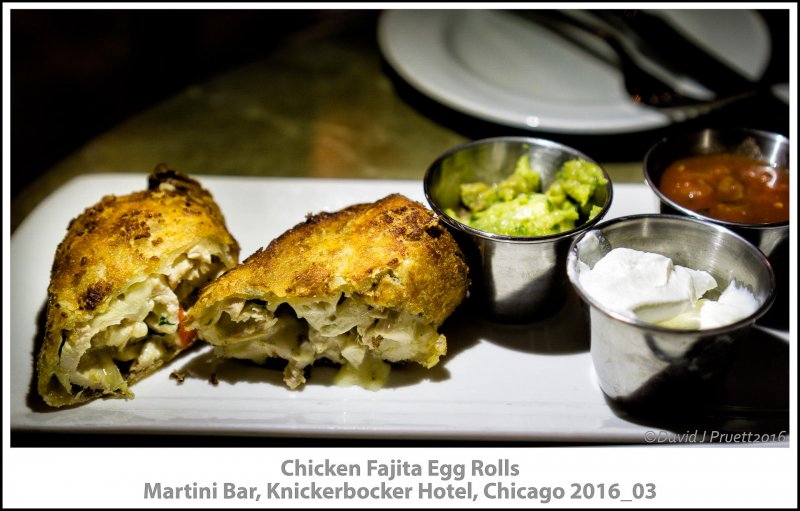 This was an interesting Chinese-Mexican fusion that worked quite well. The roll was stuffed with chicken, cheese, peppers and onions; in other words, classic fajita ingredients. The dough was a wanton wrapper and was fried to a nice, crispy crust. A little salsa, guacamole and sour cream on the side and you're good.
By this time I had managed to drain my Knick Manhattan. so I ordered a variation called Moon Over Manhattan.
In hindsight, I probably should have known not to order this one. Not that it was a bad cocktail, but I think it is more of a brown version of a Cosmopolitan and intended for people who want a somewhat sweeter drink. The combination of Amaretto and cranberry juice just added too much sweetness for my taste, but I can see where it would be popular with many customers.
The food continued to be very good. Next up was Pork Belly Tacos.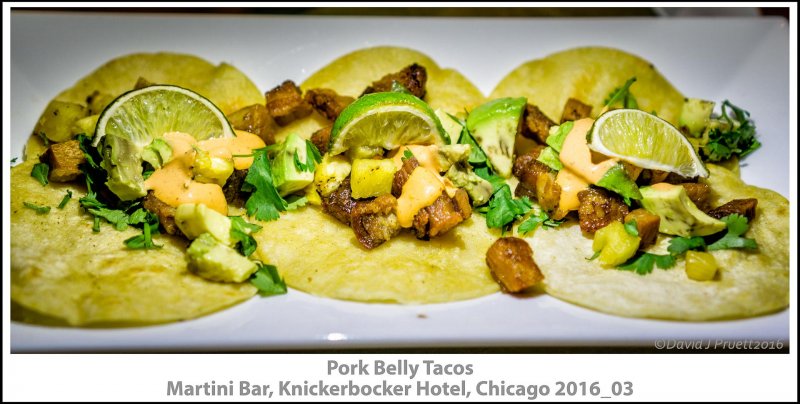 Fry up some diced pork belly with taco seasonings, fresh cilantro, diced avocado and a creamy chipotle sauce and you have a mighty tasty mini-taco to enjoy.
Our last small plate was Grilled Shrimp Crostini with Avocado-Tomato Salsa.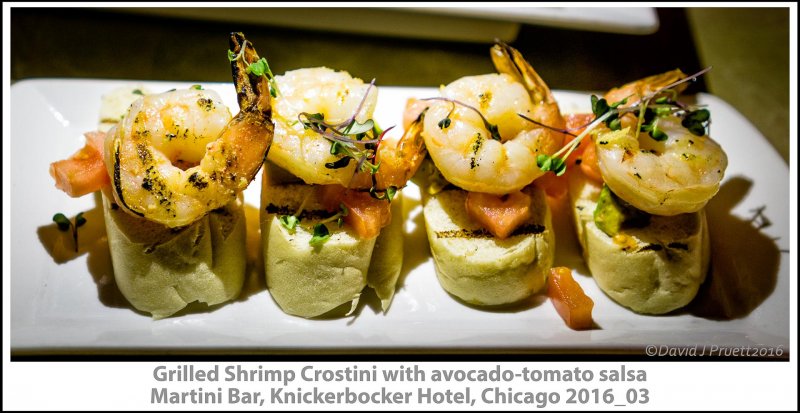 The shrimp were perfectly grilled—neither under nor over-cooked. The tomato, avocado and micro-green salsa was fresh and delicious. I would have sliced the bread a bit thinner and toasted it a bit more, but that's just me.
We came in thinking we just wanted a couple of appetizers, but by now we had realized that we were hungrier than we though, so we ordered a couple of main  dishes to share. First, Wild Mushroom Ravioli.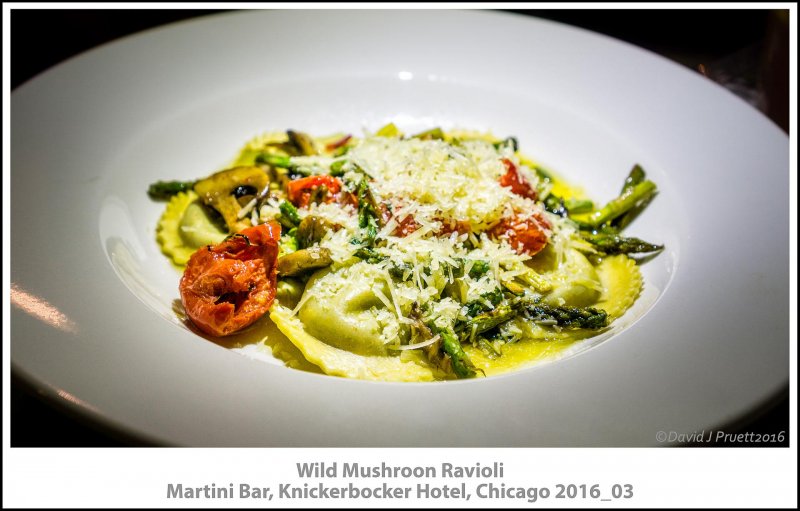 Vegetarians, this is the dish for you. The ravioli were perfectly cooked with a nice mushroom filling. The pasta was topped with a little butter sauce, sautéed mushrooms, asparagus, sun-dried tomatoes and Parmesan cheese. I know a few Italian restaurants that could learn from this dish.
Finally, I decided to give the Black Angus Burger try.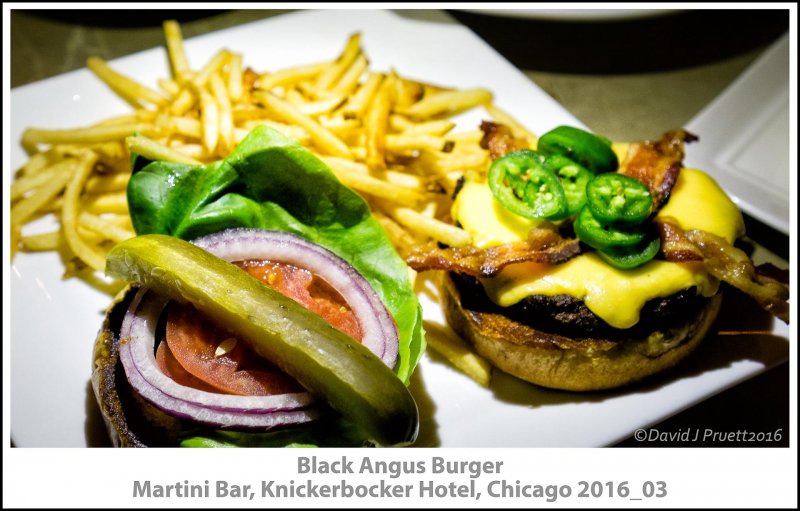 This plate hit on all of my major criteria for a burger. The bun was buttered and toasted. The patty was cooked to a perfect medium, fit the bun well and was not too thick or too thin. Lettuce, tomato and onion garnishes in reasonable amounts. Applewood-smoked bacon (could have used another slice) and fresh jalapeño slices (could have used a few less—that was a hot pepper!). I really enjoyed this burger. The fries were also well done. Skinny fries, which I like, and perfectly crisp on the outside and fluffy on the inside.
In summary, the food was really good and the cocktails were good. This may be one of the few bars around where the food program is better than the cocktail program. Loved the jazz musician. We did not order any wines, but I looked over the list and there were some nice choices in both red and white with a good variety of grapes and countries represented. The only sparking wine was a Prosecco, and I would definitely add a true French Champagne and perhaps one of the better California bubblies to balance that selection a little better.
As I said at the start of this blog, we were looking for a place to enjoy some quiet music, good cocktails and nice small plates of food. We found it.
[Update, June 2016:  We stopped into The Martini Bar with some friends one evening after dinner elsewhere for a drink. Three of us order Knick Manhattans, two up and one on the rocks. All three were weak and one had a bit of an off favor. New bartender? Off night? Don't know, but it's a red flag when a bar gets its signature cocktail wrong.] 
The Martini Bar at the Millennium Knickerbocker Hotel
Address: 163 East Walton Place, Chicago, IL 60611
Phone: (312) 867-7575
Reservations: opentable.com
Website: https://www.millenniumhotels.com/en/chicago/millennium-knickerbocker-hotel-chicago/
Dress Code: Business Casual
Price Range: $30 and under
Hours: Lunch & Dinner Daily, 10:00 am to 10:30 pm
AMEX, Diners Club, Discover, MasterCard, Visa
Slideshow contains some images not posted in the text.
The author is a member of the Amazon Affiliate program but otherwise has no affiliation with any of the businesses or products described in this article.
All images were taken with a Sony Alpha a6000 camera and a Sony-Zeiss SEL1670Z Vario-Tessar T E 16-70mm (24-105mm full frame equivalent) F/4 ZA OSS lens or Sony 35mm (52mm full frame equivalent) F/1.8 E-Mount Lens using ambient light. Post-processing in Adobe Lightroom® and Adobe Photoshop® with Nik/Google plugins.