Restaurants come and go. Some very quickly, some after decades of service. Some you never miss, some you still think about years later.
Our favorite Chinese restaurant in downtown Chicago was Ben Pao. I should say Chinese-American since it was certainly not authentic Chinese. Still, the decor was not too kitchy and the food was very good, or at least we thought so. For some reason, it's hard to find good Chinese food outside of Chinatown in Chicago. Chicago's Chinatown does not seem to get the appreciation it deserves. There are some terrific restaurants and shops there—some so authentic you may need a Chinese guide to know what is going on—but that's another blog.
Ben Pao was part of the Lettuce Entertain You Enterprises (LEYE) group of restaurants. It's a big group, with over 50 restaurants in 7 cities. Over 40 of the restaurants are in Chicago and the range from burger joints (M Burger) to Michelin-starred, high end French restaurants (Everest, Tru) touching most price points and cuisines in between. Generally speaking, they do a terrific job with each concept.
Alas, the decision was made to close Ben Pao and turn it into RPM Italian, a collaboration between LEYE and celebrity couple Bill & Giuliana Rancic, who apparently everybody but me knows. (I am told Bill Rancic won the first season of The Apprentice. I will pause a moment for Trump supporters to cheer and Trump haters to boo.)
By all accounts the new restaurant is a great success, drawing not only the general public but many of the A-list celebrities who live in or pass through Chicago. Unfortunately, I'm not into celebrity watching and there are about a million Italian restaurants in Chicago (not counting Italian Beef stands), so it was not an upgrade for me. I do hear that the food is good, even excellent, so I may have to try it one day.
Anyway, our search for a good Chinese-American restaurant in the Magnificent Mile area was unsuccessful until Lao Sze Chuan opened right on Michigan Avenue. It's in the Shops at North Bridge Mall, directly across from the Intercontinental Hotel where Michael Jordan's Steak House is located. Lao Sze Chuan is part of the Tony Gourmet Group, founded by Chef Tony (Xiaojun) Hu. Chef Tony immigrated from China to Chicago in 1993 having graduated from The Culinary Institute of Sichuan in 1989. In 1998 he founded the Tony Gourmet Group that now includes over a dozen restaurants and is the umbrella organization through which he pursues his goals "to promote Chinese culinary culture and Community, building a bridge between [the] US and China, and strength[en] the friendship between [the] USA and China."
On the culinary front, Chef Tony has been a huge success. His flagship Lao Sze Chuan and Lao Beijing restaurants in Chinatown have received numerous awards from food critics, food magazines. Lao Sze Chuan has been named "Best Chinese Restaurant in America" (or a similar title) numerous times. It has also received a Bib Gourmand award from Michelin every year since 2010.
So, we were happy to see a new Lao Sze Chuan open just a few minutes walk from our condo. Valeria was out with the ladies one night when I decided to pay it a visit.
Entering on Michigan Avenue, you take an elevator up to the restaurant. (Alternatively, there is an entrance from the Shops at North Bridge Mall.) As you step out of the elevator there is no doubt you are in a Chinese restaurant, but, by comparison to many places, the decorations are not over-the-top. The bar is on your right and it's a nice one. If you just wanted a drink or if the restaurant is busy, a seat there would be fine.
I was seated by a window with a nice view of Michigan Avenue.
The down side to the seat was that it was also by a waiter's station, but that was not a problem for me.
A bowl of spicy cabbage is complimentary as you get settled in.
If you like spicy (I do) this is good stuff. People's tolerance for spice varies so much that it is hard for me to quantify how spicy it is, but, if you think, for example, that P.F. Chang's serves spicy food, this might kill you. On the other hand, if you eat Habanero peppers like candy, this will not faze you.
Since I was alone, there were only so many items I could try, but I did want some leftovers so I ordered three entrées, all restaurant specialties that, judging from on-line reviews, are very popular. The Chef's Special Dry Chili Chicken is perhaps the signature dish at Lao Sze Chuan.
The chicken was absolutely delicious. It was spicy, but less so than the cabbage. Great flavor and very tender. There was, however, far more chili than chicken on the plate. Finding the bites of chicken became something of a treasure hunt after a while. Perhaps that's the only way to achieve the flavor and presentation Chef Tony is after, but it sure seemed like a lot of chiles had to die in the process. Having said that, this is definitely not a standard Chinese-American dish and I will definitely order it again.
My second entrée was Orange Beef Tenderloin.
This is one of the dishes that I use to gauge Chinese restaurants. I like it with a definite orange flavor, both the citrus-sweet flavor of the orange flesh and juice and the more complex flavors and aromas from the orange peel. I also like it spicy and with a flavorful sauce. Some places miss on all three of these flavors, some hit on one or two. This version nailed all three. Both the orange flavors and the spiciness were clear, clean and complex. The sauce was also delicious. The fact that it was made with beef tenderloin made it exceptionally tender. Another winner.
With two spicy dishes coming, I wanted something a bit sweet and more mildly flavored that would work as a palette cleanser between bites of chicken and beef. That's not a very traditional approach to a progression of Chinese dishes, I know, but I was alone and could do whatever I wanted. 🙂 With that in mind, I chose the Crispy Shrimp in Lemon Sauce as my third entrée.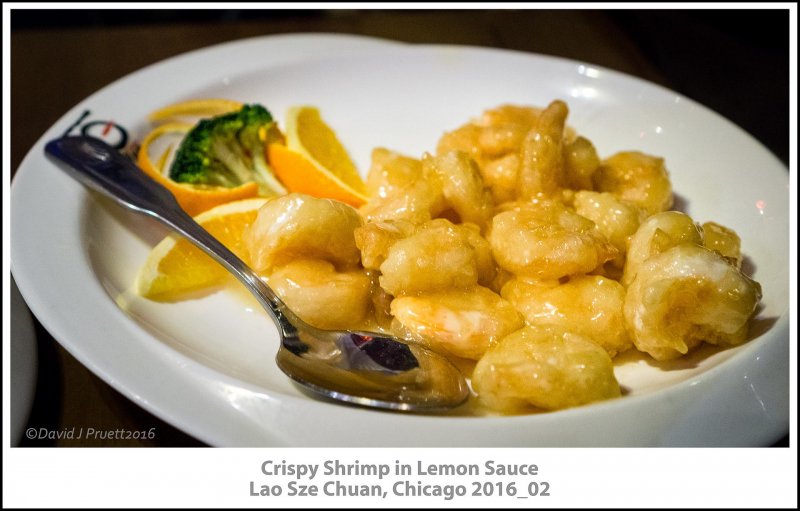 I love it when a plan comes together. The shrimp dish was sweet, but not sticky-sweet and had a bright, clean lemon flavor. If you are the type that normally order sweet-and-sour something in a Chinese restaurant, this dish is a definite upgrade.
Service was generally good, except for my cocktail, a simple Manhattan that seemed to take forever to arrive. Perhaps as a consequence, I had no time to enjoy it before the entrées arrived. The menu is shorter than at the flagship Lao Sze Chuan in Chinatown and does not include the selection of very authentic Chinese dishes made with various innards that most Americans don't eat. (Perhaps they can be ordered off menu by those in the know?)
Portion sizes were smaller than one normally expects in a Chinese restaurant. Prices are also higher than in Chinatown, but that is unavoidable if you are in a prime location on The Magnificent Mile in an upscale shopping mall. You will never pay the rent there with $5.99 entrées.
I really need to go to the Chinatown restaurant, hopefully with friends, and see how things compare. I am happy, however, to have this place only three blocks away and I look forward to exploring more of the menu.
Lao Sze Chuan Downtown, 520 N Michigan Ave
Lao Sze Chuan Downtown
Address: 520 North Michigan Ave, Suite 420, Chicago, IL 60610
Phone: (312) 595-0888
Reservations: opentable.com
Website: http://www.laoszechuanchicago.net
Dress Code: Smart Casual
Price Range: $30 and under
Hours: Lunch & Dinner Daily, 10:30 am to 12:00 am
AMEX, Discover, MasterCard, Visa
Lao Sze Chuan Chinatown, 2172 S Archer Ave
Lao Sze Chuan Chinatown
Address: 2172 S Archer Ave, Chicago, IL 60616
Phone: (312) 326-5040
Website:
http://www.chicagolaoszechuan.com
Dress Code: Smart Casual
Price Range: $30 and under
Hours: Lunch & Dinner Daily, 10:30 am to 12:00 am
AMEX, Discover, MasterCard, Visa
The author is a member of the Amazon Affiliate program but otherwise has no affiliation with any of the businesses or products described in this article.
All images were taken with a Sony Alpha a6000 camera and a Sony-Zeiss SEL1670Z Vario-Tessar T E 16-70mm (24-105mm full frame equivalent) F/4 ZA OSS lens or Sony 35mm (52mm full frame equivalent) F/1.8 E-Mount Lens using ambient light. Post-processing in Adobe Lightroom® and Adobe Photoshop® with Nik/Google plugins.