Once upon a time, if you did not gamble or hire the "ladies of the night," Las Vegas was an inexpensive place to visit. The gambling tables subsidized the room rates and buffet meals while people focused on playing their favorite slot machine, card game or roulette.
Then came the boom in lavish, destination resorts and celebrity chef-driven, destination restaurants. The restaurants were my downfall. The money that I did not spend on gambling (no moral objection, just a solid understanding of probability and statistics) or "friendly ladies" (that was a moral decision) was sucked up by restaurants featuring the cuisine of Joël Robuchon, Emeril Laggase, Charlie Palmer and others.
You can still find plenty of cheap buffets and fast food emporiums in the casinos, however. There are also moderately-priced, sit down restaurants that allow you to grab a relatively quick meal. One such restaurant is the Noodle Chop in Mandalay Bay.
While the Chinese lanterns and other touches leave no room to doubt that this is a Chinese restaurant, it does not have the over-the-top decorations often seen in American Chinese restaurants.
While visiting Vegas with Valeria and her cousin, lunch time came around and Chinese sounded good, so we stopped in.
The appetizer platter seemed like a good way for us to taste several things and big enough to share.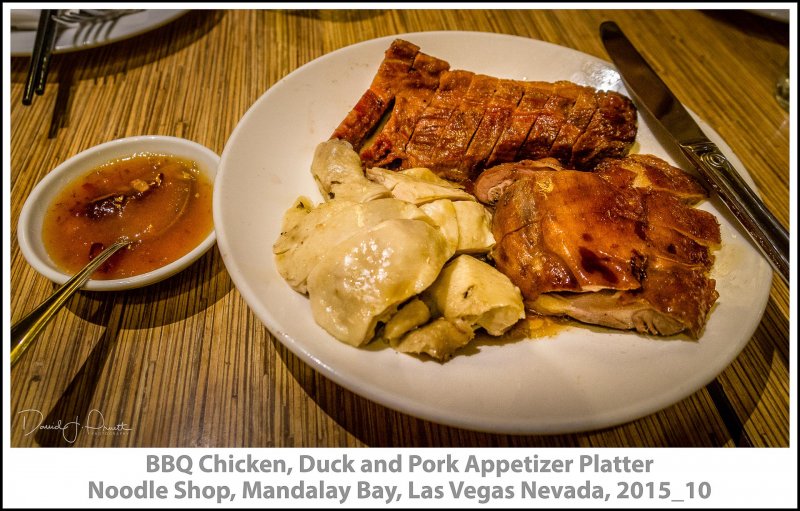 The chicken was more steamed that barbecued, and was not much to write home about even with a good shot of the tasty sweet chili sauce served on the side. The pork ribs and the duck, however, were delicious. Both were very tender and flavorful and the duck had very nicely crisped skin.
We shared three entrées. First: Seared Scallops in XO Sauce.
The scallops were nicely seared and served with snow peas, carrots and mushrooms. The XO sauce had the expected spicy kick and umami richness. ("Umami," sometimes described as "meatiness," is the so-called fifth taste which, along with salty, sweet, bitter, and sour, our taste buds respond to.) The sauce was invented in Hong Kong where the designation "XO" refers to something that is high quality, luxurious and often expensive. The expensive ingredients in this dish, at least at the time the sauce was invented, are dried scallops, dried shrimp, and Jinhua Ham that are the basis for the sauce. Dried scallops and shrimp are less expensive these days. These ingredients are ground and further flavored with garlic, chilies, shallots, oil and perhaps a "secret" ingredient or two that a given chef adds to make it his/her own. The ingredients to make your own XO sauce, except for the Jinhua ham, are readily available in many large groceries stores, any Asian market and, of course, from Amazon.
.
Jinhua Ham is a dry-cured ham from Eastern China that is made using the same basic technique as Iberian hams in Spain and Portugal, Parma Ham (prosciutto) in Italy, and country hams in the USA. These hams all begin with a high-quality, very fresh pig leg which is first cured in salt (or a mixture of salt and sugar), dried, and, in some places, smoked. It is roughly a year-long process. It can be done at home if you have the space, temperature control and patience, but most of us are much better off buying the ham at the store. I wasn't able to find a source for genuine Jinhua ham in the USA, but any good cured and dried ham from any country will work fine if you are determined to make your own XO sauce.
There are usually several brands of XO sauce available in even a moderately-large supermarket. They vary in richness and spiciness, so you may want to try several to decide which one(s) you prefer.
Our second entrée: Sea Bass Steamed with Ginger and Garlic:
Simple and delicious. The fish was just steamed through and the broth with rich with the flavor of ginger and garlic.
Our third and last entrée selection: Kung Pao Beef.
The original Kung Pao dish was made with chicken and originated in the Sichuan Province of China. In most Chinese-American restaurants, you'll find Kung Pao chicken, beef, and shrimp and sometimes other meats as well. The recipe has been, depending on your point of view, modified, Americanized, or corrupted in many different ways. It is one of the two benchmark dishes (the other being Hot and Sour Soup) that I often order in a Chinese restaurant to calibrate how good the place really is (at least to my taste). Both of these dishes can be rich, flavorful, complex and spicy or thin, simple and bland.
Kung Pao chicken was invented in the late 1800s and named after the Governor of the Szechuan Province. His title was Gongbao, which means "Palace Guardian." This was transliterated as "Kung Pao." Originally, boneless chicken was cut into chunks, marinated in a rich marinade, stir-fried with vegetables, dried chilies, garlic and Szechuan peppercorns, and sauced with soy sauce, vinegar, a little sugar, and sesame oil thickened with corn starch. The dish should be very flavorful and a bit spicy not only from fried chilies but with the distinctive, slightly numbing quality of Szechuan peppercorns. In my opinion, if you leave out the Szechuan peppercorns, it may be a delicious dish but it should not be called Kung Pao chicken. Fortunately, these spicy little nuggets (which are actually the hull of the seeds of a native Chinese plant, not true peppercorns) are now available in many good grocery stores, specialty spice shops and, of course, from Amazon.
If you do any Chinese cooking at home (and you should), Kung Pao chicken (beef, whatever) is quite easy to make and will be far more delicious than at almost any restaurant you will ever visit. There are many recipes on the internet, of course, but I especially like this one. If you'd like to see a video, here is another recipe that is delicious.
The Noodle Shop version was flavorful, but no spice (there were only a few dried chili pieces) and, alas, no flavor of Szechuan peppers. As a beef dish, it was good, as Kung Pao beef, a failure.
The Noodle Shop is certainly not a destination restaurant, but, if you are in the Mandalay Bay resort and have an urge for Chinese food, this is a good place to scratch that itch.
The Noodle Shop — Mandalay Bay
Address: 3950 S Las Vegas Blvd, Las Vegas, NV 89119
Phone: (702) 632-7777
Website: Noodle Shop
Dress Code: Casual
Price Range: $31—$50
Hours: Sunday-Thursday: 11:00 am — 10:30 pm
Friday-Saturday: 11:00 am — 12:30 am
Credit Cards: AMEX, Discover, MasterCard, Visa