Valeria and I love to visit the northern California Wine Country for lots of reasons. The weather is almost always great (as in "at least better than Chicago"), the scenery ranges from relaxing to breathtaking, the food is excellent and, oh, yeah, the wine is pretty good, too! The towns that are scattered around the area each have a unique character and usually more than a few quirky shops and restaurants. St. Helena, where we stayed on this trip, is a perfect example.
One afternoon while we were strolling down Main Street in St. Helena we found ourselves ready for lunch. We walked by a restaurant named Market which we knew nothing about and decided to give it a shot. We did not regret it. I'm sure the folks at Market would be the first to agree they are not a destination restaurant in the class of The French Laundry or Auberge du Soleil, but it's a fine choice when you're in the mood for something more casual.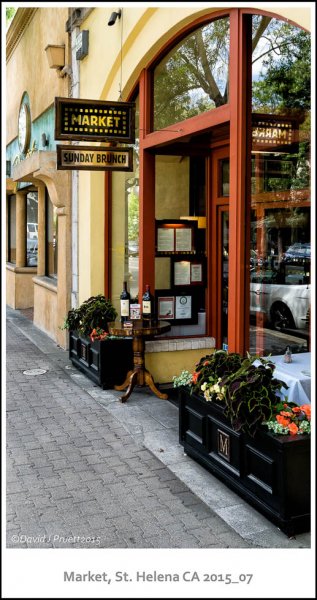 The lunch menu, which varies seasonally (I think that may be a law in California! Is there any restaurant in the state that does not serve "fresh, local, organic seasonal ingredients?" ?), had a nice range of small plates, salads, sandwiches and more hearty fare.
There were a few daily specials as well as a nice house cocktail list and selection of wines by the glass.
We were not terribly hungry and had a big dinner coming up that night, so we ate sparingly and did not try a wide range of things. What we tried, however, we liked.
Having been in the Wine Country a few days, you will not be surprised to learn I had tasted plenty of wine, so I went for a cocktail as a beverage. Normally, I don't do alcohol at lunch as it puts me to sleep, but I was on vacation and we were sort of thinking about an afternoon nap anyway, so…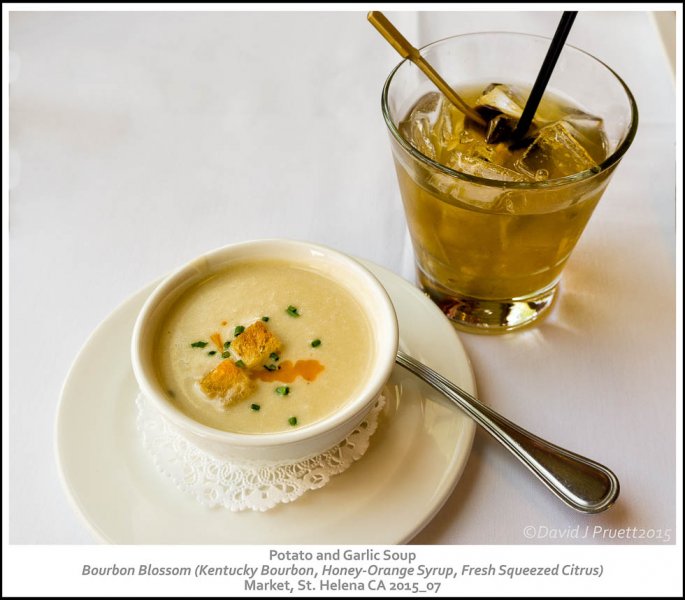 The Bourbon Blossom  was made with Kentucky Bourbon (they told me which one, but I forgot ?), a house-made honey and orange syrup and some fresh lemon juice, garnished with Luxardo Original Maraschino Cherries. Most of us think of Maraschino cherries as the glow-in-the-dark red, very sugary things used around Christmas time in fruitcakes and other unspeakable recipes. The difference between those and the original version is every bit as great as the difference between a $5 gallons jug of "Claret" wine and a bottle of  Chateau Mouton-Rothschild, or the difference between a $3 steak at a truck stop and a $30 steak in a great steakhouse. There is just no comparison. The flavor of real Luxardo cherries is deep, complex and rich. If you haven't tried these cherries in your favorite cherry-garnished cocktail, you should. Most people will never go back to the fluorescent red variety. They should be available in a good grocery store or high-end liquor or party store. If you can't find them, there is always good old Amazon.
The cocktail as a whole was a delicious summery variation on the whiskey sour theme, cool and light.
I started with the Potato and Garlic Soup, which perhaps seems odd on a day when the temperature was over 100℉ (38℃), but it was delicious. I'm not sure a Bourbon-based cocktail was a match made in heaven, but at least they didn't clash.
Valeria opted for a Lobster Roll with Basil-Mint Dipping Sauce.
A very French soup and a very Asian roll – I love diversity. Papaya, lobster, avocado and a delicious basil-mint sauce—what more could you ask for? Well, I would have cooked the asparagus just a bit more, but that's just me. This was a really nice dish.
While I started off wanting something light, one of the specials was a meatloaf sandwich. Now, given that I more often write about Michelin-starred, fancy-schmancy tasting menus than anything else, it may surprise some to know that I can get excited about a humble meatloaf sandwich, but my culinary cravings stretch from the humblest of simple street food to the highest temples of gastronomy on the planet.
This one promised cheese, caramelized onions, BBQ sauce and a Rice Krispy Treat. Nostalgia on steroids. My mom made a fantastic meatloaf and, while she never combined it with caramelized onions, I enjoyed many a tasty meatloaf sandwich growing up. Rice Krispy Treats were also a staple, or at least an occasional indulgence. I suppose parents today would be arrested for making these for their children, as they are just Rice Krispies and marshmallows, but, if you are up for an old-fashioned treat, here's the recipe. The meatloaf was good, but not as good as my mom's, though the caramelized onions and BBQ sauce made up for a lot.
Valeria was far more restrained, ordering a Heirloom Tomato and Watermelon Salad, with basil, spicy almonds, fresh Mozarella, pickled cipollini onions and balsamic vinaigrette.
It doesn't get more summertime than this. The tomatoes really were ripe and delicious and the watermelon was juicy and sweet. A little soft mozzarella, the perfume of basil, a bit of acidity from the pickled onions and the balsamic vinaigrette and you get happiness in the mouth.
That was all. Just a nice lunch in a nice town while relaxing in the Wine Country. If you are a foodie in need of a break from all the really high-end restaurants in the area, or if you are not a foodie at all, Market is a good choice for a meal.
Market
Address: 1347 Main Street, St. Helena, CA 94574
Phone: (707) 963-3799
Reservations: opentable.com
Website: www.marketsthelena.com
Dress Code: Smart Casual
Price Range: $30 and under
Lunch: Monday-Saturday: 11:30am-5:00pm
Dinner: Sunday-Thursday: 5:00pm-9:00pm,
Friday-Saturday: 5:00pm-10:00pm
Brunch: Sunday 10:00am-3:00pm
AMEX, Diners Club, Discover, MasterCard, Visa
All images were taken with a Sony A6000 camera and a Sony-Zeiss SEL1670Z Vario-Tessar T E 16-70mm (24-105mm full frame equivalent) F4 ZA OSS lens using ambient light. Post-processing in Adobe Lightroom® and Adobe Photoshop with Nik/Google plugins.