Our week on La Belle Epoque, a luxury hotel barge that is part of the European Waterways family, was coming to an end. This, our sixth and final full day on board would be full of cruising, walking, touring and, finally, the Captain's farewell dinner. The next morning would find us saying goodbye and boarding our vans back to Paris, but we have a lot to see and do before then.
On Day 5 we had docked in Montbard for the night. On Day 6 we cruised from morning until early afternoon when we reached our final dock at Venarey-les-Laumes. While the boat was moving down the canal, Valeria and I got off and walked part of the way and explored the small medieval village of Courcelles-les-Montbard (population: 100, more or less). After docking, we would visit the site of the historic Battle of Alesia, where Julius Caesar defeated the gallic tribes united under Vercingetorix in September, 52 AD. The day was still not over, but that is as much as we will cover in this article.
Alise-Sainte-Reine (Alesia)
We passed through a lot of locks during the week, but I never got tired of the process. The lock keepers' houses and the scenery around each lock was unique. The basic steps of carefully entering the lock, equalizing the water level and moving on has been in use for over 2,000 years. While technology has changed and the work that was once done manually to open and close gates and pump water is now often (but not always) done with electric motors, the design, engineering and overall process is remarkably unchanged.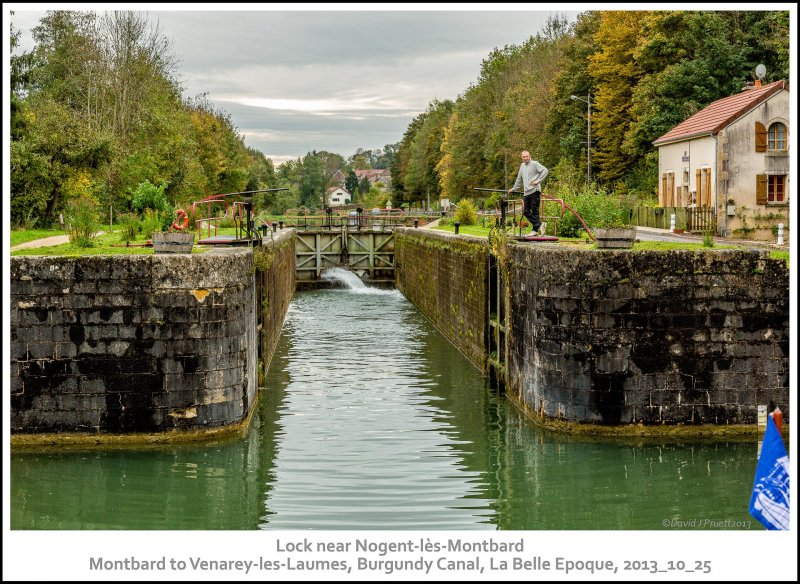 The canal barges were built at the maximum width possible to allow passage through the locks, leaving only and inch or two of clearance on either side.
After passing through this lock, we passed the little village of Nogent-lès-Montbard (population, around 100).
Some of the homes looked very nice. If you like to be out in the countryside, away from the cities, this may be the place for you.
We had a nice view of L'église de Nogent-lès-Montbard et Notre-Dame (The Church of Nogent-lès-Montbard and Our Lady) from the canal.
Did you notice the statue of Our Lady, the Virgin Mary, of the roof? I am not sure when this church was built, but the design is clearly medieval.
As we approached Courcelles-lès-Montbard, we up close and personal with some of the famous Charolais cattle of Burgundy.
This heritage breed produces excellent beef, which we enjoyed several times on this trip. While you can see cattle, including heritage breeds, all over the United States, you won't see them grazing near centuries-old medieval buildings.
Next, we sailed past Courcelles-lès-Montbard.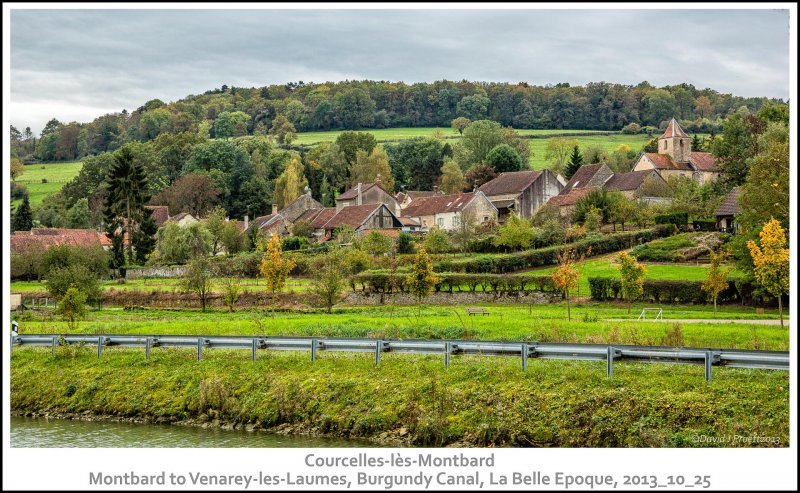 Valeria and I jumped off the barge at the next lock to walk for a while. This, for me, is one of the great features of cruising in a barge on a canal. Each time the barge passes through a lock, you have an opportunity to jump off (or on) and walk for a while down what was once the tow path for the animals that pulled the barges along. The barge rarely cruises at more than a fast walking speed. Given the time it takes to get through a lock, you have plenty of time to get off, walk to the next lock (on average, about 1 km or 0.6 mi apart) and get back on. Or you can walk past a few locks. There are also bicycles on board if you want to move even faster.
We took a quick walk through the small village of Courcelles-lès-Montbard. I couldn't find any significant information on village so I can't say much about it. I'll just let you enjoy scrolling through the pictures.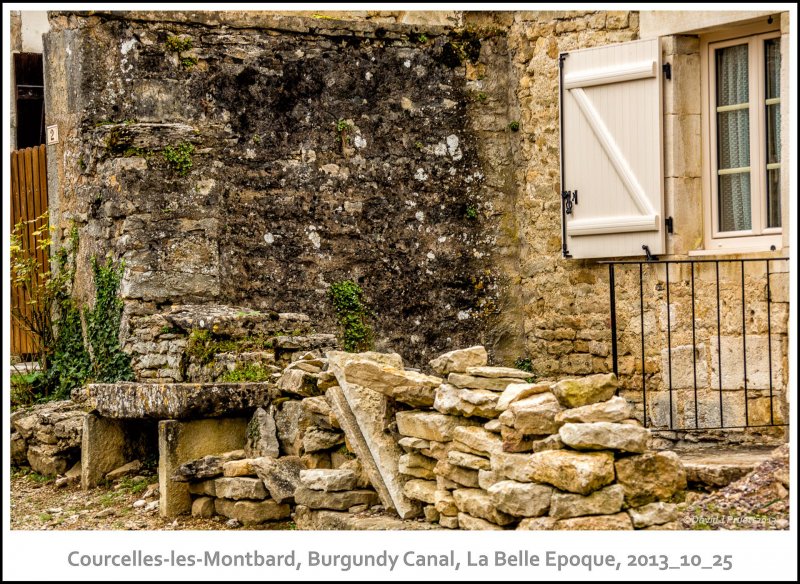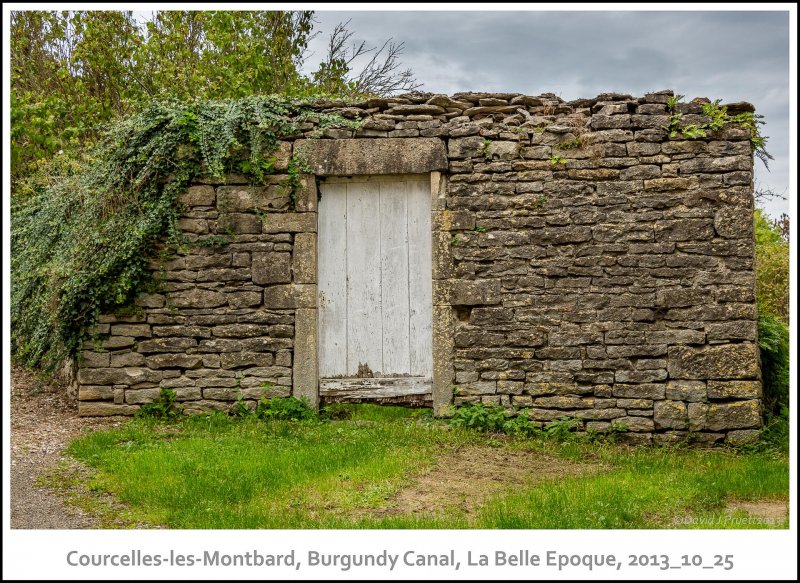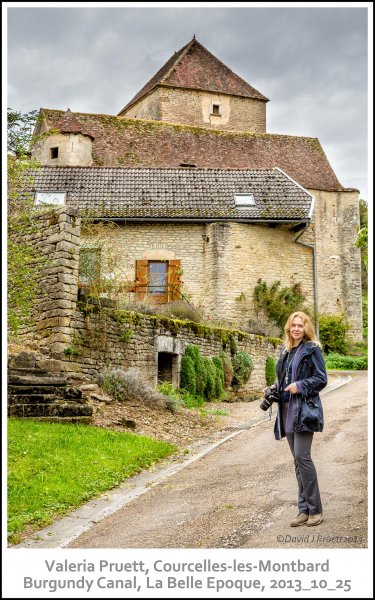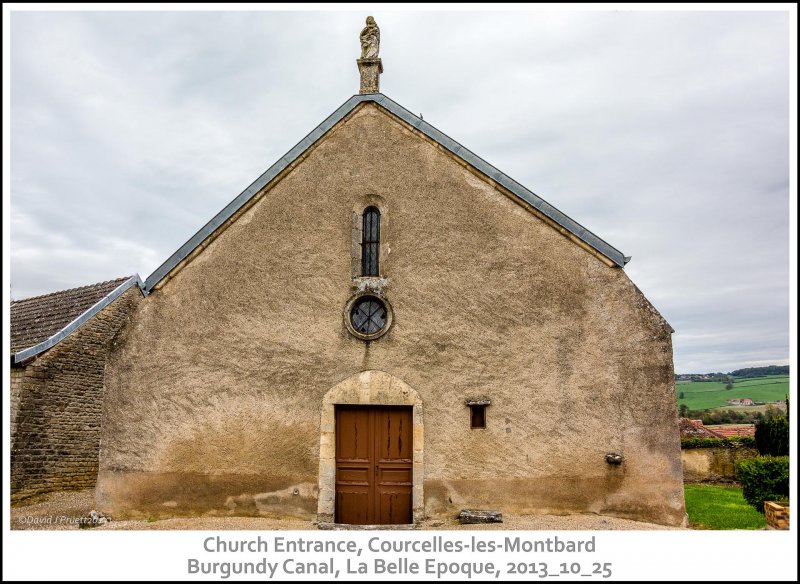 We caught a view of La Belle Epoque sliding into then next lock…
…and sailing free on the canal a little later.
We caught up with the barge at the next lock and got back on board. Why? It was lunch time!
Our first course: pâté de foie gras with onion jam.
I know that anything made with duck (or goose) liver is not for everyone. Some simply don't like liver of any kind in any form, and others object to the methods used to produce foie gras (literally "fat liver") commercially. I certainly am not going to tell anyone what they should or should not eat, but I love foie gras. I especially like it sliced, sautéed and served hot, perhaps on some brioche toast to soak up the juices and some sweet fruit sauce to balance out the richness. My next favorite way, however, is in a cold pâté like we were served here. Technically, given the shape of the pâté, I should probably call this a terrine of foie gras, which merely means that it was made in a rectangular-shaped, usually clay or ceramic, dish called a terrine.
A sweet wine, such as a Sauternes, is frequently served with foie gras as the sweetness of the wine cuts through the rich fattiness of the liver. Many people today write off sweet wines as cheap and unappealing, which they certainly can be, but the great sweet wines of the world are amazing—and amazingly expensive. A bottle of Chateau d'Yquem, arguably the greatest sweet white wine in the world, will cost $300 or more for a recent vintage. The wine ages for decades, even centuries, and prices for older bottles rise quickly into the thousands of dollars. In fact, the most expensive white wine ever sold was a bottle of 1811 d'Yquem that fetched $117,000 at an auction in 2011.
Obviously opening bottles in that price range even on a luxury cruise does not make much sense, especially when half or more of the passengers are likely to refuse a sweet wine out of hand. (To be fair, there are some excellent sweet wines that pair beautifully with foie gras at much more reasonable prices.) So, our white wine was a 2010 Bouchard Père & Fils Montagny 1er Cru from Burgundy.
If you have been reading all of the entries on this cruise you are, by now, an expert at reading French wine labels, but let's turn back to our handy map of Burgundy, provided by the folks at Wine Folly, to help us learn more about this wine.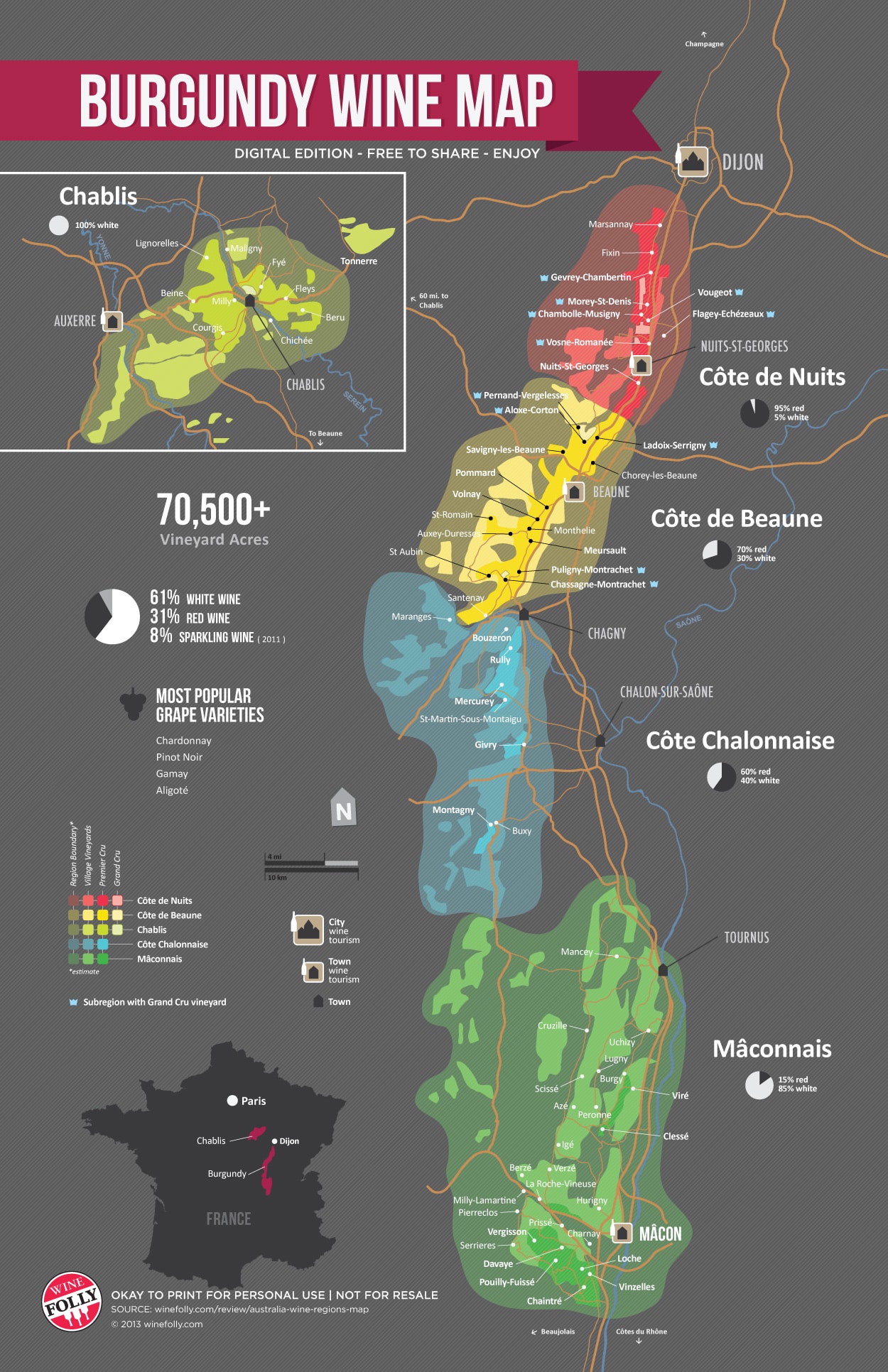 You will find Montagny in the southern end of the Côtes Chalonnais, the region in Burgundy that produces a lot of good to excellent red (Pinot Noir) and white (Chardonnay) Burgundy, but none that are up to the standards of the very greatest vineyards. That is to say, there are no Grand Cru vineyards here, but plenty of excellent Premier (1er) Cru sites. Bouchard Père & Fils is a reliable producer and 2010 was a very good year for white Burgundy. So, you would expect this to be a nice Chardonnay. Not a big, oaky Napa Valley Chardonnay, but a lighter, crisper white wine with more apple and pear flavors and aromas and that is exactly what we got. Not a perfect match for the foie gras, but a delightful lunch wine perfect for the next course.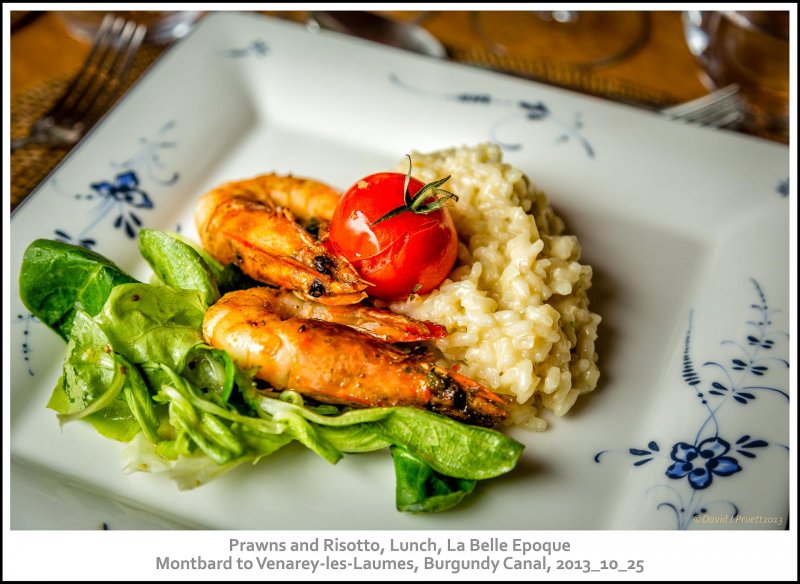 In the Unites States shrimp (and their bigger relatives, prawns) are usually served with the heads already removed, so it can be a surprise to see the whole animal on your plate with its eyes staring back at you. In most of the rest of the world, however, you are likely to get these delicious creatures served whole, and with good reason. Cooking the entire package, head, shell and all, adds additional flavor and helps keep the delicate meat from overcooking. (In Japan, they may serve you the cooked tail while the front end is still crawling around in front of you, but that's another column.)
These prawns were delicious, perfectly cooked and nicely complimented by the creamy risotto. This was a lovely lunch plate, with lean protein, a modest serving of starch and some fresh, colorful vegetables for eye appeal as well as texture and flavor.
We were always served both red and white wine with every meal (a custom I applaud). Our red with this lunch was the 2009 Bouchard Santenay.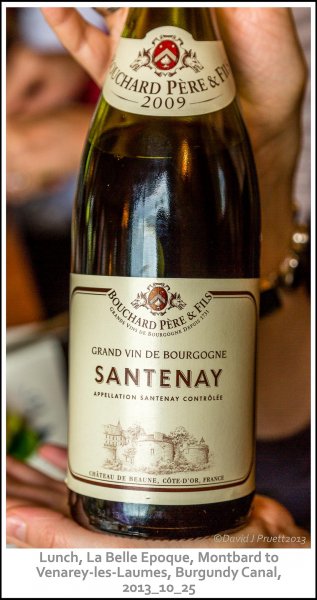 If you look back up at the wine map, you'll find Santenay at the very southern tip of the Côtes de Beaune, an area with plenty of 1er Cru and Grand Cru vineyards. This wine is not classified as either, but is a village-designated wine made from a blend of grapes grown around Santenay. 2009 was an outstanding year for red burgundy (Pinot Noir) and this was a solid choice. Nice, dark colored fruit aromas with some floral notes and just a touch of Burgundian earthiness. The wine was not a classic match with any of the dishes we had at lunch, but I never worry too much about that. If the wine and food in front of me pair nicely, I drink and eat them together. If they are not a match made in heaven, I simply enjoy them separately. A simple, no-stress philosophy for enjoying whatever food and wine are served.
Finally, dessert: a pear tart with vanilla ice cream.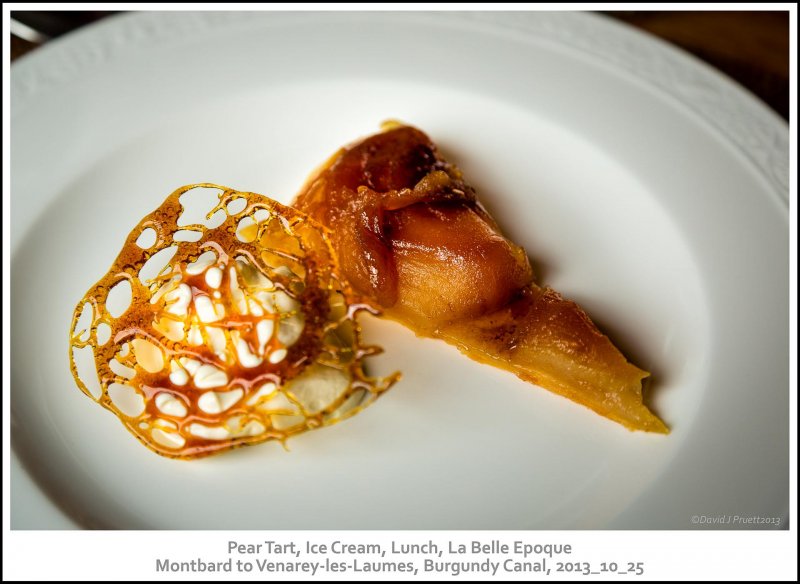 This was a variation of the famous French upside-down apple tart, Tarte Tartine, but pears work at least as well and maybe better, depending on which fruit you enjoy the most. Notice that the slice of tart and scoop of ice cream are small by American standards, as were the sizes of the first two courses. This may help explain why the French can eat multi-course meals and not be obese. The fancy sugar bird's nest was a nice touch by Chef Katy.
Not long after lunch we approached our final docking place in Venarey-les-Laumes. As we entered the docking area, we were greeted by a dog that we would meet again.
The port area was popular with boats, bikers…
…and geese.
Do you remember the dog that greeted us in the image above? It turned out that he belonged to one of our crewman, George.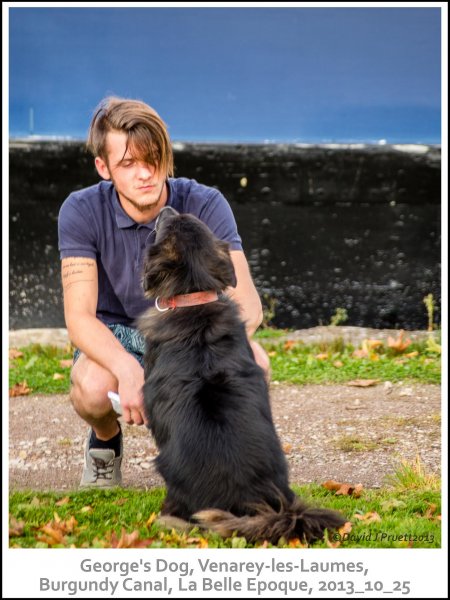 Moreover, the dog was living with George's father, who lived on a barge and just happened the be the man who founded European Waterways. That basically means he invented the luxury barge cruise business.
Family reunions aside, we still had some touring to do before dinner. Valeria made herself comfortable on a picnic table waiting for the vans to load. (I am happy to say that the garbage bins behind her were much farther away than they appear in this picture.
Some of our fellow passengers relaxed on the swings.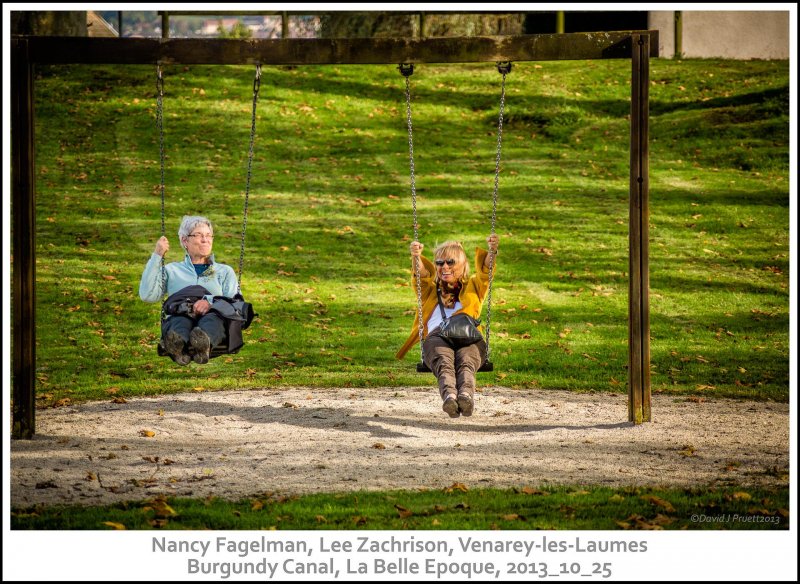 Soon we were in our vans and headed off to three last sites to finish our tours for this trip. I'll just cover one of them to wrap up this blog entry.
I'm not sure how much they teach about the Roman Empire and Julius Caesar in schools these days, but they were important topics when I was growing up. If you took Latin, you were likely to read parts of Caesar's own account of the Gallic wars, during which he expanded the Roman Empire through much of what is now France, Germany, Austria, Switzerland and Britain. The final battle in those wars was fought near what is now Alise-Sainte-Reine. This was the location of the Gallic settlement called Alesia. In 52 BC, after Caesar had subdues much of the territory formerly controlled by the Gauls, the remaining tribes united under the leadership of Vercingetorix. The Romans were outnumbered by as much as 4 to 1, but Caesar executed a brilliant siege of the fortified settlement. When the Gauls surrendered to Caesar, it effectively ended the Gallic Wars and set off the chain of events that lead to Caesar crossing the Rubicon, becoming Emperor of Rome and, ultimately, being assassinated.
While some historians question whether or not the site of the battle has been correctly identified, the consensus is that Alesia was at the top of the hill we visited and where a statue of Vercingetorix has been erected to commemorate the battle.
From here, we headed to Flavigny-sur-Ozerain, the village where the movie Chocolat was filmed and then on to the town of Semur-en-Auxois. I hope you'll join me to explore these villages in the next-to-last installment in this account of our barge cruise through Burgundy.
The author participates in the Amazon Affiliate Program, but otherwise has no affiliation with any of the businesses, locations or products described in this article.
All images were taken with a Canon 5D Mark III camera and a Canon EF 24-105mm f/4 L IS USM Lens or a Tamron AF 28-300mm f/3.5-6.3 XR Di LD VC Aspherical (IF) Macro Zoom Lens (now discontinued; replaced by Tamron AFA010C700 28-300mm F/3.5-6.3 Di VC PZD Zoom Lens) using ambient light. Post-processing in Adobe Lightroom® and Adobe Photoshop® with Nik/Google plugins.
THE SLIDE SHOW INCLUDES ADDITIONAL IMAGES NOT SHOWN IN THE TEXT ABOVE.