Well, faithful reader, welcome to the 16th and final entry in a series of posts chronicling a cruise down the Burgundy canal aboard European Waterways luxury barge hotel, La Belle Epoque. If you missed any of the entries, fear not. I'll include a complete index at the end of this entry.
As I hope you have seen, it was an amazing week of beautiful scenery, fantastic food, plenty of local wines and lots of history. Our last day was capped, as the last day on a cruise always is, with the Captain's Farewell Dinner.
The table was beautifully set, as it was each night, but with a few extra chairs so the crew could join us.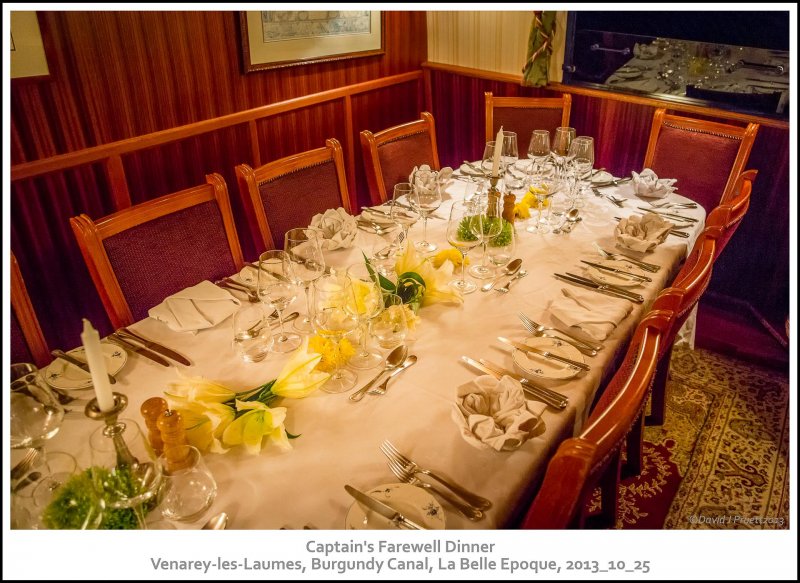 We started with Champagne (or cocktails, as preferred) and hors d'oeuvres. The first nibble was bacon wrapped scallops, sometimes called as "Angels on Horseback."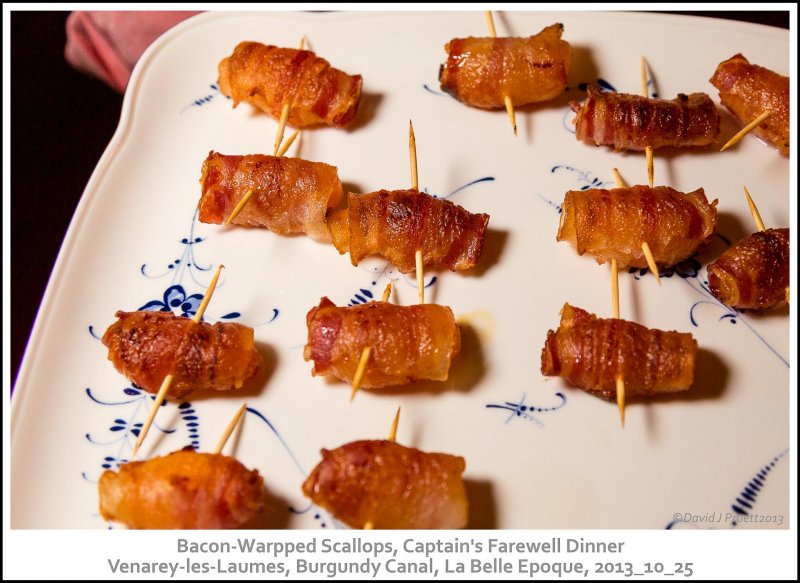 Angels on Horseback are most traditionally made with raw oysters wrapped in bacon and grilled, broiled or baked, but scallops, mussels, or shrimp all work well. They are dead simple to make, as explained in this 2-minute video.
For non-metric speakers, the reference in the video to setting your broiler to 250°C translates to a setting of 500°F. If you have your grill going, soak the toothpicks first so they won't burn up and toss these on the grill. (Wooden or metal skewers work great, too.)
If you are allergic to shellfish, there is a variation on this recipe that is popular is tapas bars in Spain and elsewhere around the world: Devils on Horseback. I understand they actual originated in England. If so, they make up or all the bland foods that England exported in the past.
Devils on Horseback are as simple as Angels on Horseback. Instead of the seafood, take a date (pitted, please!) or a prune, wrap it is bacon, and broil, bake or grill as you do Angels on Horseback. Devils can be fancied up a bit, if you like, by stuffing the fruit with an almond (Spanish Marcona almonds are delicious) or a little cheese (cream cheese, blue cheese, goat cheese—what you like) before wrapping with bacon. You can also roll the fruit in brown sugar before wrapping or brush the bacon with maple syrup about half way through cooking to add another layer of flavor and sweetness. Very easy to make, but addictive. To steal a line from an old potato chip commercial "bet you can't eat just one!"
Ms. Vitale calls them "Candied Bacon Bites" in the video, which is a very good description.
Our second hot d'oeuvres was another addictive bite: Gougères (French Cheese Puffs).
They are made by adding cheese (gruyére is traditional, but a good Swiss-style cheese or Compté will do nicely, just make sure it is a flavorful cheese) to pâte à choux, the pastry dough used to make cream puffs and profiteroles. These are significantly more difficult to make than Angels or Devils on Horseback, but they are utterly delicious and so good with Champagne. If you want to give it a try, here's how to make a big batch in advance.
By now the twelve passengers and six crew members had become good friends, but it was nice to have a little time just to socialize with the crew, including Pilot/Captain Alan Hearsey, Manager and Tour Guide, Anna Markham, Matelot (sailor) Charles, Chef Katy, Hosts George and Sadio, and, for this trip, an extra crew member, Eric Bonal from The Wayfarers to lead up on extra hikes.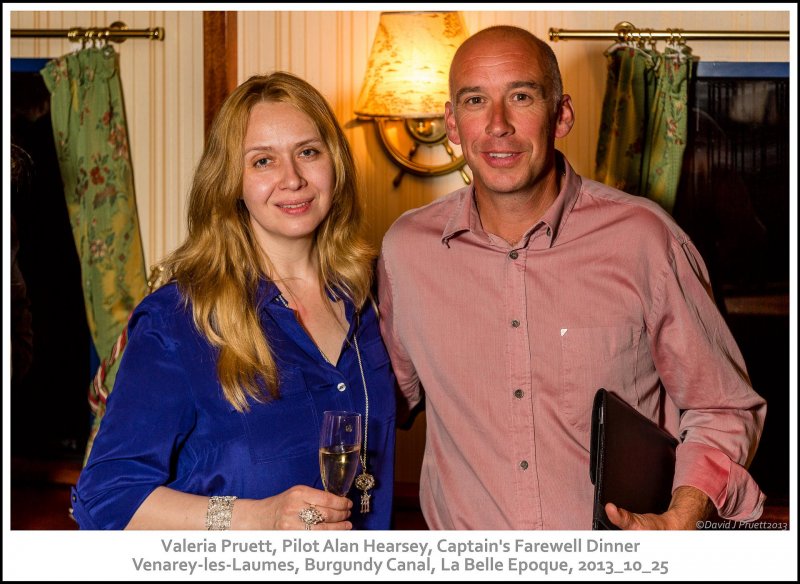 Eric, Frenchman that he was, naturally held court with the ladies.
After 30 minutes or so of relaxed conversation, it was time to eat! Even the butter was specially presented for this dinner.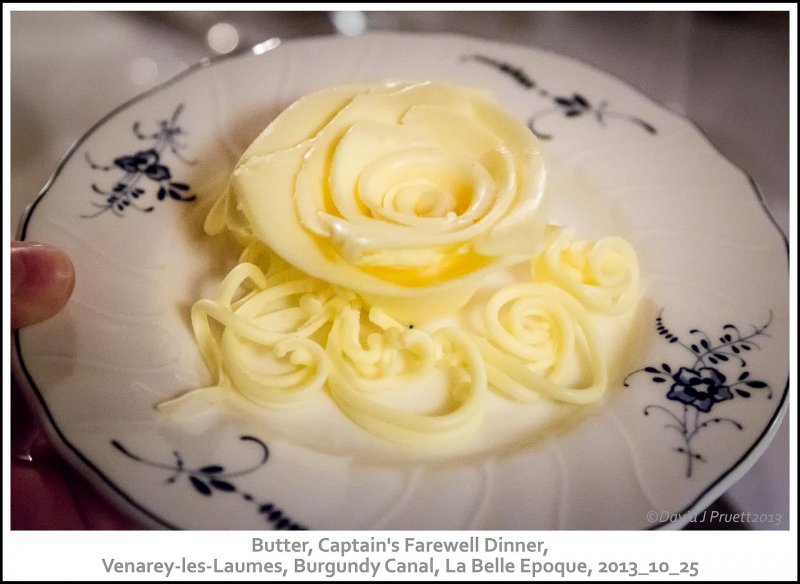 Our first course was delicate smoked salmon.
That was followed by that classic Burgundian stew, Boeuf Bourguignon, or Beef Burgundy.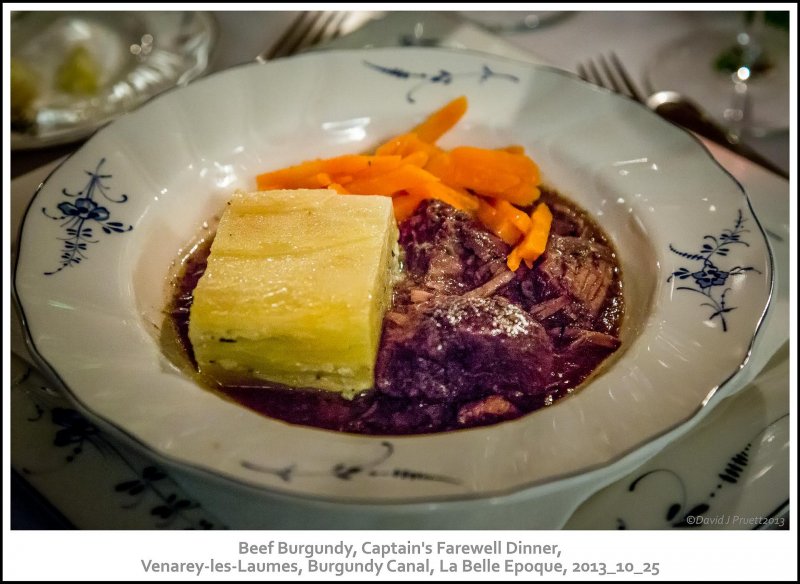 Bacon, onions, mushrooms and good beef from Burgundy's famous Charolais cattle, cooked in red wine and beef stock, flavored with garlic, onions, carrots, tomato paste a bayleaf and perhaps another little something, depending on the recipe. There are, in fact, countless recipes and techniques for making Beef Burgundy, as a quick Google search will prove, but I can't resist posting a long, black and white video of the woman who taught so many of us to cook making this dish. I am talking, of course, about Julia Child.
I don't know exactly what recipe Chef Katy used, but the meat was delicious and I really appreciated something else she did. Many recipes for beef stew call for the potatoes and carrots to be added to and cooked in the stew. Some carrots added from the start can add flavor to the finished dish, but potatoes and carrots cooked in the stew lose all their flavor and texture, simply tasting like the stew and often overcooked and mushy. The beautiful gratin of potatoes and separately steamed carrots that Chef Katy served were delicious, perfectly cooked, and still tasted of potatoes and carrots.
Of course we had wine with the meal, the usual bottle of white and bottle of red. They saved a couple of the best bottles served on the trip for our finale. First, the 2009 William Fevre "Bougros" Grand Cru Chablis.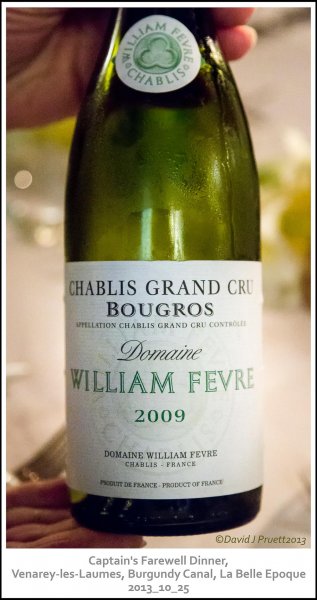 Now, I am sure that all of you have read the installment in this series entitled A Barge Cruise on the Burgundy Canal, Day 2, Part 3, Chablis, and can tell me all about this wine. Just in case someone missed that chapter, or if your memory, like mine, is not what it used to be, let's take a quick run through the label. Chablis is a region in northwestern Burgundy known for making white wine from Chardonnay grapes.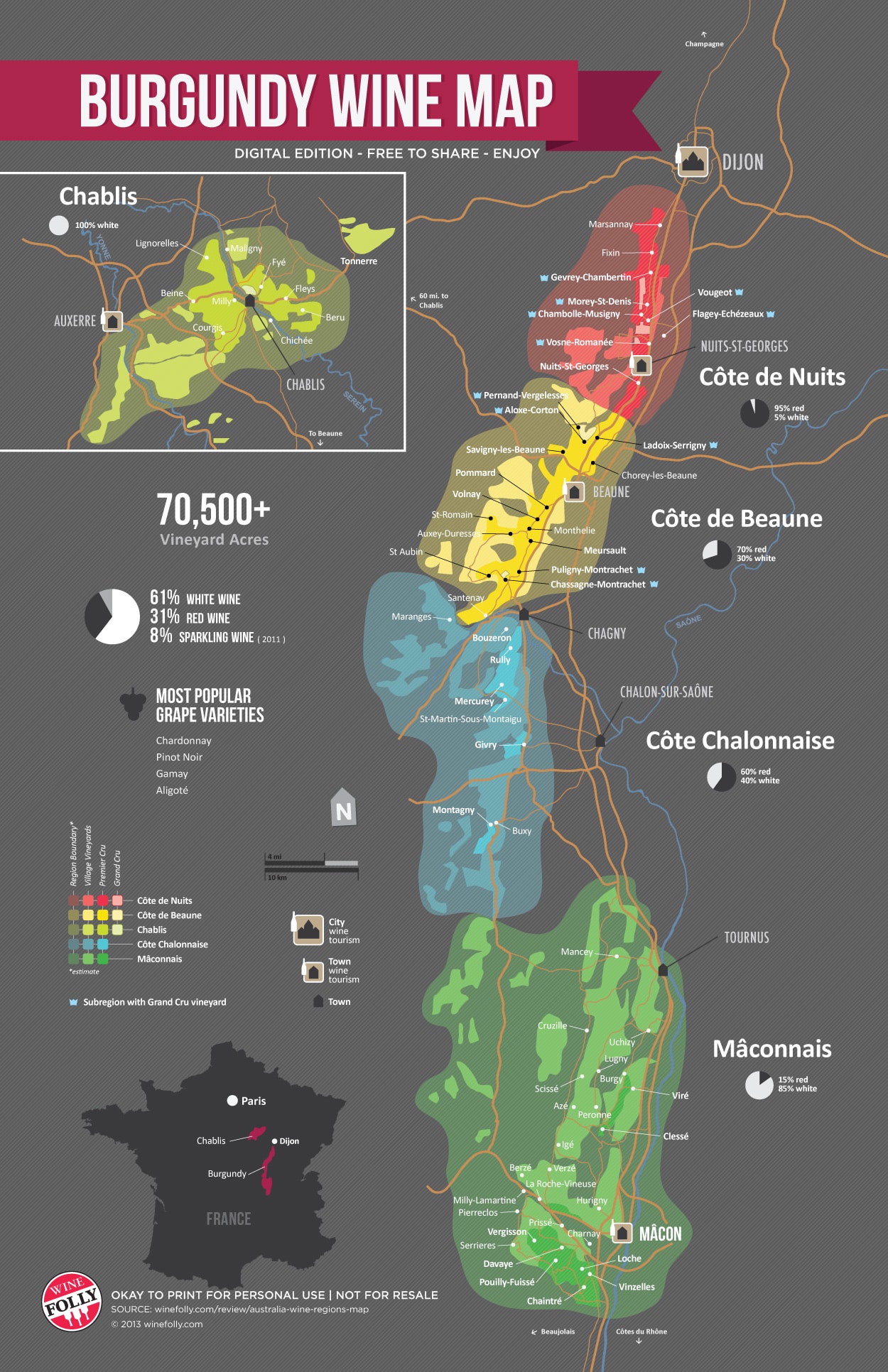 The very best vineyards in Chablis, as in all of Burgundy, are called Grand Cru vineyards, and one of these vineyards is named Bourgros. William Fevre is a very reliable producer of high-quality Chablis. 2009 was a good year for white wines in Burgundy, but yields were low in Chablis when insects destroyed about 20% of the crop. This wine was drinking absolutely perfectly on the night of our farewell dinner. The nose showed lots of the minerality (think ground up oyster shells) and crisp apple fruit that characterizes Chablis. The apples, tropical fruit and minerality on the palate was backed by a solid, juicy acid backbone. It was rather full-bodied for a Chablis. Quite simply, if you don't like a wine like this, Chablis is just not your cup of tea. Only 80 cases of this wine were produced, so I am sure it has long since disappeared from the market and, in fact, should have disappeared from wine cellar everywhere as it would be near the end of its life now.
The red wine was equally interesting: the 2007 Bouchard Père & Fils Beaune Grèves "Vignes de l'Enfant Jésus," 1er Cru, Beaune.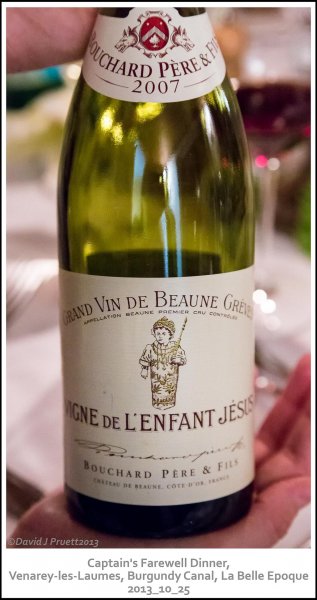 Once again, many of the elements of this name should be familiar by now. Overall. 2007 was a very good, but not great, year for red wine in the Côte du Beaune (in yellow on the map above). We have had several wines from Bouchard on this trip. A reliable producer, this is one of their flagship wines. Beaune Grèves is a vineyard located just outside the town of Beaune and is classified as a Premier (1er) Cru vineyard. 1er Cru vineyards generally do not produce the stunning wines (at stunning prices) that a Grand Cru vineyard is capable of producing, but they produce very good wines, indeed, when at their best.
Vignes de l'Enfant Jèsus means "Vines of the Infant Jesus." How did the infant Jesus, generally known to have lived in Israel and Egypt, manage to acquire vineyards in France? The answer, of course, is that he did not, but there is a story here. Come with me back to 1619 when Marguerite Parigot was born in Beaune. Her mother died when she was 11 and so she became a nun in the Carmelite Order (Order of the Brothers of the Blessed Virgin Mary of Mount Carmel, or Carmelites). This was an order of monks and nuns in the Roman Catholic Church that traces it's origin back to at least the 12th century. Like the Benedictines and Cistercians that we have encountered elsewhere on this trip, the Carmelites were devoted to prayer and poverty, but also to serving their communities.
There was also a strain of mysticism that ran through the order, especially concerning the Virgin Mary and the Infant Jesus. In 1631, Marguerite had her first visions of the Infant Jesus and in 1632 she was mystically wedded to him. It is said that she became like an infant again and had to be fed and clothed like a baby. She then passed through the various stages of the life of Christ, culminating in the appearance of stigmata (wounds on the body of Christ on the cross) on her body.
She is also said to have had a vision in 1632 in which the Infant Jesus spoke to her and told her that Queen Anne of Austria, wife of French King Louis XIII, would give birth to a male heir. In 1938, at the age of 37 and after four stillbirths, Queen Anne did, indeed, give birth to the future King Louis XIV.
I can't speak to the accuracy of the stories about Marguerite or her visions, but the Carmelites believed them and, in celebration of the birth of the king's heir, they named their best vineyard Vignes de l'Enfant Jèsus. The vineyard was owned by the Carmelites until the French Revolution (1789-1799) when it was nationalized. The history of ownership after that is unclear for a while, but the Bouchard family has owned it for over 100 years. It is in the very center of the Beaune Grèves vineyard.
If I learned nothing else on this trip, it is the amount of history—factual or legendary—in Burgundy is amazing!
The wine was delicious. Lots of red cherry fruit on the nose with hints of tobacco, licorice, earthiness and even a hint of smokiness. Quite full-bodied in the mouth with good acidity, it was an excellent red burgundy (you do remember that means it was made from Pinot Noir grapes, right?).
Of course we could not have dinner on La Belle Epoque without a cheese course.
I did not write down the names of the cheeses, but I believe the blue was Roquefort, the pyramid shape would be a goat cheese, and the round, orange-ish rind washed (aka "stinky") cheese may have been Époisses de Bourgogne or something similar. Add some walnuts and dried apple slices and you have an awesome cheese plate.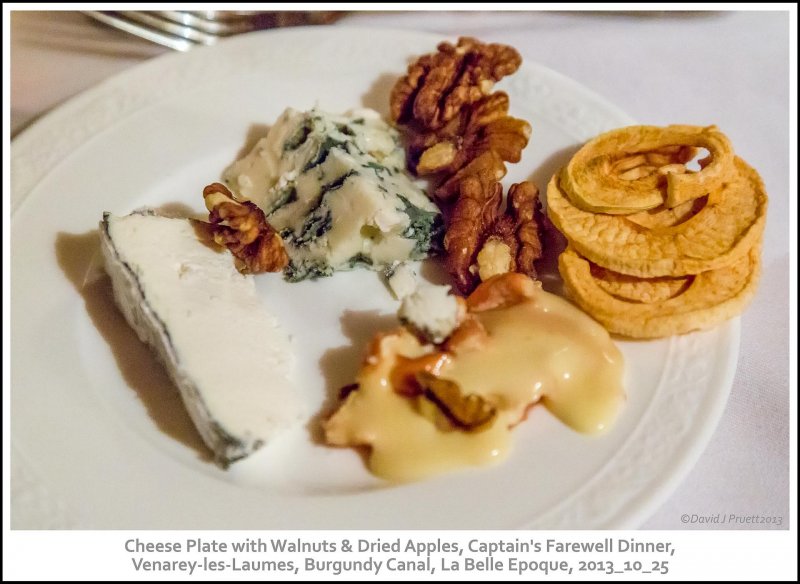 The runny, gooey Epoisses means it was fully ripe and delicious.
Finally, dessert. Why not a classic Creme Brulée with a Gooseberry on the side?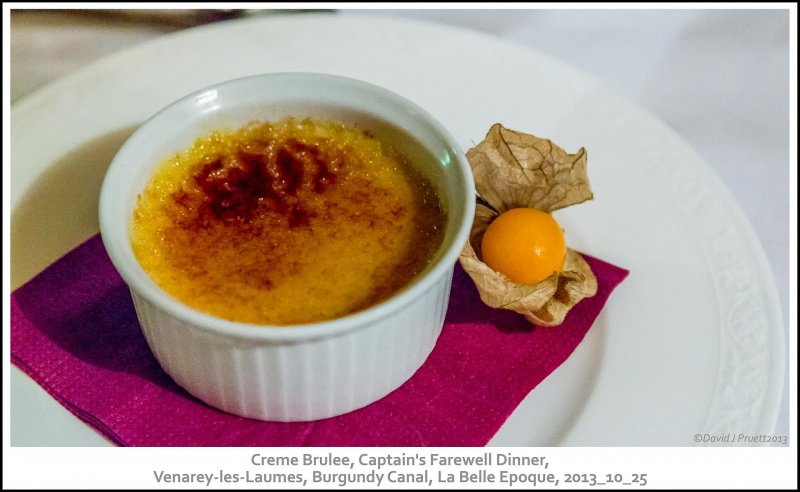 Everyone lingered a while after dinner, somewhat more reluctant than usual to call it a night, but everyone except me eventually wandered off to bed. I was the last one up almost every night, backing up my pictures from the day and enjoying one last glass of wine or liqueur in the quiet lounge before heading off to bed.
There was nothing left to do the next morning but to enjoy one last breakfast, exchange contact information with our fellow passengers and crew, and say a sad farewell to the crew as we boarded our vans back to Paris.
It was a great week with a great crew during a wonderful time of year in the heart of France. It was our first barge cruise, but it would not be our last.
The author participates in the Amazon Affiliate Program, but otherwise has no affiliation with any of the businesses, locations or products described in this article.
All images were taken with a Canon 5D Mark III camera and a Canon EF 24-105mm f/4 L IS USM Lens or a Tamron AF 28-300mm f/3.5-6.3 XR Di LD VC Aspherical (IF) Macro Zoom Lens (now discontinued; replaced by Tamron AFA010C700 28-300mm F/3.5-6.3 Di VC PZD Zoom Lens) using ambient light. Post-processing in Adobe Lightroom® and Adobe Photoshop® with Nik/Google plugins.
THE SLIDE SHOW INCLUDES ADDITIONAL IMAGES NOT SHOWN IN THE TEXT ABOVE.
Index to the entire series of posts on the cruise aboard La Belle Epoch.
A Barge Cruise on the Burgundy Canal, Day 1, Part 1, Paris to Tanlay, October 2013
A Barge Cruise on the Burgundy Canal, Day 1, Part 2, Tanlay, October 2013
A Barge Cruise on the Burgundy Canal, Day 2, Part 1, Around Tanlay, October 2013
A Barge Cruise on the Burgundy Canal, Day 2, Part 2, Tanlay to Lézinnes
A Barge Cruise on the Burgundy Canal, Day 2, Part 3, Chablis
A Barge Cruise on the Burgundy Canal, Day 2, Part 4, Lézinnes
A Barge Cruise on the Burgundy Canal, Day 3, Part 1, Lézinnes to Ancy-le-Franc
A Barge Cruise on the Burgundy Canal, Day 3, Part 2, Ancy-le-Franc, Chassignelles
A Barge Cruise on the Burgundy Canal, Day 4, Part 1 Ancy-le-Franc, Argenteuil-sur-Armançon, Noyers-sur-Serein, Ravières
A Barge Cruise on the Burgundy Canal, Day 4, Part 2 Ravières, Dinner at Restaurant Les Millésimes, Noyers-sur-Serein
A Barge Cruise on the Burgundy Canal, Day 5, Part 1, A Balloon Ride Over Burgundy
A Barge Cruise on the Burgundy Canal, Day 5, Part 2, Ravières to Montbard
A Barge Cruise on the Burgundy Canal, Day 5, Part 3, Fontenay Abbey
A Barge Cruise on the Burgundy Canal, Day 6, Part 1, Montbard to Venarey-les-Laumes, Courcelles-les-Montbard, and Alesia
A Barge Cruise on the Burgundy Canal, Day 6, Part 2, Flavigny-sur-Ozerain and Semur-en-Auxois
A Barge Cruise on the Burgundy Canal, Day 6, Part 3, Farewell