As I hope you have already seen in A Barge Cruise on the Burgundy Canal, Day 5, Part 1, A Balloon Ride Over Burgundy, we arose early on our 5th day aboard La Belle Epoque for an astoundingly beautiful and relaxing balloon ride over the area around Nuits in Burgundy, France.
The balloon ride was not included in our otherwise all-inclusive European Waterways cruise, but it was well worth the extra money and even worth getting up before dawn (Valeria and I are not morning people, so this means a lot). But it's time to get back to the boat, still docked and waiting for us at Ravières, and resume our regularly scheduled cruise.
It was a beautiful morning, so we decided to walk along the canal and catch up with La Belle Epoque at a lock somewhere down the line. We hadn't decided how long we would walk, just that we would definitely jump back on board before lunch! This is a unique feature of barge cruising and, for us at least, one of the best. You can get off (or on) the boat anytime it is docked or going through a lock, which, on average, are spaced less than a mile apart (around 1 to 1.5 kilometers). You just stroll along what used to be the tow path used by horses or mules to pull the barges. The paths are generally well maintained and, by their very nature, flat and easy to walk along. There are also bicycles on board the barge which you are free to use.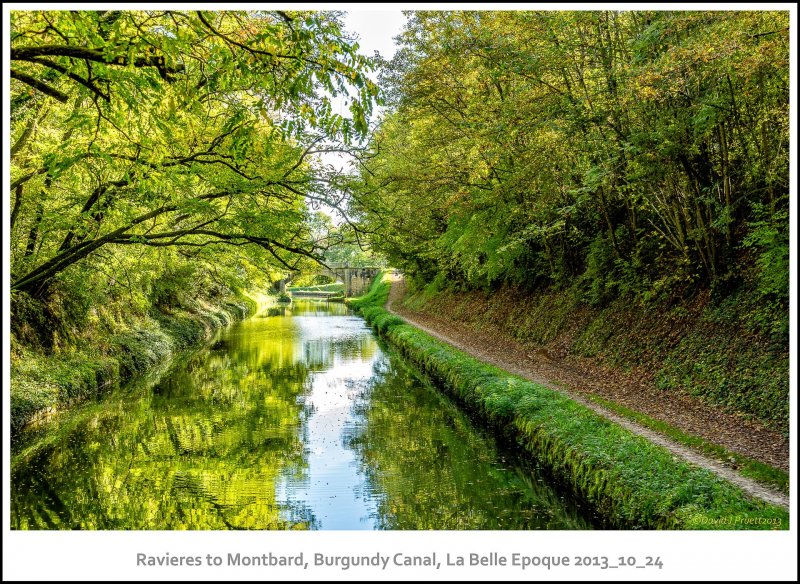 The barge rarely cruises at a speed faster than a brisk walk, so we easily reached the first lock before the boat did. It's a beautiful sight as it comes down the canal.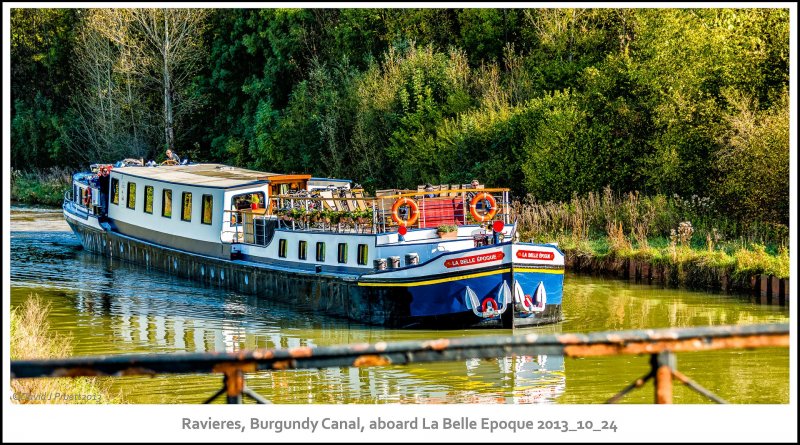 I don't know exactly how many locks we passed through in a week—15 or 20, maybe?—but I never got tired of watching our Pilot, Alan Hearsey, guide the barge into the narrow locks with only an inch or two (3-6 cm) of clearance on each side.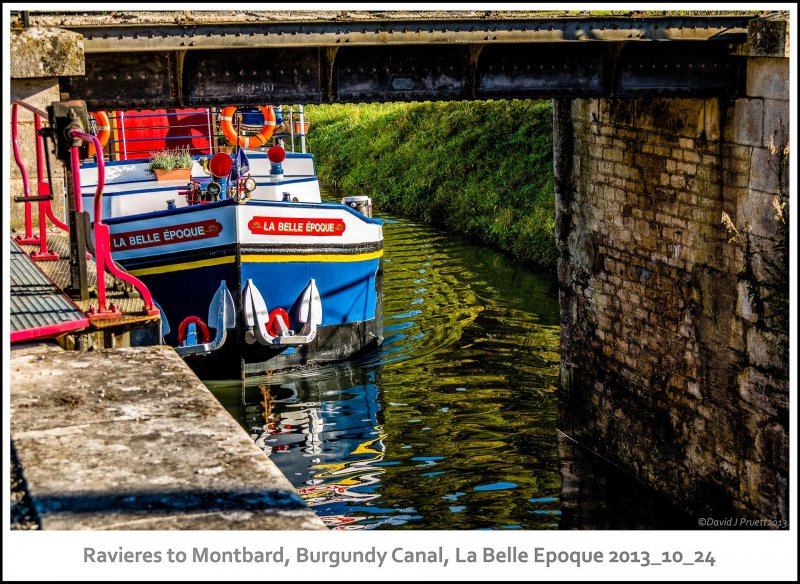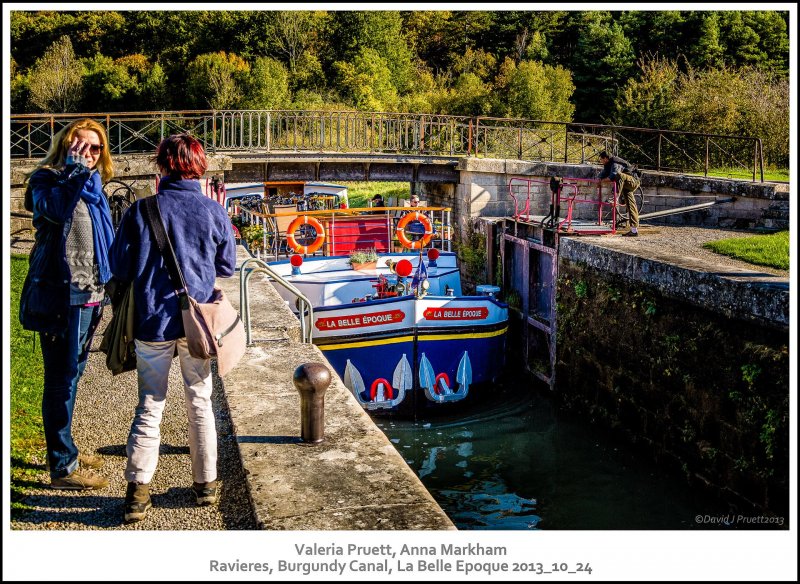 Back in the day, each barge was custom built to fit exactly on the canal(s) it would haul cargo on. Every inch of extra width meant that much more cargo could be hauled. Nowadays, there is almost no commercial traffic on the canals as trucks, railroads and planes haul all the cargo. Many of the old barges, like La Belle Epoque, have been transformed into floating luxury hotels.
This lock must have been an important one in the past, as there was a large home and a large warehouse building supporting the lock.
The walk was really nice, but it was time to get back on board and enjoy the view from the deck.
Besides, it was time for lunch, and lunch in France means wine.
If you have been following this series of blog entries through the whole trip, you should be getting pretty good at reading wine labels. This is a red wine from the area around the village of Mercurey in Burgundy. Let's take another look at our trusty wine map from Wine Folly.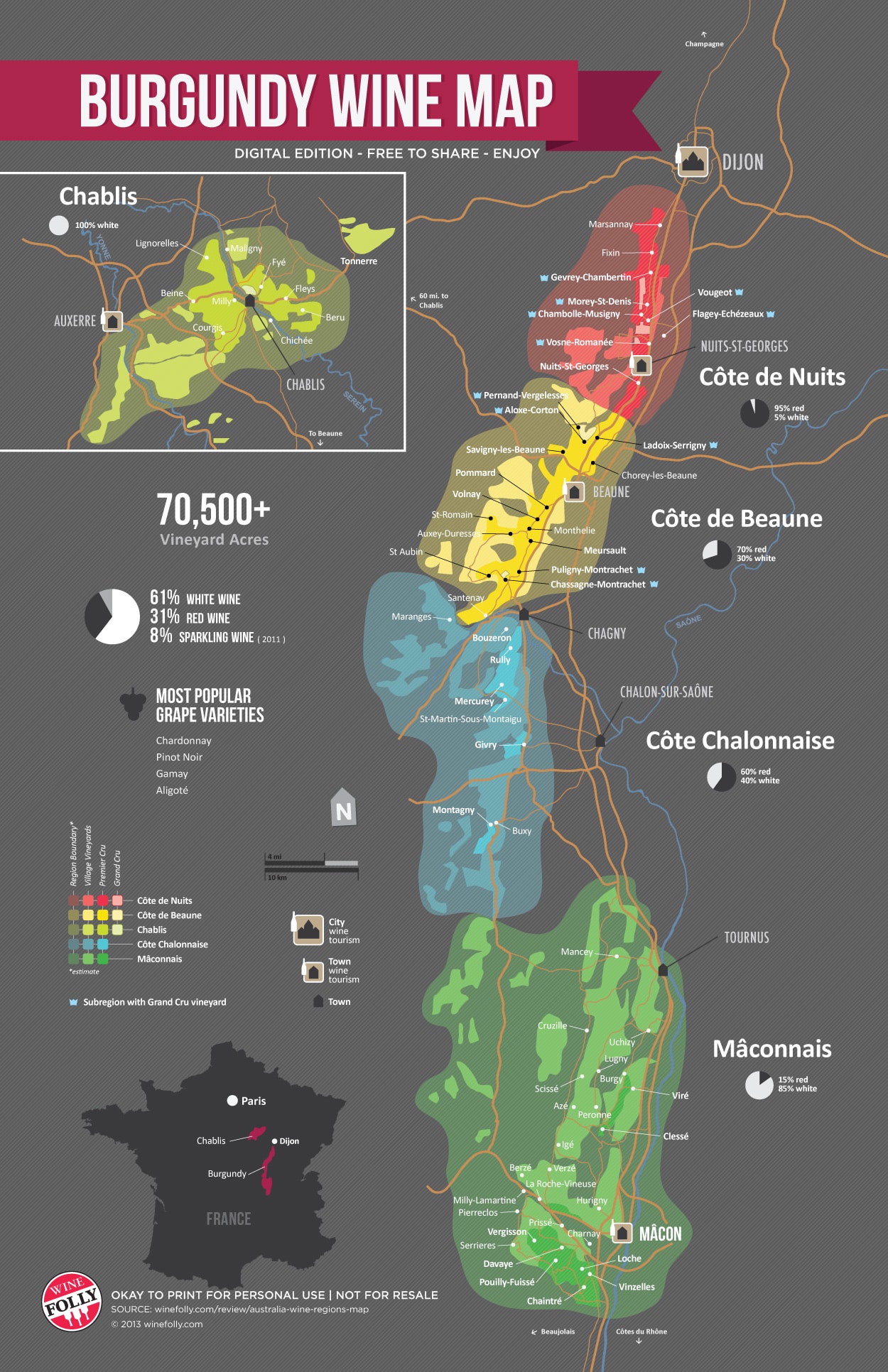 You'll find Mercurey almost in the middle of the map in the blue Côte Chalonnaise region of Burgundy. The very best vineyards in Burgundy are situated in the northern half of the region in the Côte de Nuits and the Côte de Beaune (known collectively as the Côte d'Or or Golden Slope). The wines from these vineyards can be amazing, but the best ones, and even some mediocre ones, are usually hideously expensive and hard to find. The wines from the Côte Chalonnaise and the Mâcon (which we'll get to in a moment) may never achieve the ethereal beauty of a Grand Cru from the Côte d'Or, but they can be delicious wines with plenty of character that are readily available at prices that won't require you to skip a mortgage payment to finance a bottle.
Since our Mercurey is a red wine from Burgundy we know that it is (almost) certainly a Pinot Noir. I have written about Louis Jadot, one of the largest and oldest wine producers and marketers in France, before. They have extensive vineyard holdings that they own outright, others under long-term contract, and they also buy grapes, grape juice and even partially or completely finished wines to produce, blend and bottle under their name. They produce dozens of wines, ranging from mass-produced, inexpensive everyday wines to a few cases per year of incredible wines from a small part of a small vineyard situated on some of the Holy Grail spots in Burgundy.
Our lunchtime Mercurey is from the 2009 vintage and much closer to the everyday wine end than to the mortgage-your-house end of Jadot's wines. 2009 was a blockbuster year in Burgundy. In general, the weather was great during the whole growing season, so the grapes were ripe, free of disease and abundant. Many delicious, fruit-forward wines were produced that were ready-to-drink in the short to medium-term. The acidity in some of the wines was low, so their long-term ageability is uncertain, but if you can drink them over the next 10 years with pleasure, instead of waiting 10 years for them to hit their stride, is that really a problem?
The 2009 Jadot Mercurey represented the vintage well. Medium colored with bright black cherry and blackberry fruit on the nose, with some floral notes and a touch of Burgundian earthiness. It was medium bodied and fruity in the mouth and very easy to drink.
Both a white and a red were served at every lunch and dinner. The white for this lunch was the 2011 Louis Jadot Domaine de la Grange Magnien, Mâcon Villages.
Looking again at the map of Burgundy (above), you'll find the southernmost part of Burgundy is called the Mâconnaise. Mâcon, the village which gives the region its name, is in the southeast corner. About 85% of the wine produced in this region is white. Regular readers know that (almost) all white wine from Burgundy is made from the Chardonnay grape. Wines blended from anywhere in the Mâconnaise are labeled simply "Mâcon." The vineyards around several communes have been recognized for generally producing superior wines. Wines made with grapes grown in one or several of these named villages may be called "Mâcon Villages." These named communes may also append their name to the wine to make, for example, Mâcon-Lugny or Mâcon-Fuisse. Most of the Premier Cru vineyards, which would be labeled with just the name of the commune, are in the southern part of the Mâconnaise. The most famous of these is Pouilly-Fuisse, which can be a very good, though regrettably hard to pronounce (for English speakers), white Burgundy.
Jadot owns the Grange Magnien Domaine and often bottles a wine using grapes only from that Domaine. The Chardonnay is fermented and aged in stainless steel, so the emphasis is on the fruit flavors and on making a wine to be drunk young and fresh—within a couple years of the vintage. 2011 was another solid year across Burgundy, and this was a good wine, but I expected it to be a bit better. It had the fresh apple and grapefruit aromas of Chardonnay and a good acid backbone, but was rather light weight.
So what did Chef Katy prepare for us to eat with these wines? Let's look: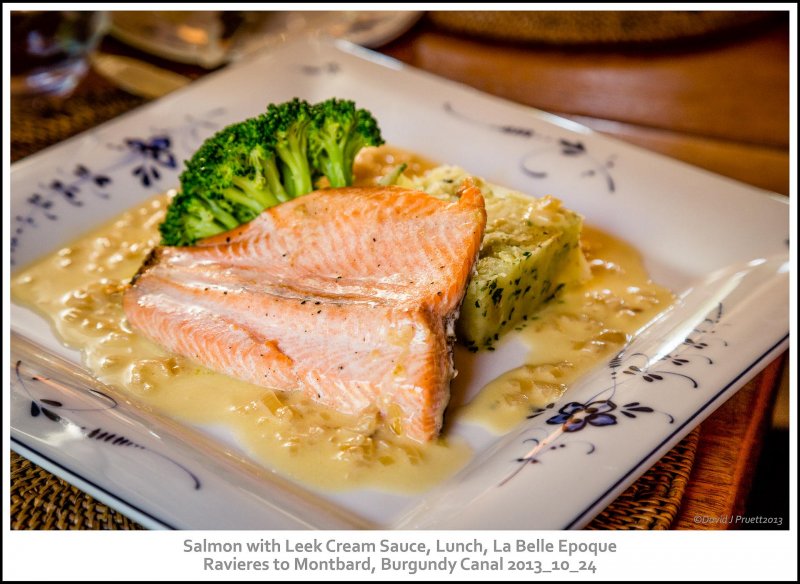 Impeccably fresh salmon, simply sautéed and served with a delicious leek and cream sauce (there was a touch of mustard in there, I think). With a potato gratin and some steamed broccoli on the side, it was a simple, but elegant, lunch.
Some might be surprised that we had a red wine (as well as the white) with fish. As it turns out, you can pair red wine with fish more often than the simple rule of thumb might imply. Salmon and Pinot Noir play extremely nicely together most of the time, and they did here. The full flavor, fattiness and lack of iodine in salmon makes it work. A big Chardonnay would have been equally at home here, but the Mâcon-Villages was, to my taste at least, a bit light.
However, the clean, crisp white was excellent with the cheese/dessert course.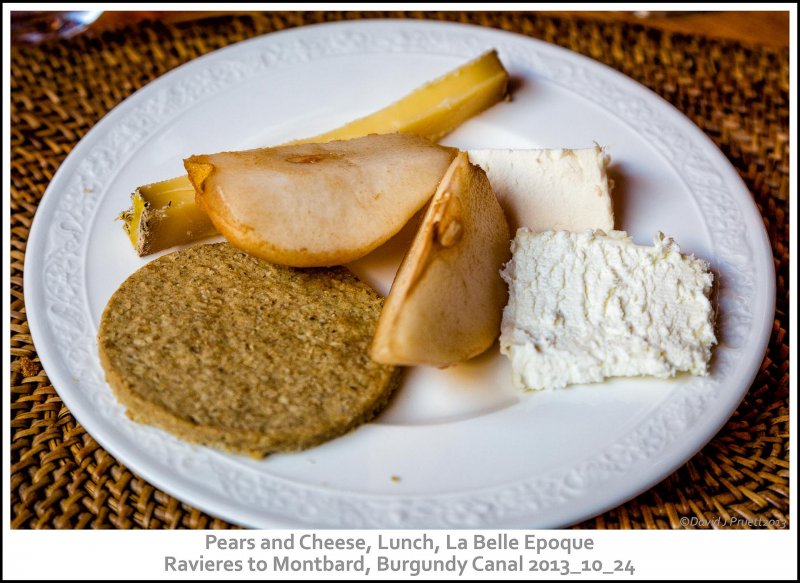 I didn't take notes on the exact cheeses, but there was a goat, a firm cow's milk and a creamy cow's milk served with the pears and wheatmeal cracker.
We spend the the next couple of hours relaxing and cruising down the canal. It was a fairly long stretch from Ravières, where we started, to Montbard, where we tied up for the night around 4:00 in the afternoon.
I spent the first hour or so after lunch just sitting on the deck, enjoying the sun and looking for photo ops (photographic opportunities). Here was one as we approached a bridge that framed a man fishing in the canal.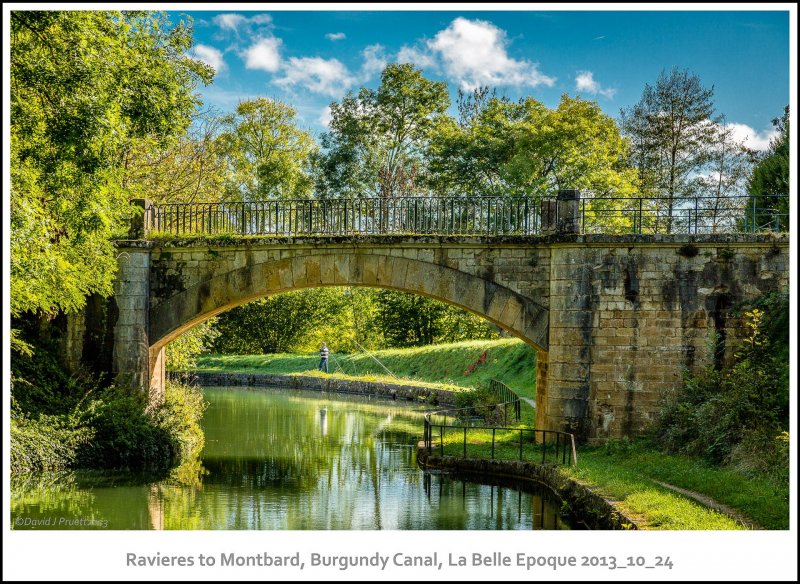 There was a new, beautiful view around every curve in the canal.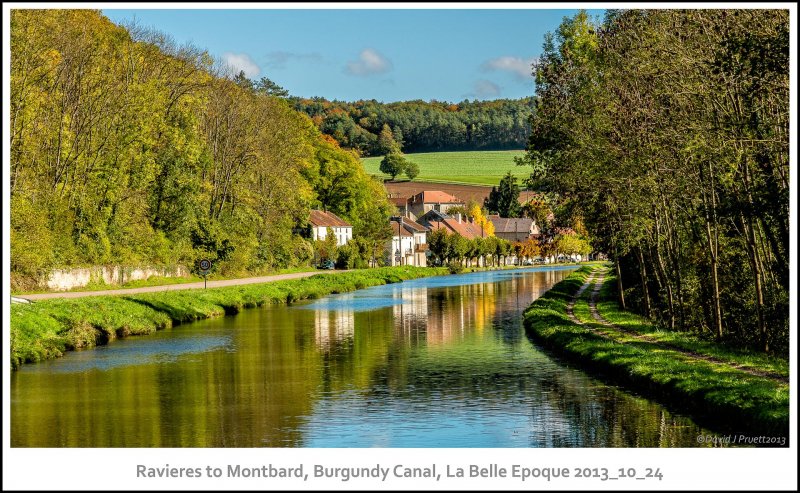 There were neatly kept houses along the way, some isolated, some together in small villages.
Note that most of the houses, however quaint or isolated, also had a dish for TV reception.
There were plenty of the famous Burgundian Charolais cattle grazing across the countryside.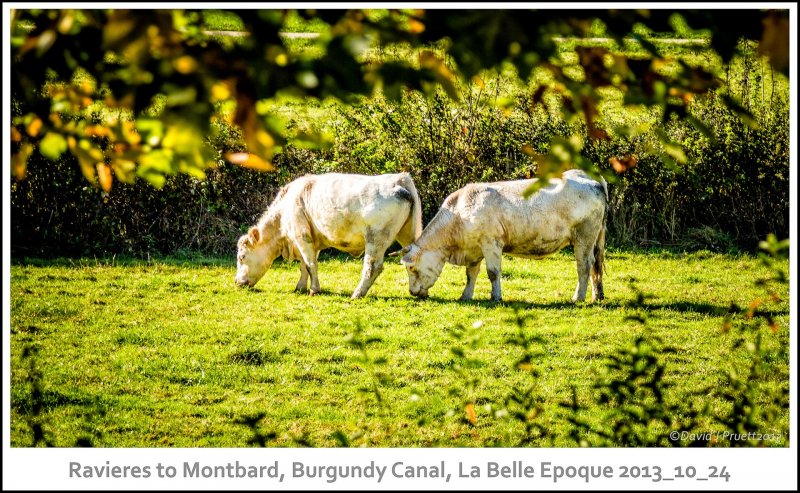 This is a heritage breed that is still allowed to graze in the open fields. The quality of the meat is superb. There is a reason Boeuf Bourguignon (Beef Burgundy), a regional specialty, became popular around the world. Take the local beef and the local red wine and slow cook them together. Sauté a few vegetables from the garden, toss them them together with the meat and you have a prototypical beef stew that is hard to resist on a cool fall evening or cold winter night.
As we continued our slow cruise along the canal…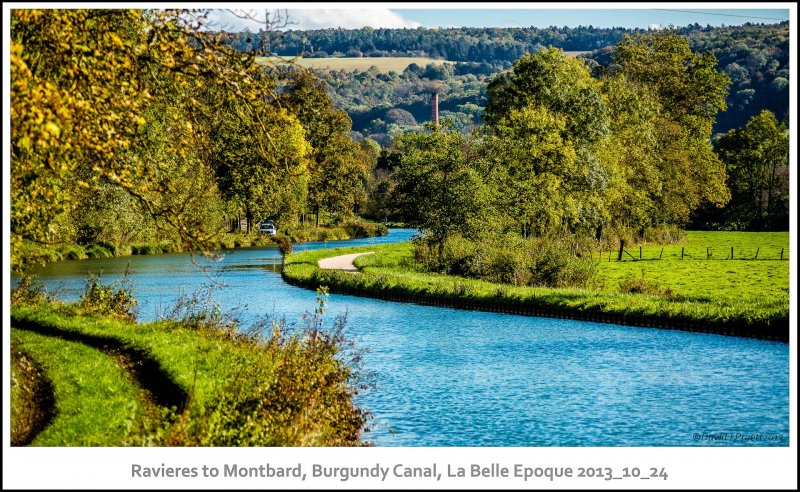 …the early autumn landscape of field, forest and the occasional house or cluster of houses continued to morph and roll by.
There was no shortage of Boeuf Bourguignon on the hoof.
Soon we approached another lock…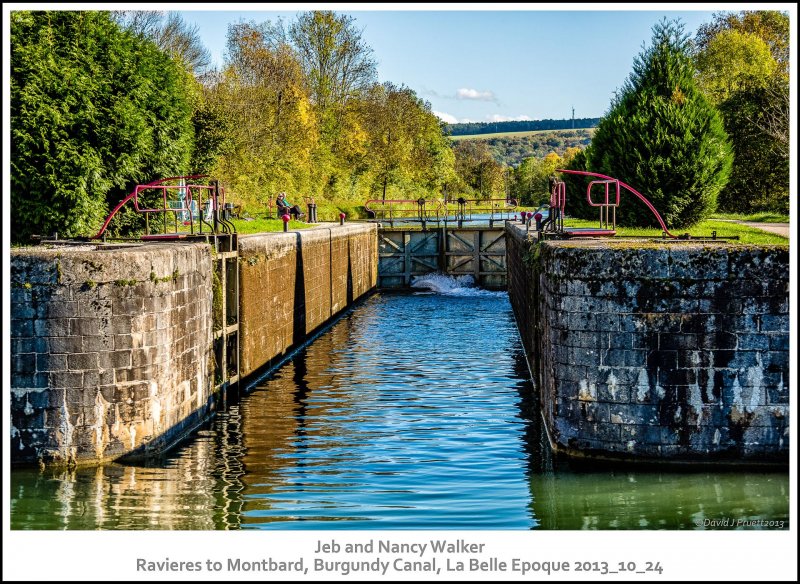 …with another well-kept lock keeper's house…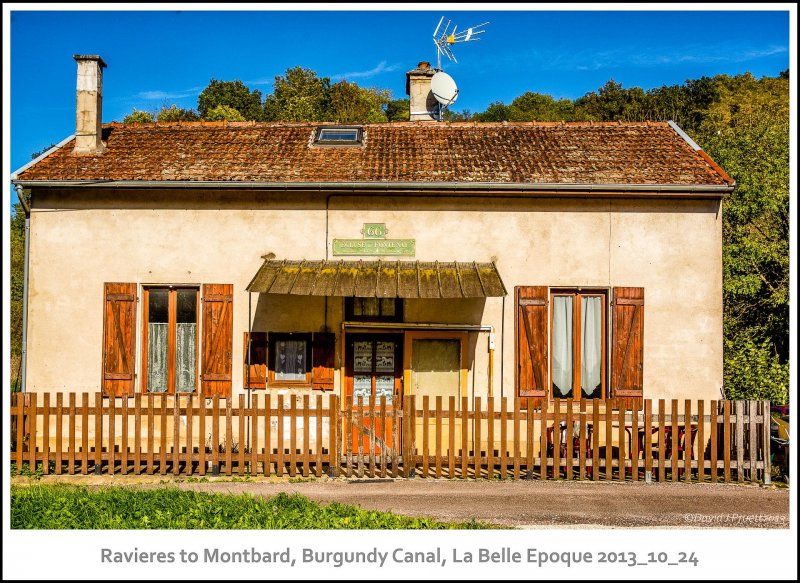 …and perhaps the lock keeper's outhouse?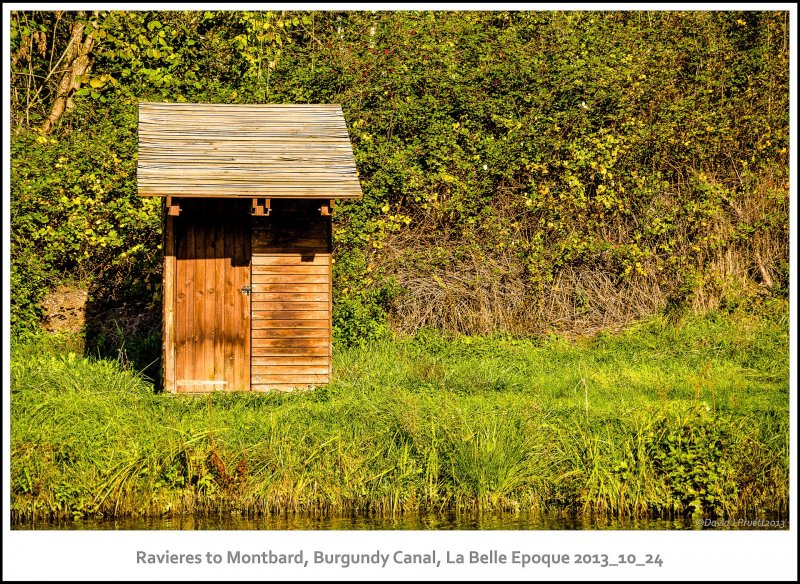 Kidding! I have no idea what the little shed is for, but I don't think it's an outhouse!
Valeria and I decided to jump off La Belle Epoque here and walk to the next lock. We passed another neatly kept home that was reflecting beautifully in the canal.
We reached the next lock just ahead of La Belle Epoque, so we watched as it arrived…
…entered the lock…
…waited as the lock filled with water…
…and finally exited the lock as the gates opened.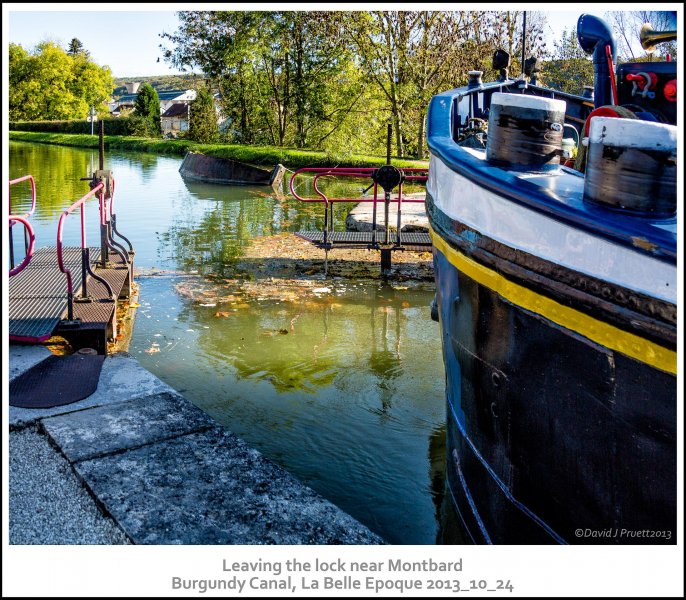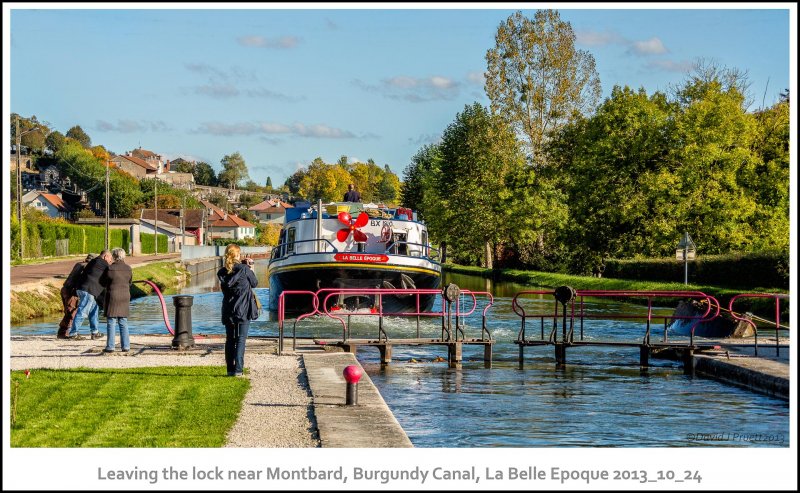 While exiting the lock La Belle Epoque passed another "luxury barge" that looked unlikely to sail again anytime soon…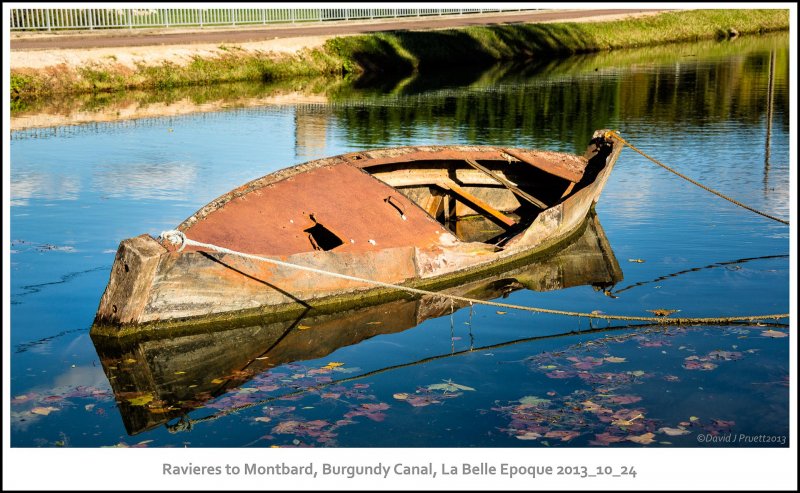 …much to the amusement of First Mate Charles.
This was the last lock before our dock at Montbard, so we just continued to walk along the canal, counting cows and chatting.
When the boat docked, it was time for a tour of the Abbey de Fonteney, a magnificent 12th century Cistercian monastery. After a short van ride, we walked a short way from the parking lot to the Abbey…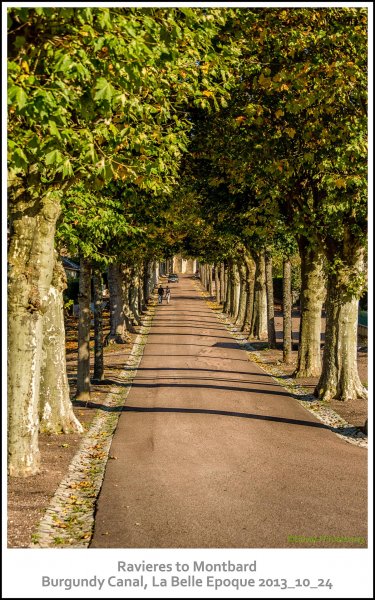 …passing a relic that, while not as old as the Abbey, may soon be considered just as outdated.
Yes, that's a pay telephone booth!
I am going to dedicate a separate blog entry to the Abbey itself. Watch for A Barge Cruise on the Burgundy Canal, Day 5, Part 3, Abbey de Fontenay. The Abbey is an amazing place, definitely one of the highlights of the trip. To finish this blog, we will skip past that and get back to La Belle Epoque.
It had been a long day of ballooning, cruising, walking, and exploring the Abbey, but it wasn't over yet. We still had dinner and a special celebration to look forward to. As we returned to the barge, it was Happy Hour and cocktails were waiting for us.
As you may know, a Kir is a cocktail from Burgundy made by adding Creme de Cassis (a liqueur made of black currents that originated in Burgundy over 150 years ago) to Aligoté (a white grape used to make a dry white wine in Burgundy—the exception to the rule that white wine in Burgundy is made with Chardonnay). Aligoté can be a bit thin and acidic, so adding a little Creme de Cassis makes a refreshing summer time cocktail.
Add creme de cassis to a sparking wine, traditionally Crémant de Bourgogne, and you've made a Kir Royale. A good Crémant de Bourgogne is made exactly like Champagne, but only wines made in the designated Champagne region can use that name. Crémant de Bourgogne is usually made predominantly from Chardonnay, but Pinot Noir, Gamay and Aligoté are, in various portions, are a common part of the blend.
My persoanl favorite Kir Royale is made with Chambord. The modern liqueur that you will find on the shelf of most good wine and liquor stores was developed in 1982, but it is based on a liqueur developed in the Loire Valley in France in the 1600s.
Chambord is made with black raspberries as the primary ingredient, flavored with honey, herbs, vanilla and citrus and fortified with Cognac. To my taste, adding around 1/2 oz (15 ml) of Chambord to 6 oz (180 ml) of an inexpensive sparking wine (Spanish Cavas work well) makes a great cocktail. You may want to add more or less Chambord depending on your personal taste and the particular bubbly you mix it with.
No happy hour is complete without munchies, so Chef Katy baked up some ham and cheese in puff pastry.
Simple, tasty and very French.
As we were enjoying Happy Hour, the sun as going down behind Montbard.
Kir Royale in hand, delicious hors d'oeuvres and a beautiful sunset—life has it's moments.
Our first course is a bit of a mystery: something under puff pastry.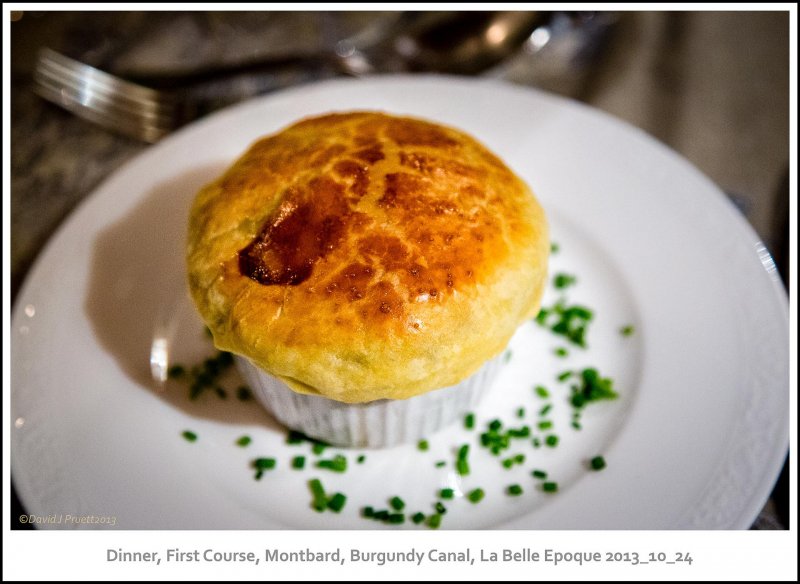 I simply cannot remember what was baked under that beautiful dome, but it looks delicious, doesn't it?
I am far more certain about the wines with dinner, the customary red and white. The white was the 2010 Bouchard Pères & Fils, Meursault "Les Clous", Burgundy, France.
This was a big step up from our lunch wine. If you look back at the wine map of Burgundy, you will find Meursault pretty much in the heart of the Côte de Beaune, an area that is full pf Premier and Grand Cru vineyards. Les Clous is not ranked as a Grand or Premier Cru, but it is a single vineyard owned by Bouchard with a good location on a hilltop. This wine pretty consistently receives scores of around 90, give or take a point, from the wine critics. Yes, it is a a Chardonnay and it has some of the same apple and citrusy notes as the Mâcon-Villages we had at lunch. In addition, however, there were some nutty aromas and floral notes, much more body in the mouth and a longer finish.
Bouchard Père & Fils (Bouchard Father and Sons) is a venerable producer in Burgundy which, like many others, has had runs of consistently good production and runs where the wines were pretty mediocre. Michel Bouchard, a cloth merchant, began the business in 1731. Michel's son, Joseph, expanded into wines. Over the years that followed, the company acquired about 320 acres (130 hectares) of vineyards across Burgundy. Of these holdings, some 30 acres (12 ha) are Grand Cru vineyards and 183 acres (74 ha) are Premier Cru vineyards. They had additional vineyards under contract and purchased some grapes and wines in various stages of production as well.
In 2005, the family sold the business to Joseph Henriot after almost 275 years as family-owned business. That was a good thing, as quality had been on the down side for a while. Henriot began an effort to improve the wines from Bouchard significantly and they have done so. The wines are consistently better today than they have been in some time.
Our red was a 2009 Premier Cru Volnay from the same producer.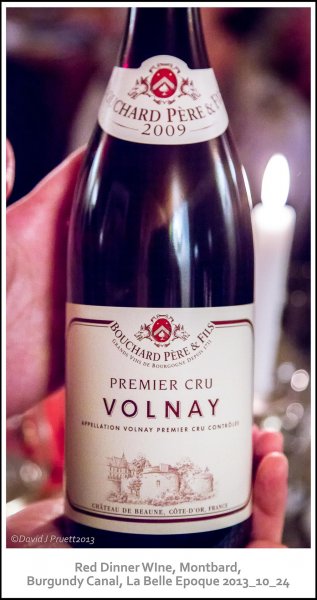 So what can we learn from this label? We've talked about the producer already. 2009 was a very good year for red burgundies. It produced a lot of rich, ripe, relatively early maturing wines. Since this is a red Burgundy, it should be (and is) a Pinot Noir. Referencing the Burgundy wine map (above) once again, you'll find Volnay close to Meursault in the heart of the Côtes de Beaune. While the vineyards where the grapes for our two dinner wines grew are not far apart, the wines are a world apart. Most wines produced in the Côte de Beaune are white, but only reds are produced around Volnay. There are no Grand Cru vineyards, but there are a number of Premier Cru vineyards. Since no vineyard is mentioned on the label, the grapes for this wine must have come from multiple Premier Cru vineyards.
This bottle had lots of black cherry and other black fruits on the nose, along with some Burgundian earthiness and some herbal notes. Ripe, fat fruit in the mouth that could have used just a touch more acidity to balance it out. It was fully ready to drink and quite delicious.
And what were we to drink this delightful red with? How about some lamb!
Roast leg of lamb served with mashed sweet potatoes, ratatouille and minted oil. I love lamb and this was perfectly cooked, very tender, and a wonderful companion to the Volnay. Sweet potatoes are another favorite and I cook them all the time, not just for Thanksgiving. Ratatouille is sort of a vegetable casserole. It's a rustic dish that is made a thousand different ways by a thousand home cooks. It was made famous in a 2007 Disney-Pixar movie, Ratatouille, about a rat (the actual rodent, not a bad guy) who wanted to be a chef. It's a good movie for kids, adults and foodies of all ages.
It is a delicious dish to make in the summer when all the vegetables are fresh. Here is a recipe that tries to recreate the dish that "starred" in the movie.
No dinner is complete on the barge without a cheese course. Tonight we had a brie-type, a goat cheese and a blue cheese (sorry, don't remember the specific ones) with some apricots.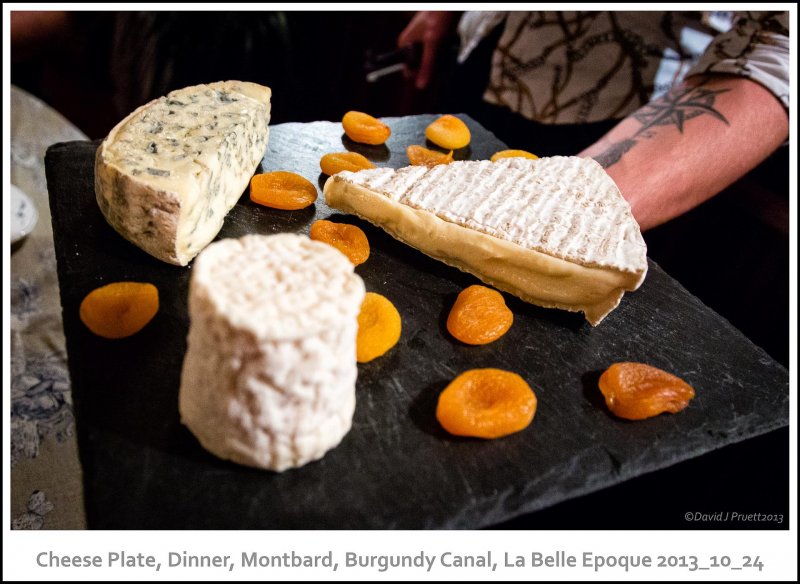 And for dessert, a special cake made to celebrate Cathy and Glenn's (two of our fellow passengers) wedding anniversary.
Despite the long day, the celebration lead to dancing and after dinner drinks all around.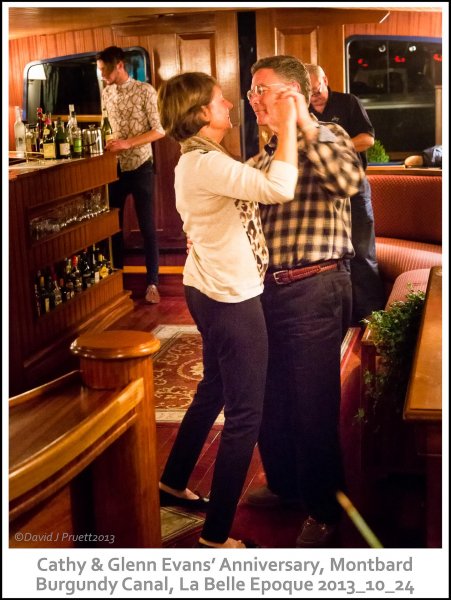 It was a great ending to a great day. Once again the passengers slowly drifted off to bed while I backed up my photos for the day, finished up some notes and sipped a last glass of Chartreuse. I'll be back soon with the tour of the Abbey de Fontenay that we took earlier in the day.
The author participates in the Amazon Affiliate Program, but otherwise has no affiliation with European Waterways or any of the locations and products described in this article.
All images were taken with a Canon 5D Mark III camera and a Canon EF 24-105mm f/4 L IS USM Lens or a Tamron AF 28-300mm f/3.5-6.3 XR Di LD VC Aspherical (IF) Macro Zoom Lens (now discontinued; replaced by Tamron AFA010C700 28-300mm F/3.5-6.3 Di VC PZD Zoom Lens) using ambient light. Post-processing in Adobe Lightroom® and Adobe Photoshop® with Nik/Google plugins.